Tragedy stuck last week when the February 2017 Funko Marvel Collector Corps box I ordered arrived at my doorstep less than a day after I left for New York Toy Fair 2017. Oh, the humanity!! …Okay, that's probably a bit of hyperbole, but it was a disappointment to me to not be home to do an unboxing myself for the first time ever when a new Funko subscription box arrived. But as luck would have it, I have a wife, and I put her to work taking unboxing photos last week, which I'm now using for my Funko Superhero Showdowns review, unboxing and full spoilers…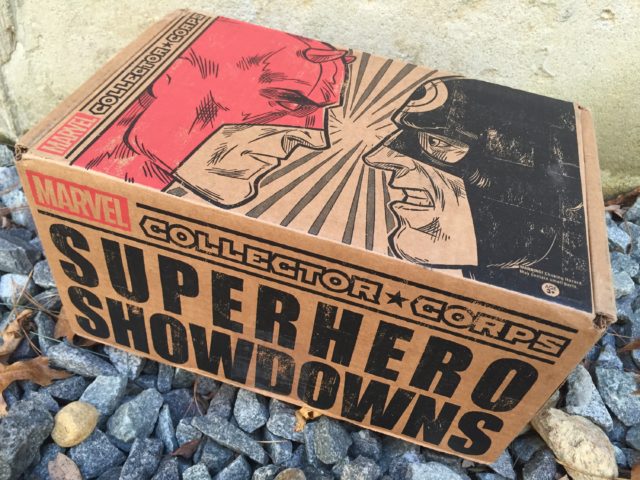 I've been feeling just a
wee
bit guilty that I made my wife put on her winter clothes and boots and tromp through the foot-plus of snow last week to take unboxing photos of my Marvel Collector Corps Superhero Showdown box for a review that ended up getting delayed by the tidal wave of Toy Fair news.
And so, before I get back to talking about the still-massive amount of New York Toy Fair 2017 Marvel toy news that there is to cover, let's take a look at Funko's spectacular MCC Superhero Showdown box! (Which, ironically, I ended up retaking most of the photos for myself, post-snow. My poor wife!)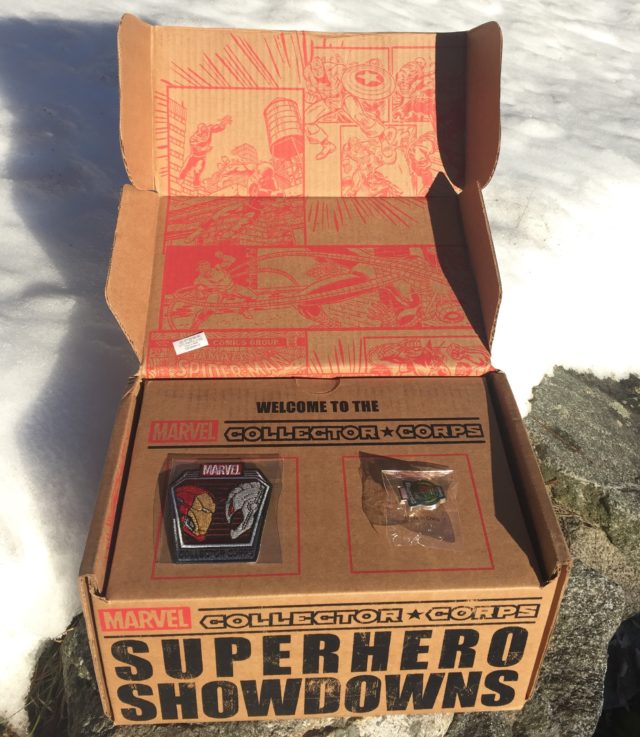 Opening up the box, we find a pair of firsts: for the first time ever, we get two characters on a Collector Corps pin and also two characters on an MCC patch!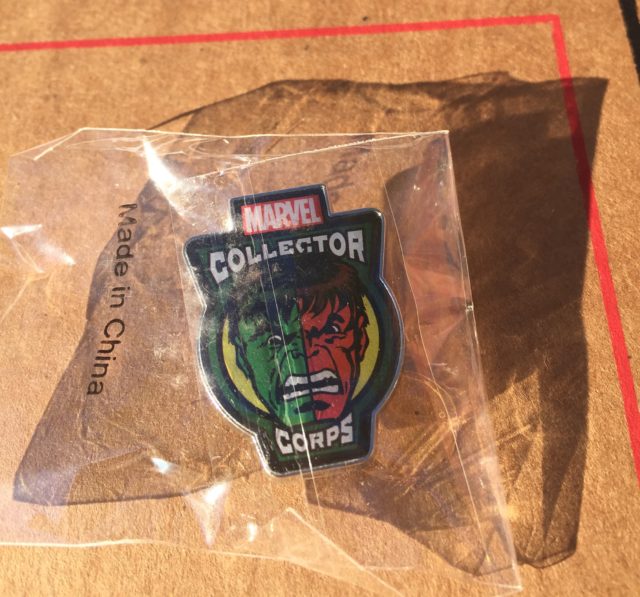 The Superhero Showdown pin this month features both Red Hulk and Green Hulk, but whether or not Funko realizes it, what they've actually given us here is a rare piece of Compound Hulk merch (to match the exclusive POP they did a few years back)–neat!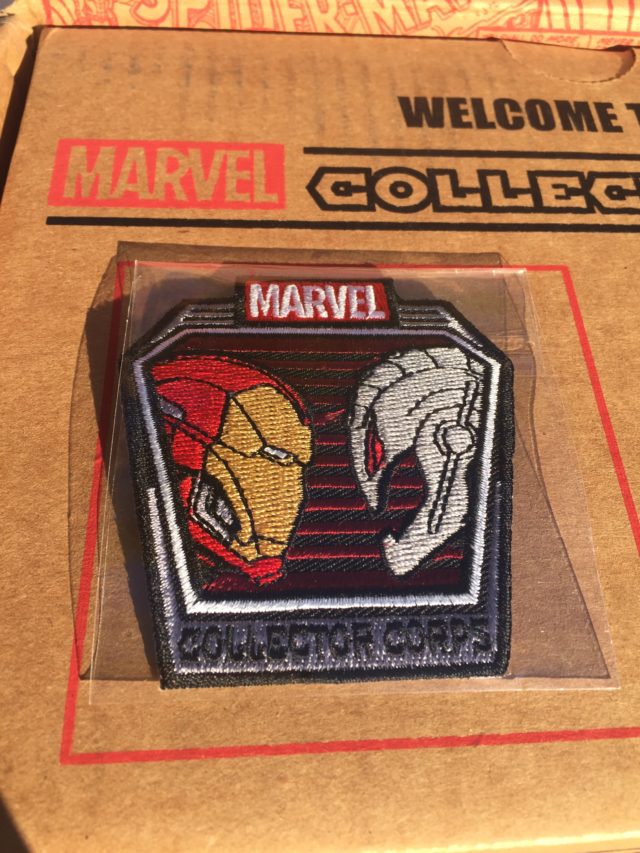 Meanwhile, the Superhero Showdowns patch features Iron Man facing off with Ultron. It's one of the coolest-looking patches we've gotten, though I'm still a wee bit burned out on Ultron from Age of Ultron hysteria.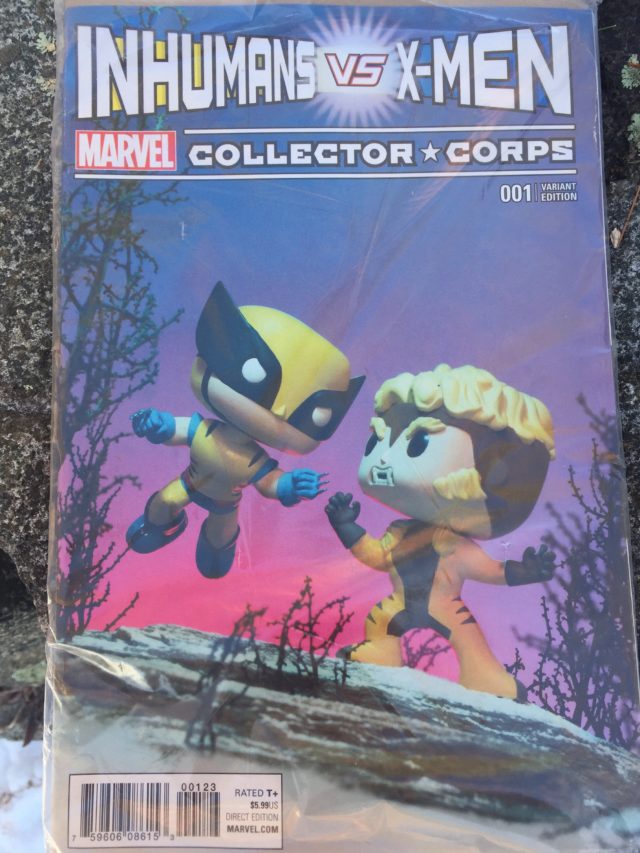 Under the box flap, we find this month's comic, which is a Funko variant cover issue of IvX #1. Cute cover and a good choice, as it gives us a "showdown" between two more major Marvel properties: the Inhumans and the X-Men.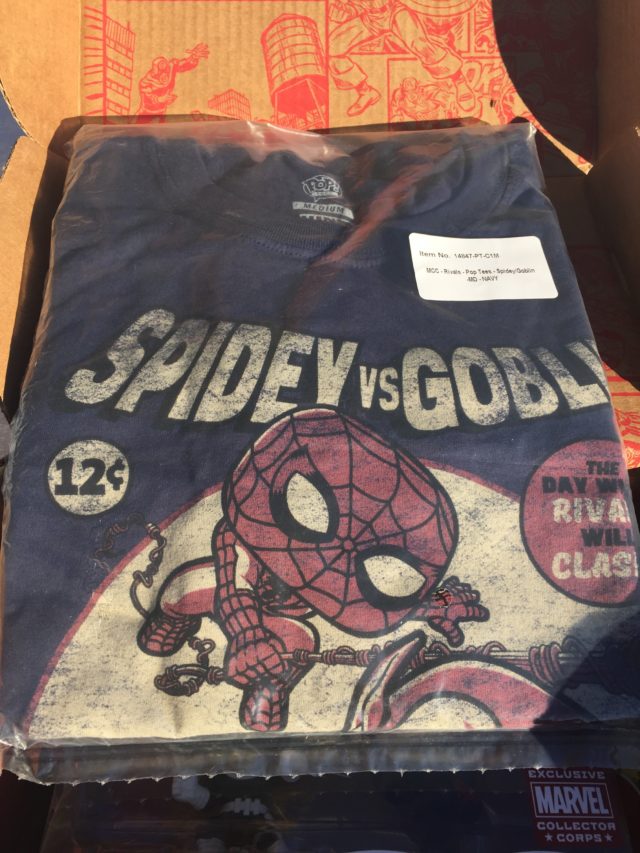 The Collector Corps T-Shirt this month features a fantastic Amazing Spider-Man vs. Green Goblin design that makes it one of my favorite shirts to come out of any Funko subscription box yet.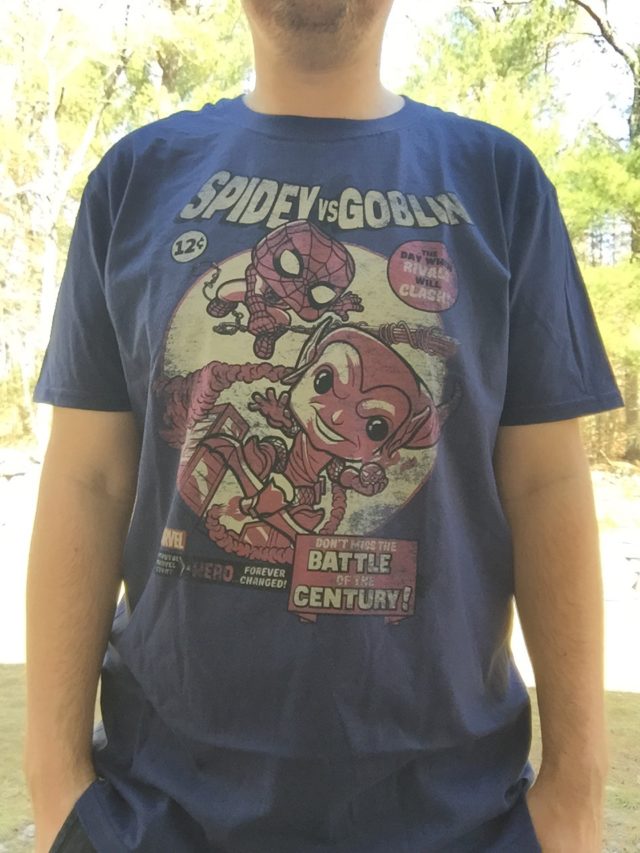 My wife declined to selfie herself wearing this shirt, so I did it myself today. Looks great and no bizarre under-sizing problem like the Xavier Institute shirt in the X-Men box! More like this, Funko!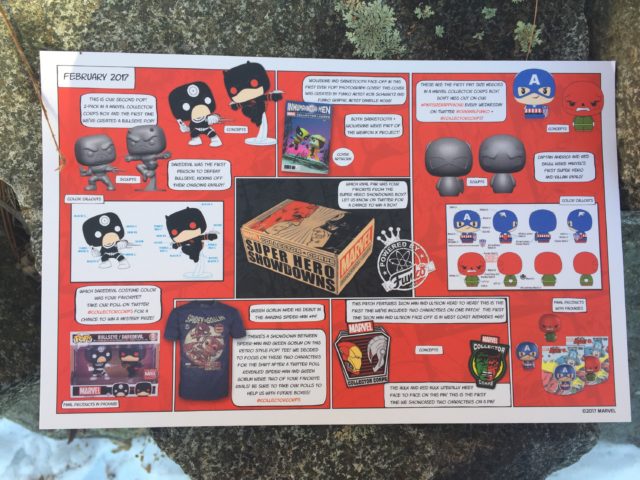 And then we find the vinyl figures underneath, of which there are four (yes, four) this month–that's a record!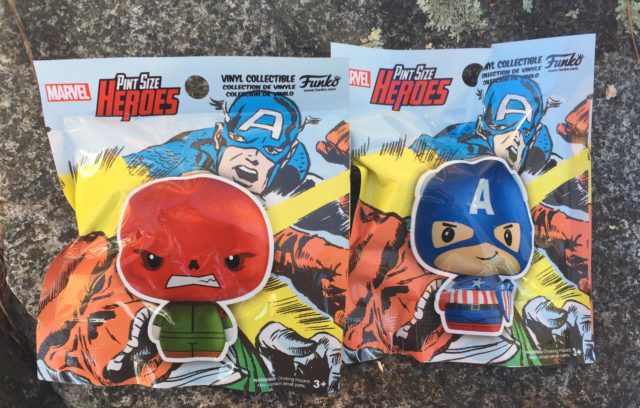 First we've got two "not exactly blind" bags with Pint Size Heroes figures inside: Classic Captain America and the Red Skull!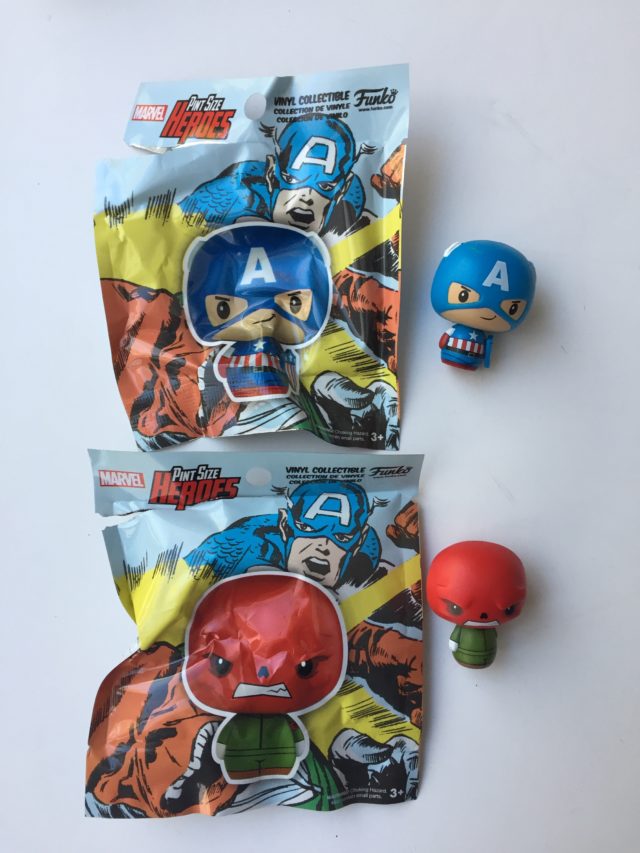 I haven't seen these Marvel Pint Size Heroes around locally myself, so this was my first time coming face-to-face with some of them. And I have to say–I love them!!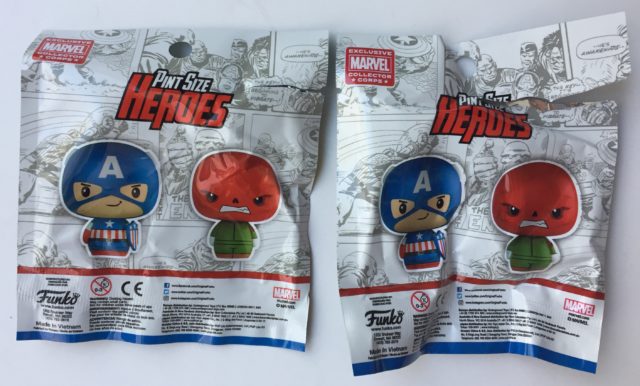 These are basically mini Dorbz, which I'm fairly obsessed with, so these are a home run as far as I'm concerned. It's also great to see a new Funko Red Skull figure in circulation!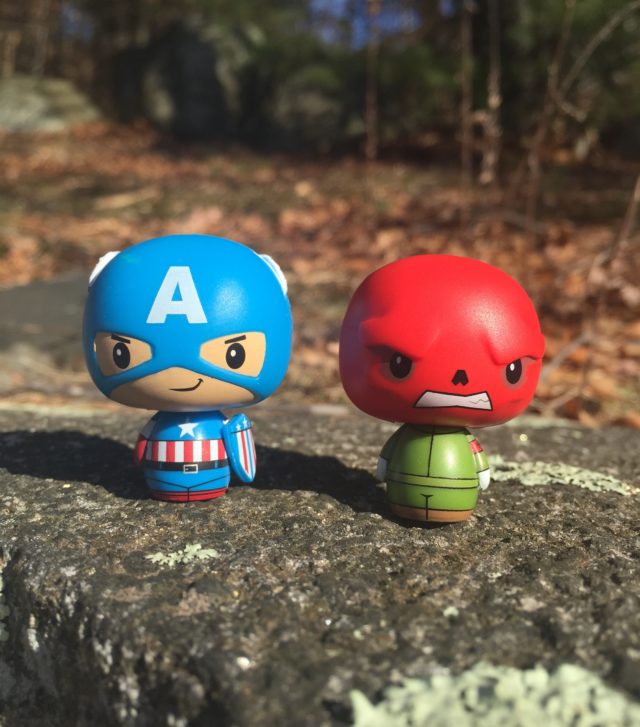 The designs and paintwork on these are superb, and they take up a lot less space than regular Marvel POP Vinyls do. Wonderful choice for an inclusion in this box to hook folks on Pint-Size Heroes.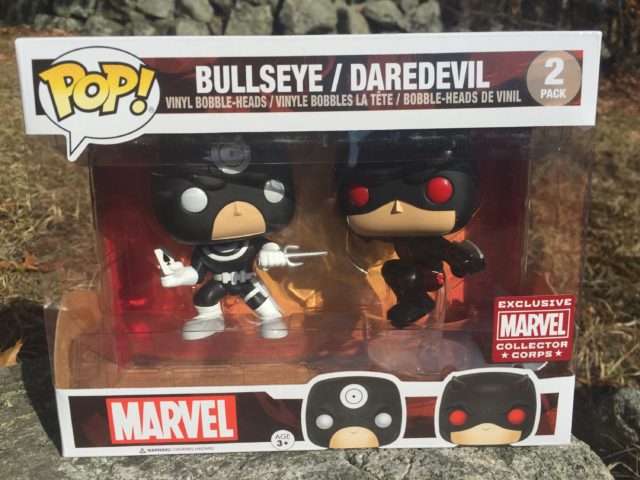 Finally, we've got the exclusive Collector Corps two-pack that most of us guessed (more or less): POP Bullseye vs. Daredevil!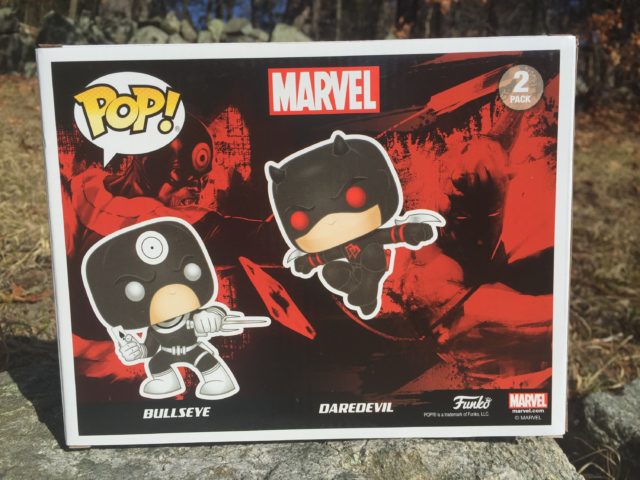 It genuinely hadn't occurred to me that we might be getting a black costume Shadowland Daredevil POP Vinyl in this box, but as that's my favorite DD costume, I was pretty giddy to find him in there!
I much prefer characters in new costumes (and an action pose) like this black costume Daredevil to just the straight-up action pose variant POP Vinyls we sometimes get in the Collector Corps boxes. Excellent selection by Funko, as was putting an iconic villain like Bullseye who might flop hard at mass retail into this box as a limited exclusive.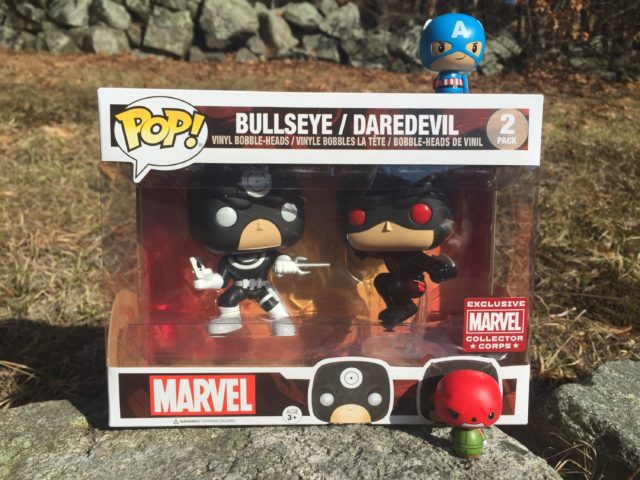 Overall, I'm going to do something I normally don't here and "give" this Superhero Showdowns box a well-earned perfect score. An all-new character with the Bullseye POP Vinyl, a critical Shadowland Daredevil variant POP, one of the best T-Shirts yet, very fun Pint Size Heroes figures of Captain America and Red Skull, a worthwhile comic book and some of the better-looking patch-and-pin combos. Funko has outdone itself with this box, and I can only hope that the Guardians of the Galaxy Vol. 2 box now up for order is as good as this one.
GRADE: A+