Time has flown by, and the final Marvel movie of 2017 is now just two short weeks away! And to coincide with the movie, Funko has just shipped out their last MCU movie-themed box of the year: the Thor Ragnarok Collector Corps Box (with a Hulk box coming in December)! While I correctly predicted the two exclusive POP Vinyls that are included, I don't think anybody on Midgard or any other real could have guessed the full contents on this really surprising box!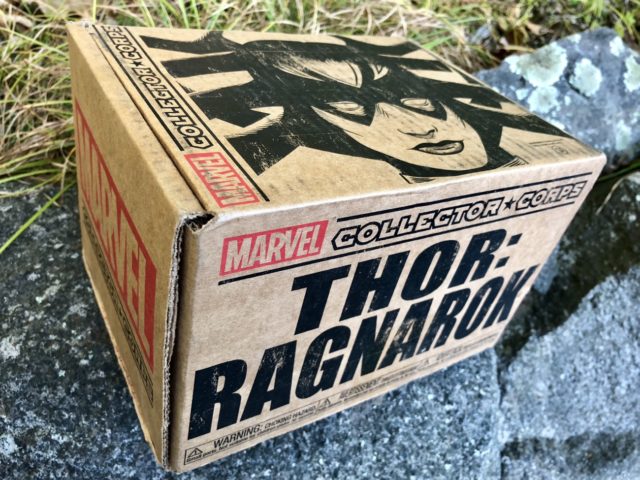 When the postman handed me my Marvel Collector Corps Thor Ragnarok Box today, my jaw gaped open for a few seconds, as I was seriously perplexed by the small size of the box. There's no doubt about it—the MCC Ragnarok Box is the tiniest box we've ever gotten from Funko!
Do good things really come in small packages? I busted open the Ragnarok MCC box for my review, determined to find out! Full spoilers and unboxing photos to follow, so turn back now if you want to be surprised when you open your own box…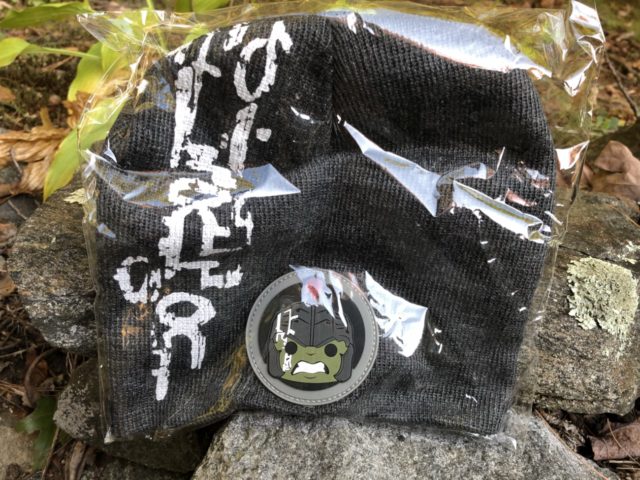 Shocker #1: For the first time ever, I opened up a Funko Collector Corps Box and the first thing my eyes beheld wasn't the pin and patch combo! Craziness!!
Instead, my box was "topped" by a Funko Gladiator Hulk beanie, which has this month's "patch" permanently affixed. The plastic/rubber patch is fun and different from what we've become accustomed to, and I don't mind a fresh change at all.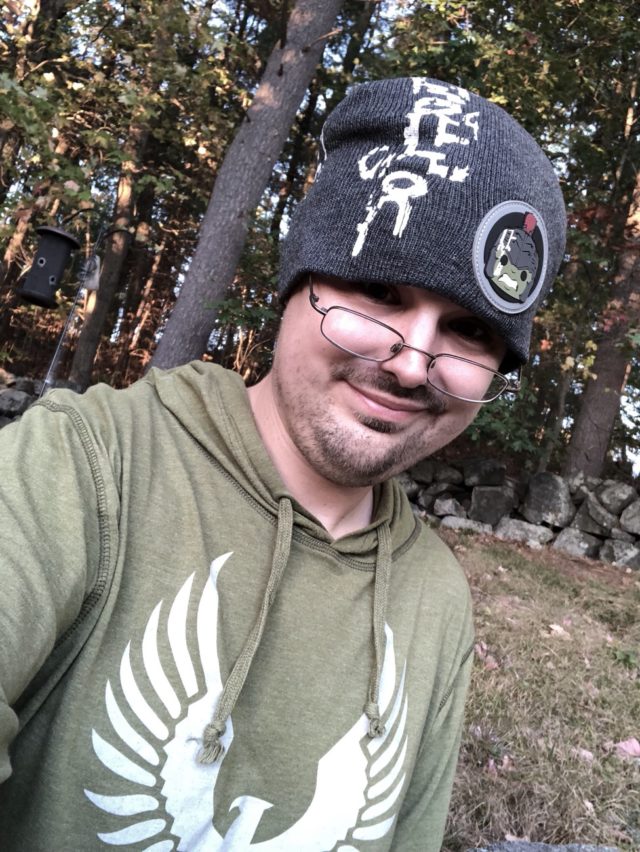 I'm certain some fans will complain about no shirt in this box, but it's getting cold out and I really dig the Gladiator Hulk-inspired pattern on the grey hat (even if I do look like seriously the world's biggest dork wearing the hat myself).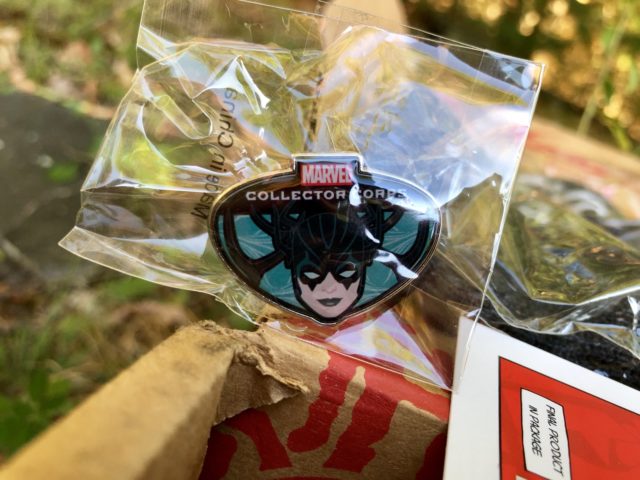 And don't worry, pin fans: while it wasn't on top this month, the traditional metal pin is still here! This month, it's a Hela pin! Good choice, as I doubt we'll see another theme where she'd fit as logically as she does here.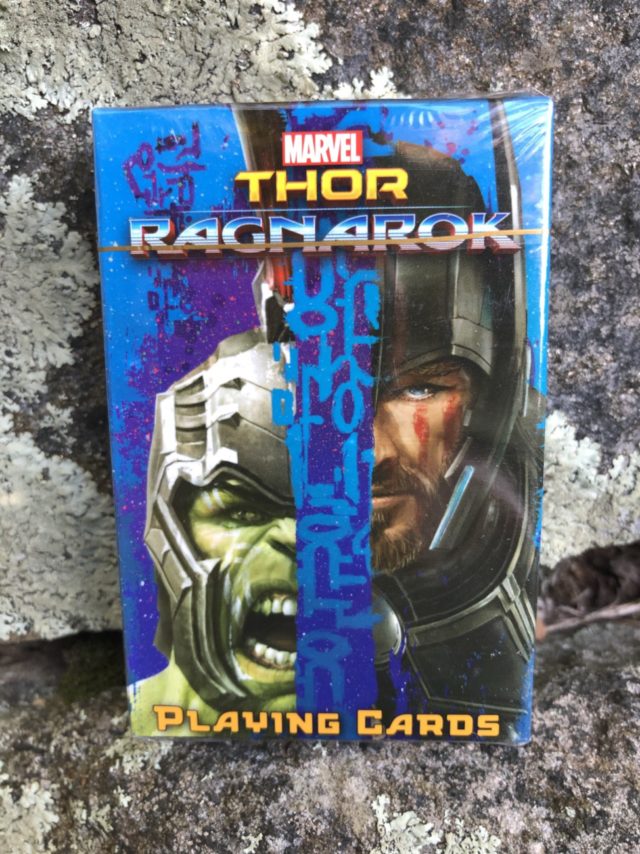 Shocker #2: For a second time in a row, there's no comic book included with the MCC box. Instead, we get…  a pack of Thor Ragnarok playing cards. I hated these on sight when I first saw them, but as they're cleverly included as a nod to the Grandmaster… I've warmed up to them.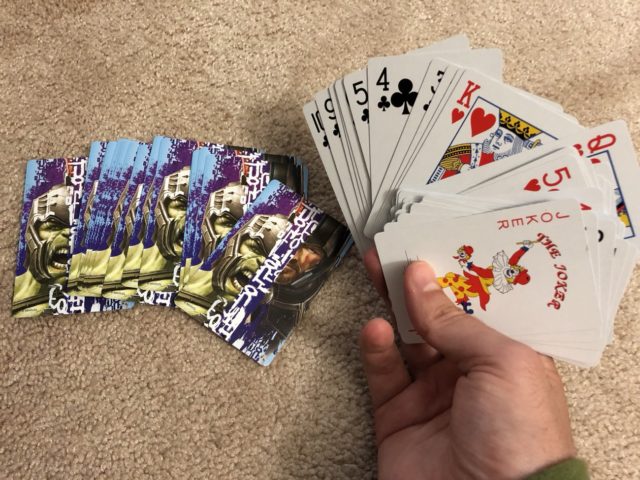 I think it would have been a lot more fun if the actual fronts of the cards were Thor characters (Hela as the Queen, Odin as the King, etc.), but I think the idea of these playing cards are novel as a one-time-only deal.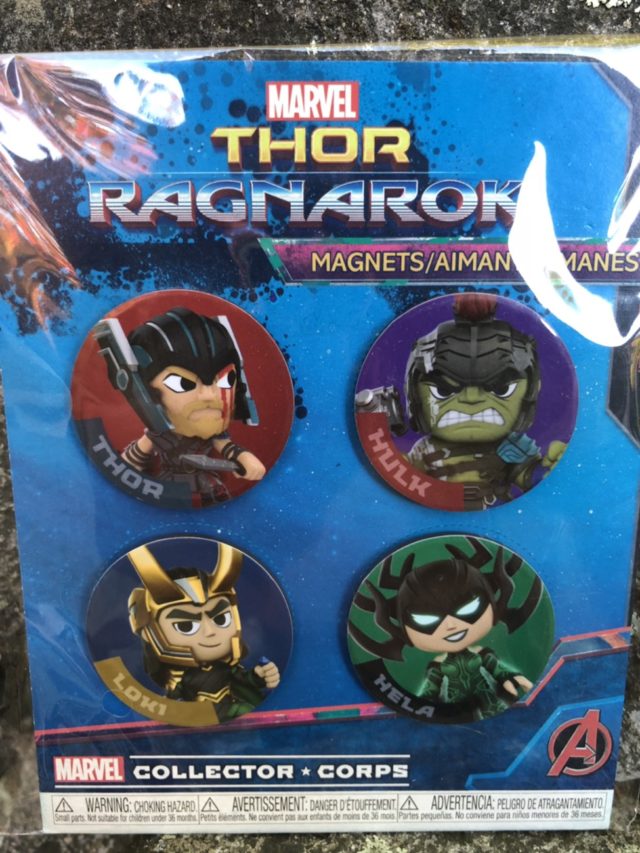 The playing cards aren't the only item we get here in place of a shirt: there's also a sheet of four Thor Ragnarok Mystery Minis magnets: Gladiator Thor, Gladiator Hulk, Hela and Loki.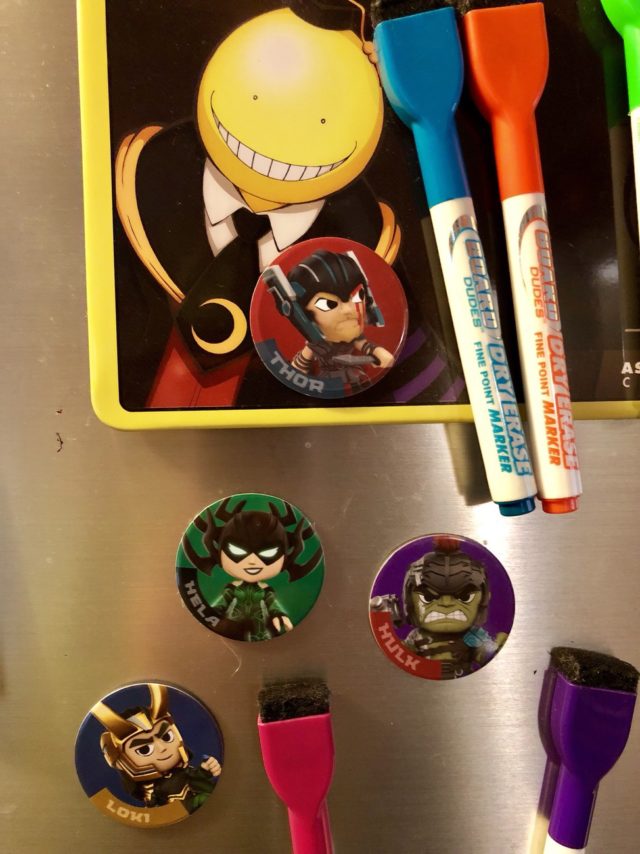 In contrast to the cards, I loved these on sight and instantly stuck them onto my fridge (where they stick wonderfully and look awesome). Now these are fun—I wouldn't mind getting more Funko magnets regularly!
Shocker #3: The last non-figural item in this box is… a Thor Ragnarok fidget spinner?! If nothing else, this item has the surprise factor in its favor: Anyone who says they were expecting a Thor spinner in this box is totally lying. One side of the spinner is the villains (Hela, Loki and Grandmaster), while the other side features the heroes (Valkyrie, Thor and Hulk).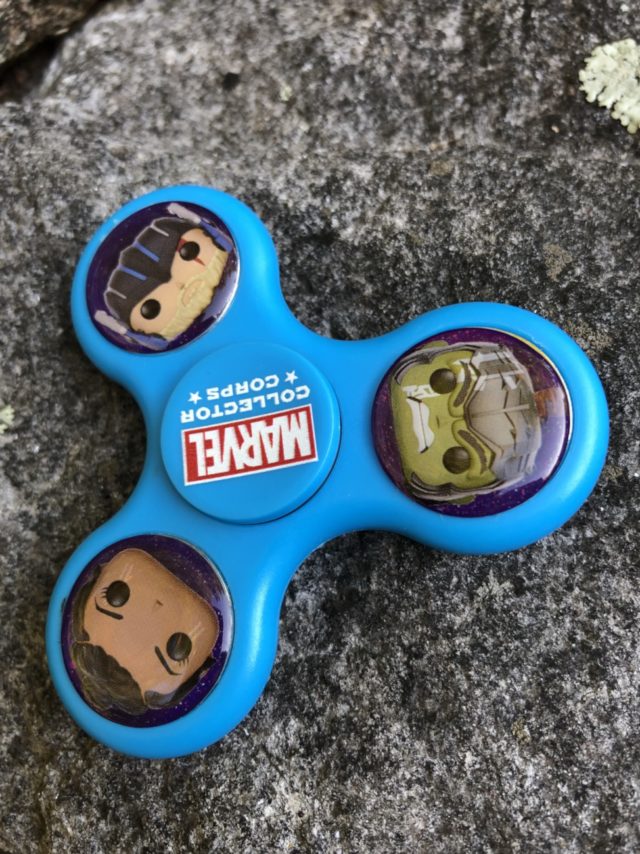 The fidget spinner has a nice weight and high-quality images of POP Vinyl heads on it, so from a quality standpoint, Funko did excellent here. However, I am not convinced (at all) that the collector demographic for this subscription box is the right audience for this type of item. I'll be giving this to one of my nephews, personally, who I'm sure will be delighted by it.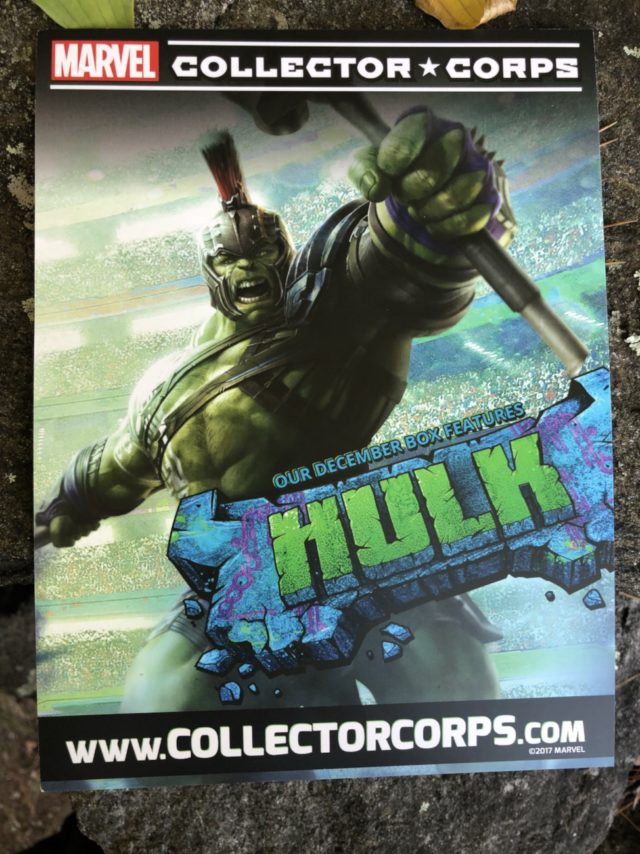 The back of the contents card announces the next theme: the December 2017 Marvel Collector Corps Hulk Box that's now up for order! The card shows a movie-based Gladiator Hulk, but I suspect the actual box will be solidly comic-based.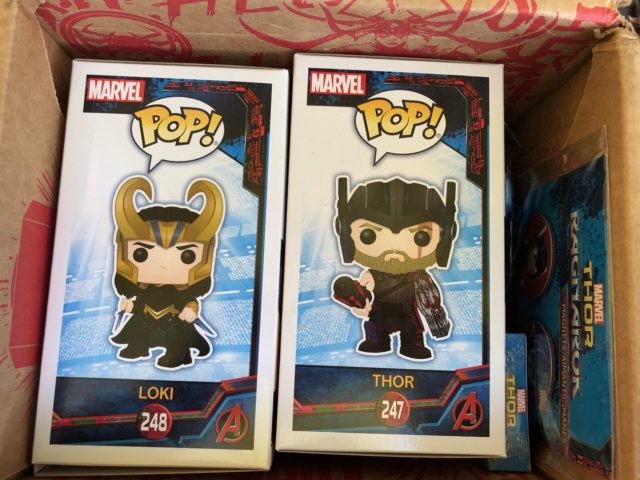 Finally, we've got the main event of the box: not one, but two Exclusive Thor Ragnarok POP Vinyls!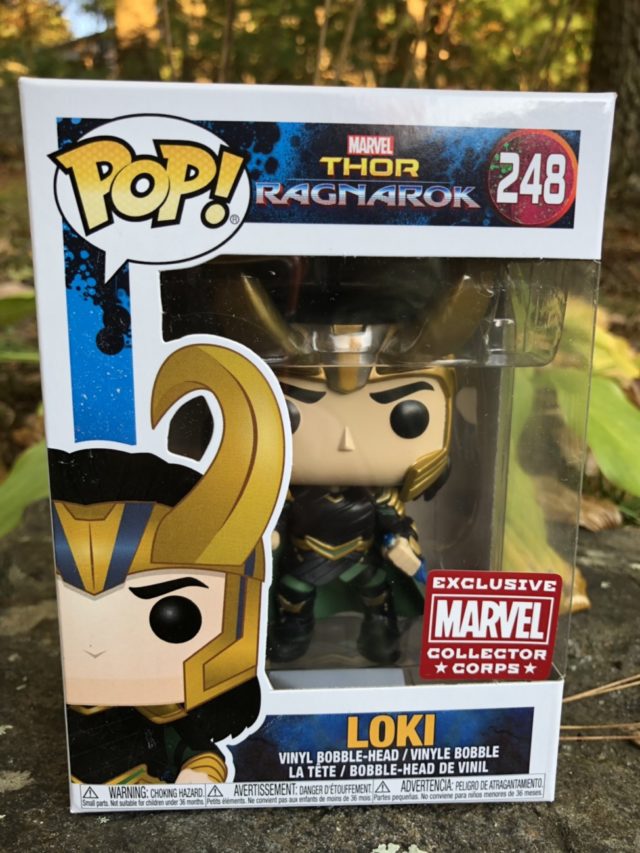 Like a portion of any other group of people, many comic book fans don't like change. So when it was revealed that Loki would be wearing a blue costume for some portion of the Thor Ragnarok movie—and most of his new movie toys were dressed in blue—fans flipped out.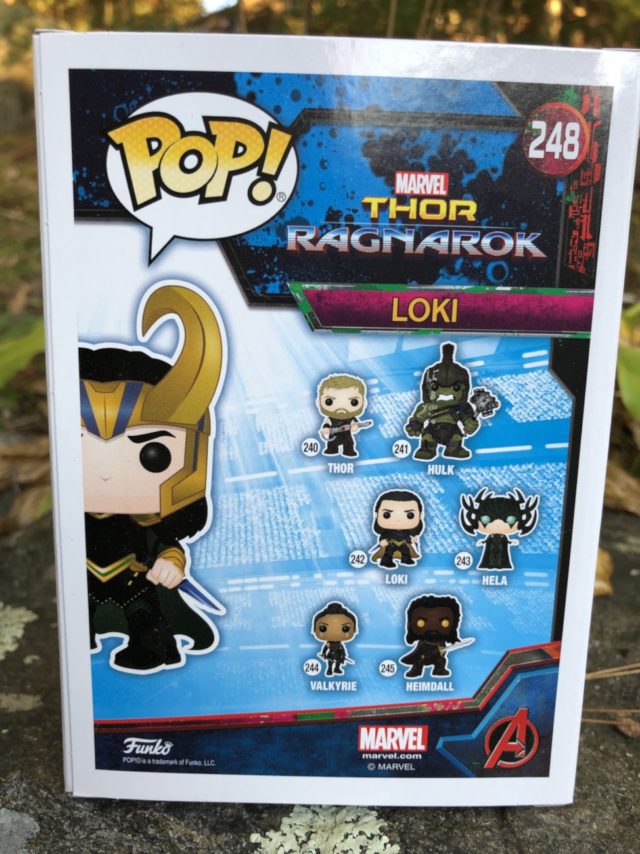 Thankfully, Funko is doing what Hot Toys and Hasbro are not: giving us a classic green, black and gold Tom Huddleston Loki figure from Thor 3!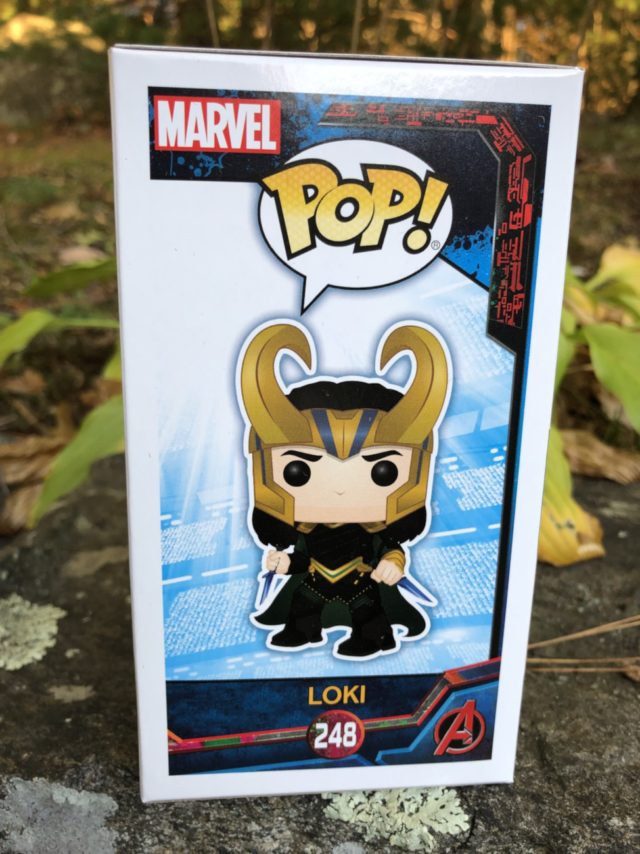 The Marvel Collector Corps Loki POP  exclusive is wielding two blue daggers, and is probably my favorite Funko Loki figure released to date. Great choice for a limited exclusive with mass appeal!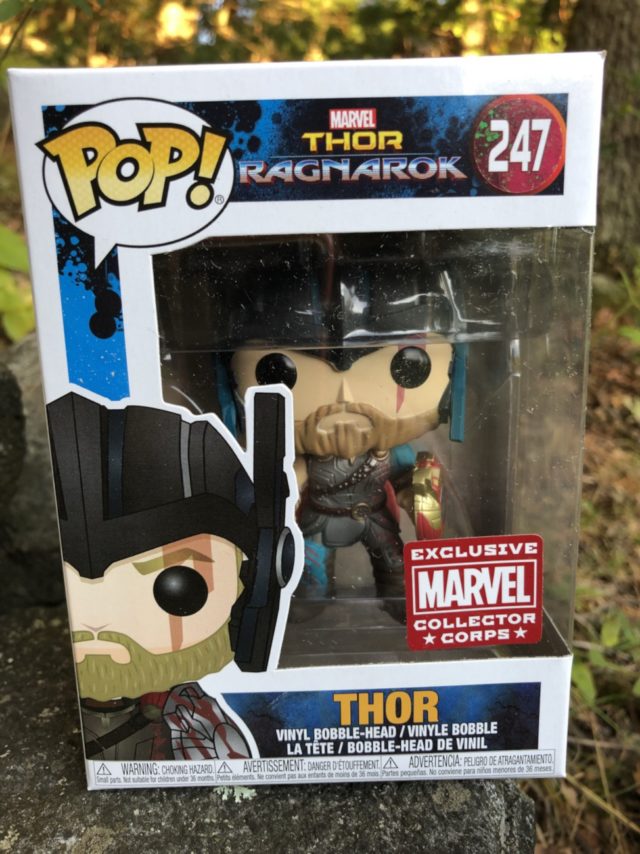 And speaking of exclusives with mass appeal: I've been dead certain for months that the Gladiator Thor POP Vinyl would make his appearance as part of this subscription box, and thy Odinson hath arrived!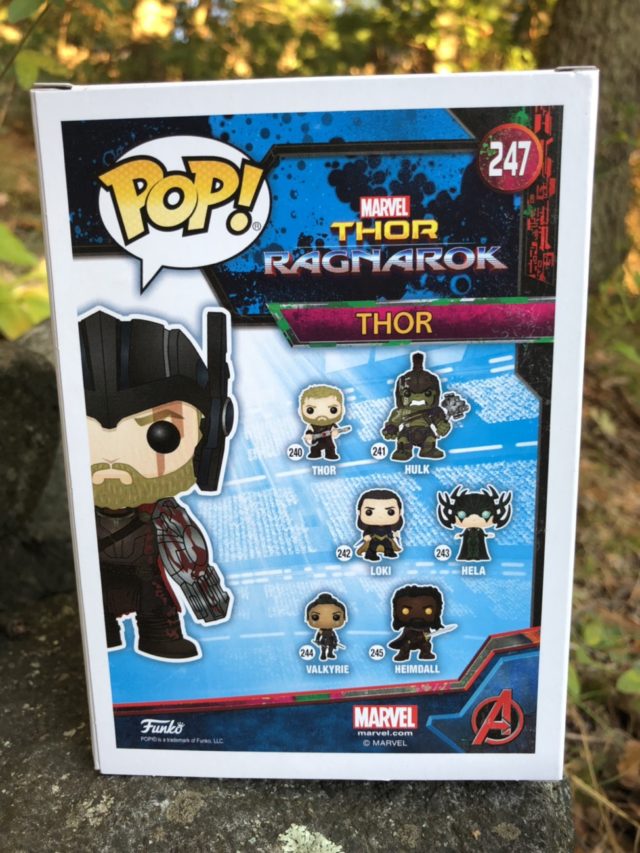 Thor in his gladiator costume is likely to become the iconic look for the God of Thunder from this movie, and I am legit stunned that such an important variant was saved for the Funko Collector Corps Box.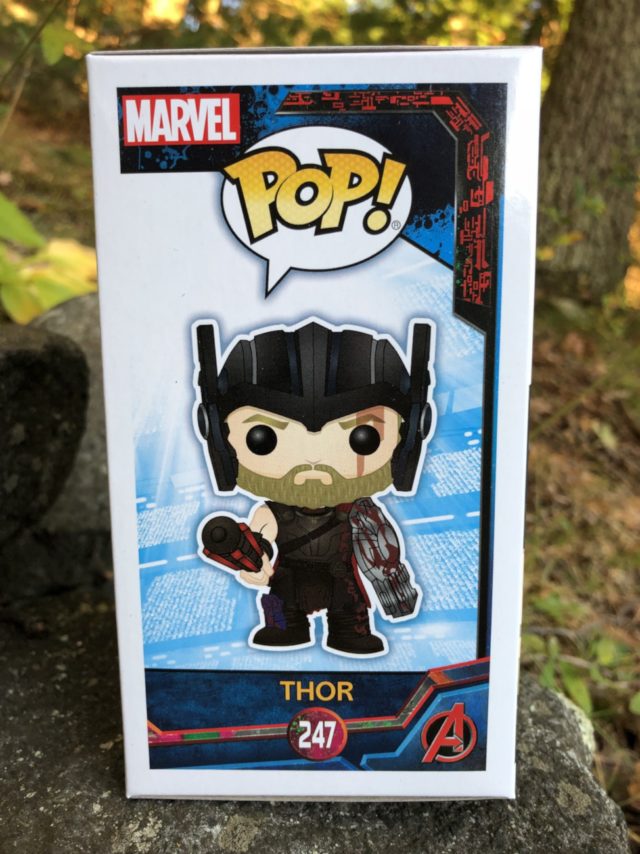 The POP Gladiator Thor vinyl figure looks exactly as you'd expect, with his helmet, mace and shield. If you want a Thor to match up with Gladiator Hulk—and who doesn't?!—then you're definitely going to need this box.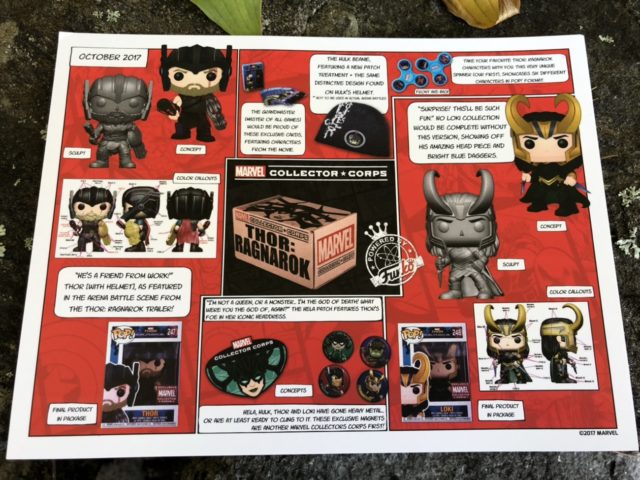 Overall
, I'm taken aback a little bit by just how
different
this box is from what we're used to, but different definitely isn't bad. Both POPs are essentials in an MCU Collection, the magnets and playing cards are surprisingly refreshing, the Hela pin looks good, and the Hulk beanie hat is a nice switch from the endless parade of (admittedly terrific) T-Shirts.
I miss the monthly comic book and I personally never want to own another fidget spinner, but I think that this is a solid and amusingly diverse Marvel Collector Corps Thor Ragnarok Box. Some of the items here won't be for everyone, but there's no denying that this is a fun and unexpected assortment that's more than worth the price paid.
GRADE: A-