Spider-Man Homecoming has finally officially arrived today, and by most accounts is a spectacular success! But as has come to be the case with parade of Marvel movies, now that one MCU movie has opened, it's time to start checking out the merch for the next one! The King of Exclusives revealed their expansive line of Thor Ragnarok toys today, with an unexpected twist–the Funko Gladiator Hulk Dorbz figure is now up for order… with a surprise limited edition size of just 5000 pieces produced!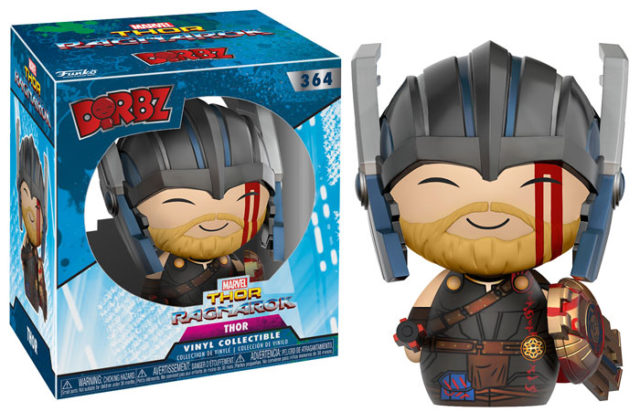 With the last several Marvel Cinematic Universe movies to open only having a handful of Funko Dorbz figures produced to coincide with their release, I was a tad worried that our Dorbz Thor Ragnarok series was going to just be a Thor and a Hulk.
Turns out that that's not quite the case, though. It's actually multiple Thors and multiple Hulks–as well as a Hela and multiple Loki Dorbz!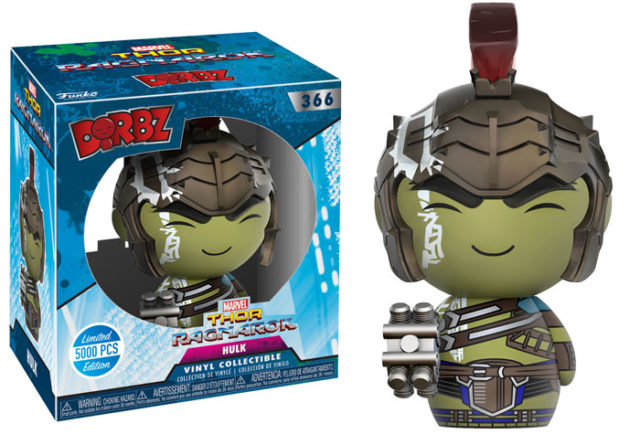 First up, the most surprising aspect of the announcement: the Dorbz Gladiator Hulk figure with his helmet on is limited to just 5000 pieces produced. That may sound like a ton, but it's actually substantially less than the usual amount produced for mass retail Funko Dorbz.
This is a bit of a shocker, as I was dead-certain that Gladiator Hulk would be the most popular release in this entire series.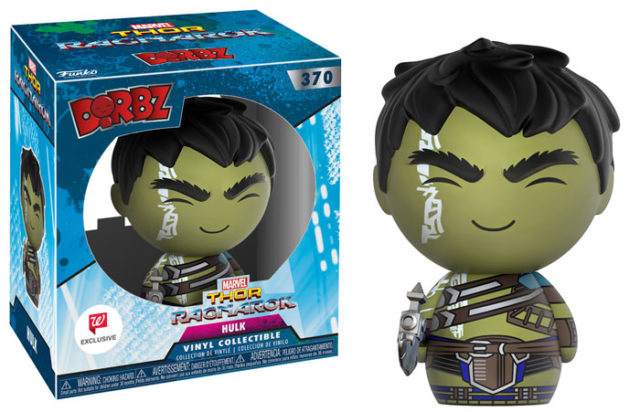 But don't fret too much if you miss out on the LE Gladiator Hulk vinyl, because you'll have two more chances to get a Ragnarok Hulk in Dorbz form. First, there's a Gladiator Hulk without helmet and hammer that's exclusive to (ugh) Walgreens stores.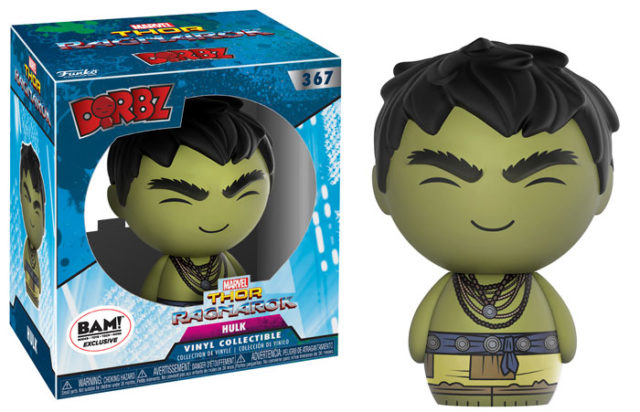 The other exclusive variant of the Jade Giant is exclusive to Books-A-Million (I believe their first Marvel exclusive ever, actually), and features Hulk in his, uhh… "casual attire". Many of us don't live near a BAM! store, so hopefully they'll have this exclusive available online for us out-of-towners.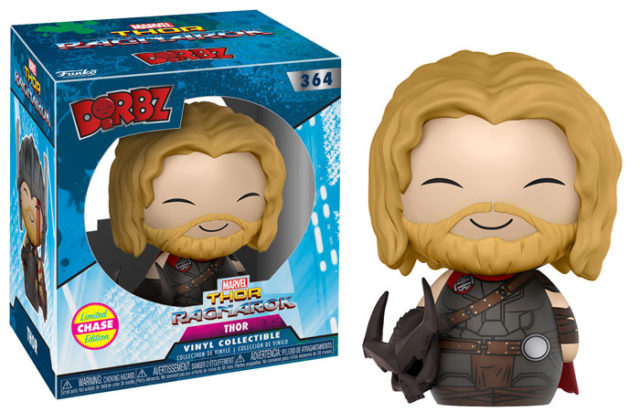 But wait–there's more than just Hulk! Movie Thor himself will also be arriving in two different varieties: Gladiator Thor Dorbz coming to mass retail, as well as a CHASE Gladiator Thor vinyl without tattoo on face and his helmet off.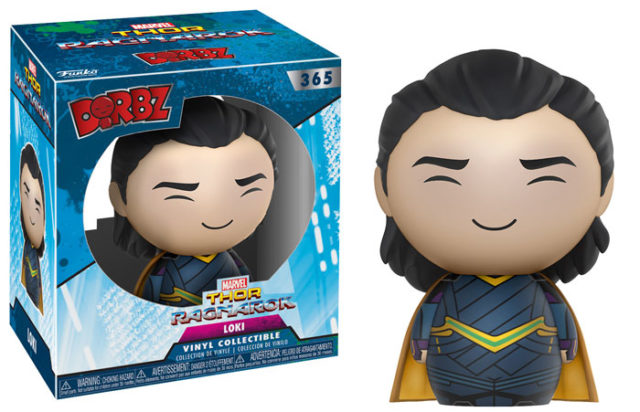 On the villainous front, Ragnarok Loki will be appearing in his new blue costume at mass retail–the first time a Loki Dorbz has been available in stores (the comic-based Loki was a Marvel Collector Corps exclusive).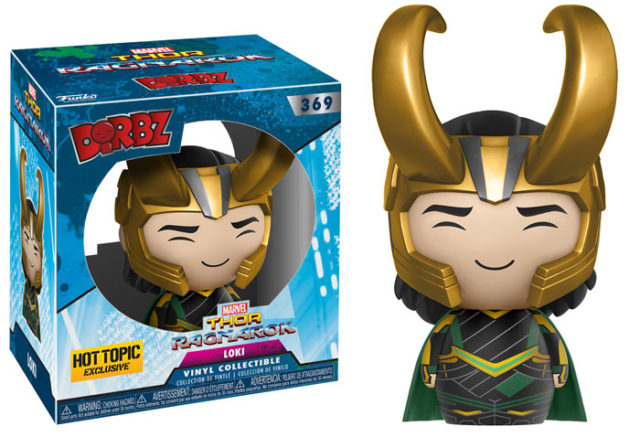 Additionally, a movie Loki Dorbz in his more recognizable black and green outfit (with crown!) will be available exclusively at Hot Topic stores.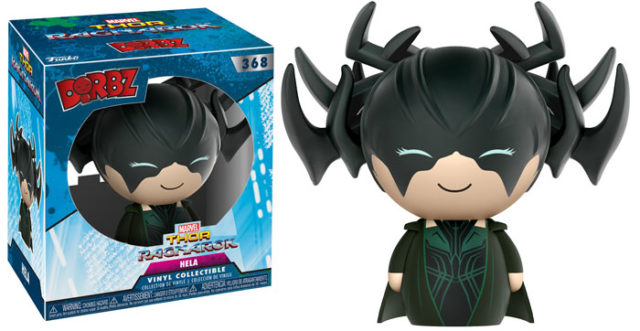 Finally, there's one character in this series who's only coming in one flavor–and she's also the only all-new character in the wave: Hela! Hela's intricate headpiece is going to make her really stand out from the crowd in a display, and I think she'll sell quite well as the only debuting character in the series.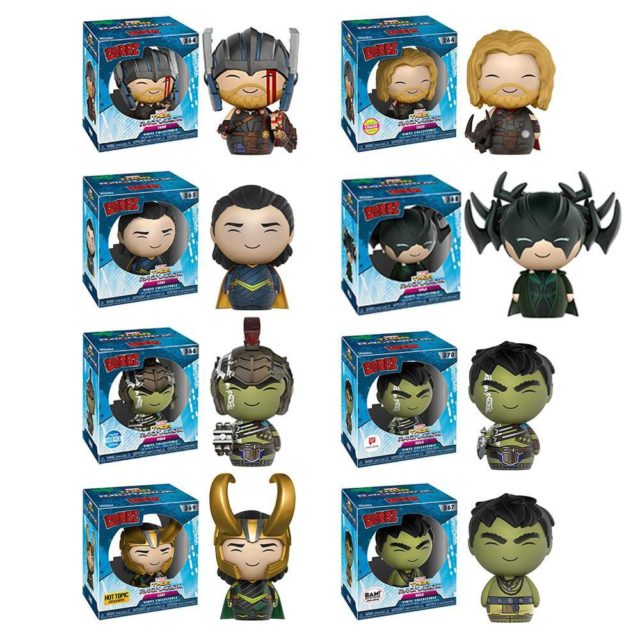 Gladiator Hulk and the rest of the Funko Thor Ragnarok Dorbz toys are now up for order, and are scheduled to be shipped out in August 2017 (that's next month!). The three store exclusive figures should be arriving at their respective retailers right around the same time. The Thor CHASE variant is randomly inserted at a ratio of 1/6 to all retailers. I've had decent luck getting my 1:6 chase Dorbz from EE, where they randomly fill your order either the regular or the Chase variant for the same price.
What do you think of the Dorbz Thor Ragnarok movie figures, Marvel collectors? Did Funko hit on all the characters you were hoping for in this style, and which of these figures (if any) will be joining your collection later this summer?