Earlier today I posted about the Mezco ONE:12 Collective Gladiator Thor figure—but Mezco Toyz isn't the only company soliciting their premium Thor Ragnarok 6" figures to coincide with the movie's launch week! After their world premiere at NYCC 2017 last month, the SH Figuarts Thor Ragnarok Hulk and Thor figures are now up for order! But even though Bandai Japan is bringing this pair to the United States, don't expect them (especially Hulk) to be cheap…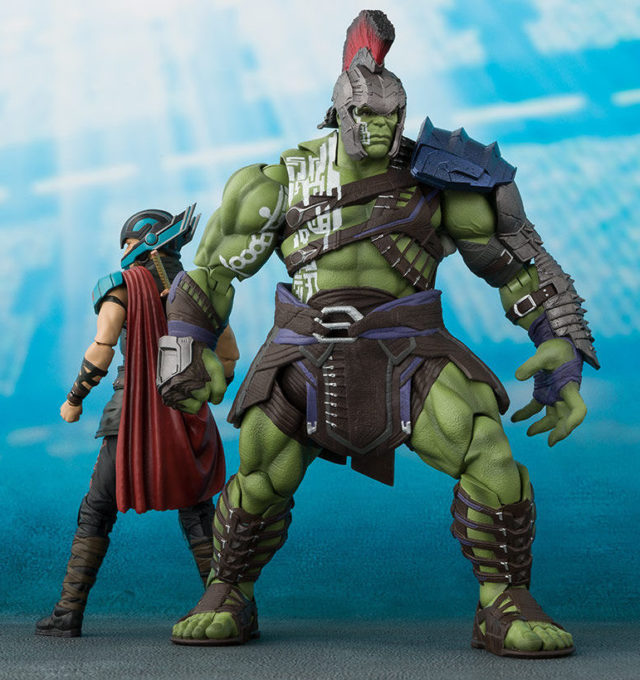 Over the past year, Bluefin Distribution has transformed regular U.S. releases of Bandai SH Figuarts Marvel figures from a pipe dream to a reality, with a majority of the recent Marvel Figuarts figures getting domestic releases online and in specialty stores.
Even so, certain figures still remain overseas-exclusives, so it was pretty reassuring to see the Thor Ragnarok Figuarts Figures debut at New York Comic Con 2017 last month, guaranteeing a United States release for the much-anticipated gladiators.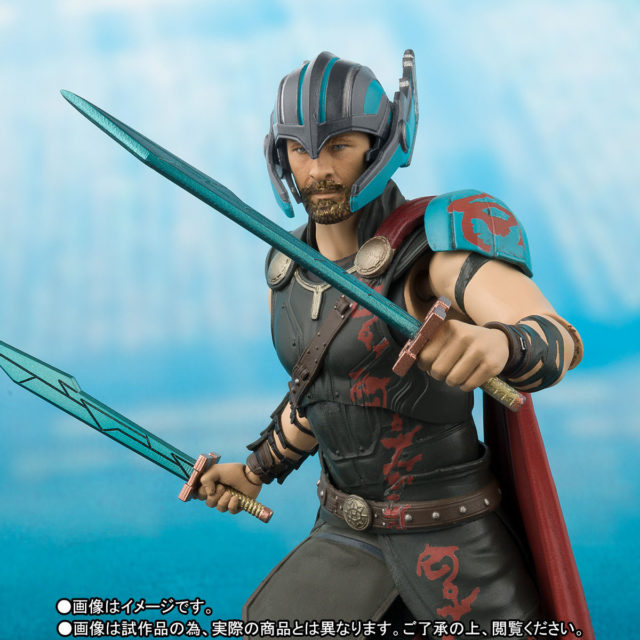 I think Bandai Tamashii did a nice job with the Chris Hemsworth Thor portrait on this figure, although perhaps not as nice as what we saw on the Mezco ONE:12 Collective Version. And while Mezco is giving us three heads (including lightning-charged and unhelmeted heads), we're stuck with helmeted Thor for the Bandai Figuarts release.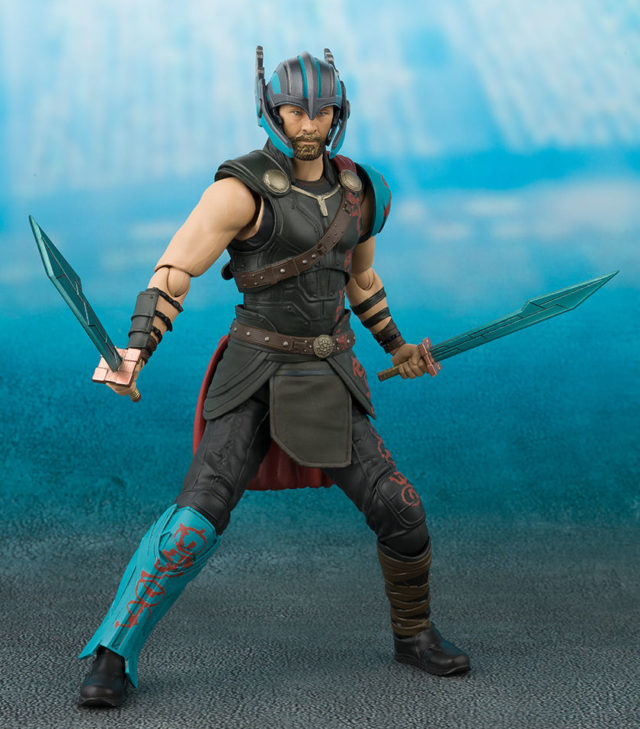 We also don't get the plethora of weapons coming with the Mezco Toyz Thor figure either–all that we get here are the twin swords. No awesome mace or shield. Alas.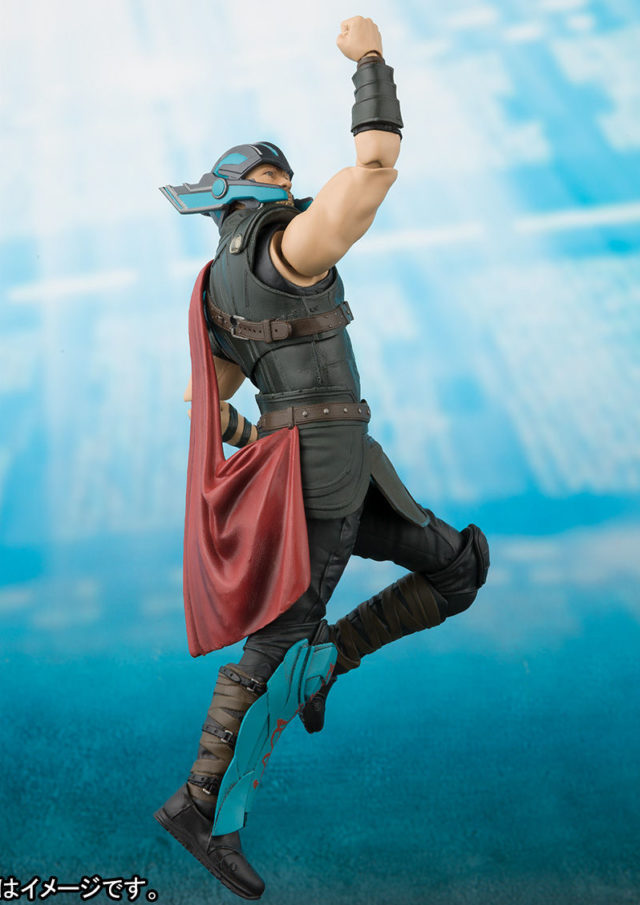 I prefer the cloth cape on the Mezco version, but I think that the sculpted cape attached to the Figuarts Thor Gladiator movie figure is actually quite nice.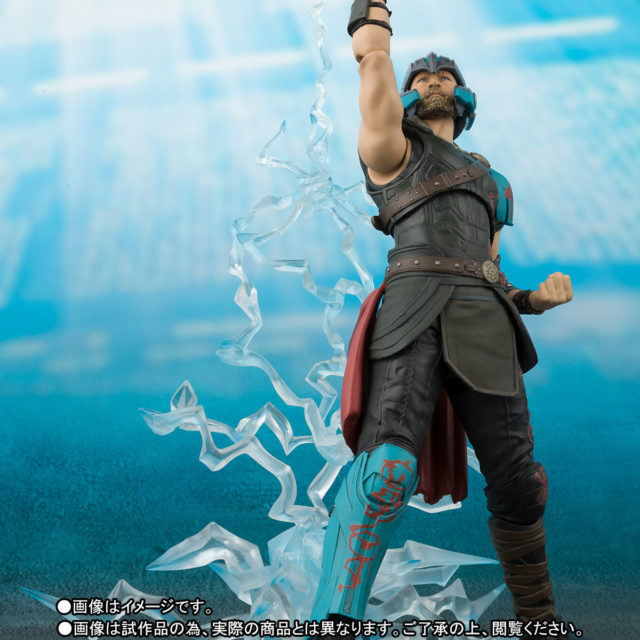 As has been the usual modus operandi with regular-sized Marvel SH Figuarts Figures, Figuarts Gladiator Thor will be coming in a deluxe set packaged with translucent blue lightning effects pieces.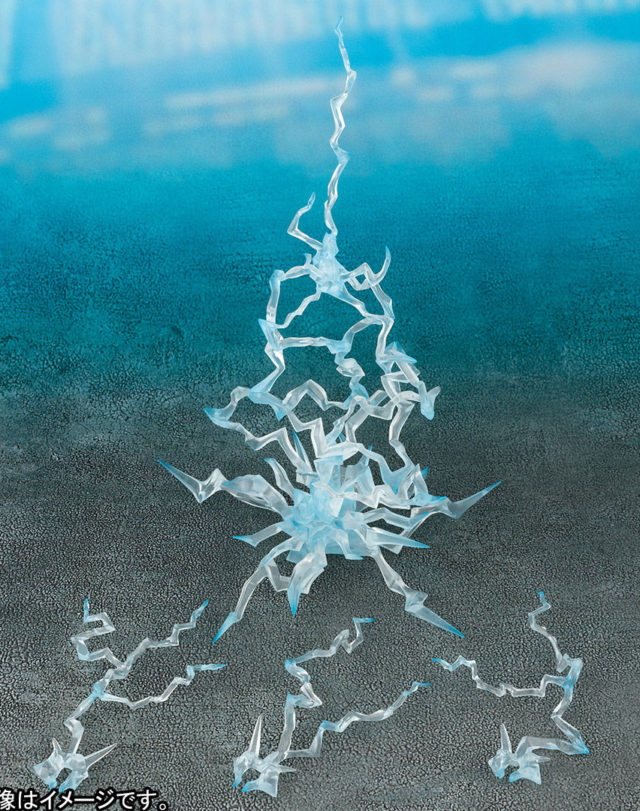 Now, I love me some Tamashii Effects Piece sets, but the electrical effects are toward the lower end of the spectrum of their best-looking effects. They're still cool and all—but the various flames and explosions are almost undeniably more aesthetically interesting than the lightning effects.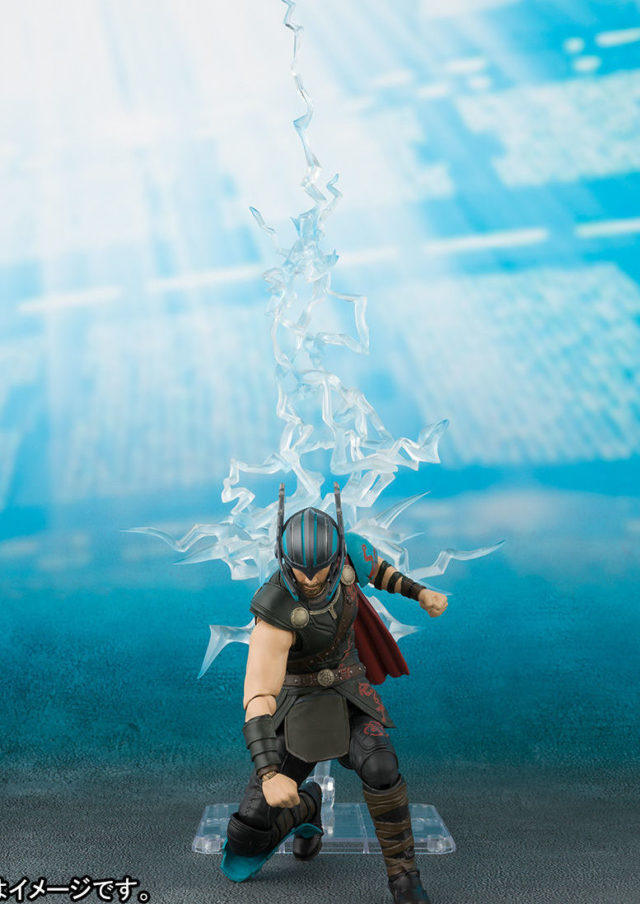 Even so, if it's get SH Figuarts Thor with lightning effects or pay almost as much to import him without them, my choice (and that of most others) is likely to be to get those lightning effects.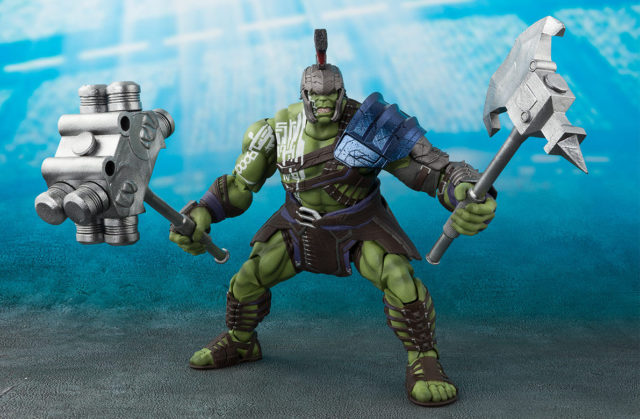 Of course, even bundled with the electrical effect pieces, the 6.1" S.H. Figuarts Gladiator Thor figure is "only" retailing for $84.99. The SH Figuarts Gladiator Hulk is… a little more expensive.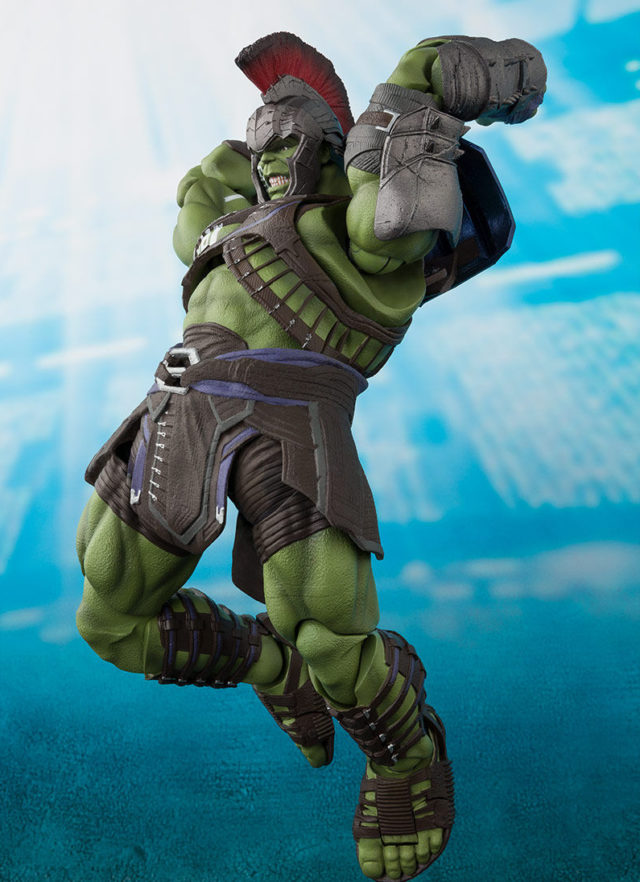 And by "a little more expensive", I mean "a lot more expensive".  The 8.3" Gladiator Hulk Figuarts figure has an SRP of a whopping $134.99.
I think that the Figuarts Gladiator Hulk figure actually looks pretty great—and I really appreciate that Bandai Tamashii actually gave him the option of an open-mouthed enraged expression—but that $135 price-tag is a steep one for an 8" figure, no matter how nice it may be.
On the accessories front, Thor Ragnarok Hulk comes with an axe, a mace, an alternate stern face, and interchangeable hands. The weapons aren't very well-detailed compared to what Mezco and Diamond Select Toys are doing, but I'm very pleased about the two face choices.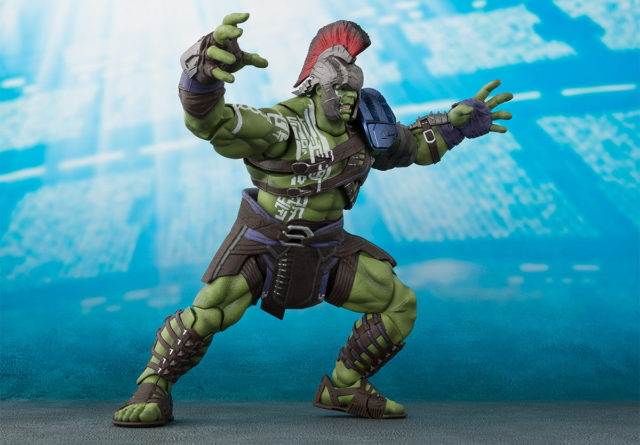 The Bandai Tamashii S.H. Figuarts Thor Ragnarok movie figures are now up for order, and are scheduled to be released in May/June 2018. Bandai is extremely good at keeping to their own deadlines, so I would say that the chances of these figures getting delayed until later in 2018 are pretty low.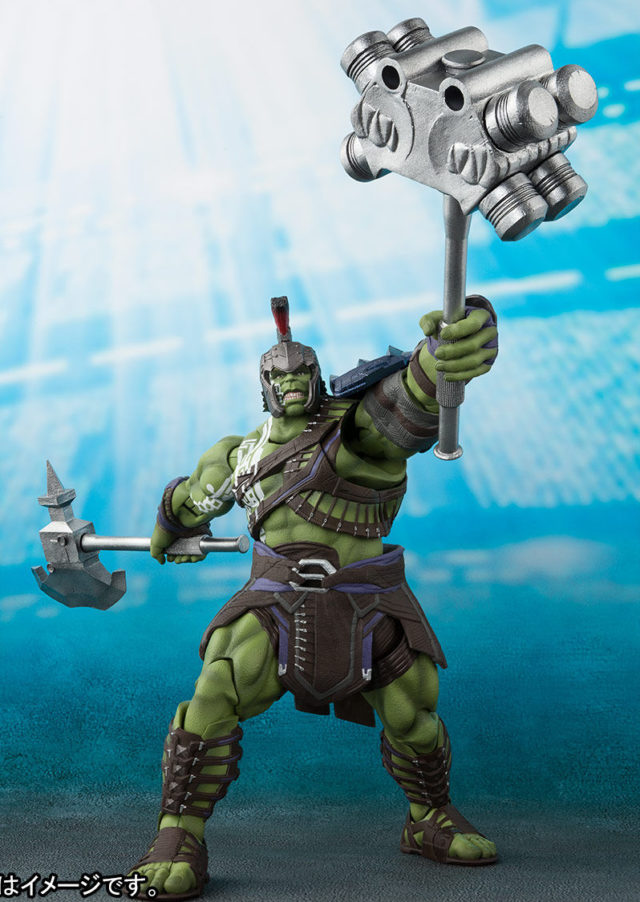 You case use code "RSDEAL22" at EE to take $15 off and get free shipping on either figure as of writing (or place two orders and use the code twice!), which definitely helps to make the prices on these figures a bit more appealing ($70 shipped and $120 shipped after the discounts).
SH Figuarts have long been tops in many folks' books–do you feel that Bandai has made the best Gladiator Hulk and Thor figures as well, Marvel collectors? What do you think of these figures and their pricing, and are you planning to pick up either (or both) for your own collection?