Traditionally, Bandai S.H. Figuarts Marvel figures haven't had a presence at New York Comic Con (since prior to last year, Bandai didn't have a license to sell Marvel figures in the United States at all). But things are different now from how they've been historically, and Bluefin Distibution brought along all of the upcoming U.S. Marvel Figuarts that are on the way—including the world premiere of Thor Ragnarok Figuarts Gladiator Hulk and Thor!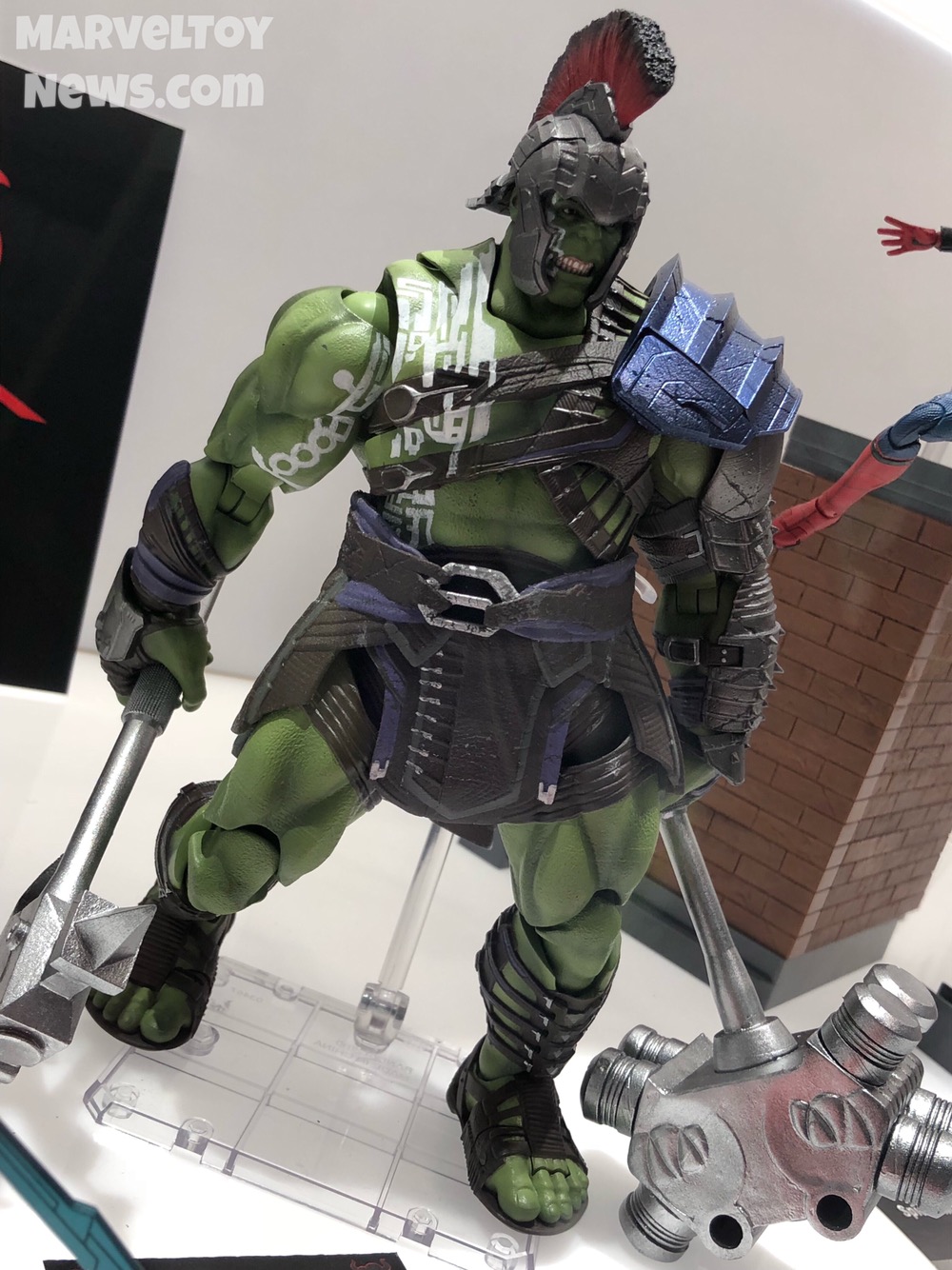 From Ant-Man to Doctor Strange to Spider-Man Homecoming, Bandai Japan has been releasing figures for
every
Marvel Cinematic Universe film that's come out since Avengers: Age of Ultron. So new SH Figuarts Figures being released for Thor Ragnarok? No surprise.
What was unexpected, though, was the world premiere of the SH Figuarts Thor Ragnarok Figures at New York Comic Con 2017! This is (obviously) a first for the Marvel Figuarts 6" figure line, and a very welcome precedent.

Like almost every other Marvel toy-producing company on planet Earth, Bandai is focusing on two characters from the film: SH Figuarts Gladiator Thor and Hulk.
But while Bandai Tamashii is one of the last to the table to show off their movie figures, the extra time before showing them off might have been worth it: these figures are gorgeous.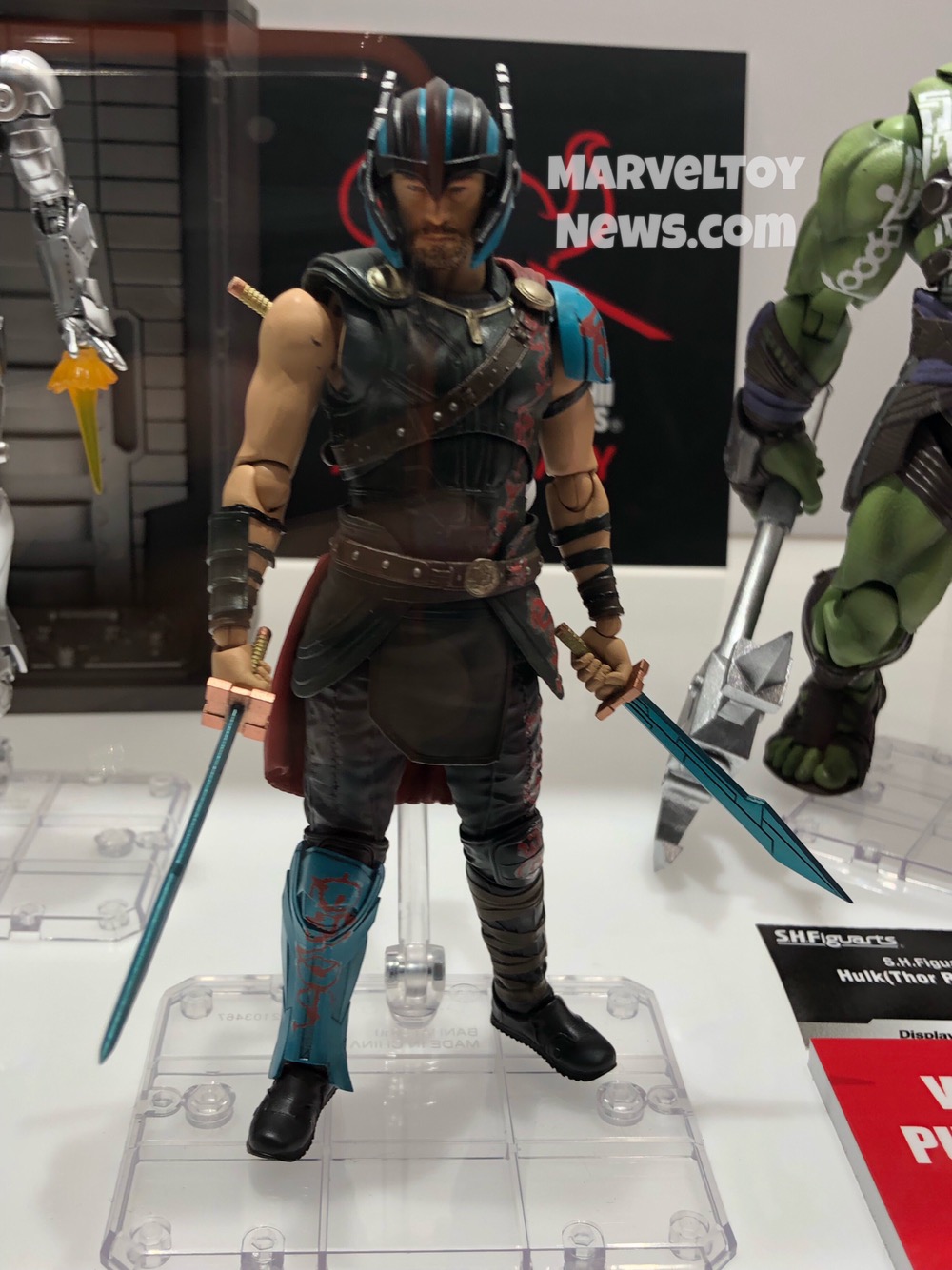 I've been calling this line "mini-Hot Toys" for years, and I think these figures do a good job of illustrating why. The enraged expression on Figuarts Gladiator Hulk's face is wonderfully accurate and detailed, and may be my favorite head sculpt of this character from any company so far.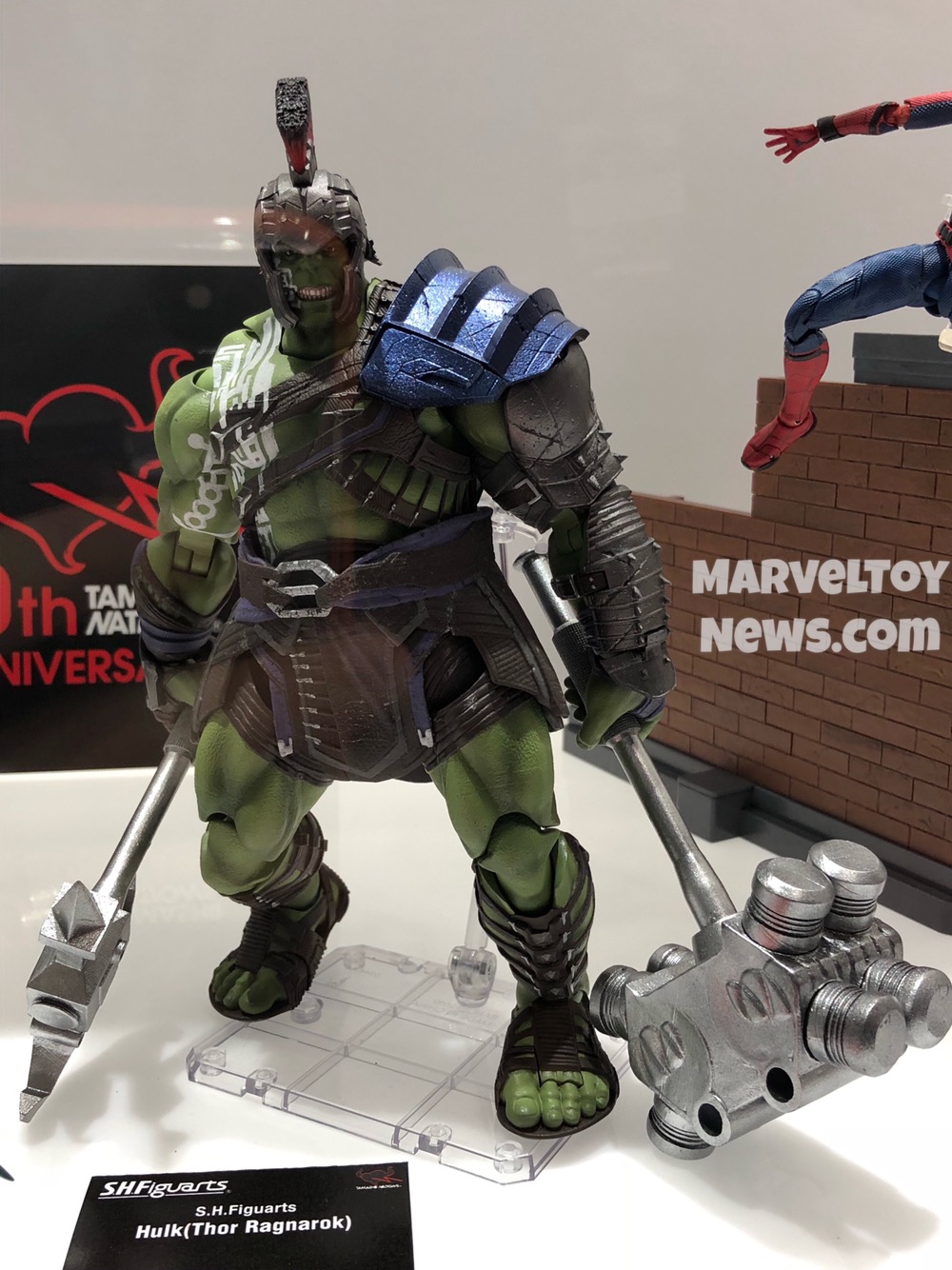 You can also bet that the Bandai version of Hulk's gladiator weapons aren't going to get immediately droopy like Hasbro's did.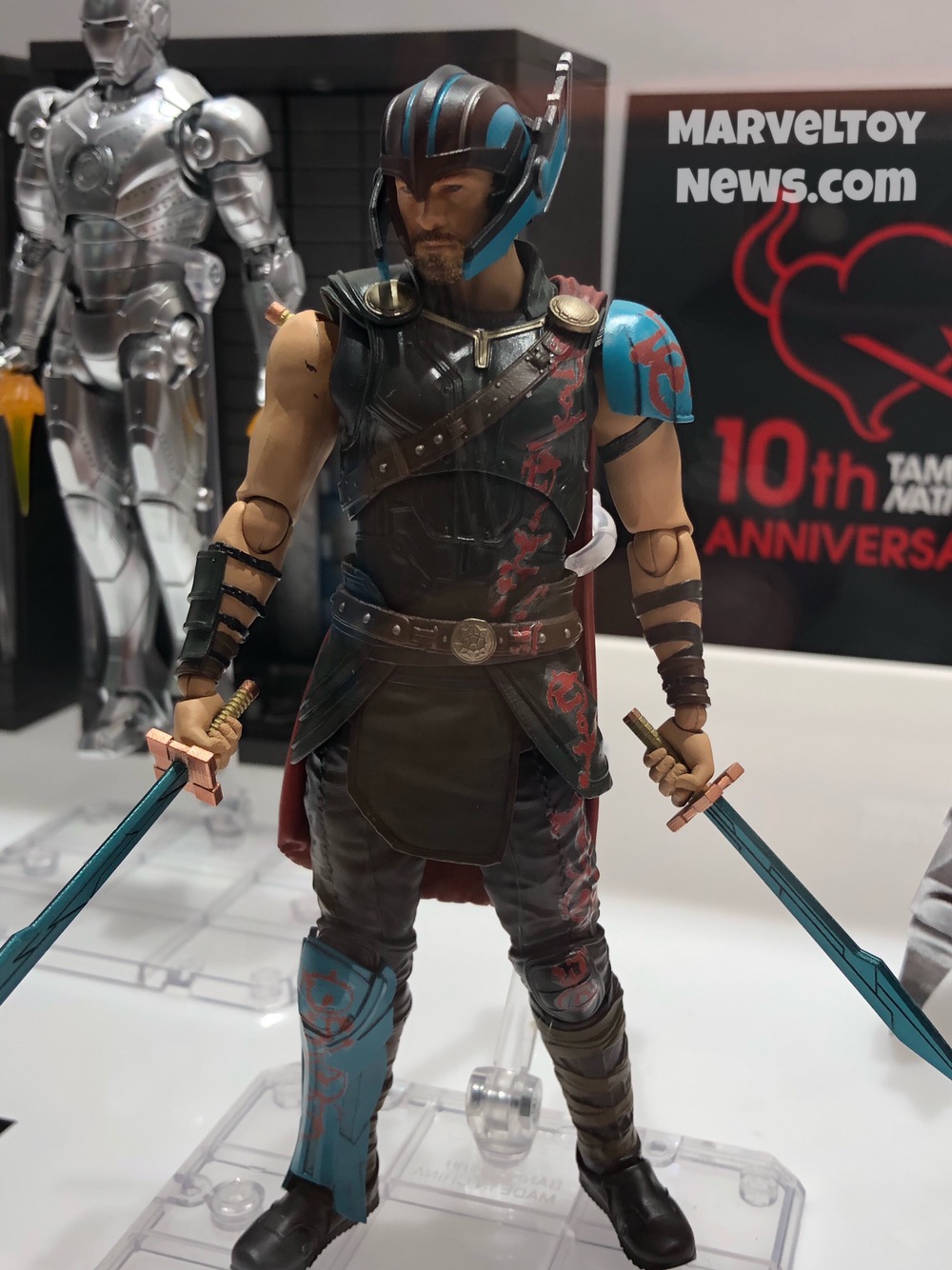 Meanwhile, while Bandai's Thor Figuarts Figures have traditionally not had the world's best Chris Hemsworth likenesses, this latest version actually might!
I'm really pleased with how the Figuarts Gladiator Thor figure looks. I liked the Hasbro Marvel Legends and Diamond Select Toys Marvel Select versions—and love the Mezco ONE:12 Collective figure—but Bandai's is going to take the 6"-7" figure prize.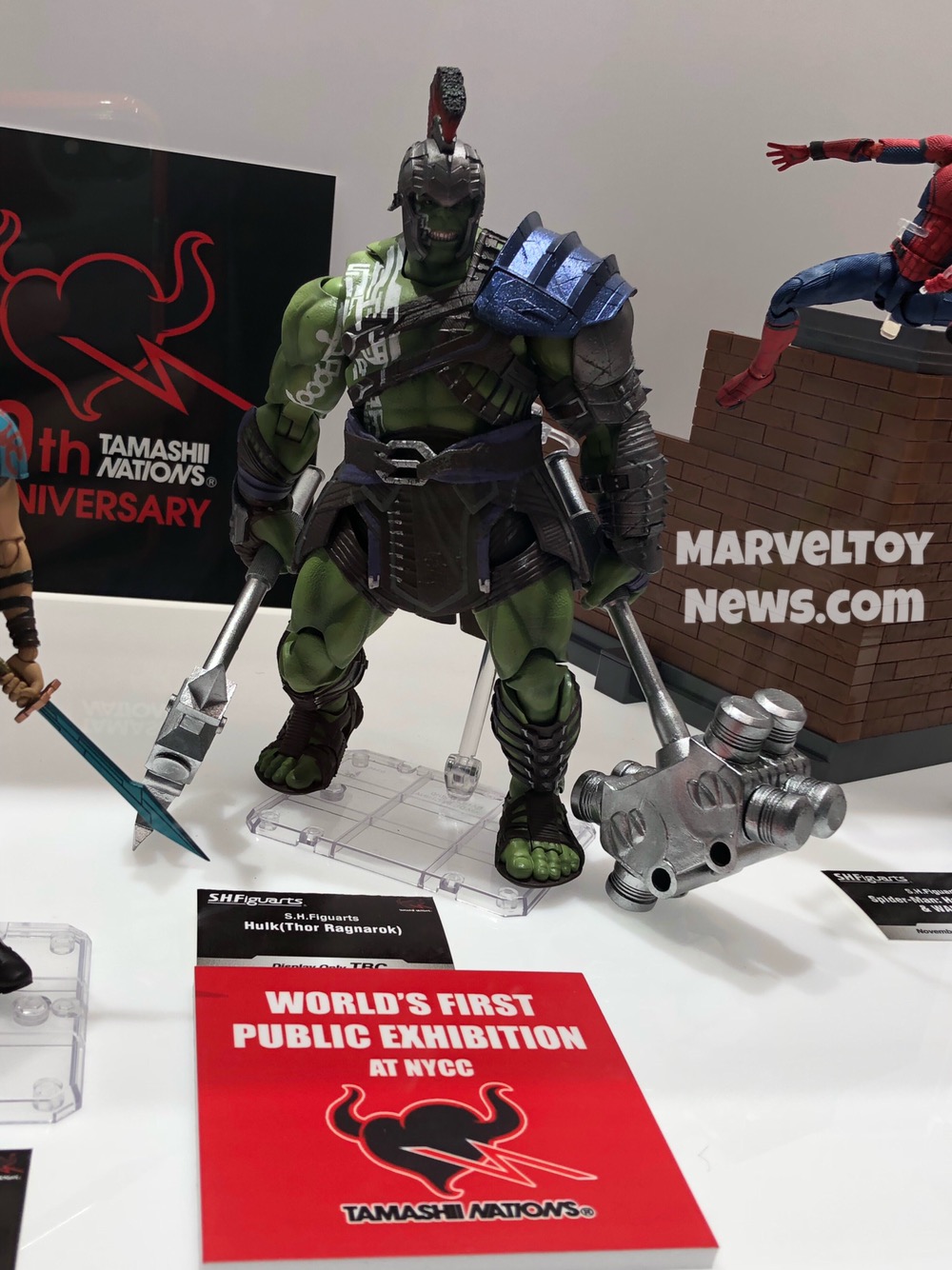 There were no pricing or release details for these figures available at New York Comic Con 2017, but since they're being displayed at the Bluefin Distribution booth, it's a safe bet that they'll be available domestically from online retailers like BBTS.
I'll post future updates on the SH Figuarts Ragnarok Figures when more information becomes available.
Now that you've seen when Bandai Tamashii has up their sleeves, which company earns your personal trophy for the best Gladiator Thor and Hulk figures in this scale? Are you willing to shell out the big bucks for the Figuarts versions, or are you opting for more affordable iterations?