While Hasbro Marvel Legends reigns supreme as the best 6″ Marvel figure line in the United States, Hasbro has much tougher competition if you broaden your search to international figures. And when it comes to 1/12 action figures (6″ scale), there's no greater competition than with Bandai SH Figuarts! And although Bandai previously stuck to Iron Man figures, this year, they're expanding with a series of SH Figuarts Avengers Age of Ultron figures…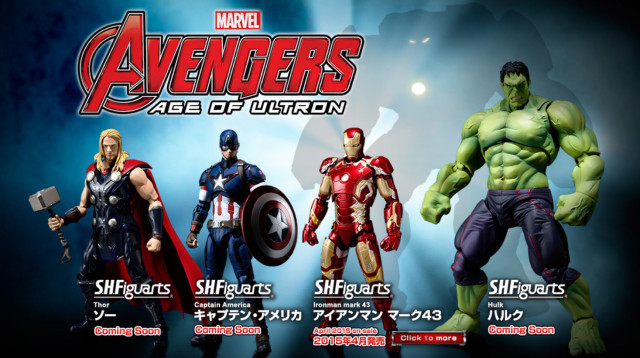 Bandai has made hands-down the best 6″ Iron Man movie figures with their SH Figuarts Iron Man line, so I was pretty giddy when I heard Bandai was going to tackle S.H. Figuarts Age of Ultron figures.
While the initial quartet of figures was announced months ago, we've gotten our first look at the actual Avengers Age of Ultron Figuarts figures over the past few days.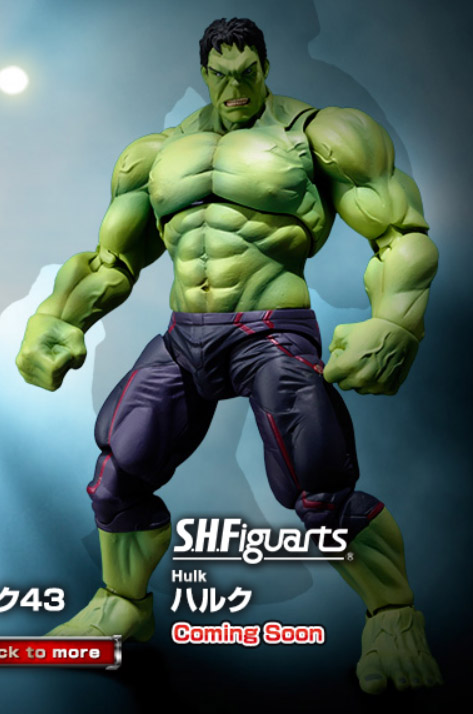 I'll forgo talking about
the SH Figuarts Iron Man Mark XLIII
, as that figure went up for order (and sold out) already earlier this winter. So let's start with the figure I hear folks are most excited about: SH Figuarts Hulk.
Oftentimes, Bandai will opt for creating non-articulated Figuarts Zero statues for larger characters. That's not the case with Figuarts Hulk, however. As with the SH Figuarts Broly Dragon Ball Z figure released last year, Hulk will be super-sized and super-articulated, just the way collectors like.
I've heard a few grumbles about Hulk's face looking too anime-like, but I think it looks pretty great. Also, this is easily the least-doofy I've seen Hulk's striped pants look so far. Really, I think this Bandai Hulk Figuarts will easily be the best 1/12 movie Hulk figure we ever get.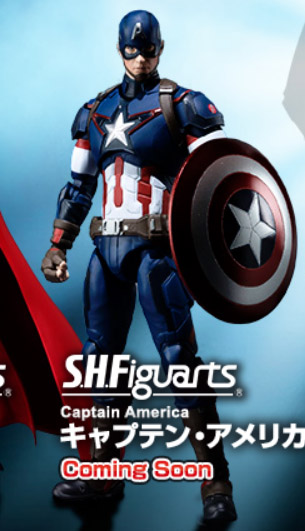 Next up is SH Figuarts Captain America. This figure looks, quite frankly, superb.
The Captain America Figuarts figure looks to be able to hold his shield quite naturally in several poses (including throwing it), and overall appears to be a very solid figure. Nothing to complain about here (at least, not for me).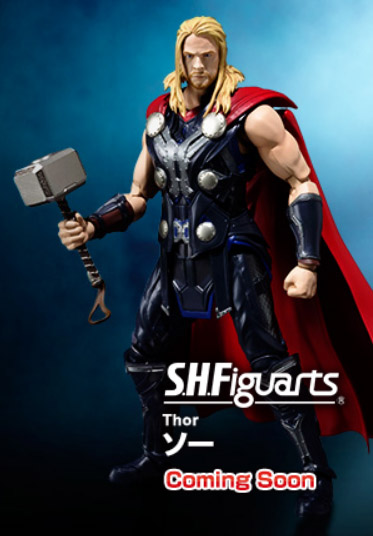 Finally, we've got Thor. This SH Figuarts Thor figure honestly looks a bit clunky to me, with an awkward head and proportions.
I'm going to cut Bandai some slack here until the finished Thor Figuarts figure prototype is ready for order, though–Bandai hasn't released a bad Marvel figure yet, so Thor may just need some more development time.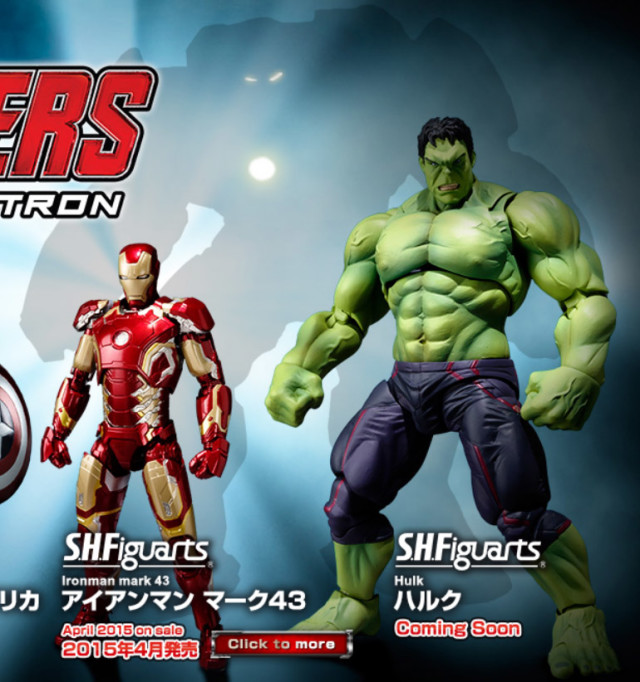 You may have noticed a rather menacing silhouette lurking in the background behind the SH Figuarts Hulk figure. Yes, that's the Hulk Buster.
But don't count on an SH Figuarts Hulk Buster Iron Man just yet–Bandai has gone as far as to create prototypes for many larger-than-normal figures over the years and then not released them, so a simple teaser silhouette is not confirmation that a Hulkbuster Figuarts action figure is on the way.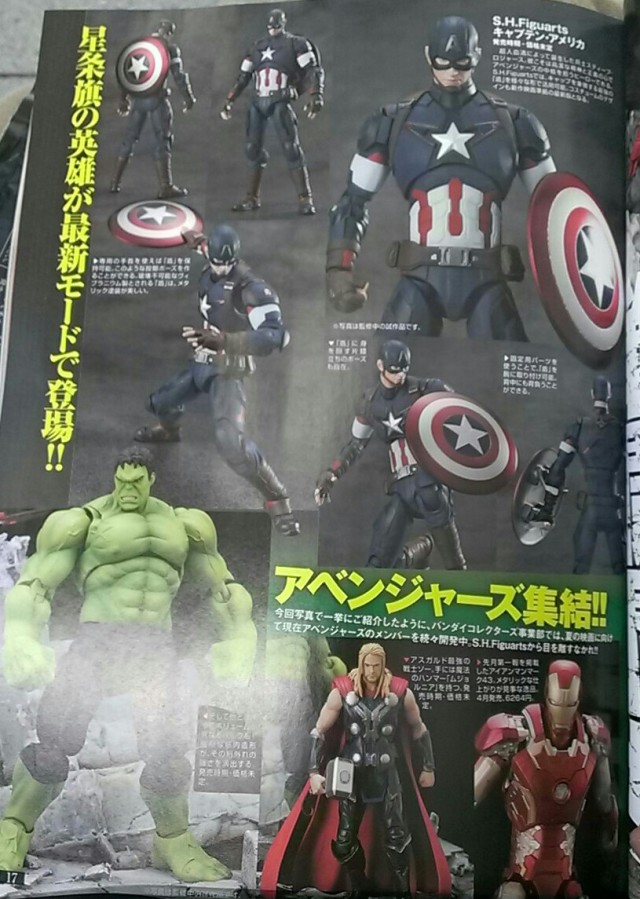 The S.H. Figuarts Avengers Age of Ultron figures should all be up for order online by this spring, with release dates in the second half of 2015. Iron Man Mark 43 went up for sale already and is pre-sold out in Japan and most American stores, which I think is a good indicator of how hot this line is going to be.
Having seen the full-color prototypes of the four announced Avengers Age of Ultron SH Figuarts figures, what do you think, Marvel fans? Do these figures look good enough to shell out $65-$75 for (after shipping from Japan), or are you sticking with Marvel Legends?