Earlier this week, I discussed the latest Bandai S.H. Figuarts Avengers: Age of Ultron figure to be revealed: Iron Man Mark XLV. But while Iron Man Mark 45 was just revealed this week, the remaining Avengers SH Figuarts figures that we first saw teased months ago are also finally getting their day in the sun: the SH Figuarts Hulk, Thor and Captain America figures are now up for order!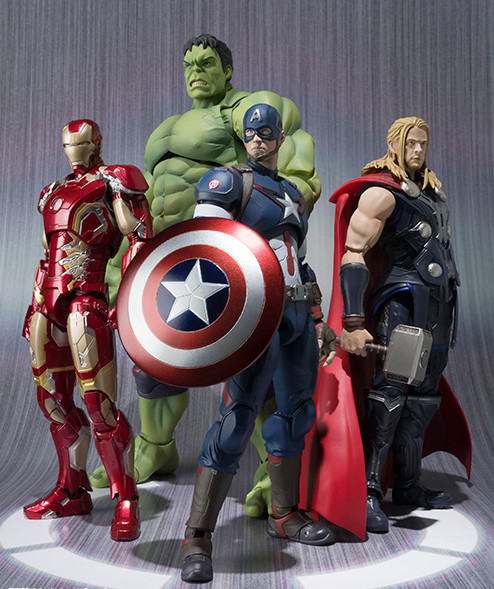 Bandai has been committed to bringing us the very best 1/12th scale Iron Man movie figures for the past few years, and this year they're finally expanding to some of the non-armored mainstays of the Marvel Cinematic Universe!
As of now, three non-Iron Man figures are planned for the Bandai S.H. Figuarts Avengers: Age of Ultron figure line: Thor, Hulk and Captain America. If sales of the line greatly exceeds Bandai's expectations it's possible that they'll produce Black Widow and Hawkeye later on, but I think that's very unlikely based on Bandai's past trends with Figuarts.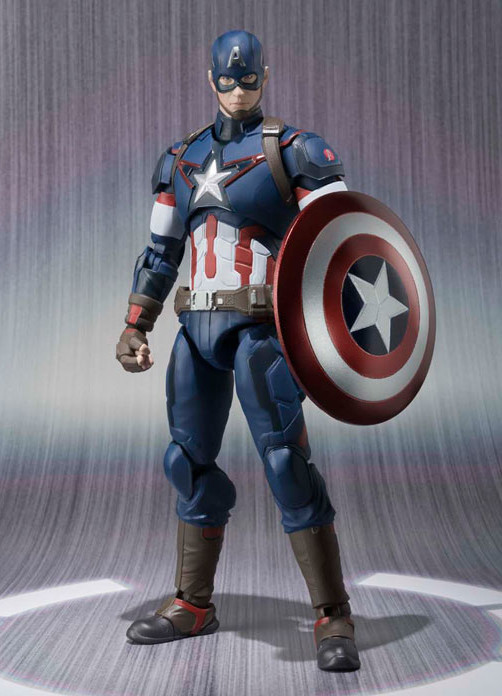 The huge hit of this trio is definitely the Captain America Figuarts figure, which looks outstanding. Bandai's specialty has never been capturing real-life facial expressions, but they have tons of experience with masked characters. As such, the SH Figuarts Captain America is fantastic all-around.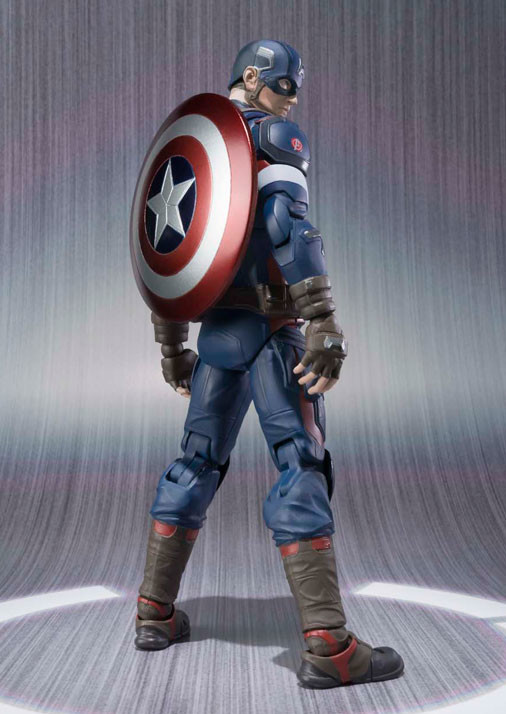 Captain America will include four pairs of interchangeable hands, an alternate head (with yelling expression), optional eye direction parts and his legendary shield (which he can hold, throw, or mount on his back).
SH Figuarts Captain America retails for 6,264 jpy (~$53 USD) and is expected to ship in late July 2015. Response to this figure has been exceedingly positive, so I expect this will be the toughest of these three figures to track down.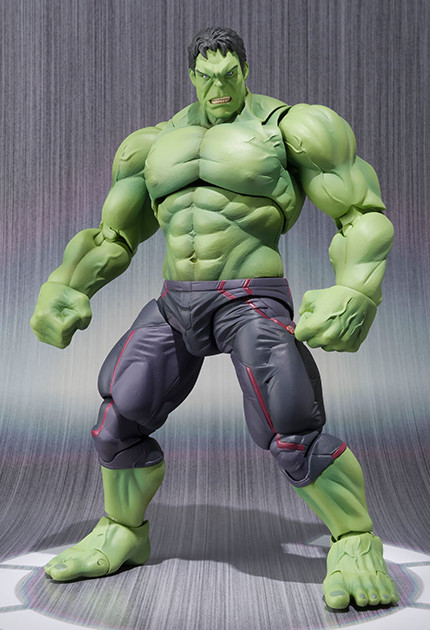 Next up, it's the biggest Bandai SH Figuarts Marvel figure ever (and one of the overall biggest Figuarts figures ever): the Hulk! S.H. Figuarts Hulk stands 200 mm (about 7.8″) tall, making him reasonably to the proper scale as seen in the Avengers movies.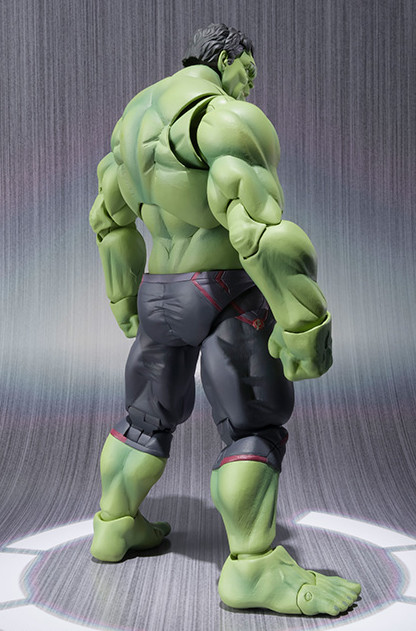 Hulk includes two pairs of interchangeable hands–one pair of closed fists and one pair of grasping hands. In addition, Hulk comes with an growling/sneering head and an alternate yelling head. Both of these heads are slightly stylized and not quite movie accurate.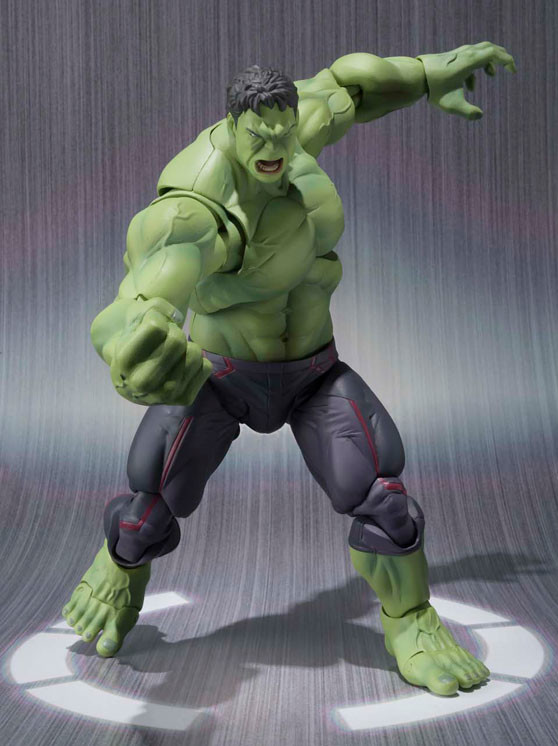 The Hulk Figuarts figure carries a hefty retail price of 9,720 jpy–about $81.23 USD. That's a lot of money for a figure that's under 8″ tall, but it is a totally unique sculpt that's beautifully designed, so it will be worth the big bucks that it costs to many collectors.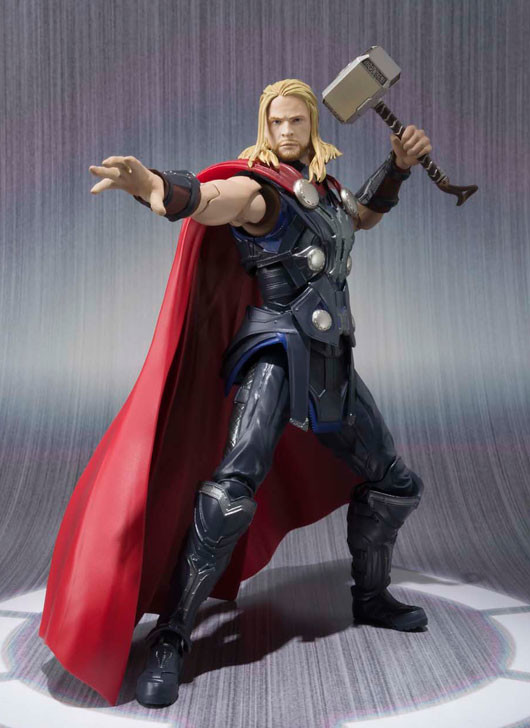 If there is a dud in the Bandai Figuarts Avengers Age of Ultron series, it's definitely Thor. Rather than even attempting a Chris Hemsworth portrait, Bandai went for a very anime-inspired look for Thor's head. The result is really jarring.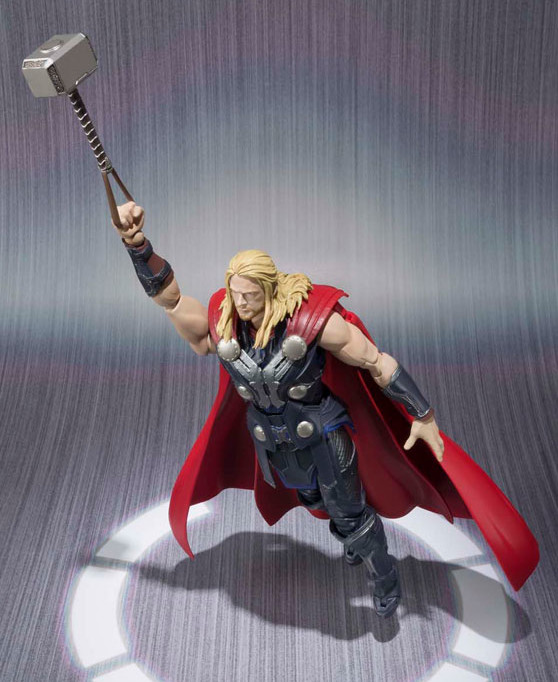 That said, I'm still pretty happy with the detail and articulation of the body sculpt for the Bandai Thor, even if he is the least compelling of the series. Figuarts Thor includes his Mjolnir hammer, an articulated plastic cape, eye directional parts and five hands.
The Thor Figuarts figure is due out in September 2015 and will retail for 6,264 jpy (about $53 US). Not surprisingly, Thor appears to be the slowest-selling of these three figures thus far. I love Bandai's Iron Man figures, so I decided to pre-order all three of his trio of teammates to join him, even though I've got some reservations about the Thor figure.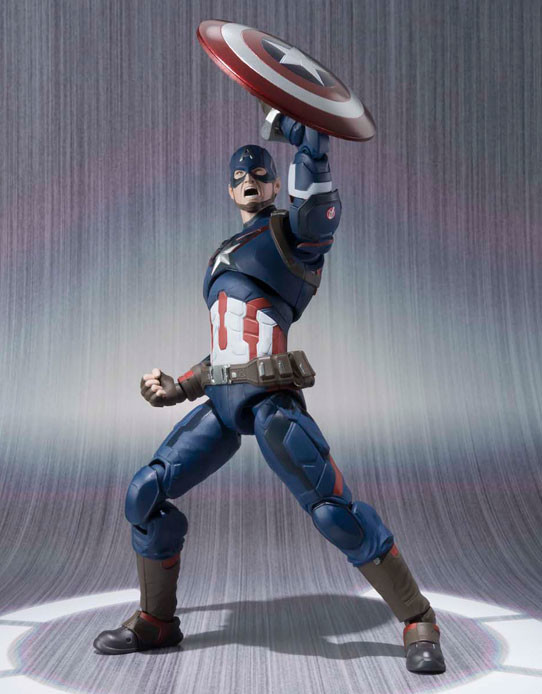 All of the known Avengers Age of Ultron SH Figuarts figures are now available for order, although many online retailers are already sold out (despite the fact that pre-orders only opened today). BBTS had been sold out of Hulk and Captain America earlier today, but has been able to secure more quantities, so they're available for order again (for now).
Now that they're finally available for order and arriving in just a few short months, are you planning on buying any of these upcoming S.H. Figuarts Age of Ultron figures, Marvel fans? If not, is it because of the price, the style or someone other reason?