While Funko has traditionally kept their comic book movie lines of POP Vinyl figures reasonably small, after the runaway success of last year's Guardians of the Galaxy POP! Vinyls, Funko has started to think big! As such, even though the movie isn't even out yet, Funko already has twelve Avengers Age of Ultron POP Vinyls figures either already in stores or on the way! Three of those figures are exclusive variants, and while the first exclusive I picked up is the Funko Gamma Glow Hulk POP Vinyl, I unfortunately can't exactly give him a glowing review…
The Right:
While the original POP Vinyls Hulk was among the first handful of Marvel POP! Vinyl figures released (he's number 8, in case you're wondering), that figure was also comic based and had minimal paint deco and a very simplistic design.
Funko has really upped their game over the course of the last year and a half (for the most part), though, and that's very evident from the quality of this new Avengers Age of Ultron Hulk Glow in the Dark POP Vinyls figure.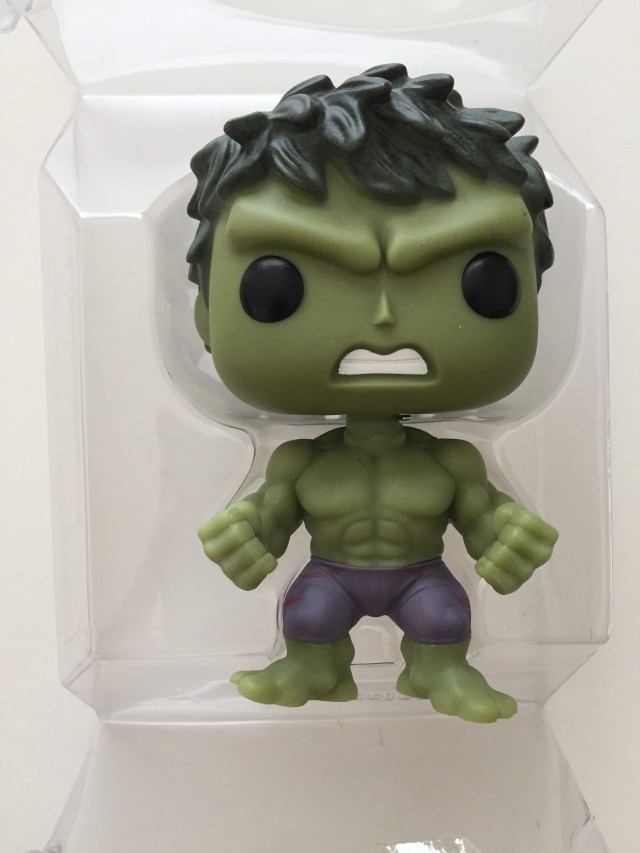 This Gamma Glow Hulk figure has much more defined muscles and a less "soft" sculpt overall than the original Hulk did. This iteration is far, far more realistic and more suitable for a movie Funko display than the original version of the character is.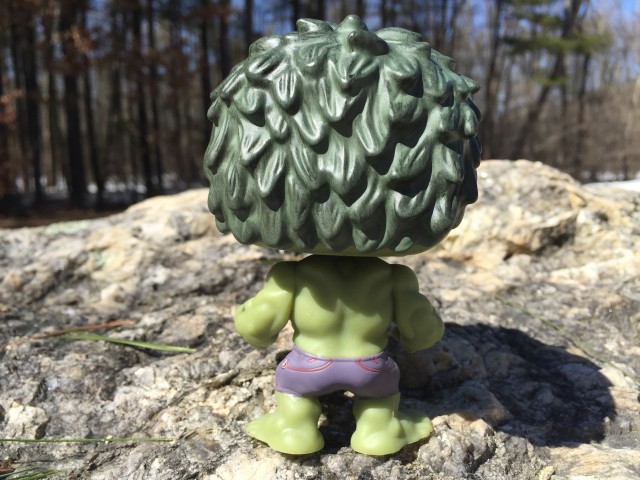 And while he may look pretty basic at a glance, Funko has utilized a subtle paint wash on Hulk that really brings out the texture and sculpting detail of his hair and abs. It's only a small addition, but it's one that makes a big improvement to the overall look of the figure.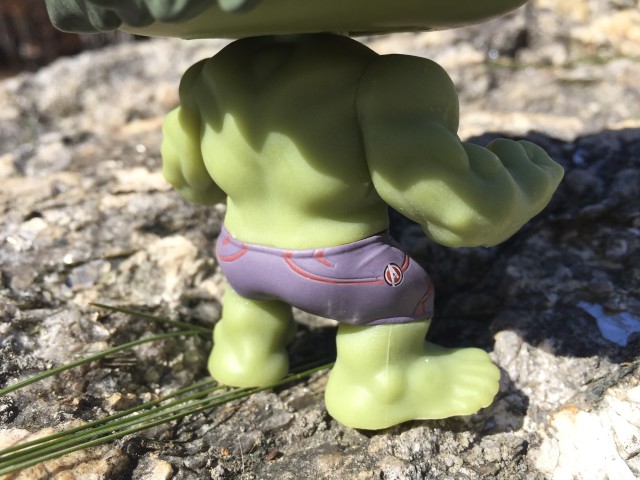 In the past, Funko might have skipped out on tiny details like the red stripes on Hulk's pants or the tiny Avengers logo on the sides, but no longer. Again–small additions that make this feel like a much better product overall.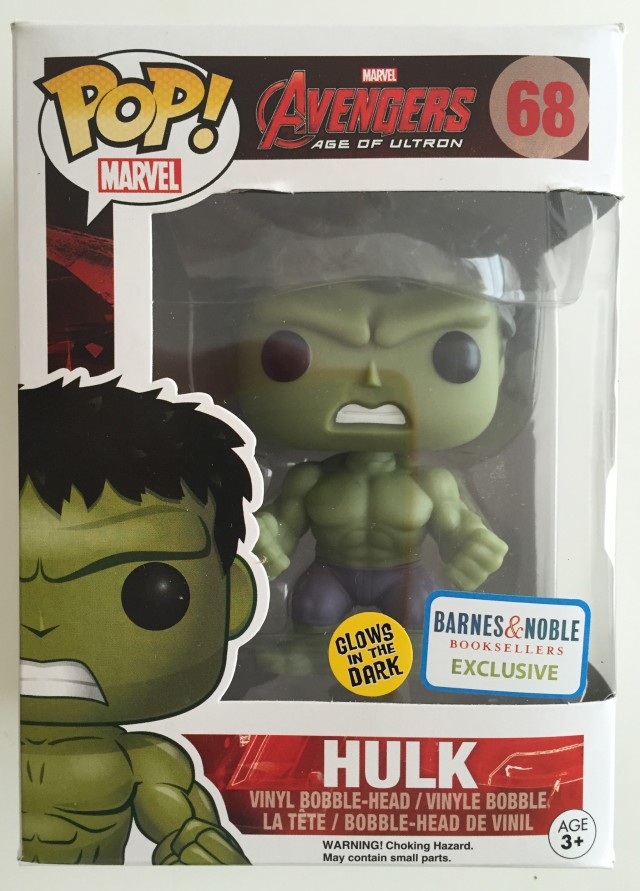 Sometimes Funko creates variants that are pretty head-scratching (like Baby Groot with a red pot with the Ravagers logo on it), but this isn't one of those times. Bruce Banner is radioactive, after all, so what character is more suitable for a glow-in-the-dark variant than him?
While this is the first POP Vinyls Glow-in-the-Dark Hulk, it's not the first GITD Funko Hulk overall–a Hot Topic Mystery Mini figure that glows was also released last year.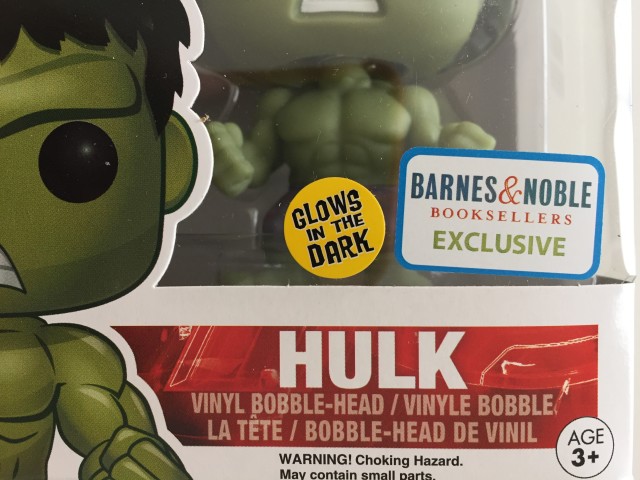 And hey, look–Funko has given this very desirable exclusive variant to a retailer that pretty much everyone has: Barnes and Noble! Brick-and-mortar book stores badly need support these days, so I'm thrilled to see them getting a variant for a change (their last Marvel exclusive POP was last year's black-and-white Captain America, for the record).
Rather than marking the figure up artificially as some independent chains do with their exclusives, Barnes & Noble kept the price to a very fair $9.99 MSRP. Thanks, B&N!
The Wrong:
I have two issues with this Funko Glow-in-the-Dark Hulk figure, and both of them are quality-control related.
The smaller of the two issues has to do with Gamma Glow Hulk's balance–or lack thereof. I can see that right foot was deformed at some point during production, and as a result Hulk's right foot doesn't touch the ground flat and he topples over if I don't have him balanced just right. Annoying, but I can live with it.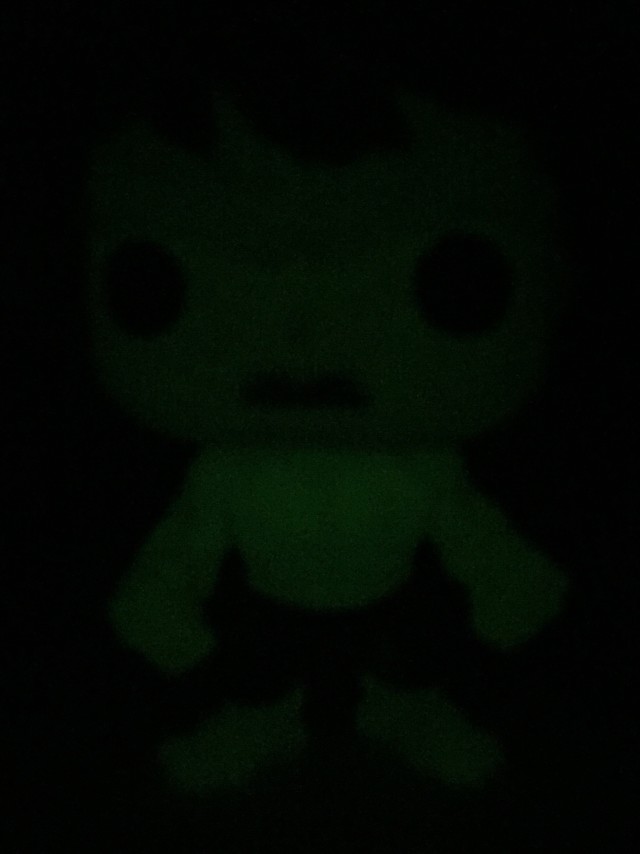 What I can't live with, however, is the fact that this limited, exclusive Glow in the Dark Hulk Funko POP Vinyls figure has one difference that sets it apart from the plain version–and that feature works terribly on the Gamma Glow Hulk bobble-head that I got.
I've owned quite a few Funko GITD POP Vinyls, and every one of them has glowed better than this Hulk does. I held him up to a lightbulb for five minutes and I even took him outside at the sunniest part of the day and set him in the sunlight for half an hour–but he has only the faintest, weakest of glows. A huge disappointment after how brightly and powerfully the Glow in the Dark Baymax POP Vinyl I reviewed last fall glowed.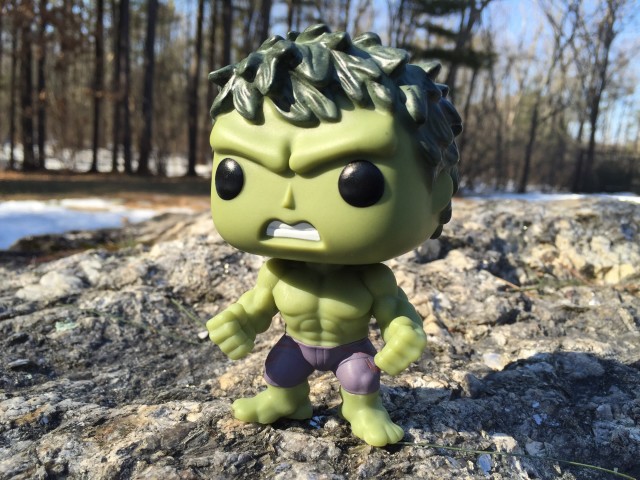 Overall: If I were writing a review for the regular version of the Funko Hulk Age of Ultron figure, then I'd have some really positive things to say about this figure. The sculpting is a huge improvement over the past Hulk and the paint apps are spot-on.
Unfortunately, this is a review of the Gamma Glow Hulk, whose sole defining feature is his ability to glow in the dark. And while I've heard some people's Hulk's glow well enough, mine fails the "glow test" miserably. I'm going to have to try to acquire a second GITD Hulk POP! now to see if it fares better, because the main gimmick of the one I purchased is a total flop for me. As it is, the grade this figure earns is a 'D'–as in "defective" and "disappointing".
GRADE: D+