Remember the awesome speedboat chase sequence in "Iron Man 3", or the climactic battle between a tank-driving Mandarin and Iron Man? How about the slick War Machine Mark II armor making it's debut in the same movie? No…? That's because all,of that stuff ended up on the cutting-room floor of "Iron Man 3". And it looks like the proud tradition of deleted material being captured in collectible form is continuing–the exclusive Kotobukiya Rampaging Grey Hulk ARFTX+ statue is now up for order!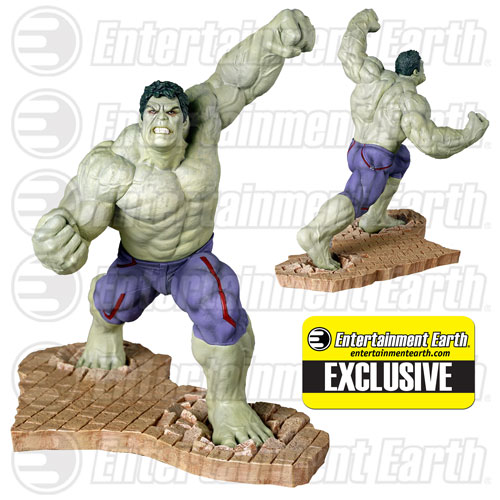 Perhaps more surprising for me than anything that I did see in the Avengers Age of Ultron movie last week was what I
didn't
see.
After Disney made a big deal about Diamond Select Toys keeping their Grey Hulk Marvel Minimates figure "top secret" until C2E2 2015, I figured it was a lock that we'd actually see Grey Hulk (AKA "Rampaging Hulk") on-screen in Avengers: Age of Ultron. The existence of a Hot Topic exclusive Funko Rampaging Hulk POP Vinyl figure provided further evidence of grey Hulk's in-movie existence.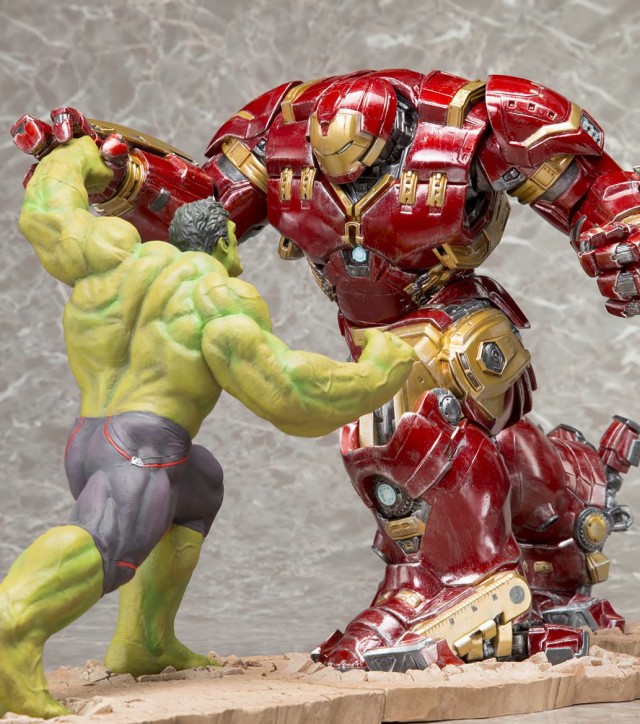 But it turns out that Marvel Studios was pulling a fast one on collectors–and merchandisers–once again, as a grey Hulk never appears in Avengers AOU at all! Director Joss Whedon confirmed this week that plans for gray Hulk to appear in Age of Ultron during the battle with Hulkbuster Iron Man were scrapped, disappointing fans of different-colored Hulks–as well as companies who invested in producing collectibles of them!
The EE Exclusive Kotobukiya Rampaging Hulk ARTFX+ statue is a repaint of the green Hulk statue that Kotobukiya is releasing his fall to complement their amazing Avengers Age of Ultron Hulkbuster Iron Man statue. The Hulk statue is actually meant to have a very light green skin-tone instead of grey, but even so, we never see it appear on-screen. Alas–perhaps on the Avengers Age of Ultron Extended Edition Blu-Ray!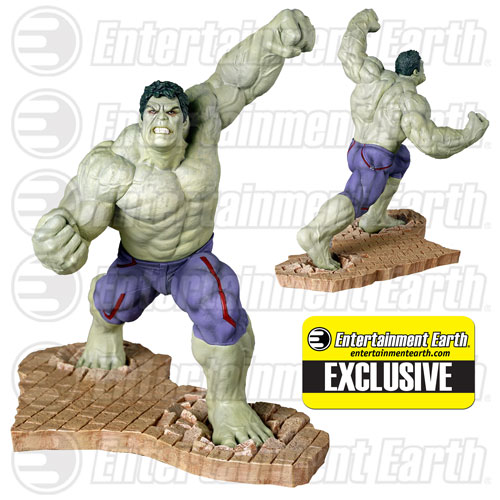 The Entertainment Earth Exclusive Kotobukiya Grey Hulk ARTFX+ statue is now up for order (with free shipping!), and is expected to ship out in November 2015. As this grey Hulk ARTFX+ statue is a store exclusive! it'll obviously be more limited than the green Hulk version of this statue (although no edition size has been announced for this piece).
What are your feelings on the Kotobukiya Rampaging Hulk exclusive statue, Marvel collectors? Is anyone planning to opt for this version instead of the green version of the Hulk statue, or are you planning to keep your Avengers Age of Ultron statue collection accurate to what actually appeared in the movie?