Much like a whole generation of kids who grew up swearing to it that Optimus Prime crumbles to dust in the 1986 Transformers movie, it's likely that there will be millions of viewers out there in a few years who insist there was a grey Hulk in Avengers: Age of Ultron. But while that too is a fallacy, Hulk does look a more muted green while under the Scarlet Witch's spell–and that's the basis for this Entertainment Earth exclusive Kotobukiya Rampaging Hulk ARTFX+ statue that I like far more than I expected to…
The Right:
Although the Kotobukiya Hulkbuster Iron Man ARTFX+ statue was an instantaneous, must-have pre-order earlier this year, I wasn't convinced I needed another Kotobukiya Hulk statue after the excellent Marvel Now Hulk statue I reviewed last year.
Both the pose and color of last year's comics-based statue are similar enough to the new figure that it almost seemed like double-dipping to contemplate buying the regular green AOU Hulk ARTFX+ statue as well.
But then Entertainment Earth stepped up to the plate with three words that always get my attention: "limited exclusive variant".
This particular variant of the ARTFX+ Age of Ultron Hulk statue depicts Banner when he's under the spell of the Scarlet Witch and (allegedly) a duller shade of green in the movie. He's also got the crazed mascara eyes that make him look a bit more Frankenstein-like and monstrous.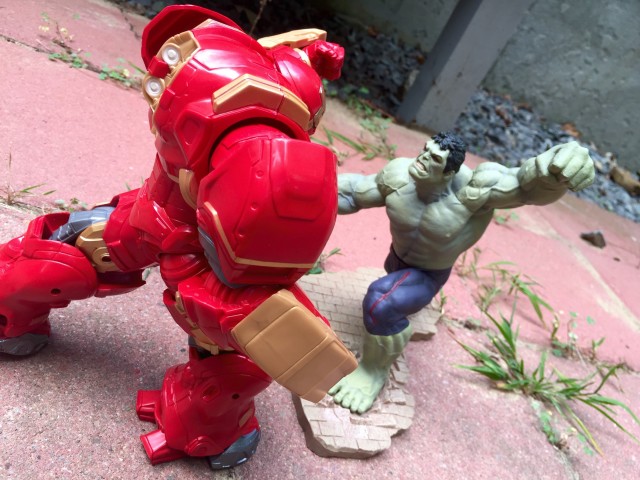 I outright love the color of this Rampaging Hulk ARTFX+ statue. It's definitely not the vibrant green we're used to for movie Hulk toys, but nor is it a totally muted grey like we saw on the Hot Topic Funko POP Exclusive of this character.
No, instead this monster's skin-tone is a happy compromise between both colorations–greenish-grey is really the only way to describe his color.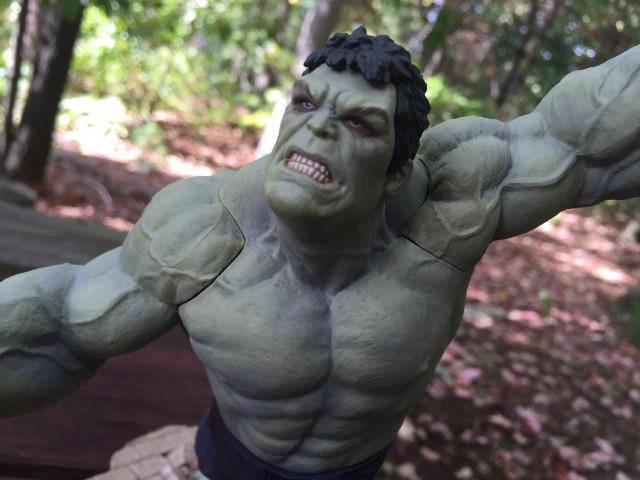 Now, I can't speak to the accuracy of the coloration on this figure until the Avengers: Age of Ultron Blu Ray comes out next month–and even then Hulk's skin-tone is going to be very debate-worthy and a question of lighting and shade. As such, I made sure to go out and take photos of this Hulk in as many different lightning conditions as possible, so you can get a good idea of the visual range of tones that this statue takes on.
Regardless, this is the color my brain remembers Hulk being in the Age of Ultron trailer (and maybe even the movie itself), so I'm totally thrilled with this piece. I'll swear Hoth Han's coat was blue until the day I die, and this green-grey mixture is definitely the color for "my" Rampaging Hulk.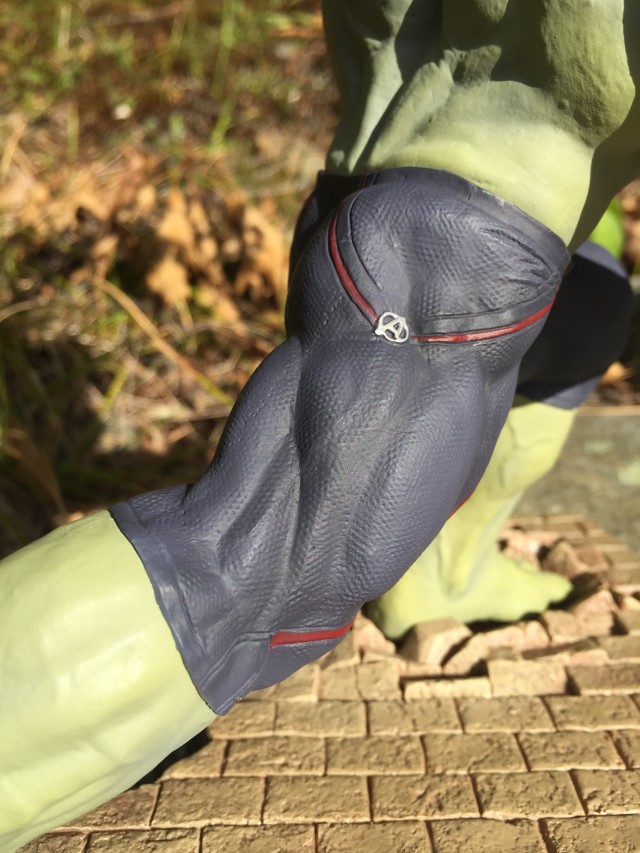 Some companies are cheating and using old torn-shorts Avengers 1 Hulk as an AOU version, but Kotobukiya is not. This is mold is 100% new for this year, and features the accurate spandex pants that fans are rather divided on.
The pants are very nicely-detailed with a mesh-like sculpting texture, and have the red lining and Avengers 'A' logo expertly-painted on. I was not a fan of Hulk wearing this style of yoga pants until I'd actually seen the movie, but now I'm okay with them and have no problem with the aesthetic of the pants on this ARTFX+ statue at all.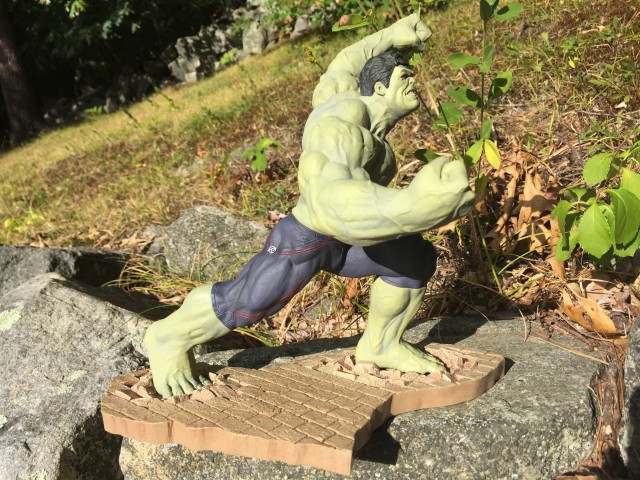 The base interlocks with the ARTFX+ Hulkbuster base to create one mega-diorama, but it looks good enough on its own that it's not really jarring to display this statue by itself. I also vastly prefer this detailed, battle-worn terrain style of base to the plain black rectangular bases that the Kotobukya ARTFX+ statue usually get. Thumbs up.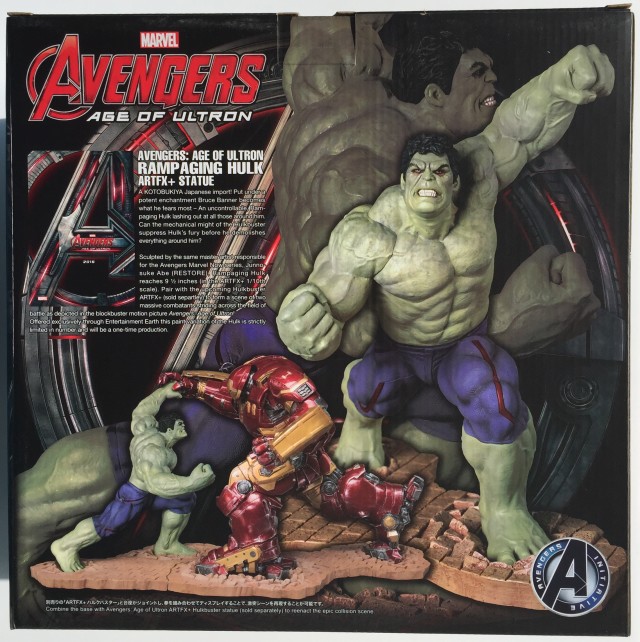 I was also very psyched to see that the Rampaging grey version of this statue gets its own, unique packaging! It always seems really cheap and disappointing to me when a variant just gets the regular version's packaging (usually with a sticker), so it's nice that Koto went the extra mile with this exclusive and made the box totally different.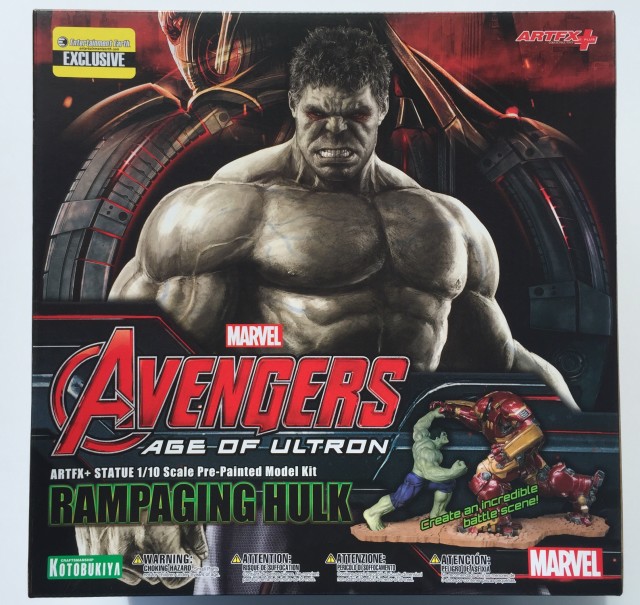 And speaking of exclusivity–it's refreshing to see Koto release another truly limited, exclusive ARTFX+ statue. The nature of the ARTFX+ line is that popular characters tend to be reprinted for years, so I always appreciate limited-edition variants that only get one production run and actually feel special.
As such, I'm grateful that this LE Rampaging Hulk won't end up in a clearance bin and will not be devalued by the perpetual reissues that are driving down the Avengers Now statues currently.
The Wrong:
While I won't fault the color choices on this figure for inauthenticity, what I can't look past is the seams on this figure.
Kotobukiya's license specifies that their statues must come in several easy-to-assemble pieces. Sometimes Kotobukiya does a bang-up job of ensuring that the seams are virtually invisible. And sometimes… not so much. Rampaging Hulk, unfortunately, is an example of the latter.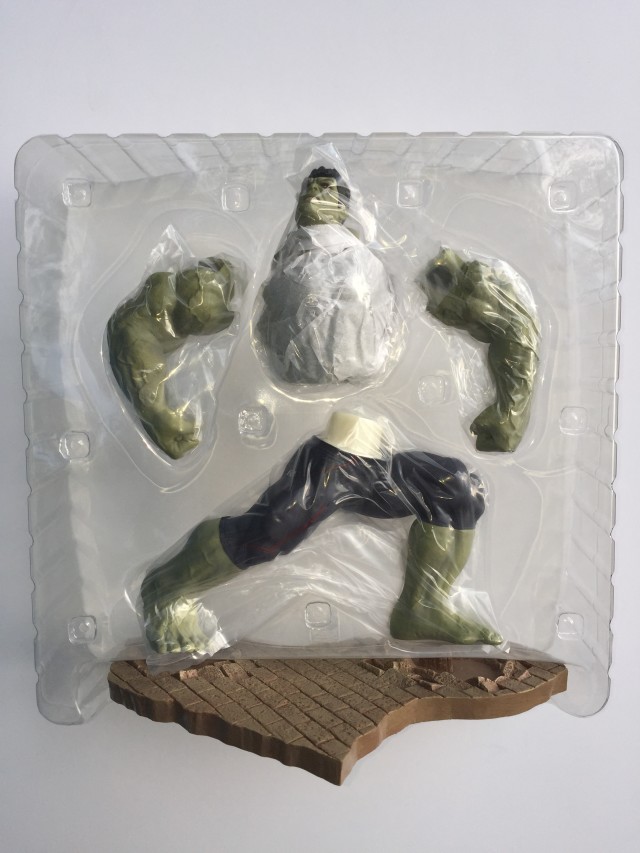 The Koto Entertainment Earth Exclusive Rampaging Hulk statue comes split into five pieces: the terrain base, the legs, the upper torso/head, the left arm and the right arm. While the upper- and lower-bodies fit together beautifully, because of the way Hulk is posed, there are two very obvious seams where the two arms connect to Hulk's upper torso.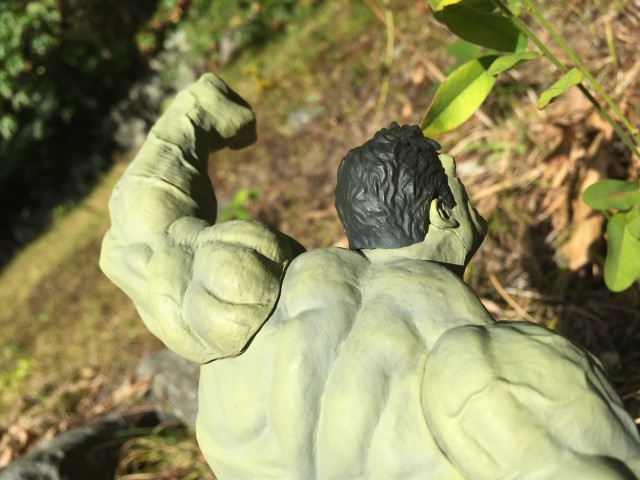 No matter how tightly I push in the arms, both of them–but particularly Rampaging Hulk's left arm–have a very apparent and visible seam showing. This makes me, quite frankly, insane.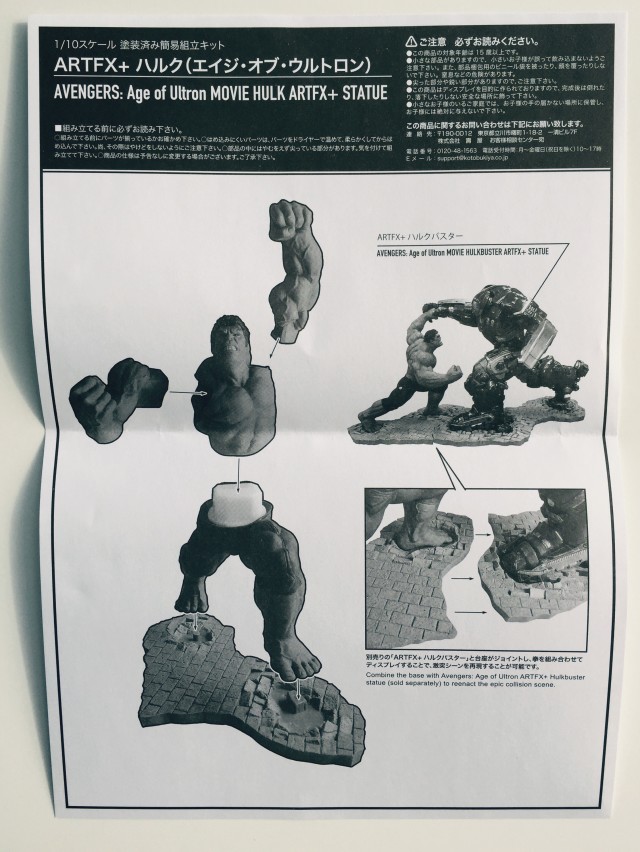 Now, different people may have different tolerances for this kind of thing: my wife said that the arm seams go with the musculature lines on the statue so well that she didn't even notice them. I, on the other hand, think that they're a major eyesore and yet can't take my eyes away from them.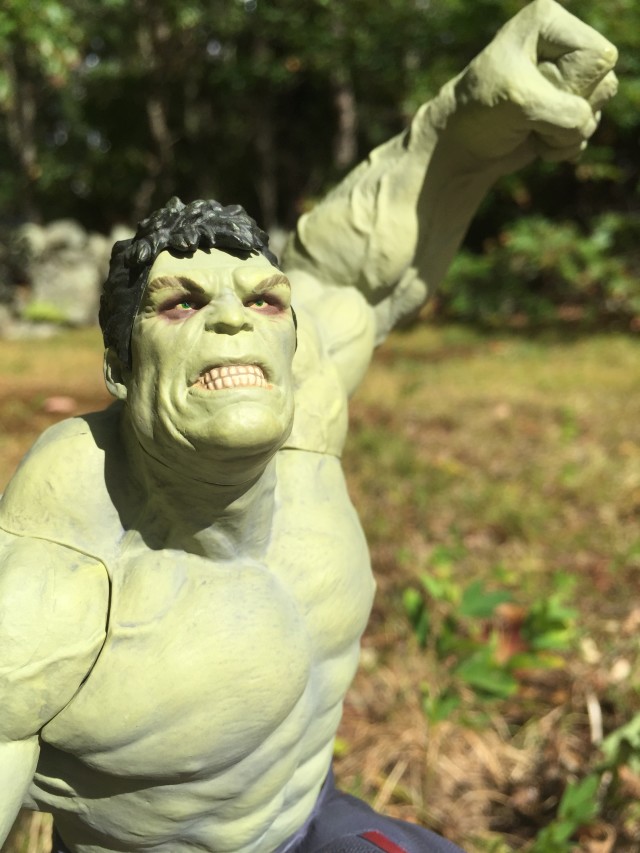 Meanwhile, my wife said she couldn't stand the very faint neck seam on this ARTFX+ Rampaging Hulk statue, whereas I honest-to-Bob didn't know there was a neck seam at all until she pointed it out. Crazy.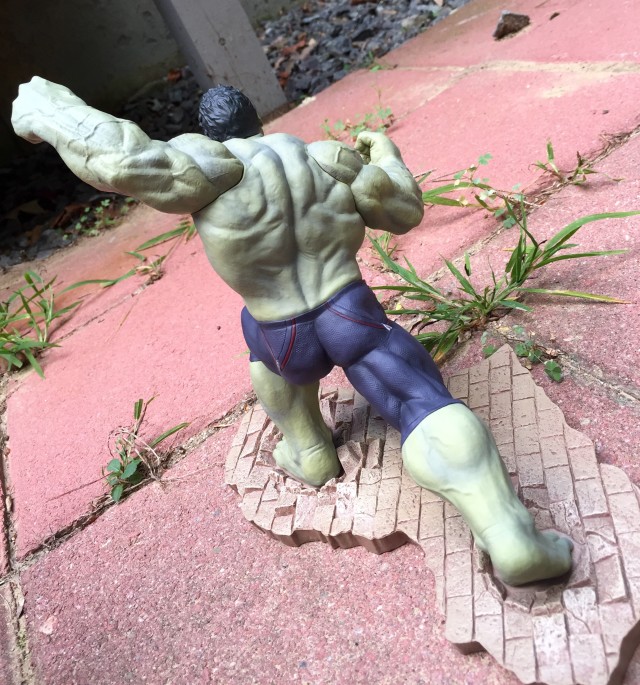 I don't think that the seams are a total deal breaker on what is otherwise a really well-done piece, but if you're an OCD collector like I am (and I know many of you are), definitely be aware that this may be an issue for you.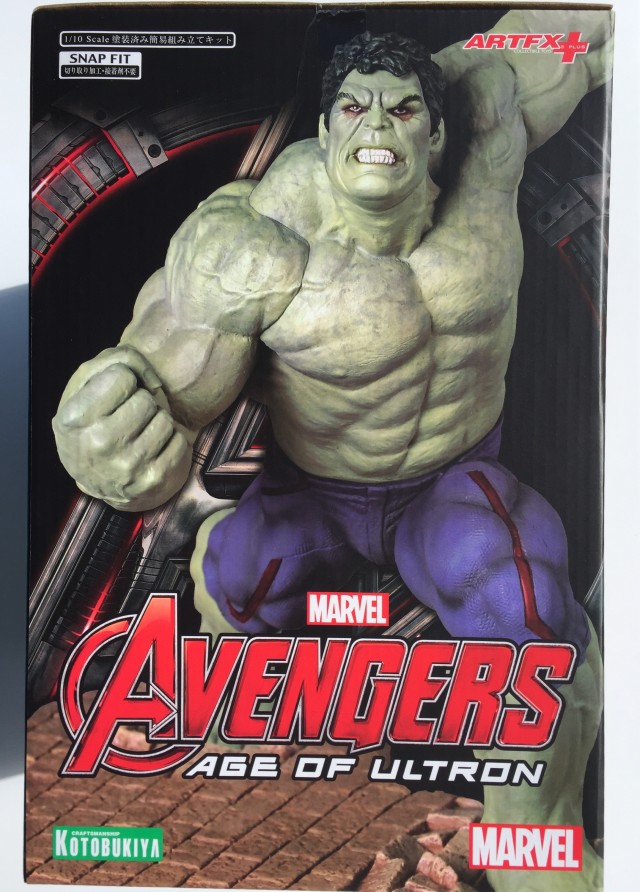 Overall: With so many Age of Ultron Hulk toys and figures on the market this year, I wasn't sure how well this Koto Rampaging Hulk statue was going to stand up against the crowd. But to my surprise, I think he looks better posed with the Marvel Legends Hulkbuster Iron Man BAF than any other Hulk figure this year. If you are obsessive about seams on your statues this very likely is not the Hulk statue for you, but otherwise I think it's a terrific-looking 9.5″ statue at a bargain-level price.
GRADE: B