The Year of Deadpool continues with an unprecedented fifth Kotobukiya Deadpool ARTFX+ statue! That's right, if the regular red-and-black Deadpool, chimichanga-eating unmasked Deadpool, X-Force Deadpool and Inverse Deadpool ARTFX+ statues just weren't enough for you, Koto has now got yet another 1/10th ARTFX+ statue lined up to appease the masses! The Previews Exclusive Kotobukiya Super Deadpool ARTFX+ Statue is now up for order–and hey, this time out, Wade's even getting a new mold (at last)!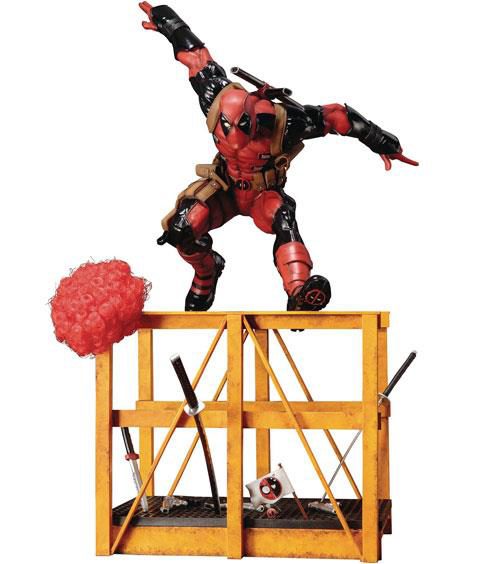 For the most part, Kotobukiya has been pretty sparing in the reuse of characters in the 1:10 Marvel ARTFX+ statues line. We've got one repaint of Iron Man, one repaint of Hulk, one repaint of Emma Frost… and that's about it.
Oh, that's right–and we've got four versions of Deadpool solicited to date. And hey, odd numbers are better than even, so we might as well make it an odd five Deadpools, right…? And so, the fifth–and most interesting–version has now been fully revealed: the ARTFX+ Super Deadpool statue!
So what's new about this 1/10 Deadpool Super statue…? Well… everything, frankly! The Deadpool figure itself is a 100% new mold that doesn't share any tooling with the four previously-released Koto Deadpools.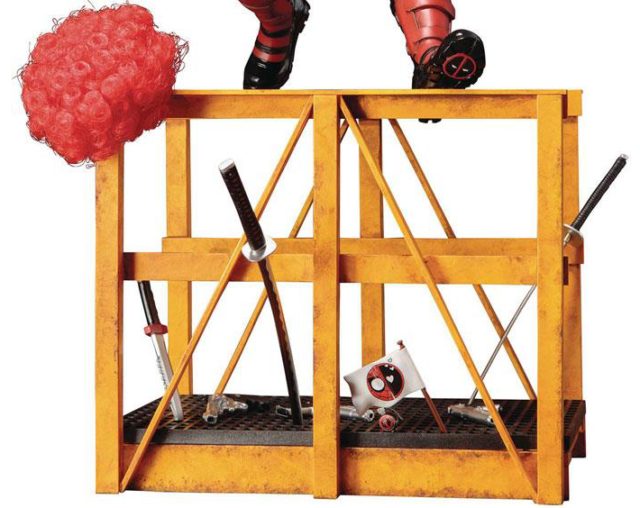 In addition, this time out Wade Wilson is balancing atop a wooden scaffolding base that is far, far more elaborate than any other base we've seen thus far for Marvel ARTFX+ statues! There's a soft and fuzzy clown wig, various swords and guns, and even a little Spider-Man/Deadpool logo flag on the ground! As far as bases go, this one is really fun and detailed.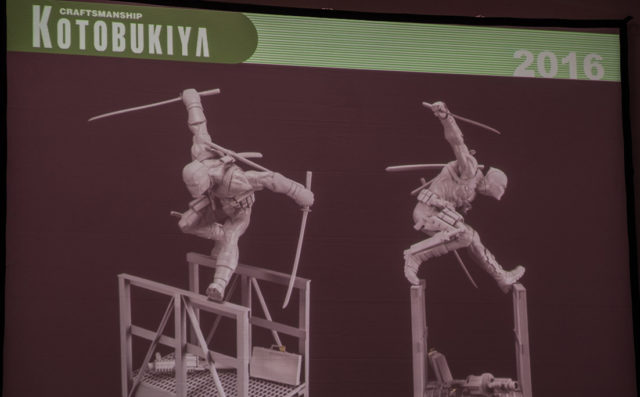 If this statue looks a wee bit familiar to you, it's because we first got to see the 3-D computer sculpture of the piece at the SDCC 2016 Kotobukiya panel during the summer. The piece has (obviously) come a long way since then, as it's now in fully-painted, physical prototype form.
While the official photos Koto has released of the Deluxe Deadpool ARTFX+ statue don't show them, the renders from the San Diego Comic-Con presentation more or less confirm that Deadpool will be coming with his trademark twin katanas swords (which may actually be the ones shown on the base of the physical prototype).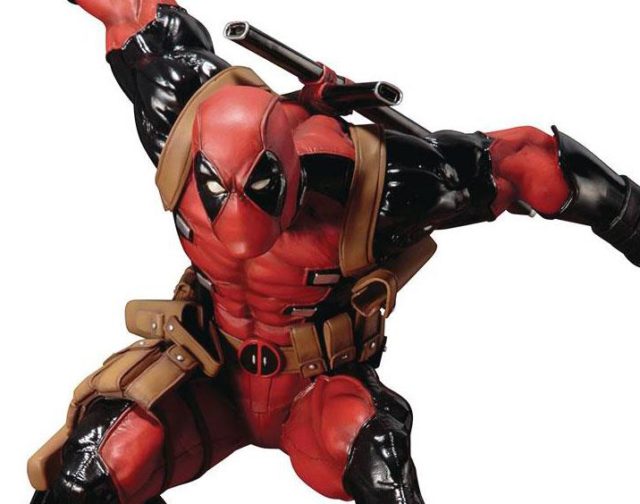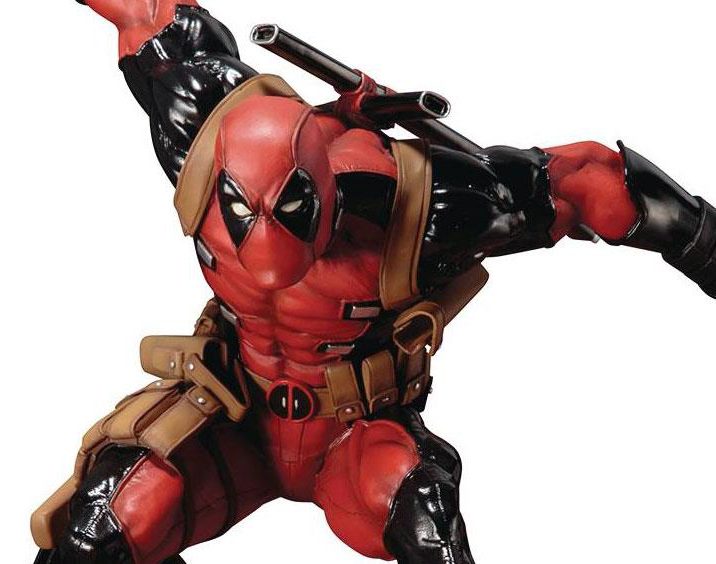 Of course, a much larger overall statue with the loads of details that this one comes with is predictably also commanding a much higher price-tag. Whereas the original Deadpool ARTFX+ statue retailed for just $59.99, this Super Deadpool Kotobukiya statue has a scary $149.99 MSRP.
150 bucks is more than double the cost of the most expensive Koto ARTFX+ Marvel statue put up for sale to date. Ouch! At that price, it's no wonder Kotobukiya decided to make this item a limited exclusive.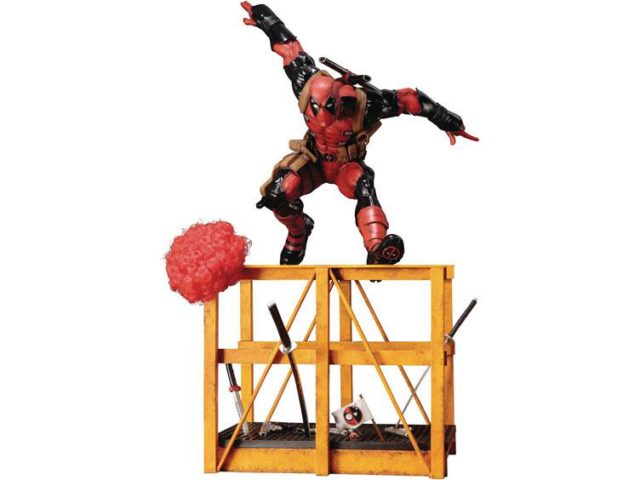 The Previews Exclusive ARTFX+ Super Deadpool Statue is now up for order, and is scheduled to be released in March 2017. BBTS is giving $15 off the MSRP for pre-orders, so they're getting my dollars this time out. This particular statue is a Previews Exclusive, meaning it will only be available to comic book and specialty stores, so it should be a bit harder to find in the future than your usual Kotobukiya 1/10th statue.
What do you think of the fifth in the series of Deadpool ARTFX+ statue, Marvel collectors? Will you pick up this piece at the surprisingly-high retail price of $135-$150? Is this rendition of Wade Wilson truly "Super", or are you all DP-ed out at this point?