…Well, that was fast. Kotobukiya hasn't exactly been trying to keep it a secret that they have a grey X-Force Deadpool ARTFX+ variant statue in the works for next year, what with them openly talking about it at San Diego Comic-Con 2014 last month and showing off sneak peek photos last week. Even so, for some weird reason I thought that this variant statue wouldn't be going up for sale for a while yet, as it was scheduled to be a store exclusive. I thought wrong! The statue will be exclusive to all retailers who use Diamond Previews, and the exclusive Kotobukiya Deadpool X-Force ARTFX+ statue variant is now up for order!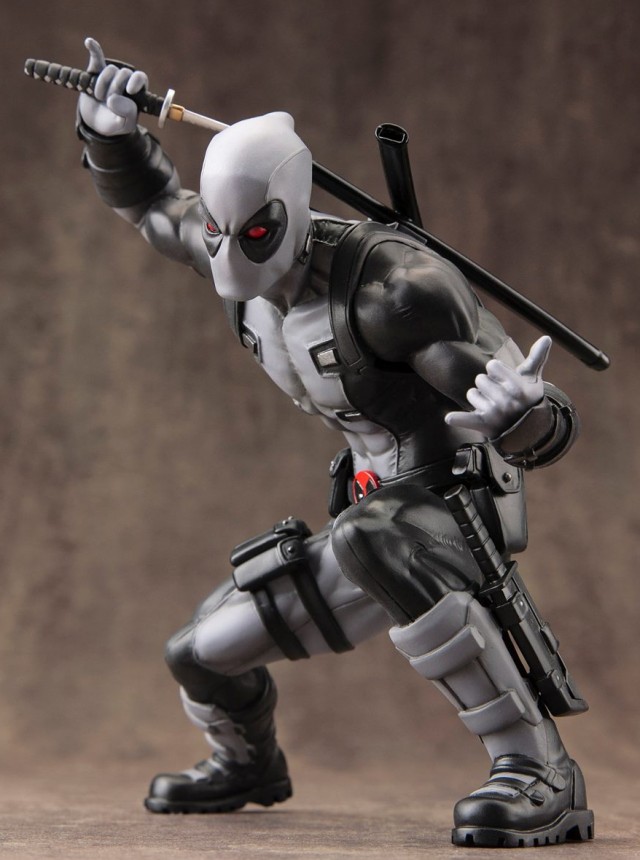 Marvel characters who haven't appeared in a movie (Wolverine: Origins does not count) don't get any hotter than Deadpool, and that's why Kotobukiya selected Deadpool to be their seventh ARTFX+ statue, following up the success of the Adi Granov Marvel Now Avengers Kotobukiya line of statues.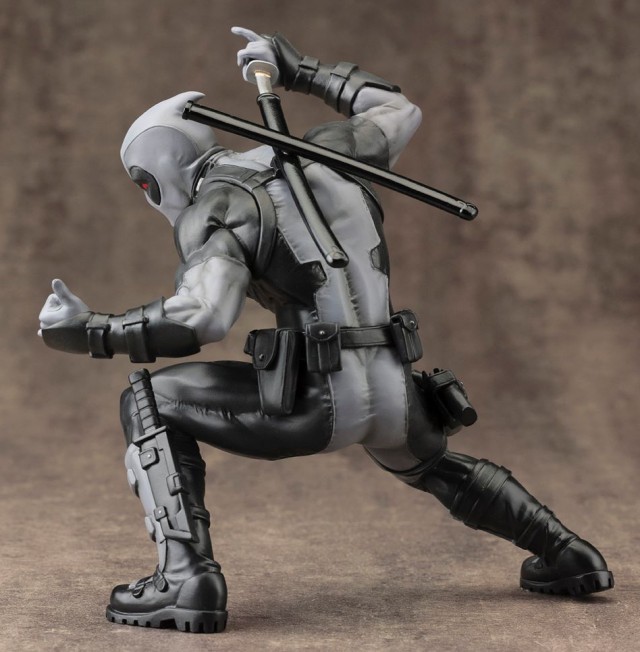 Nowadays, whenever a company does any kind of Deadpool merch whatsoever (be it a statue, figure, vinyl–whatever), a grey X-Force variant of said item is sure to follow. This might grate on some folks a bit, but in this case, I think the variant is well-warranted.
The writing for Deadpool in Rick Remender's "Uncanny X-Force" series is some of the best Deadpool has gotten in many years, and the grey Deadpool costume with red eyes is starting to becoming an almost iconic look for the Merc with a Mouth. If there's one palette swap costume for Deadpool that makes sense to get released, it's the grey X-Force Deadpool.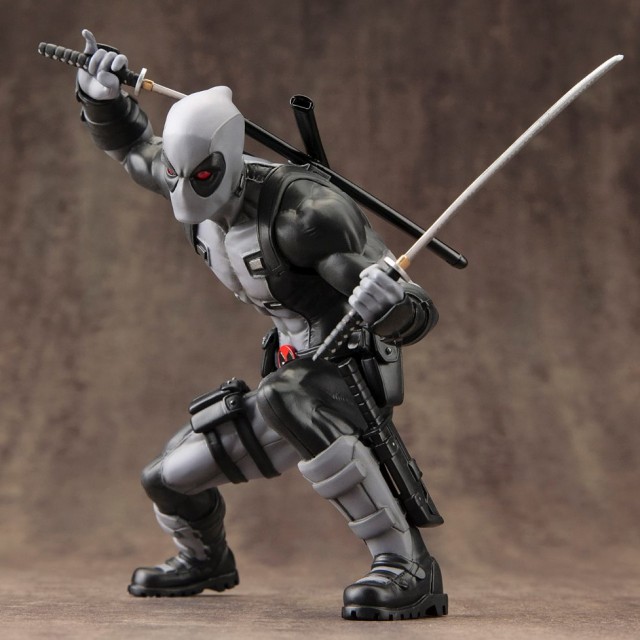 The Diamond Comics Previews exclusive X-Force Deadpool Kotobukiya ARTFX+ statue is a total repaint of the regular version of Deadpool that went up for sale a few weeks ago–same sculpt, same weapons, same base, same everything. The only difference between this and red Deadpool ARTFX statue is that this version has different paint and is an exclusive release.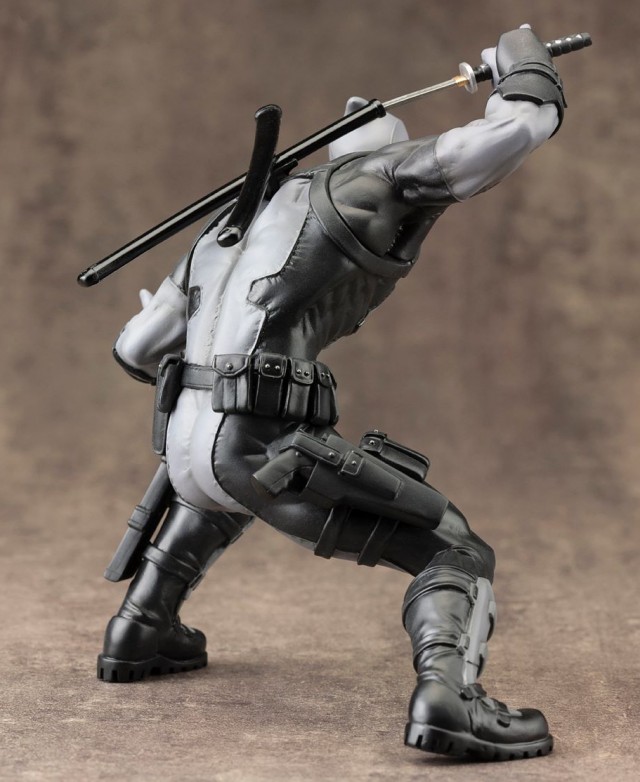 I had honestly pegged this 1/10 scale X-Force Deadpool ARTFX+ variant statue as a future SDCC 2015 exclusive for Kotobukiya, but that's obviously not going to be the case now. I wonder if we might see a different Deadpool costume (such as his popular blue/orange "X-Men" Deadpool costume) for the convention next year instead, though…?
It's also possible that Kotobukiya will opt for a "metallic" Deadpool variant (a la Funko), though I don't know that any of Deadpool's costumes look particularly good with metallic paints. We'll have to wait and see on this one, but I would be pretty stunned if we don't get at least one more repaint of Deadpool before all is said and done.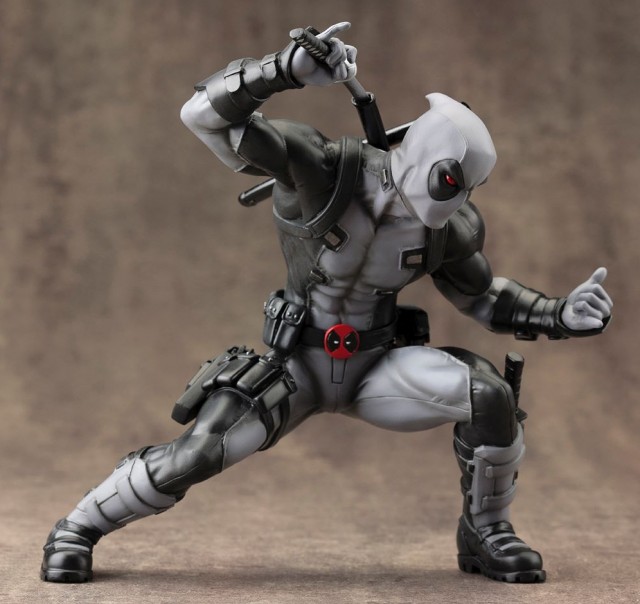 The Kotobukiya X-Force Deadpool ARTFX+ variant statue is now available for pre-order, and is scheduled to be released in March 2015. Koto hasn't stated an official edition size for this piece or anything like that, but seeing as how it's exclusive to Diamond Comics Distribution, it will definitely be a lower-run piece than the red Deadpool. Definitely consider locking one in early if you know for sure that this ARTFX+ Deadpool variant statue is for you.
How do you like the first Deadpool ARTFX+ variant statue, Marvel collectors? Will Deadpool's moody grey costume be adorning your shelf next year, or are you sticking with the classic red Deadpool (or none at all)?