Remember that one legendary issue of the Amazing Spider-Man (#615) that came out way back in 2009, wherein Spidey briefly wore earmuffs and a hat and scarf…? Yeah–neither do I. But Kotobukiya sure does, apparently, and in honor of that 8-year old issue, they're bringing us what just may be the most bizarre Koto exclusive figure/statue ever made: the NYCC 2017 Exclusive Kotobukiya Spider-Man Winter Gear ARTFX+ statue!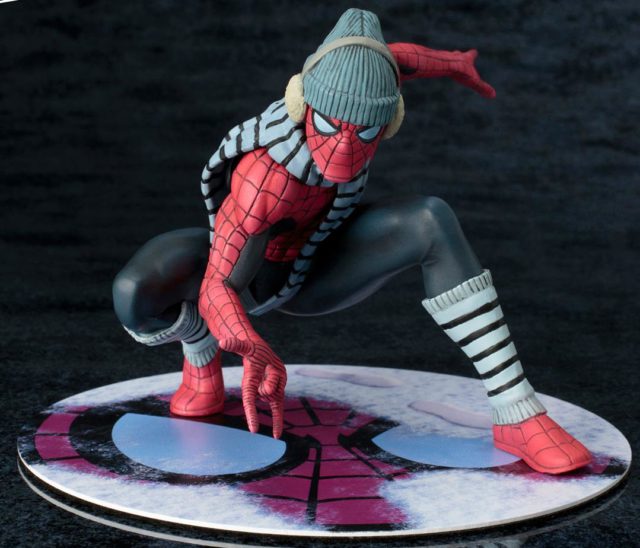 Okay, well… now I can die happily, knowing that I have well and truly seen it all. I thought last year's San Diego Comic-Con Attendee Lady Deadpool Bishoujo exclusive was pretty wild, but at least seemed workably sensible for a crazy female version of Deadpool.
I didn't think Kotobukiya would ever get any wackier than that with their convention exclusives, but clearly I was mistaken, as their New York Comic Con 2017 exclusive has now really set the weirdness bar.
Yes, believe it or not, the 2017 NYCC Exclusive really is a Winter Gear Spider-Man ARTFX+ figure.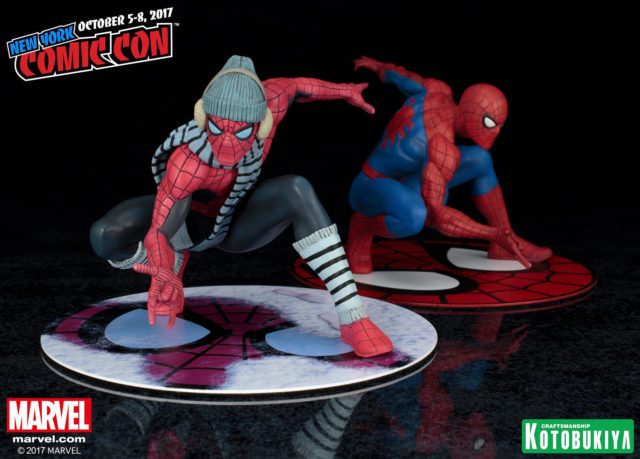 This ARTFX+ Spider-Man Winter Gear statue uses the mold from the regular version of Spidey that was released last year, along with newly-sculpted leggings, and a hat, scarf, earmuffs and leggings that can slide into the figure. (The hat/earmuffs/scarf are clearly removable in the photos, although I'm not convinced about the leggings.)
This variant paints up Spidey in his red and much darker blue-black costume, and there's also a snow-covered Spider-Man logo base included, which is legit my favorite part of this whole release.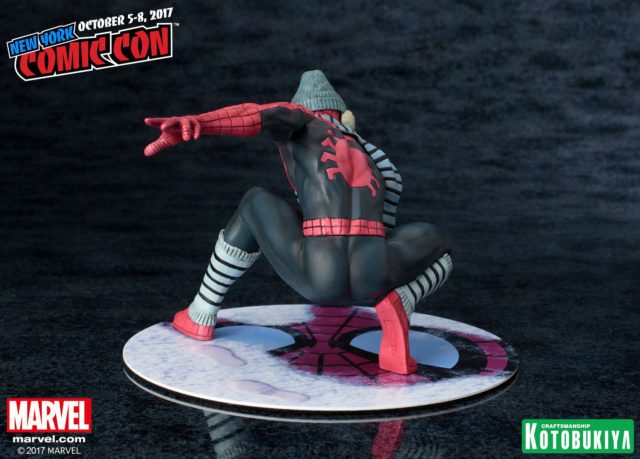 For creativity points, Kotobukiya deserves about five gold stars for this release. For potential interest level from the average collector… well, probably considerably less. I'm just not convinced that there's a viable market out there for a seasonally-dressed figurine of Spidey that appeared in one comic book issue ever.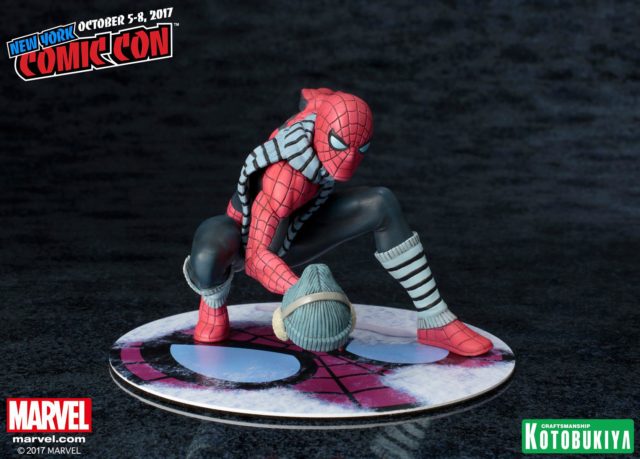 So who's the target consumer for this oddball item? Well, I guess it's me, as I'm a self-professed Christmas nut. I admit to having a Gentle Giant Yakface holding a giant candy cane and BB-8 covered in Christmas lights, and I can probably find a spot for this Winter Spider-Man in my holiday decorations.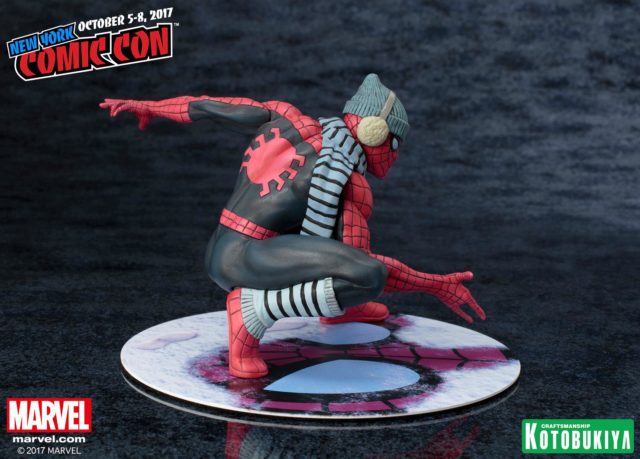 Koto US clearly recognized that this is going to be a genuinely niche item, which is why they're limited the ARTFX+ Spider-Man Winter Gear exclusive to just 600 pieces in the United States. I think that's a pretty smart move, as I don't see many collectors wanting this as the de facto Spider-Man statue on their shelves.
Winter Gear Spider-Man will go up for order on the KotoUS website at 1PM EST on 9/18/2017. Pricing details for Spidey haven't been announced yet, but I'd anticipate a price-point around $60 for the 1:10 scale figure.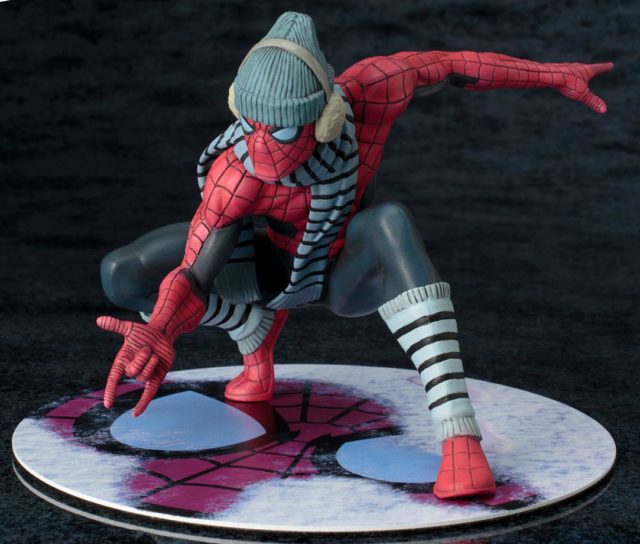 As this is a super-low limited edition run and the majority need to be saved for sales at the Kotobukiya booth at NYCC 2017 next month (I'll be on hand doing coverage of the show from October 5th-8th, 2017), I would anticipate that the online pre-orders will sell out pretty quickly (although with a bizarre figure like this one, I could certainly be mistaken).
What do you think of the weirdest Marvel Kotobukiya ARTFX+ statue ever devised, Marvel collectors? Does Winter Gear Spidey appeal to your tastes, and is this the sort of figure that you'd consider adding to your collection?