Of all the statues that made their grand debuts at San Diego Comic Con 2017, the one that caught me most by surprise–in a very good way–was Iron Studios' newest addition to their Marvel Comics Battle Diorama series. And now , that same statue is taking me by surprise once again with a very unexpected pre-order: the Iron Studios Wolverine vs Juggernaut statue is now up for order!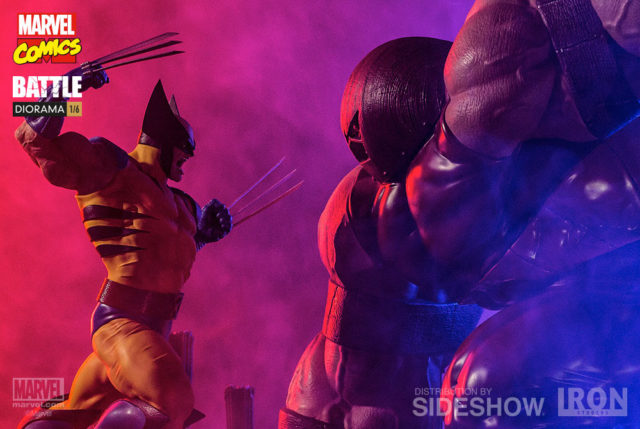 Iron Studios has flown under the radar for many Marvel collectors over the last couple years, but they are definitely working hard to take the limelight from other statue producers this year.
And one piece this is likely to really catch the eyes of a lot of collectors is a very 90's looking X-Men diorama statue, featuring Tiger Stripe Wolverine vs. The Juggernaut!
This is a big statue with a big price-tag: is it worth it? Let's take a look at all the details…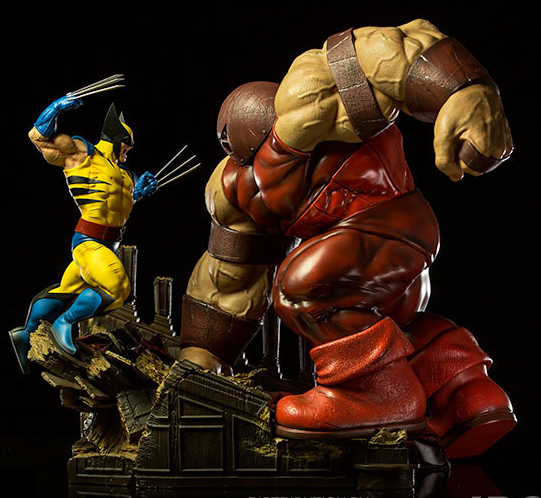 First and foremost, let's note that this is a 1/6 statue diorama. Now, I know 1/4 is the most en vogue scale these days, but practically speaking, any kind of two character diorama including a 1/4 Juggernaut would simply be unfeasible.
Even in the smaller 1:6 scale, this humongous statue is over 17″ by 14″ by 13″ big. In a larger size, very few collectors would be able to find a spot for this monster. So in this instance, I think Iron Studios really made the logical–and right–choice as far as scale goes.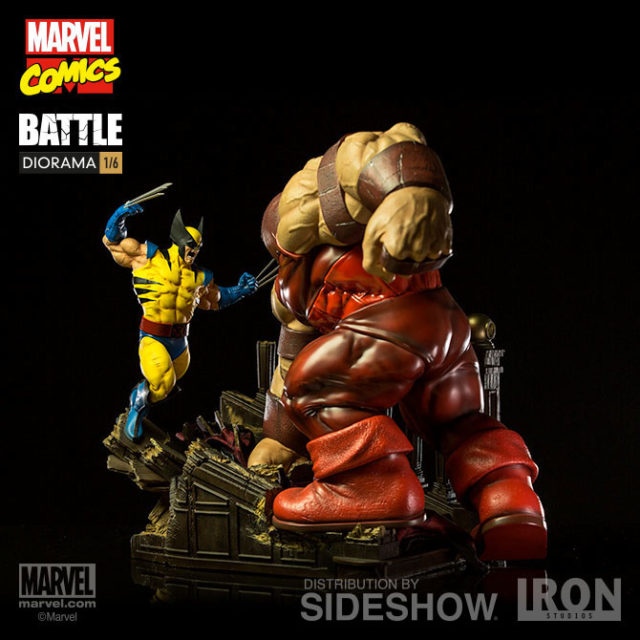 Although there's tons of collectors asking for Juggernaut statues, those cries have gone largely unheard recently. Kotobukiya released a pretty killer Juggernaut Danger Room Sessions statue a few years back, but that's the only high-end Juggernaut that's been released since Bowen Designs put out theirs many years ago.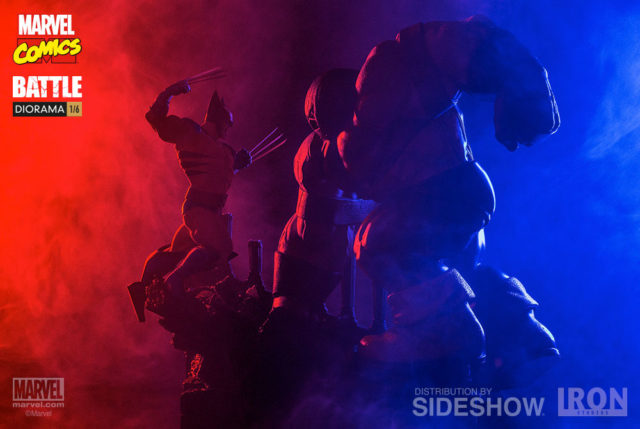 Iron Studios' Juggernaut looks powerful and deadly, with bulging veins and a hateful expression on his face. This is basically exactly what I want from a Cain Marko statue, so this makes me a happy camper.
Meanwhile, the Wolverine in this diorama statue features the most iconic look for the character, the yellow Tiger Stripe costume with X-Belt that most fans remember from the 90s cartoon.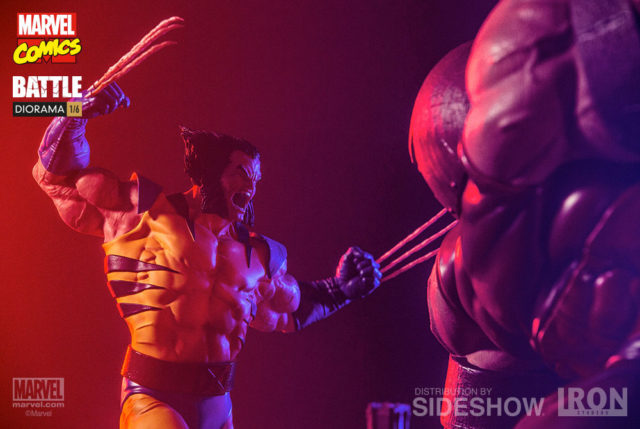 Not only does this figure capture the iconic look picture-perfect, but it also comes with options! Want masked or unmasked Wolverine heads? Iron Studios has you covered. Prefer bone claws to adamantium claws? Iron Studios is giving you that option as well.
Even the base for this piece is super-cool, as it features mixed media stairs with real carpeting on them being crushed by the Juggernaut.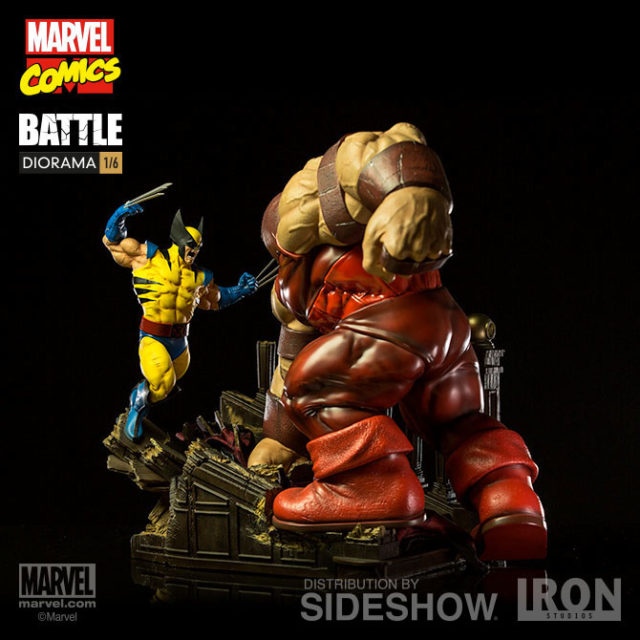 While Iron Studios hasn't really had a genuine breakout piece yet with collectors en masse, I think a 90s way X-Men statue like this one may be the one that finally starts to make Iron Studios a bit more of a household name (at least, in the households with crazy collectors like us).
Of course, all of this awesomeness comes at a heavy cost–and in this case, the cost is $750. That obviously ain't cheap by any standards, but because this is basically a set of two statues in one–one of which being a behemoth of a statue–I do think that the price-point on this is at least very fair.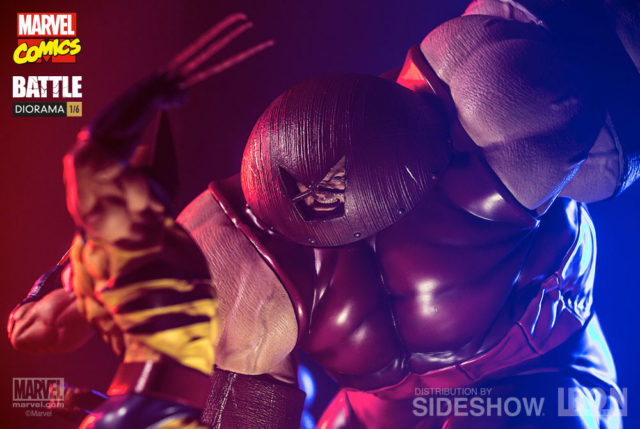 The Iron Studios X-Men Juggernaut vs. Wolverine statue is now up for order, and is scheduled to be released in Q1 2018 (January-March 2018). That's lightning-quick compared to most statue producers, and a welcome change to the usual wait of a year or more for a statue after placing the order.
What do you think of this Wolverine vs. The Juggernaut diorama, Marvel collectors? Does this piece put Iron Studios on the map for you, and are you interested in picking this beast of a battle diorama statue up?