Although I wasn't quite sure what to expect from HasCon when it was first announced, the inaugural event turned out to be one of the more unique and focused conventions that I've attended. A con where the unifying element is programming and displays of most of my favorite toy brands ever? Sign me up. But even more than the reveals at the show, I was excited to come home with the HasCon Exclusive Marvel Legends X-Force Deadpool. He's selling for $50+ on the aftermarket and goes up for order on HTS a week from today–should you get one?
The Right:
Although it's an intangible, the first "Right" I want to include in this review is the fact that Hasbro designated a unique exclusive Marvel Legends 6″ figure for HasCon at all. Doing so definitely made the show feel like more of a big deal, and it was the correct call to make the event feel more "legit".
In addition, picking the second most iconic look for Marvel's hottest character was a surefire way to garner attention for the show and drive attendance. Excellent choice, Hasbro.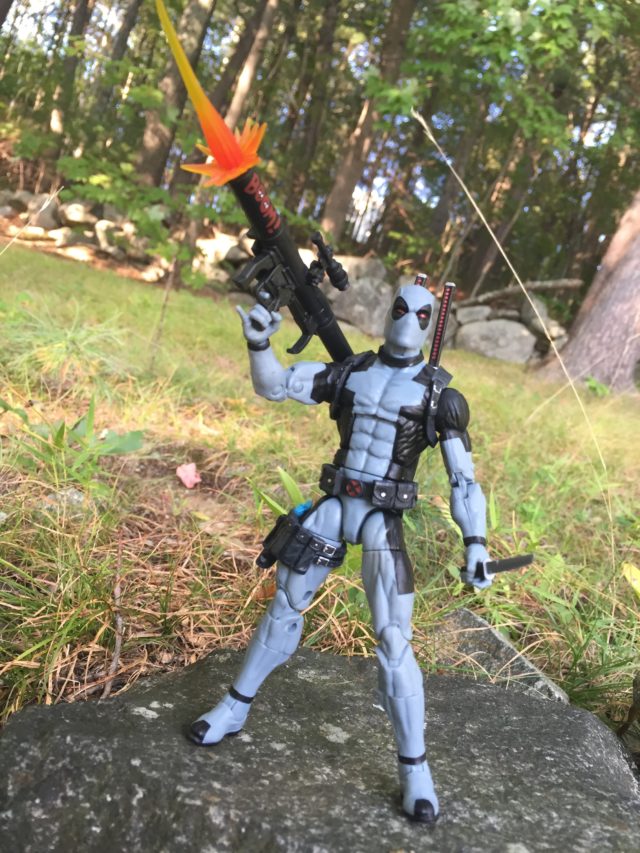 As for the figure itself, well–it's mostly just the X-Men Legends Deadpool I reviewed last year. That's not at all a bad thing, though, as that was one of the best figures of 2016 and an all-time favorite of many collectors.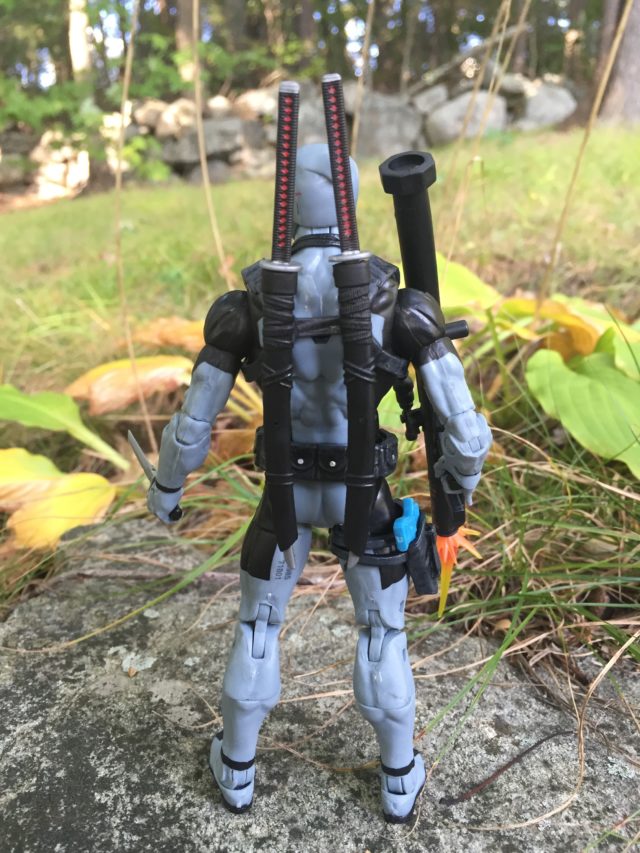 So what's different? Well, first and most obviously is the paint deco. Hasbro did a stellar job with the paint apps on this figure, neatly and cleanly painting the figure into Wade's darker and more serious X-Force colors. The paint has been applied evenly with no mess-ups or slop on mine, so I'm a happy camper.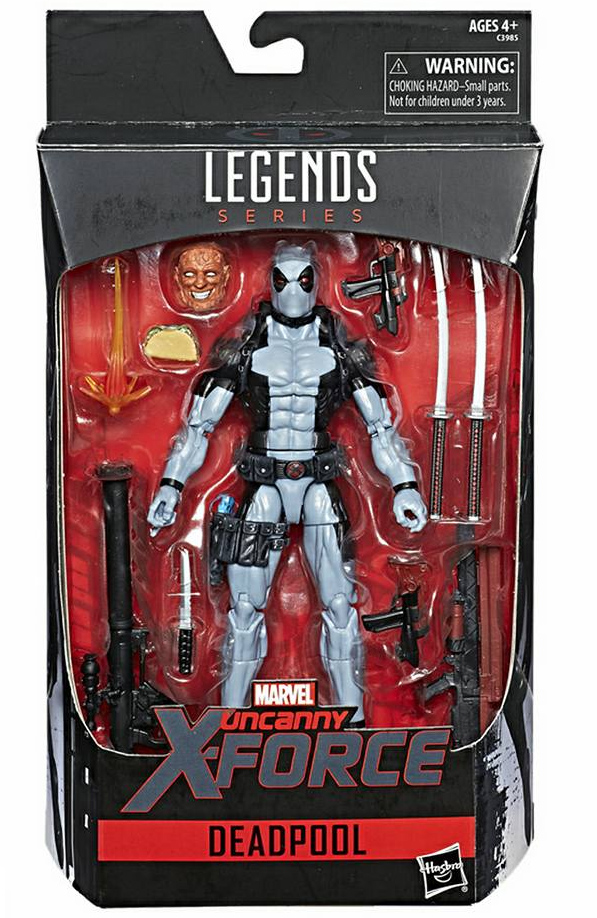 Like the original Deadpool, the X-Force Deadpool Marvel Legends figure gets a treasure trove of accessories. But surprise, surprise-several of the accessories are actually new!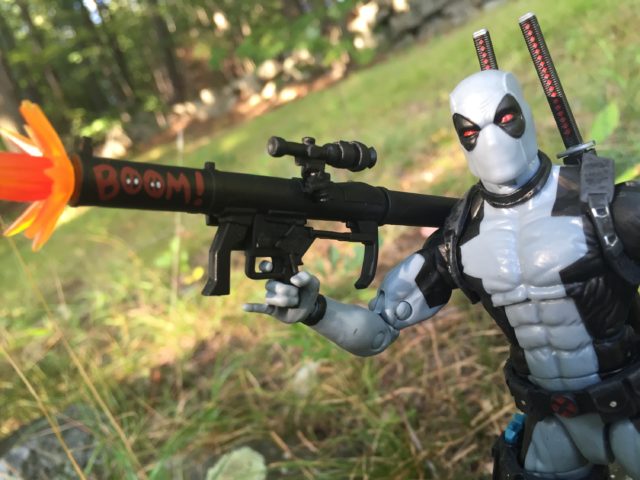 The boxing glove bazooka that came with the original version was fun and all, but if you're looking for something slightly more serious, the X-Force exclusive's bazooka has more paint deco, a removable explosion effects piece to stick on the barrel, and a suitably zany "BOOM!" written on the side. Classic Deadpool!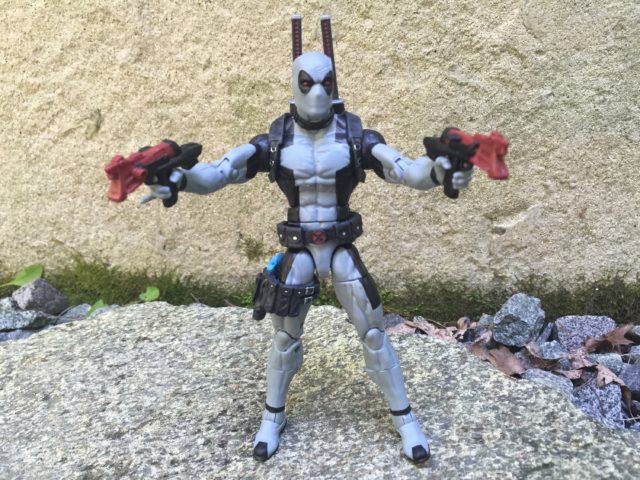 We also get an all-new set of small sci-fi looking blaster pistols (I have no idea what else to call these). They're not exactly realistic, but they're nicely decorated and I like Wade being able to dual-wield.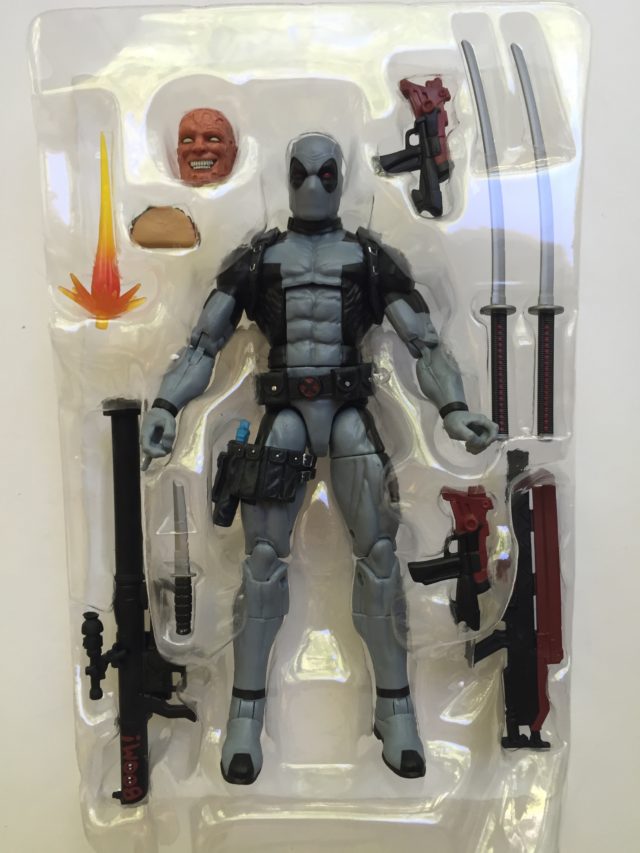 Old accessories from the previous version making a comeback here include a large blaster (now with nice-looking paint apps!), a taco (you can never have too many tacos!), a knife, two katana swords and an unmasked Deadpool head.
The unmasked Wade Wilson grinning head looks really weird and out of place on the grey costume to me, but I can't knock Hasbro for including it for those who like this look (which isn't me).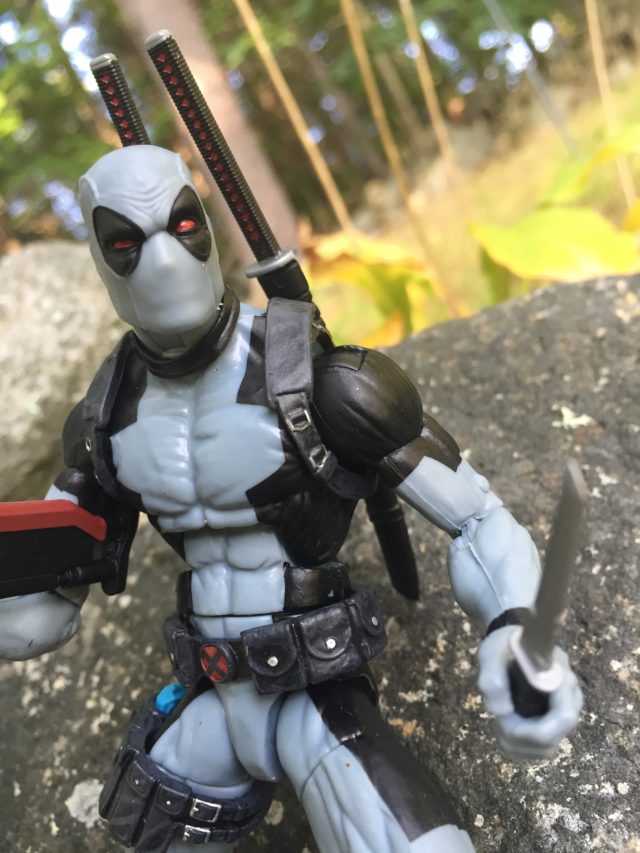 There's also a new removable "collar" piece added around Deadpool's neck, which is important for this costume and a detail that I was genuinely surprised to see Hasbro remember (because I forgot about it myself). X-Force Deadpool also has a different belt, further increasing the authenticity of the figure.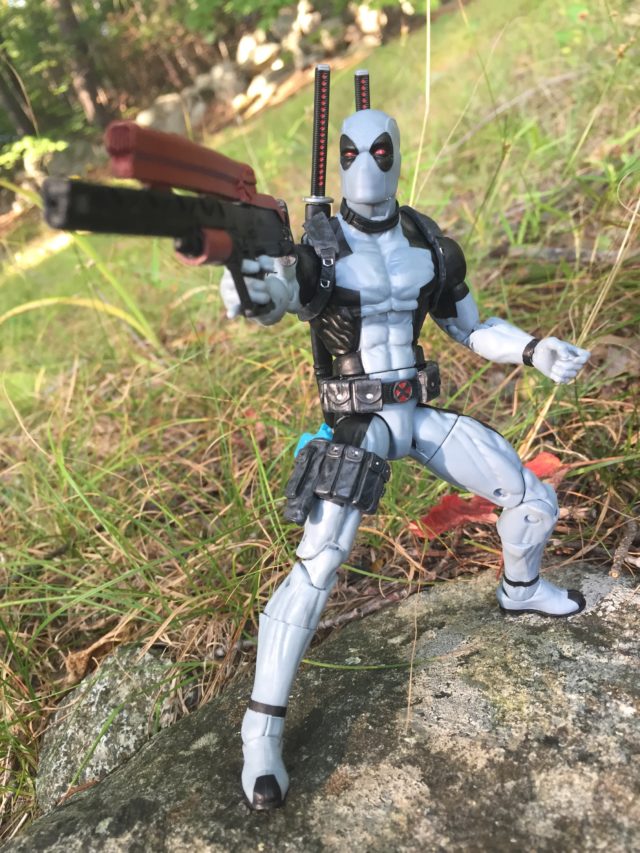 The articulation is unhanged from the red Deadpool figure, and is as top-rate now as it was last year. Butterfly swivel shoulders would have been nice, but obviously weren't going to happen on a repaint–I'll make due with the ankle rockers, double-jointed knees and elbows, swivel biceps/thighs, and more that give this figure a superb amount of flexibility.
The Wrong:
The 2016 Marvel Legends Deadpool figure was my "Hasbro figure of the year" last year, so as you might expect, I don't have many complaints about this figure. Really, there are only two minor nits I feel I have to pick.
First, that bright blue pistol. I would assume this is based off of an illustration from an issue of Uncanny X-Force, but I flipped through some issues and can't find any matching reference materials where DP is wielding a radioactive blue, orange-tipped pistol. This gun looks really jarring and ridiculous–not sure exactly what the thought was with this.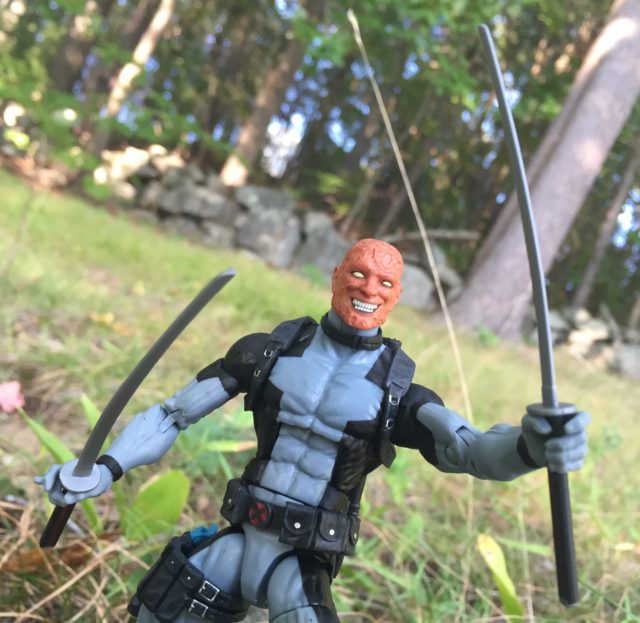 In addition, the lack of interchangeable hands is slightly problematic again. As with the red version of the this figure, the swords can't be held tightly with the grip this ML Deadpool figure has, and as a result they tend to slide around and out of place. It's not a huge deal, but I would have preferred new hands to the new guns Wade comes with.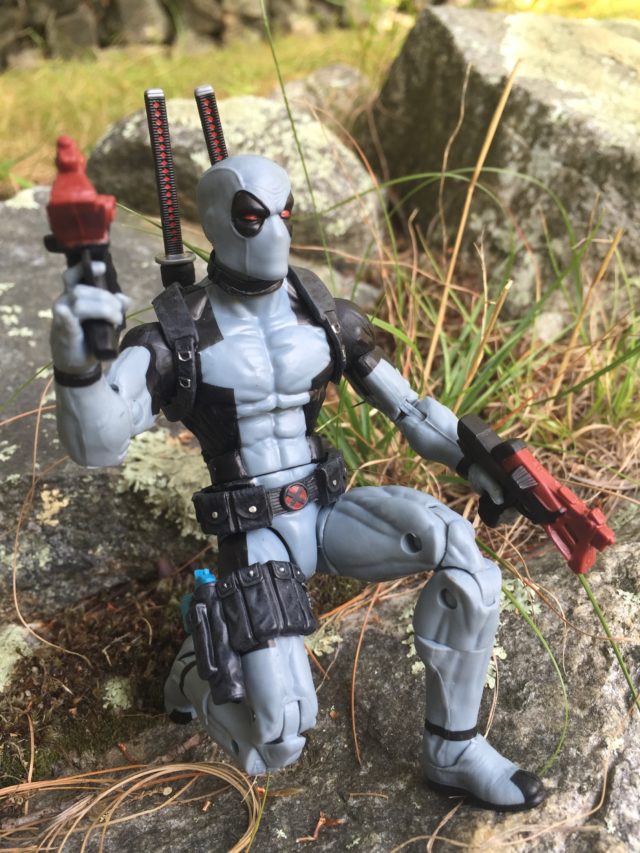 Overall: For a limited convention exclusive, Hasbro has absolutely done right by us. A costume variant that many will consider essential, a double-digit number of accessories–including some new ones, and an outstanding underlying figure mold that's been painted expertly–all for the regular price-point of $19.99. Marvel Legends X-Force Deadpool wasn't just a terrific choice for a HasCon exclusive–he's a terrific figure overall. Highly recommended.
GRADE: A