While leaks have become like a plague for other lines of Marvel toys, Diamond Select Toys is holding strong to their crown as the King of Surprise Marvel Figure Releases! There's basically no other company in the land that manages to keep secrets as well as DST does right up until new figures go up for sale. And today's surprise new release is a big one in both size and popularity–the Disney Store EXCLUSIVE Marvel Select Planet Hulk figure is now up for order! All those new Ragnarok Gladiator Hulk figures out there are about to have a serious contender for their crown…!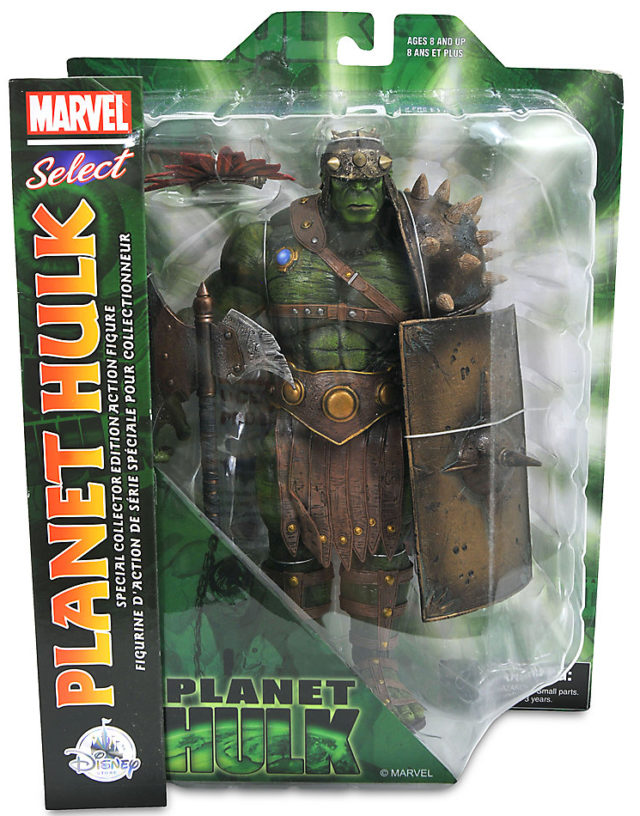 Diamond Select Toys is known for putting out some amazing comic-based figures ahead of major characters/designs turning up in MCU movies, with past figures like The Winter Soldier, Black Panther and Hulkbuster Iron Man all turning up
just
before those characters made their movie debuts.
So I should have guessed that we'd be seeing a comic-based Planet Hulk Gladiator Hulk figure just in time for the release of the Thor Ragnarok movie, but alas–DST has taken me off-guard once again. Nice work, guys!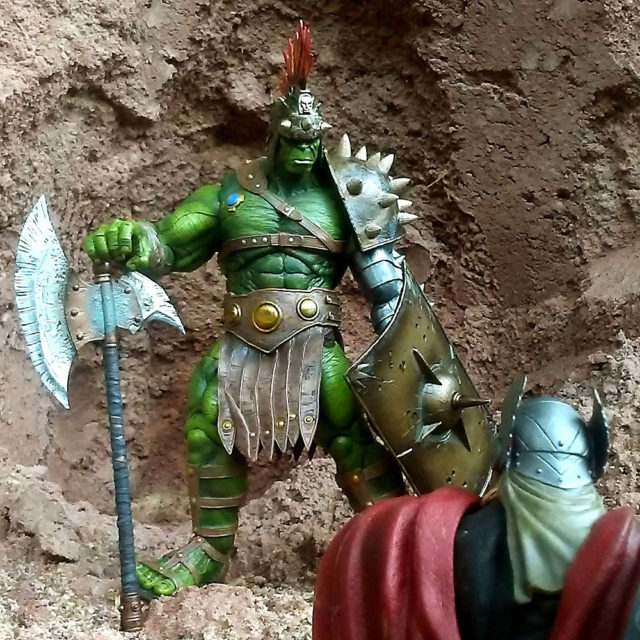 From Grek Pak's legendary "Planet Hulk" comic book story, a big influence on the "Thor Ragnarok" movie, here comes the Marvel Select Planet Hulk figure!
The figure stands about 10″ tall, which is going to make him perfectly massive and monstrous to display alongside of both Marvel Select and Hasbro Marvel Legends figures, as I hear folks saying all the time that they Hasbro just doesn't quite make Hulk big enough. This Hulk, however, ought to fit in perfectly alongside other Marvel Legends-compatible giants such as the Marvel Select Rhino, Abomination and Juggernaut.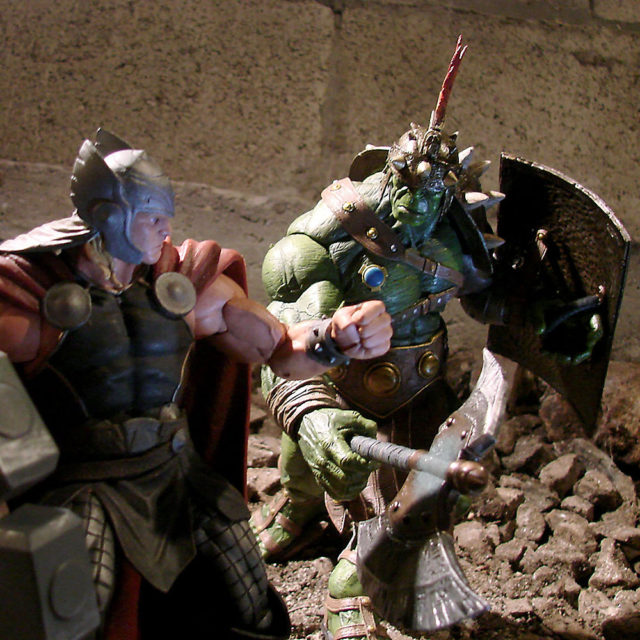 As usual, the figure will have "16 points of articulation", although some of the articulation points in these newer Marvel Select figures tends to work in such a way that there's a bit more flexibility and range of motion than you might expect. While not as super-articulated as Hasbro figures, I think we're going to find that the Planet Hulk Marvel Select figure has ample articulation to achieve the poses that we're looking for.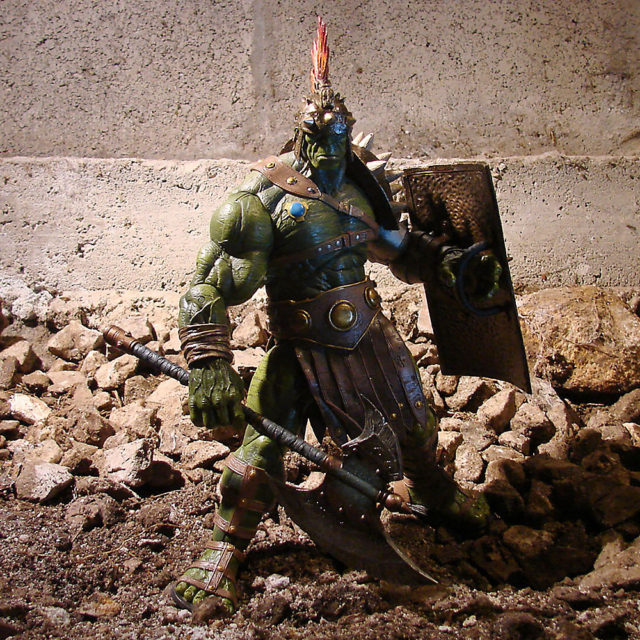 Besides the action feature of being freaking huge, Planet Hulk will also include three accessories: a removable helmet, a battle axe and a shield. These are all beautifully recreated from the comic book storyline, and look downright
amazing
when you compare them to the weapons we get with Marvel Legends Gladiator Hulk.
The only possible negative to this action figure is the price: he's $29.99–the very first time I can remember a Diamond Select Toys Marvel action figure retailing for about $25-$26 price-point. I'm not sure if this is DST's call or the Disney Store's, but it is a bit surprising. Even so, I'm not about to reject this massive monster over four bucks, personally.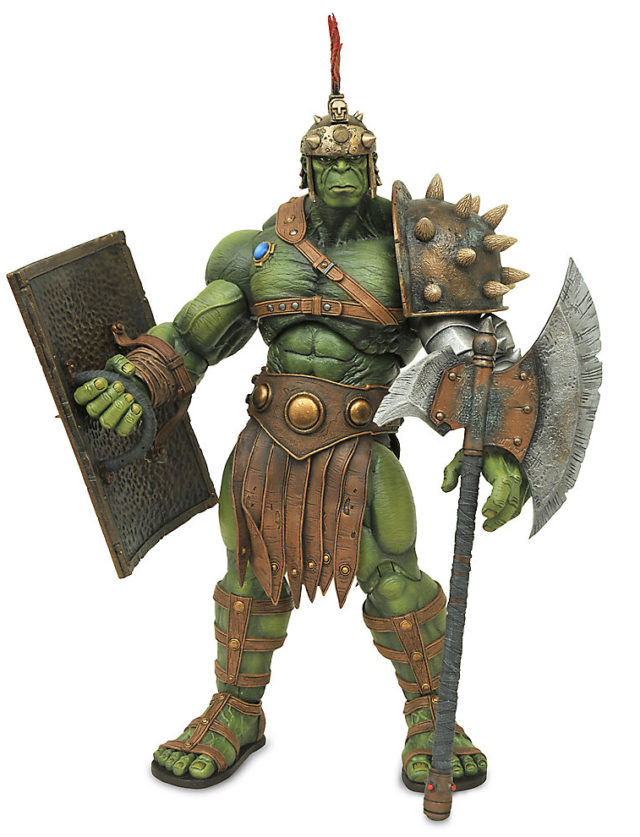 The Disney Store Exclusive Marvel Select Planet Hulk figure is now up for order, and is scheduled to ship on 10/2/2017. Surprisingly, the Disney Store has placed a "1 Per Person" limit on this figure, something I can't recall seeing them do with any of their DST Exclusives in the past. With that and the slightly higher price in mind, I can't help but wonder if this figure may be limited and Disney is planning for an early sellout? Regardless, my order is locked in!
What are you thoughts on Diamond Select Toys' surprise Planet Hulk Select figure release, Marvel collectors? Is this a worthwhile addition to your Marvel Select (or even Legends) collection, or are you keeping your shelf movie Gladiator Hulk's domain?