Sometimes we have to wait the better part of a year for movie-based Marvel Select figures to arrive (they're almost always worth the wait), but the latest release arrived like relative lightning—less than three months after the movie he stars in! The enormously anticipated (and also just plain enormous) Marvel Select Thor Ragnarok Gladiator Hulk figure is now shipping—can he take the crown from the Marvel Legends version as the best Ragnarok Hulk out there now?
The Right:
As usual, Hasbro was first-to-market with their movie-based Thor Ragnarok Gladiator Hulk figure by a wide margin. While everyone from Hot Toys to Mezco to Bandai Japan have their own Ragnarok Hulk figures on track, Hasbro hadn't had any super-articulated competition actually in stores… until Diamond Select Toys' Hulk began arriving two weeks back.
Will DST's Hulk win out over the Hasbro Build-A-Figure? Let's have a look at the Marvel Select iteration and compare…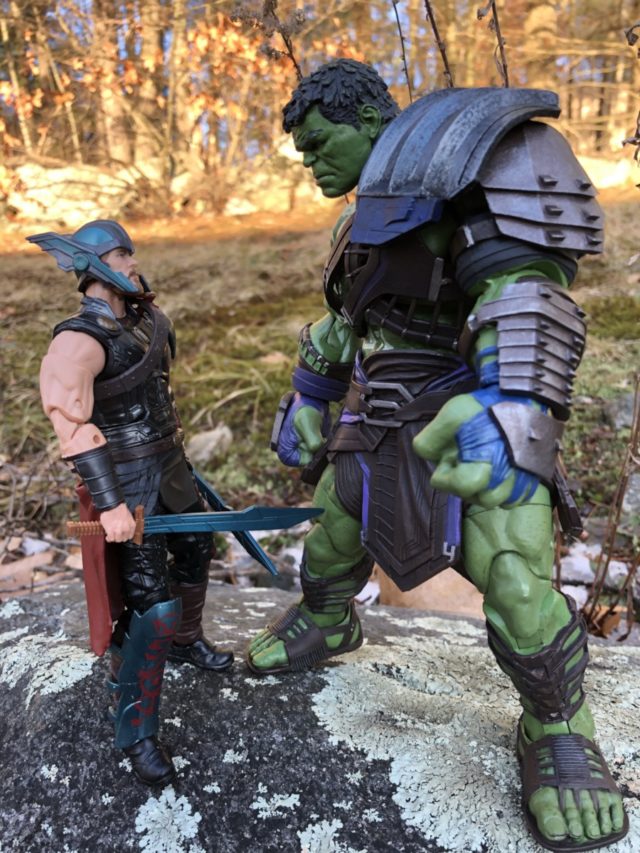 First, I have to give mad props to Diamond Select Toys for offering us this gigantic, heavy Gladiator Hulk movie figure for the same $25 MSRP as their standard figures. He stands about 9.5" tall—more than an inch taller than the 8.5" Hasbro Hulk.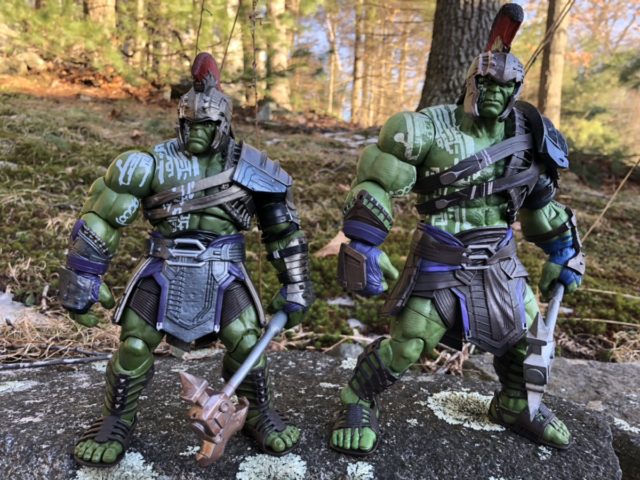 I am always absolutely amazed when DST can offer these mega-sized figures at that price-point. This is especially favorable since Hasbro's Hulk Build-A-Figure required buying $120 in other figures just to complete.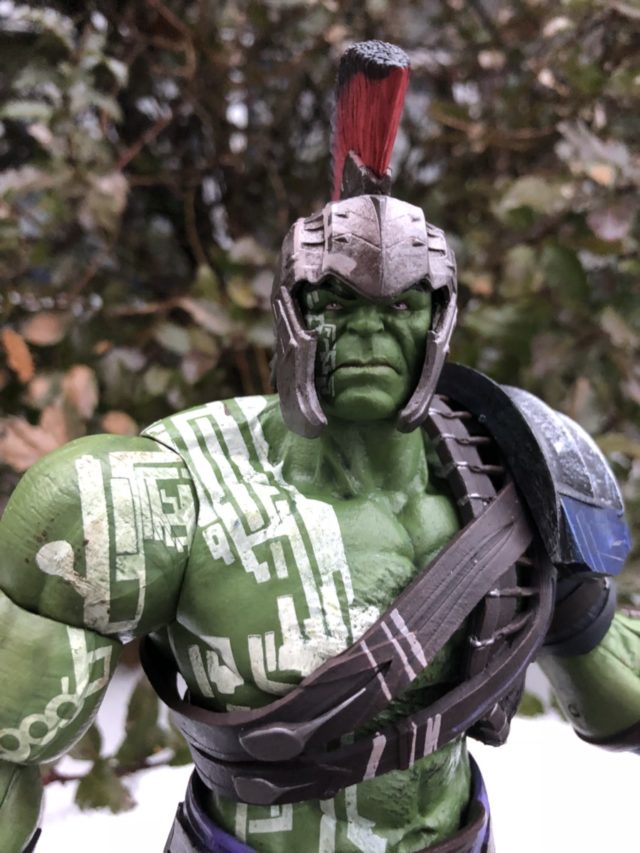 As we've come to expect from the Marvel Select figures line, the paintwork on Thor Ragnarok Hulk is superb. The wash on Hulk's skin looks good, as does the subtle weathering on his "war paint".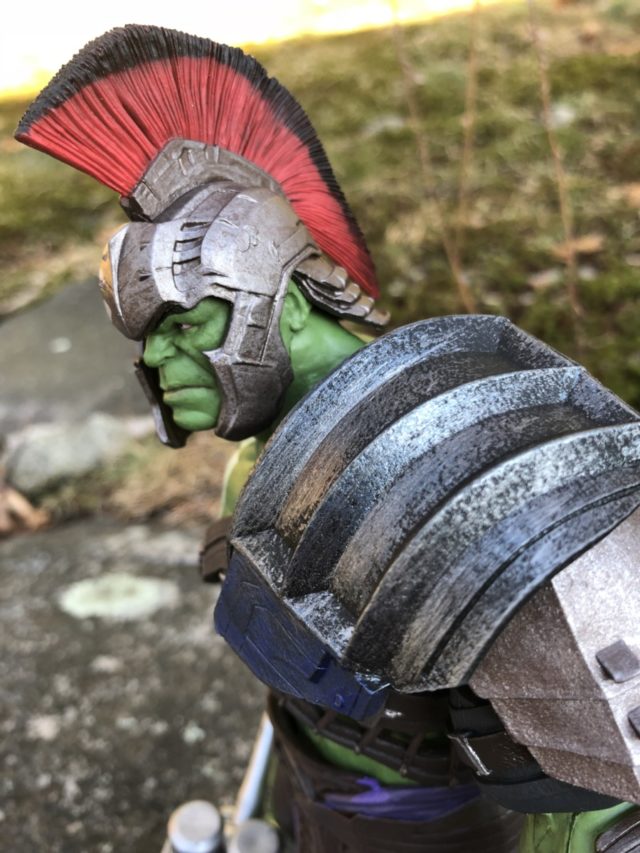 The most exceptional parts of the paint deco, in my opinion, are the plume on the helmet and the metal-like detailing on the armored bits of Hulk's costume. These are real standouts as far as realism goes.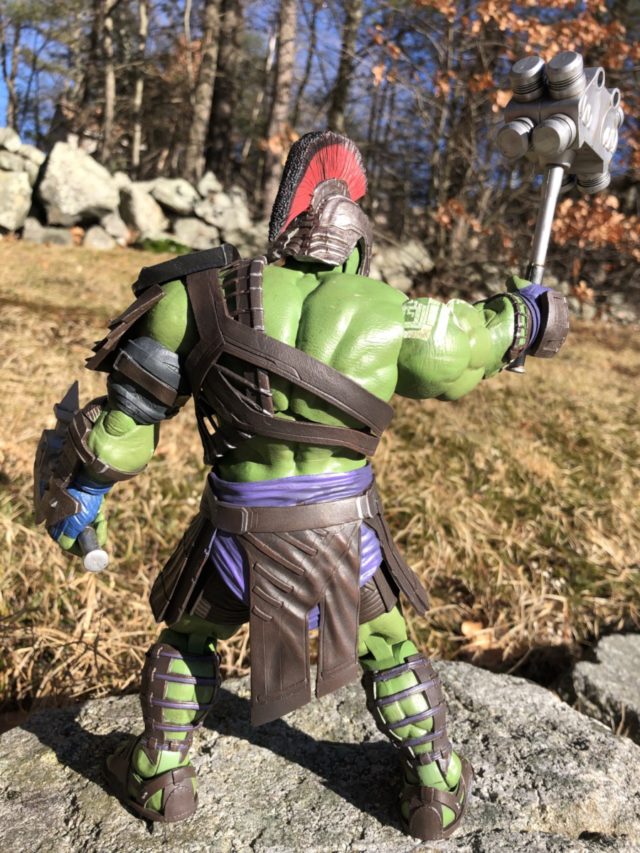 And while on the topic of the costume: without using actual mixed media like Hot Toys and Mezco, I don't think any company will be able to make sculpted gladiator gear for Hulk that looks as good as this. The various textures and sculpted details on the outfit are top-notch.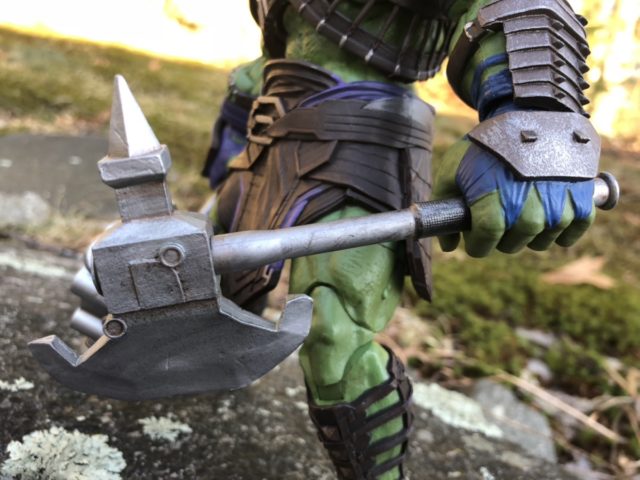 Marvel Select Ragnarok Hulk comes with the same two weapons as the Marvel Legends Build-A-Figure: a war hammer and an axe. DST wins the battle for both weapons, as they're sharper painted and colored better than the Hasbro counterparts—and without going limp and rubbery after being up for a while. (…I probably could have phrased that better.)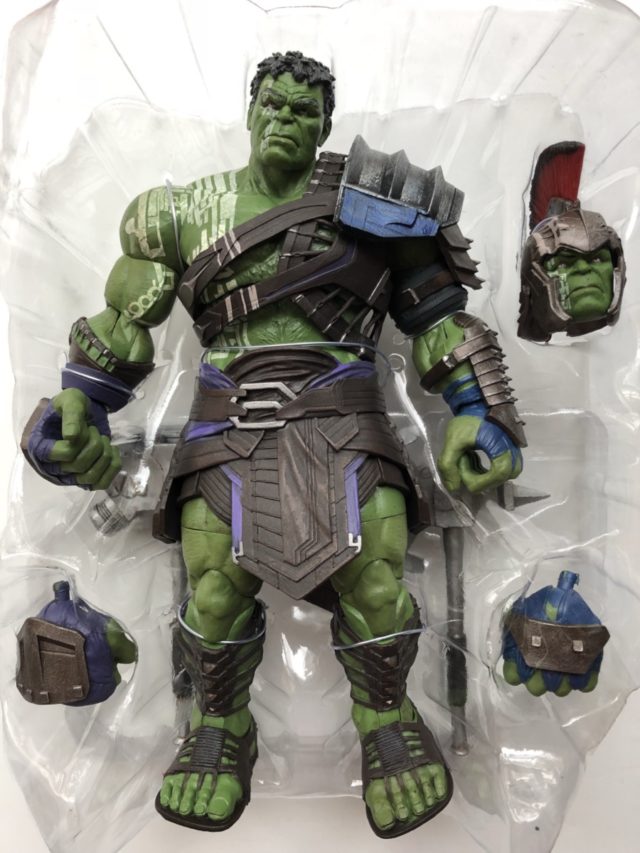 I complained that Hasbro's Gladiator Hulk had only grasping hands, but thankfully, Diamond Select gives us a pair of interchangeable fists so that Hulk can pound to his heart's delight. Thanks, DST!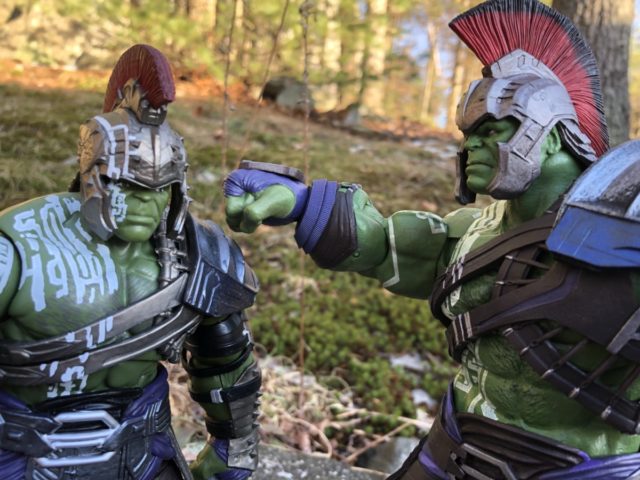 One of the pitfalls that the Hasbro Marvel Legends Gladiator Hulk Build-A-Figure fell into was having a removable helmet. While it's a fun feature, the helmet being removable meant it had to be a bit oversized and rubbery—making it look sort of goofy crowning Hulk's head.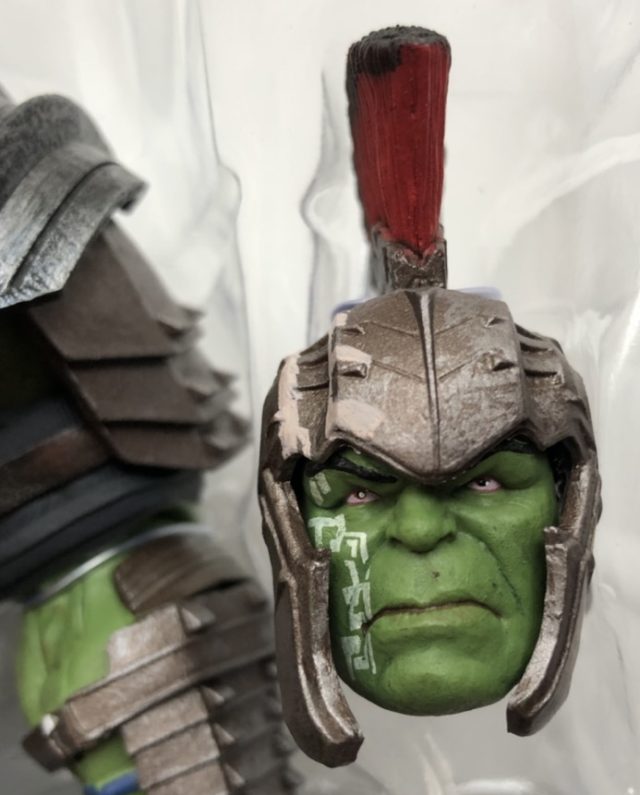 Diamond Select Toys sidestepped that peril by giving us two heads for Hulk—both with the same neutral(-ish) expression, but one with helmet and one without. I'd have preferred one to have an open-mouthed, roaring head, but I don't want to be too greedy considering what phenomenal value we're getting here to begin with.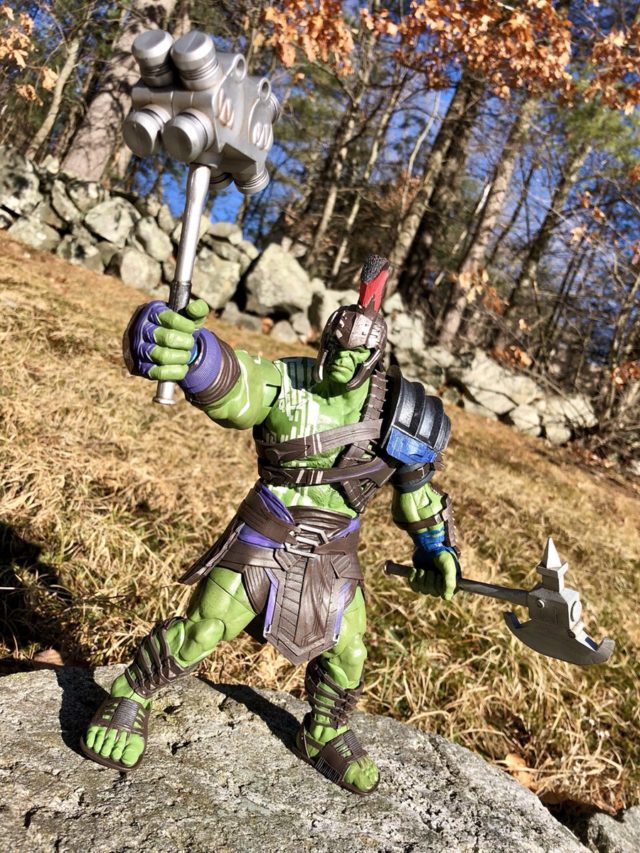 While Marvel Select figures will almost without fail have less articulation than Hasbro Marvel Legends, I think Diamond Select makes the best of the points they have built-in.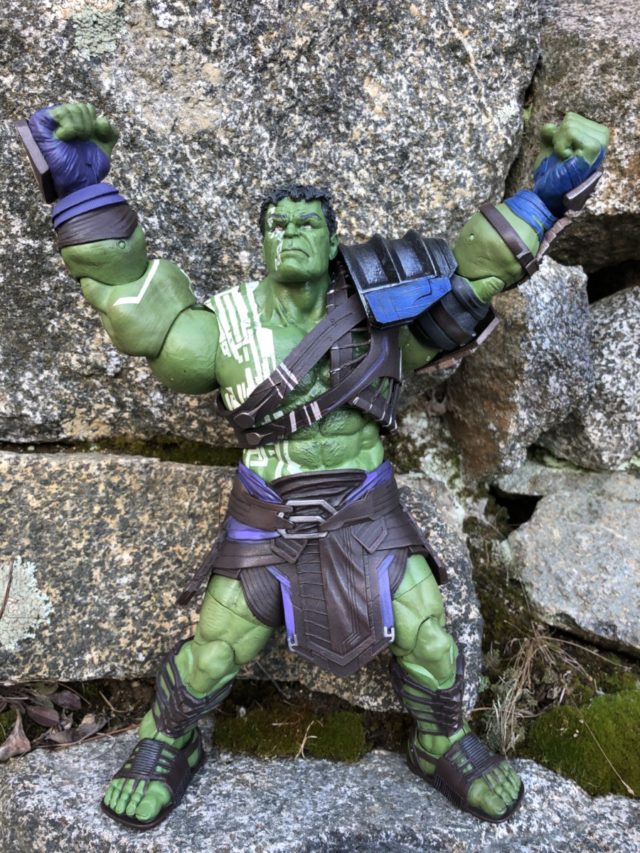 The articulation scheme for DST Gladiator Hulk is as follows: ball-jointed head and upper torso; ball-hinge shoulders and wrists; swivel biceps and thighs; swivel-hinge hips; hinged elbows; double-hinged knees; and hinged feet with rockers. For a Hulk figure, all of the most important points of articulation are covered.
The Wrong:
I
so
wanted this Marvel Select Ragnarok Hulk to be perfection itself, but it falls
just
a bit short. While I can cope with the lack of an open-mouthed alternate head, one thing that I definitely can't deal without fixing is the hands.
For whatever reason, Gladiator Hulk Select's wrist joints are really loose, to the point where they twist and flop around incessantly when trying to hold up the heavy weapons. I've heard some folks have the hands falling out of the sockets completely, but I haven't experienced that myself.
I'm dealing with the problem right now by adding some Blu-tack around the ball-joints of the wrists, but it's not fully fixing the issue. I may end up adding a bit of super-glue to tighten up the joint later. It's a real shame that this QC issue is present, because this is otherwise such a perfectly-executed toy.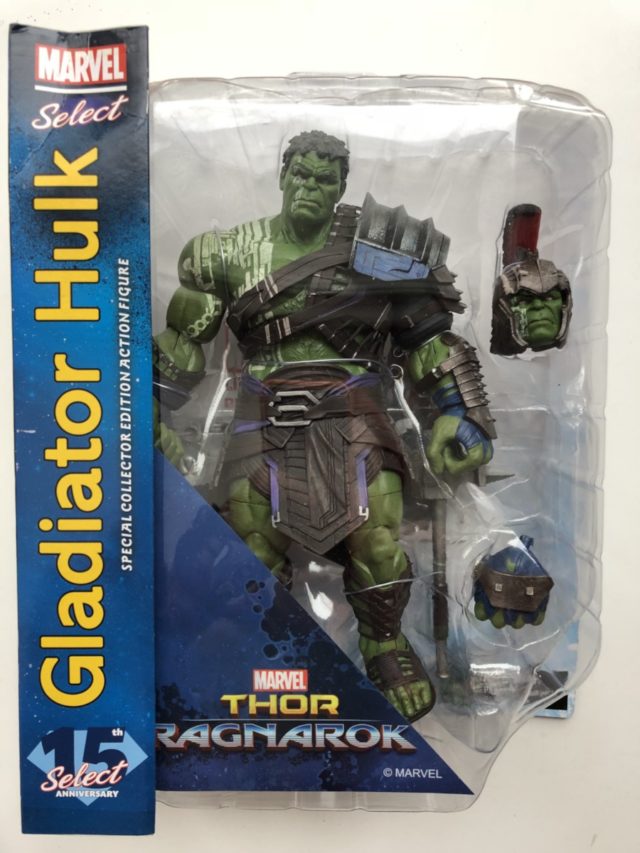 Overall: Marvel Select Gladiator Hulk is basically exactly what I expected it to be: a bigger, better, and cheaper alternative to the Marvel Legends Thor Ragnarok Hulk BAF. While Hasbro's version was available prior to the movie and has better articulation, that's all it has going for it in comparison to Diamond Select's larger, heavier, better-painted beast of a movie Hulk.
The superior weapons and sculpting–plus the extra head and fists–are the icing on what's an almost straight-up better version of the character. The loose wrists are an annoying issue, but otherwise, this is a pure gem of a Jade Giant. A (literal) huge success for DST.
GRADE: A