As soon as the Guardians of the Galaxy movie hit theaters last summer and the Groot craze began, demand for the Groot Funko POP Vinyl figure exploded and it took months for supply to catch up to the demand. And then came the Funko Dancing Baby Groot POP! Vinyl figure. Four more Groot variants later, and I figured we were all done with POP Groot figures. But wait, there's more–! A couple of surprise prototypes surfaced today, confirming the impending arrival of yet more Funko POP Vinyl Groot figures…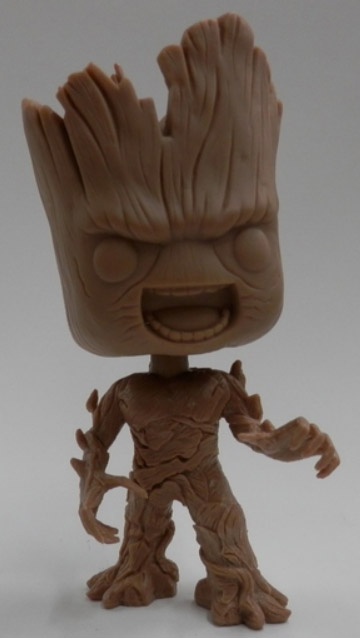 For those keeping track at home, currently there have been six Groot Funko POP Vinyls figures released (as follows):
Funko Guardians of the Galaxy Groot POP Vinyl Figure
Funko Glow-in-the-Dark Groot POP Vinyl (Loot Crate Exclusive)
Funko Extra Mossy Groot POP Vinyl Figure (Exclusive)
Funko Dancing Baby Groot POP Vinyl Figure
Funko Ravagers Dancing Baby Groot POP Vinyls Figure
Funko "I Am Groot" Dancing Baby Groot POP Vinyl Figure
With the two Groot molds already released three times over, it seemed like Funko might be nearing the end of the road with Groot for right now. But nope–there's more Groot to come!
Gemini Collectibles received official Funko prototypes of a previously-unannounced Angry Groot POP! Vinyls figure this week in two different colors (white and brown), which were sold on their web store for about $700 each. Yikes!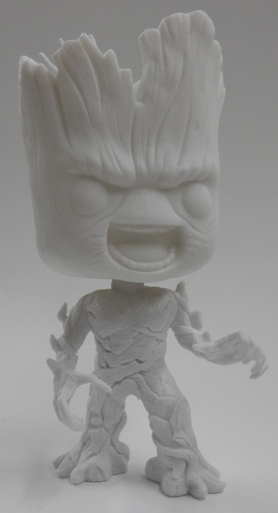 Although the new "Angry" Groot POP Vinyl figure has a totally new head, he's still using the same old body this time out. Even so, it's nice to get a Groot figure that doesn't look so dang friendly for a change! The other prototypes that Gemini Collectibles received and sold this week are mostly for figures already announced being released this spring, so we can reasonably assume that we'll be seeing Funko "reveal" this Angry Groot bobble-head later this month.
The Funko Guardians of the Galaxy Angry Groot POP Vinyls figure should be up for pre-order this spring, with an anticipated arrival date in summer 2015. No official word yet on if this piece will be a retailer exclusive or not, but as Funko devoted tooling dollars to an all-new mold for Groot's head, it's highly unlikely that this won't be a mass release figure.
How do you feel about the latest Funko POP Vinyls Groot figure, Marvel collectors? Are you pleased to see a tougher-looking Groot make an appearance, or are you all burned-out on the most popular of the Guardians of the Galaxy movie characters?