I collect a few lines of anime figures, so I've been watching the Tamashii Nation 2015 event with a lot of interest for those lines. What I don't imagine anyone was expecting to see at the show, however, was the bombshell dropped by Bandai Japan: the continuation of the SH Figuarts Avengers figures line! Coming our way in 2016: SH Figuarts Black Widow, Hawkeye, Tony Stark, and… the Hall of Armor?!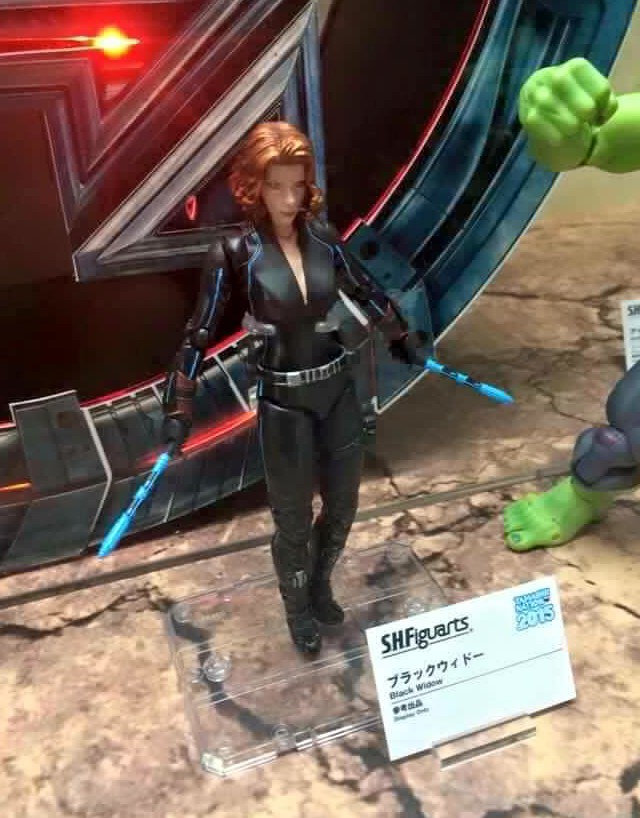 I well and truly thought that the Bandai Web Shop Ultron figure that went up for sale a couple months ago was going to be the end of the S.H. Figuarts Avengers: Age of Ultron figures lineup. But I guess Bandai Tamashii figured that these figures are selling like gangbusters, so why stop short of completing the whole core lineup of the Avengers?!
The S.H. Figuarts Hawkeye is downright incredible. This Bandai Hawkeye figure is so far beyond any of the versions of the movie character that Hasbro has put out that it's unbelievable.
Just looking at the pose Bandai Japan put him in at Tamashii Nation Fall 2015, it's pretty clear that this is the best-articulated movie Hawkeye ever made (and perhaps the best-articulated Hawkeye ever made, period).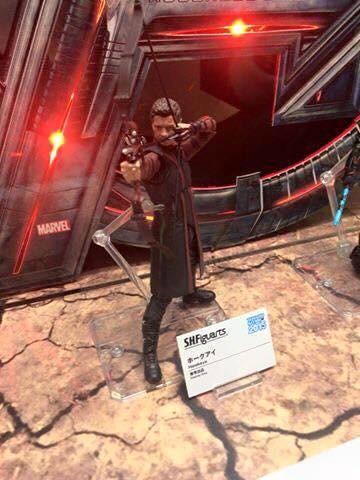 Next up it's S.H. Figuarts Black Widow! I'm pretty excited about this figure's release, because it's yet another example to add to my argument about "The Myth of the Lack of Black Widow Toys".
I was really happy with the Diamond Select Toys Marvel Select Black Widow I reviewed in the summer, but the Black Widow Figuarts will fit in better with the Marvel Legends scale and have superior articulation.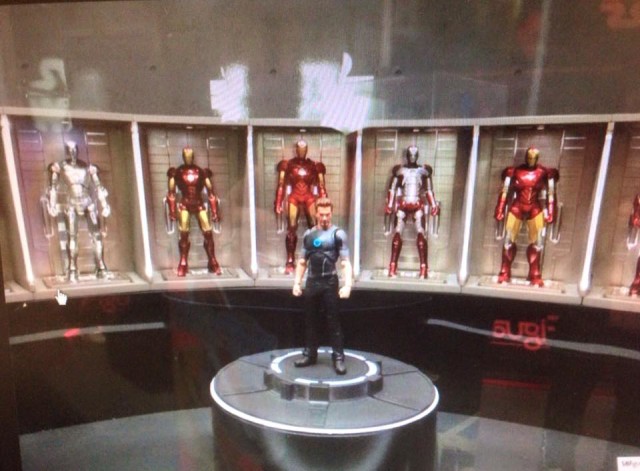 Finally, we've got SH Figuarts Tony Stark and… a whole SH Figuarts Hall of Armor!? This looks to be an Iron Man 3 Tony Stark (my favorite), and the Hall of Armor that gets blown up first in Iron Man 3. And since Bandai's first Marvel action figures weren't released until Iron Man 2, there are several armors shown in this Iron Man Hall of Armor that have never been released in S.H. Figuarts Iron Man form before. Hmmm.
Bandai Japan has a habit of sometimes showing off crazy dioramas and such at events that they never intend to release, and I can't help but be dubious that this humongous set piece is ever coming out for real. Let's take a wait-and-see approach with this one, but if Bandai Tamashii ever does release it, I'm going to have to sign a waiver so they can just pull money straight out of my checking account.
As Bandai does not have a license to distribute these figures in the United States (and Hasbro will absolutely not allow such a thing to ever happen), these figures will have to be purchased from online retailers such as BigBadToyStore that import the figures, just like the previously-released Avengers SH Figuarts figures have been.
I'll be posting updates here and to the Marvel Toy News Twitter and Facebook Pages as more details regarding these S.H. Figuarts 2016 Avengers figures become available, so keep watch here and on our social media pages if these are up your alley. Hopefully we'll be seeing more and better-quality photos of these newly-revealed Bandai Avengers later this weekend (if not later today).
What do you think of these surprise Avengers Figuarts 2016 releases, Marvel collectors? Has Bandai Tamashii blown away the competition with their 6″ Avengers movie figures, or are you sticking with your Hasbro Marvel Legends?