Generally, Sideshow Collectibles likes to build up to an upcoming Marvel Premium Format Figure statue's pre-order for at least a week with various previews to build anticipation. But in honor of today being the night before the spookiest holiday of the year, a villain has appeared suddenly like a phantasm, and it's the most popular Marvel movie villain of all: the Sideshow Premium Format Loki statue is now available for order!
Ah, Loki. The MCU villain that was so popular, his cameo had to be cut from "Avengers: Age of Ultron" because just seeing him made test audiences wish that he were the villain of the movie instead of (ugh) Ultron.
We haven't seen Tom Hiddleston appear as Loki in two years now (his last appearance was in "Loki 2: The Dark World"), but even without appearing in a recent movie the character (and actor) are as popular with Marvel fans as ever.
And now, after teasing fans for over three years, Sideshow Collectibles is finally coming through with the long-awaited and much-anticipated Loki Premium Format Figure statue!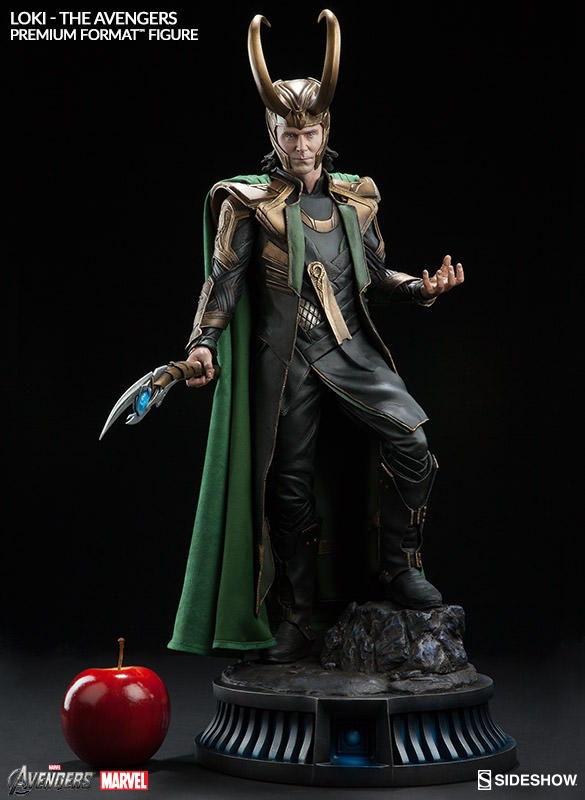 The Avengers Loki Premium Format Figure will stand a mighty 23″+ tall–almost two feet tall! In addition, the statue will weigh over 12 pounds, making it both the largest and heaviest Loki figure ever produced!
While I typically prefer my statues to be all resin and no soft goods, Loki is a case where I find the soft goods to be essential. Loki's leather-like coat looks tremendous, and that flowing green cape is absolutely magnificent! I think this may be the best-looking cape I've ever seen on a Sideshow statue.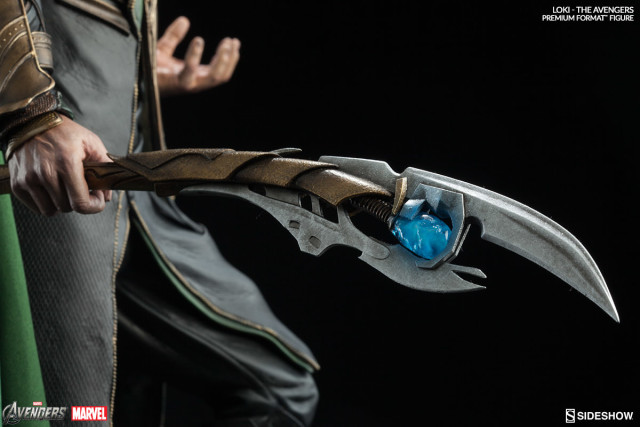 As you might expect, Loki is posed clutching his iconic Chitauri scepter from the first Avengers movie. The detailing and paint wash on the scepter look fantastic–especially the work on the Infinity stone power source! (I'm still miffed that Loki's scepter turned out to be powered by an Infinity gem, by the way, after I spent three years schooling other people on why that notion was silly.)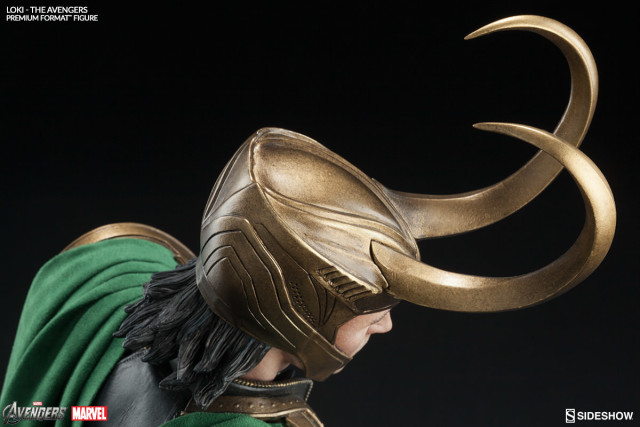 It's a bit surprising to see Loki donning his horned helmet for this statue, since he spent the majority of his time in the Avengers movie helmet-less. That said, the helmeted look is definitely more visually-striking, and makes Loki look less like "some dude with long hair". And there's no denying that Sideshow has made Loki's helmet look better than it ever has before on a collectible!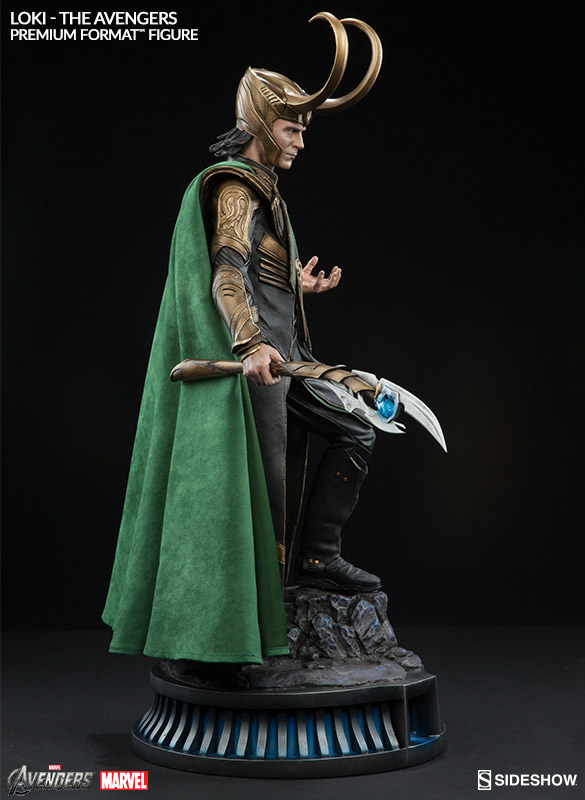 I rather wish that Loki had gone up for order about a year ago, because I'm reasonably sure he would've been priced at under $400 if he had. Even so, if there's one villain in all of the Marvel Cinematic Universe that's a must for my quarter-scale statue collection, it's Tom Hiddleston Loki ($460 price-tag be damned). This is why Sideshow creates FLEXPay, right…?
If there's one major bummer about this Loki statue (I mean, besides that price), it's the lack of a Sideshow Exclusive Edition. I was certain that Sideshow would give us an alternate head without helmet or at least a swap-out left hand holding the Tesseract, but alas, there is no exclusive accessory included this time. Sigh.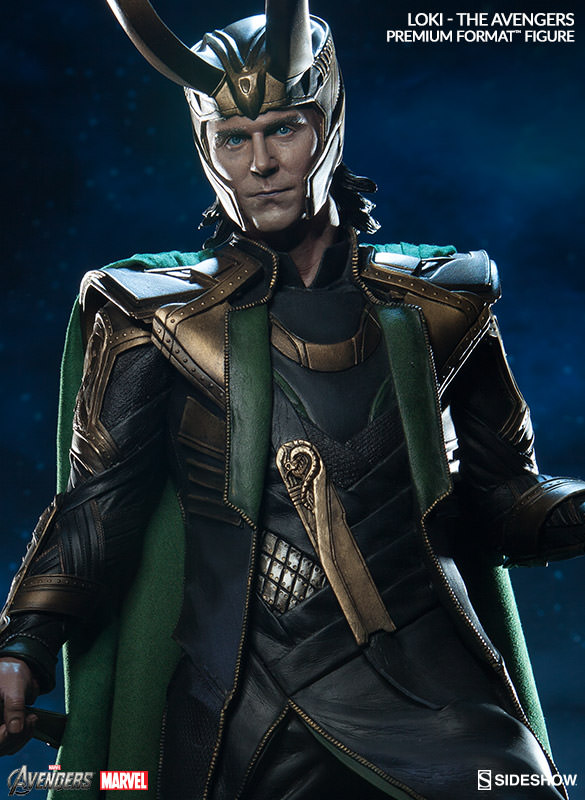 The Sideshow Loki Premium Format Figure statue is now available for order, and is scheduled to be released in Q4 2016. While I'm never thrilled to wait for an item I'm looking forward to, at least this gives me time to stretch this baby out to as many payments as possible with the Sideshow payment plans. The monthly payments are low enough that I can forget how much I owe Sideshow (almost)!
Now that the God of Mischief/Lies/Stories is finally arriving in his largest collectible form ever, will the Loki PF statue be using his dark magic in your home, Marvel collectors?