Yesterday Sideshow Collectibles put the Premium Format Gladiator Hulk statue that we've known about for ages up for order, but they weren't satisfied with just that. They also released another gift to Sideshow Marvel Premium Format Figure collectors: a sole teaser photo of a totally unexpected character. It's the all-new Sideshow Collectibles Black Widow Premium Format Figure–and this time, it's the comic book version of the character!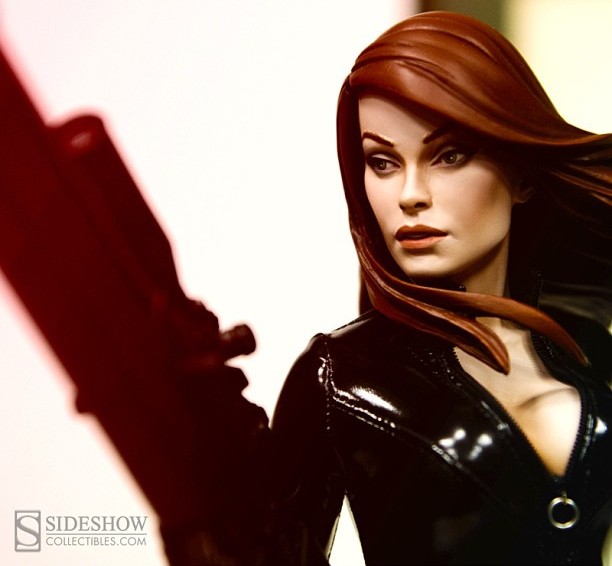 There's a surprising amount of insight that can be discerned from one little teaser photo of this new Sideshow Collectible Black Widow statue. First of all, it's obvious that Sideshow was aiming to make this a very comic book-inspired, Russian-looking Natasha Romanoff. And she is
hot
.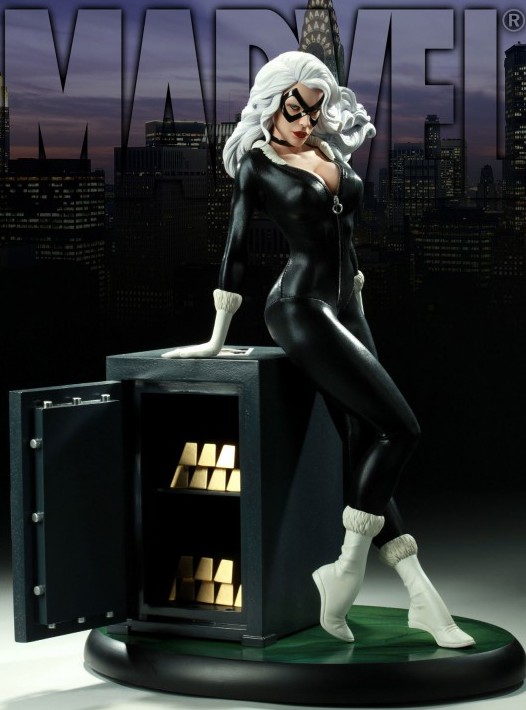 The new Black Widow's clothes seem to made of an artifical plastic leather ("pleather") material, and her upper torso looks eerily similar to that of the previously released Black Cat Premium Format Figure. Coincidence? I think not.
But whatever similarities this new Black Widow statue may have to the Premium Format Black Cat, I'm confident that when we do see the completed Sideshow Black Widow statue, she won't be reclining on a vault full of gold she's stealing, if nothing else.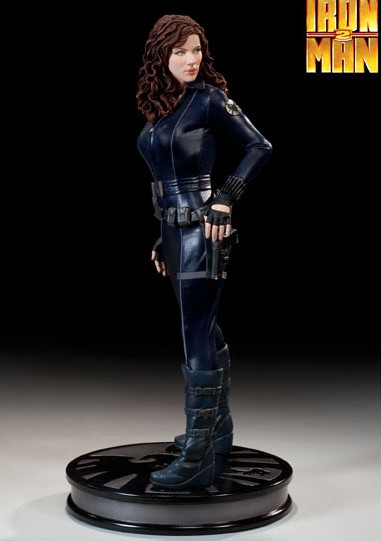 This is actually the second Premium Format Black Widow figure that Sideshow Collectibles has created, but this one is drastically different from the first version. Why? The first Black Widow Premium Format statue that Sideshow created was a movie version, based on Scarlett Johansson's appearance in the Iron Man 2 movie.
Now, I love Scarlett Johansson as much as the next guy (though not as much as some), but the previous movie-inspired Iron Man 2 Black Widow Premium Format Figure just didn't do it for me. This new Premium Format Black Widow Comic Book Version statue is way more my speed, and I fancy she'll cost way less than the whole money bin that collectors will have to cash in to pay for the Gladiator Hulk Premium Format Figure. I'd anticipate this Black Widow statue will sell for somewhere between $275-$350, though we'll know the exact price very soon.
The comic book Sideshow Collectibles Black Widow Premium Format Figure is expected to go up for sale in the very near future, as part of Sideshow's Online Comic Con 2013 event. I'll post an update here and on the Marvel Toy News Facebook page once the new Black Widow figure goes up for order.
UPDATE 7/6/2013: The Premium Format Black Widow Figure Exclusive Edition is now up for order on the Sideshow Collectibles website.