Now that we're less than one month out from the theatrical release of "Avengers: Age of Ultron", we've seen pretty clear looks at every character design from the movie that isn't top-secret. Well, every character design except one–until now! While nearly every toy manufacturer out there is repainting old Iron Man Mark 42 collectibles into Mark 43, and everyone is wild for the Mark 44 Hulkbuster Iron Man, poor Mark 45 has slipped through the cracks! But no longer–the Bandai S.H. Figuarts Iron Man Mark 45 figure has now been fully revealed!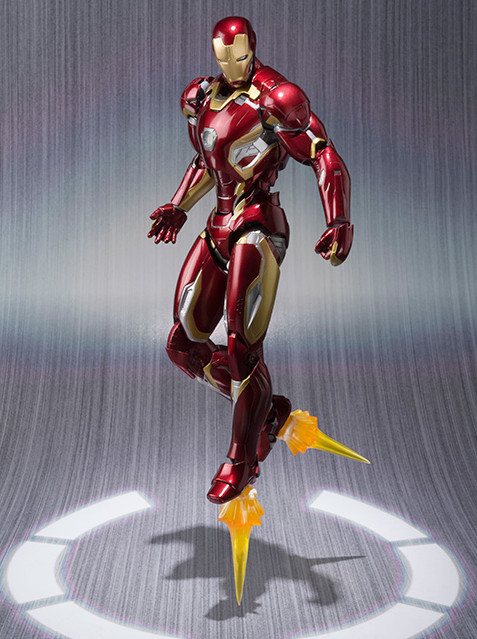 Ordinarily, we see all of the major Iron  Man armors appearing all over toys and collectibles, posters, art books and so forth for many months leading up to a new movie. But because of the craze that is Hulk Buster Iron Man Mark 44–and the relative ease with which old Mark 42 Iron Man molds can be remade into the Mark 43–Iron Man Mark 45 simply has not been around much yet.
While LEGO did release an Iron Man Mark 45 minifigure this winter, that figure (obviously) didn't give us a very clear idea of the Mark 45 Iron Man design. And with no Hot Toys and Marvel Legends Iron Man Mark XLV figures announced, I wasn't sure if we would get a really solid look at this particular Iron Man armor permutation at all until Age of Ultron hit theaters.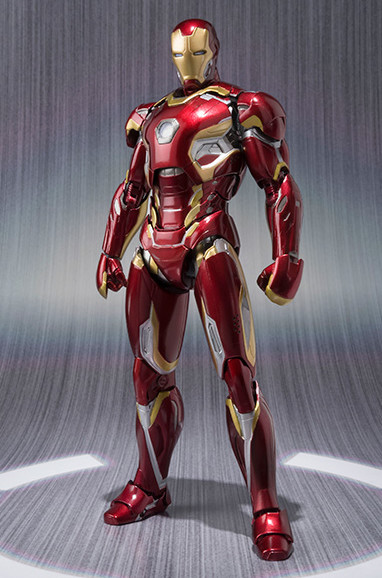 But it's Bandai Tamashii Nations to the rescue! The SH Figuarts Iron Man Mark 45 figure appeared out of the blue in some Japanese magazine articles last week, and now Bandai has fully unveiled their second (and possibly final) S.H. Figuarts Iron Man action figure from Avengers: Age of Ultron.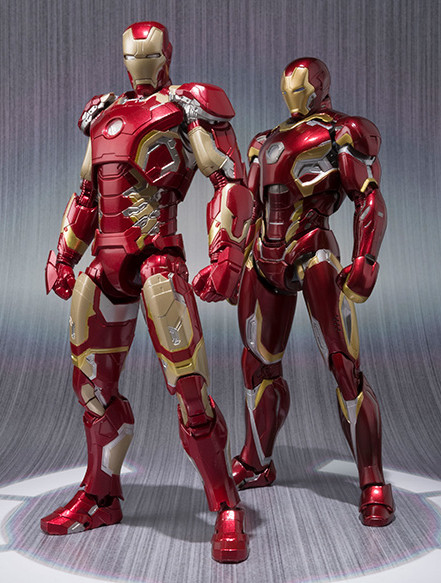 While their was virtually no way to differentiate between the LEGO Iron Man Mark 43 and Mark 45 figures, the difference between the two armors is very clear from the comparison photo that Bandai posted of the two armor permutations together.
The specs say that the S.H. Figuarts Mark 45 Iron Man is an all-new mold, but the helmet definitely looks like a straight reuse to me from this photo. I guess I'll see for sure when I have both figures in hand in a couple months!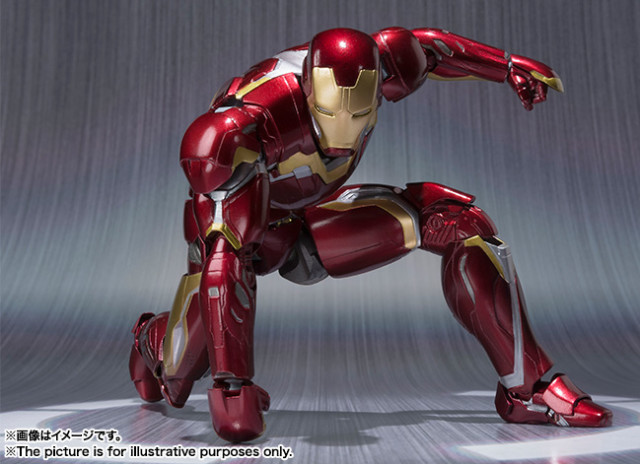 SH Figuarts Iron Man Mark XLV will stand 155mm (about 6″) tall and include both plastic and die-cast parts. He's retailing for 6,264 jpy overseas (about $52 US), but with shipping and import fees, I'd imagine he'll ultimately end up costing $70 or more for US buyers.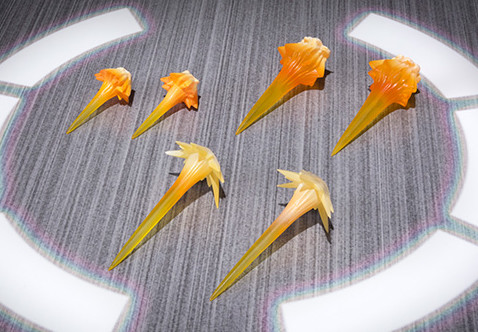 As usual with Bandai Iron Man SH Figuarts figures, the Iron Man Mark 45 SH Figuarts figure will come with a variety of effect pieces–three pairs (or six total) blast effects. The blast effects can be attached to Iron Man's hands or feet, and an extra pair of interchangeable wrists is included for the blasts to be attached to.
The limited Avengers Age of Ultron SH Figuarts Iron Man Mark 43 figure sold out in one day both domestically and nationally, but hopefully the Mark 45 lasts a bit longer on the market. Since this figure required so much new tooling, I would expect Bandai to want to produce sufficient quantities of it.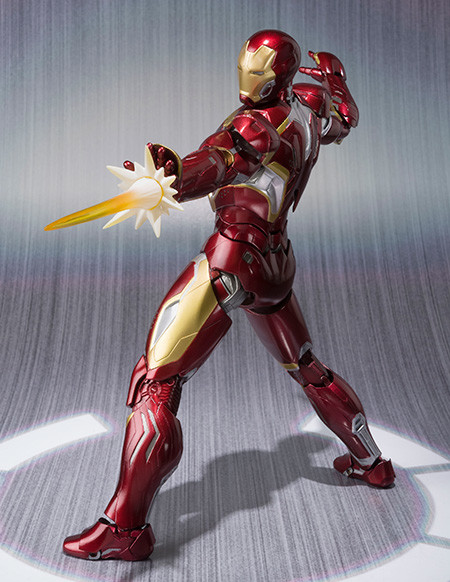 The Bandai Iron Man Mark 45 S.H. Figuarts figure will be available for order later this week, and is expected to be released in August 2015. As Bandai does not have a license to distribute their Marvel figures in the United States, the Mark 45 will have to be imported directly or bought from an American store that imports (like BBTS).
Now that we've gotten our first really great look at it, what do you think of the Mark 45 Iron Man armor, Marvel collectors? Will you be seeking to add this figure to your Marvel collections, or are you holding out hope for a Marvel Legends Iron Man Mark 45?