Over the weekend I discussed the two new Marvel Play Arts Kai figures I wasn't expecting to see revealed at the  New York Toy Fair 2015–Play Arts Thor and Venom–but I haven't stopped to chat about the new figure that I was expecting to see. The second figure in the Play Arts Kai Marvel figure line was on display at the 2015 Toy Fair for the very first time: the Play Arts Kai Spider-Man figure!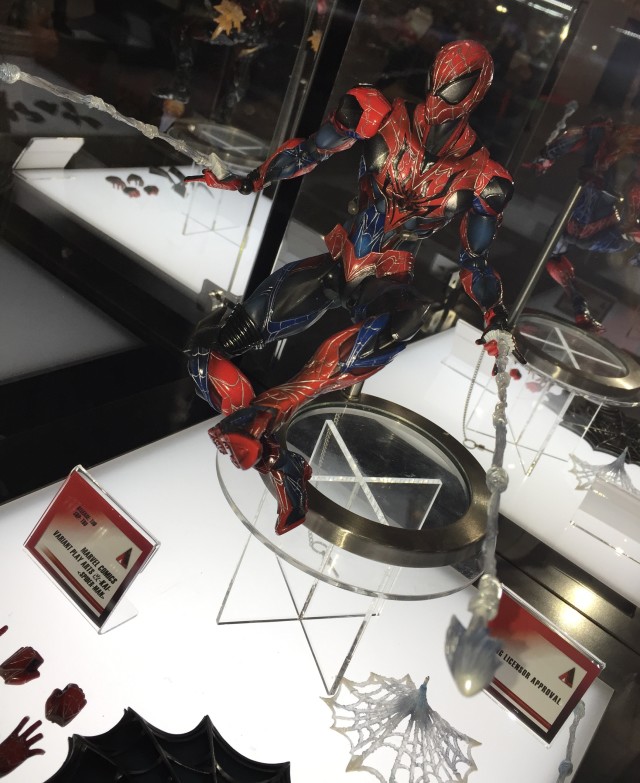 When I saw
the concept art for the Spider-Man Play Arts Kai figure at New York Comic Con 2014
last fall, I really wasn't sure what to think of the unique, armored-looking Spider-Man design or how well it would translate into plastic form.
I should have had more faith in Square-Enix, however, because the prototype for the Play Arts Spider-Man figure that debuted last week in New York at the 2015 Toy Fair is looking very slick!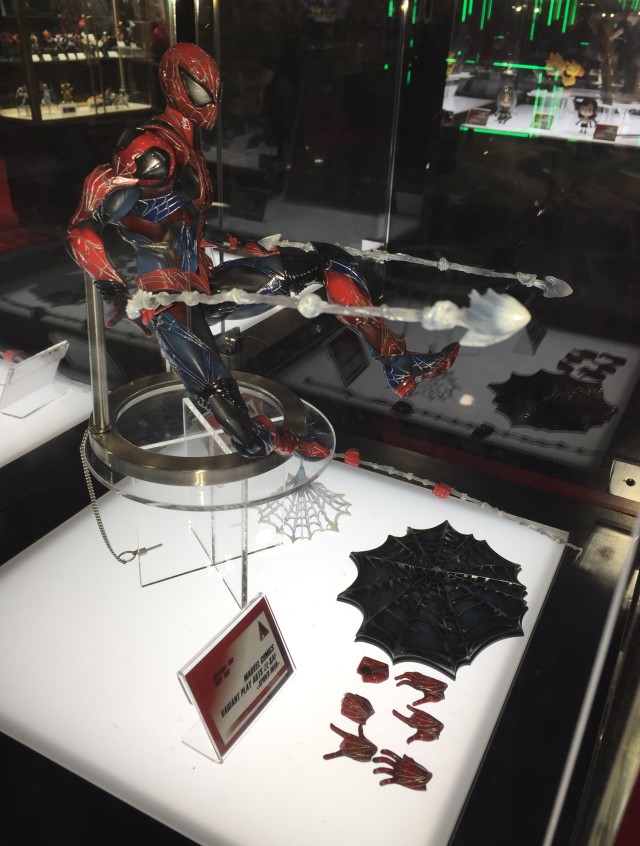 The Square-Enix Marvel variant line isn't meant to be comic- or even movie-accurate. Instead, the figures are intended to be artistic reinterpretations of classic Marvel characters.
That kind of thing makes total sense with Iron Man (who has about eight million different armors that he's designed over the years in every conceivable color scheme), but I was surprised by how much I liked the Spider-Man Play Arts Kai figure when I saw it at Toy Fair.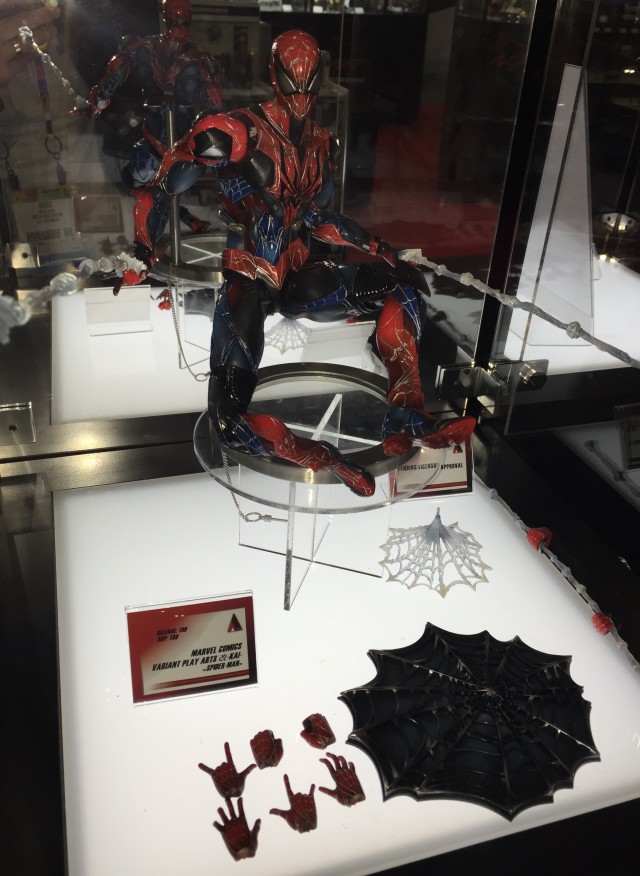 While the costume's armored look and angles definitely look anime-inspired to me, the paint on this 10″ Spider-Man action figure really brings out the style well and makes the figure really pop. Rather than looking merely "classic", this take on Spidey looks cool. This Spider-Man is wholly unique, and I like the combination of red/blue/black/silver on the costume a whole lot more than I'd expected.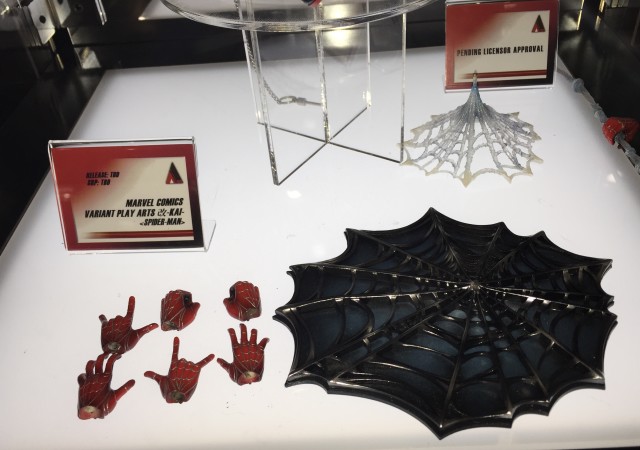 In order to justify the high price-point on the Play Arts Kai Marvel figures, Square-Enix is throwing in a healthy amount of accessories with each figure, and the Spider-Man Play Arts Kai Variant figure is no exception. Spider-Man will include eight interchangeable hands, two attachable web lines, a web blast effects piece and what I think is some sort of web base that Spidey can attach to.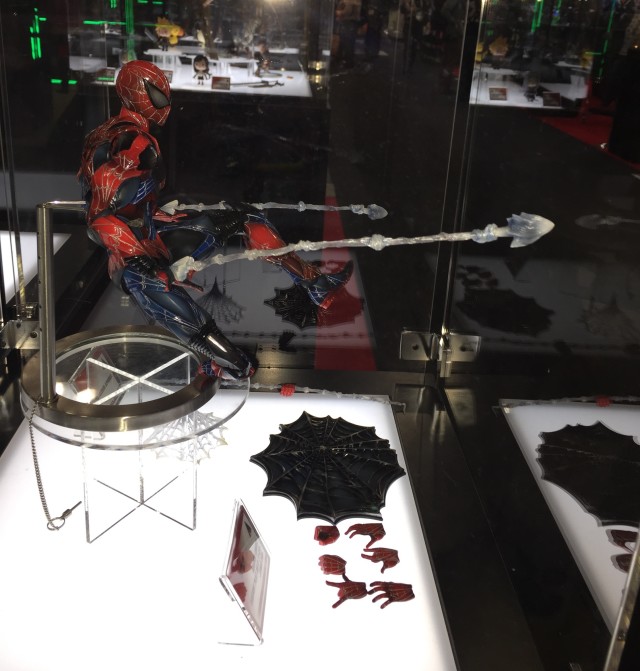 These accessories are actually extremely nicely done, and I love the look of Spider-Man posed with his extra-long web-lines (which look like they're easily about six inches long themselves–not a bad length at all!).
I would've liked an extra head as well, but otherwise this Square-Enix Spider-Man figure comes with everything else collectors would reasonably expect him to (although I wouldn't have said "no" to a pizza box and slice of pizza for Spidey to hold, like this year's Marvel Legends Spider-Man figure comes with!).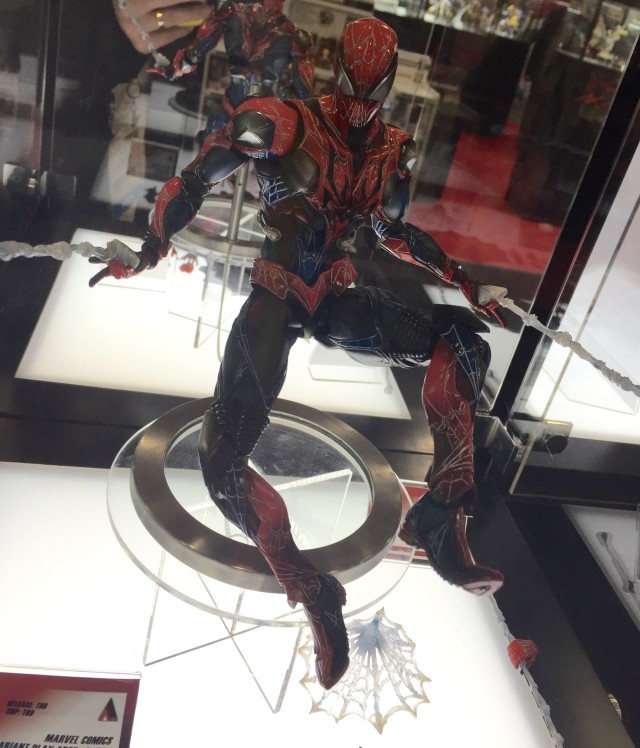 The Square-Enix Play Arts Kai Spider-Man figure should be up for order later this winter, with an anticipated release date in fall 2015. No word on the pricing yet for this figure, but hopefully it'll be cheaper than the ~$120 stores are charging for Play Arts Iron Man after import fees.
Thoughts on Square-Enix's original take on Spider-Man, Marvel collectors? Is this figure was too far removed from his classic duds for you, or are you digging the Play Arts Kai interpretation of Spidey?