Not only is 2015 on track to be the biggest year ever for long-running toy lines like Marvel Legends, Funko Marvel POP Vinyls, and Hot Toys Marvel figures, but it's also the year that a slew of new lines are kicking off spotlighting iconic Marvel characters. One of those lines is the Square-Enix Play Arts Kai Marvel Variant line, which gives us unique redesigns of beloved Marvel superheroes. The line kicked off with (yet another) Iron Man in the winter, and now its moved on to its second release: the Play Arts Kai Spider-Man figure is now available for order!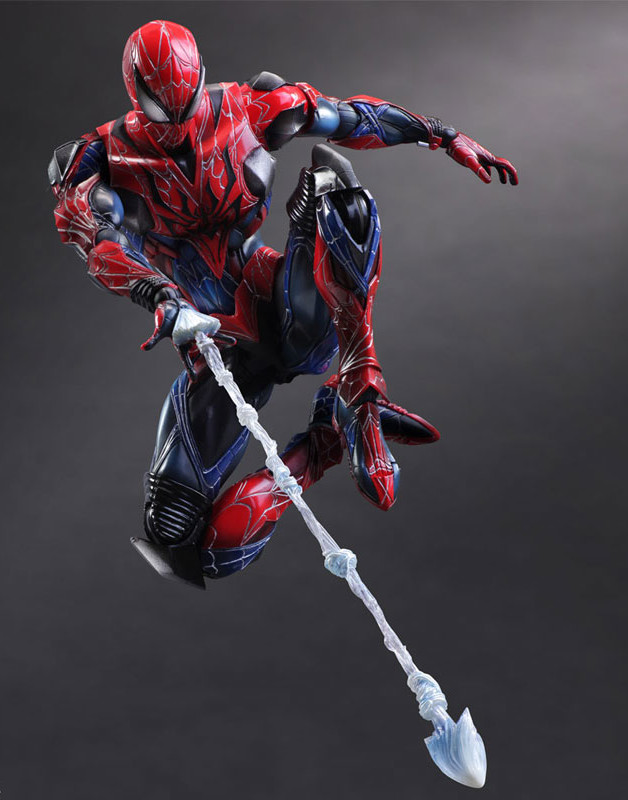 I've been collecting import toys from Japan of my favorite anime characters for about a decade now, and so I'm pretty familiar with companies like Bandai Tamashii Nations, Square-Enix and the Good Smile Company.
As much as I loved these Asian companies, I never thought that we'd be seeing them expand their horizons and really tackle a wide range of Marvel characters. But with the phenomenal worldwide success of the Marvel Cinematic Universe, it's only natural that some of the best toy-makers in the world are now planning to represent the world's increasingly most popular characters!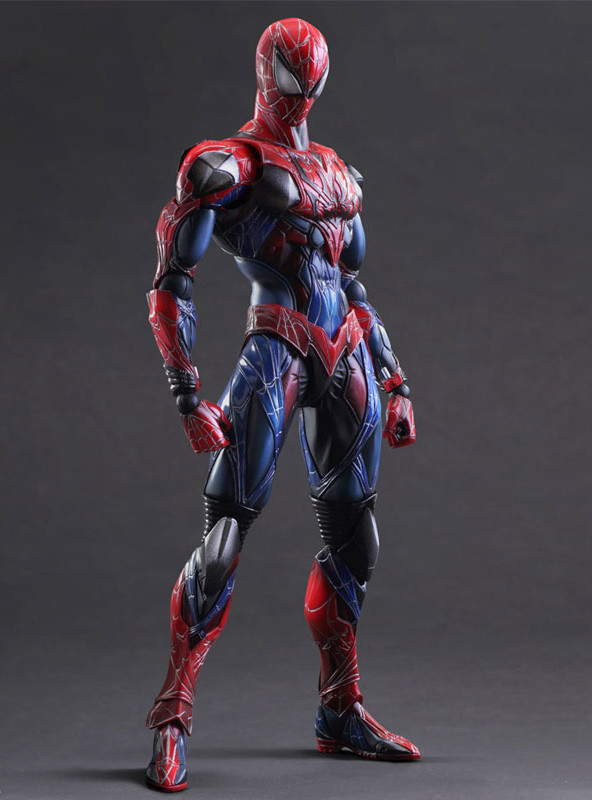 While the Square-Enix Spider-Man figure retains most of the essential characteristics of Spidey's costume (red-and-blue color scheme, webbing on the costume, signature bug-eyed mask), many elements of the costume have been radically redesigned. There are more patches of black worked into the costume that we've ever seen before, and the costume itself definitely looks more "armor-like" and stylized.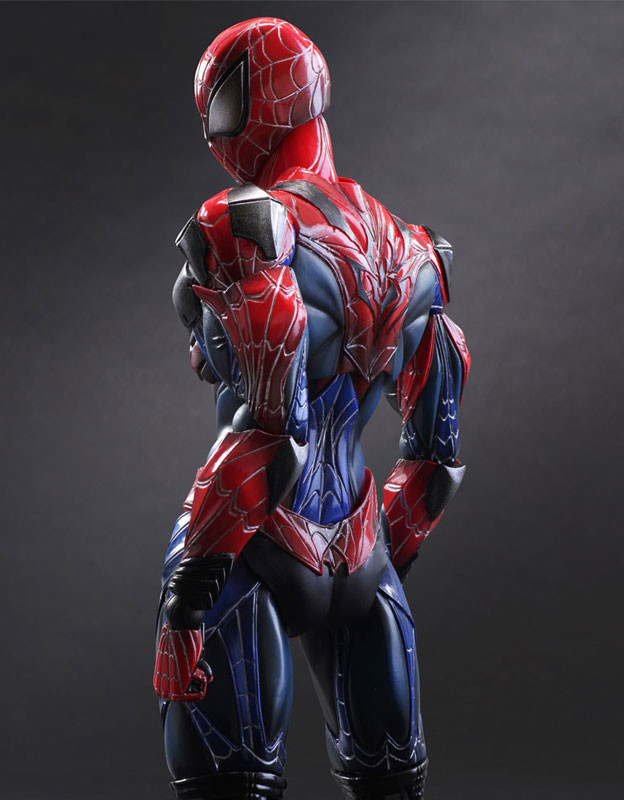 In the case of the Play Arts Kai Iron Man figure that went up for order in the winter, I thought that it looked like just another Iron Man armor. But in the case of Spidey, this is unquestionably something that feels different from all of the Spider-Man figures that have come before it.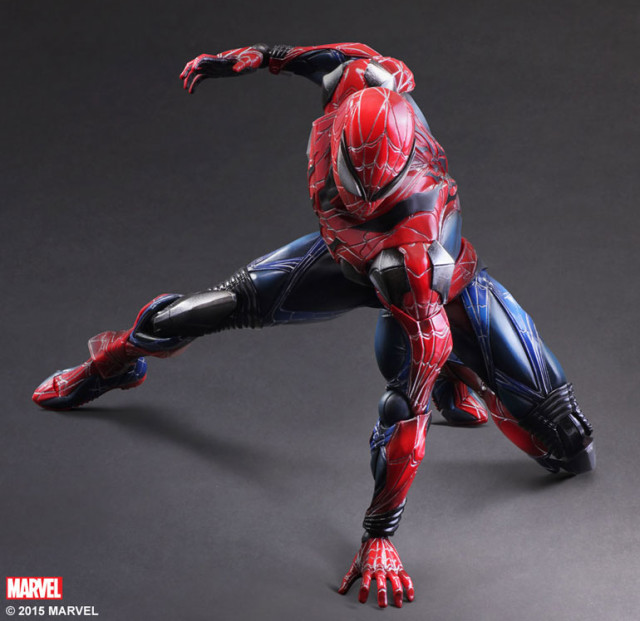 Square-Enix specifically designed their Marvel Variant Spider-Man figure to have a wider range of motion than almost any other figure that they've ever released in the Play Arts Kai brand, so ol' Spidey can pull off some of the most extreme poses ever for a Play Arts figure.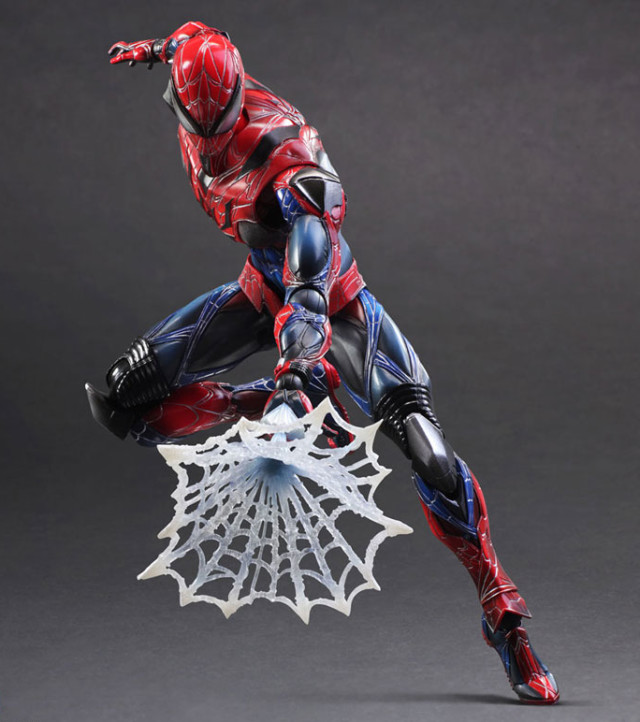 And I love the metallic sheen of the paint that Square-Enix selected for this Spider-Man figure! What could have been a pretty boring retread of a character that's been done a billion times before in toy form actually feels pretty fresh and fun again.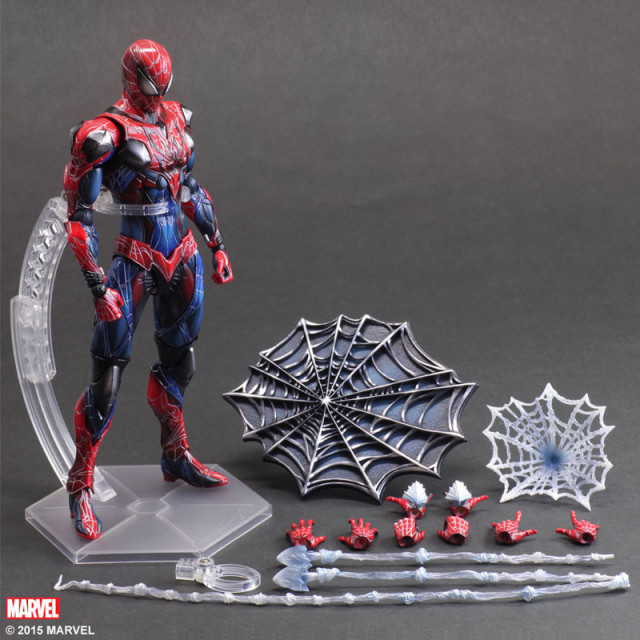 One area where Square-Enix is definitely going all-out with their Marvel superheroes line is the accessories. The Spider-Man Play Arts Kai figure is going to come with ten interchangeable hands, a webbing display base, three web lines, a webbing effects piece and a heavy-duty figure stand.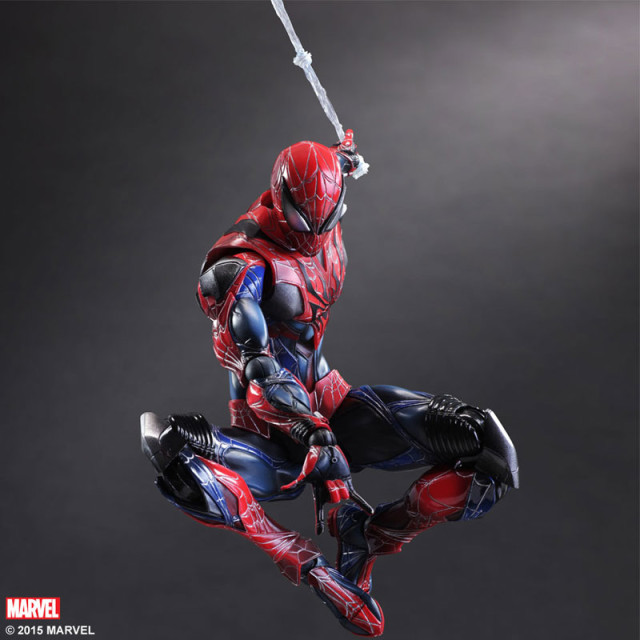 Square-Enix does some of the best figure stands out there, so if you want your Spidey posed web-slinging or just leaping through the air, you'll be able to accomplish most any pose you can dream up with the included display stand.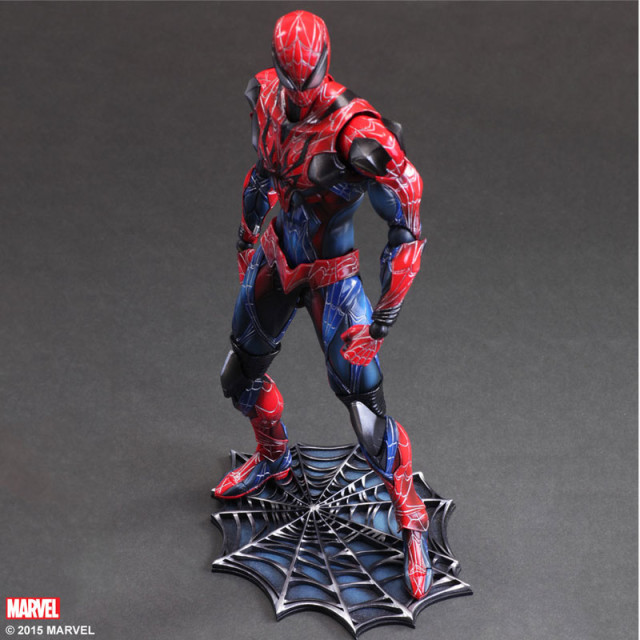 The one really big strike against the Square-Enix Play Arts Kai line in general is the price-tag. I started collecting Play Arts figures when they retailed for about $30 each a decade ago. Today, the figures commonly cost $80-$100. And because Square-Enix does
not
hold a license to distribute Marvel figures in North America, with shipping and import fees the Marvel Play Arts Kai figures end up costing even a little bit more than that.
I'm not opposed to paying $100 and up for a super-articulated, well-designed 10.5″ figure with a ton of accessories, but it needs to be an action figure that really appeals to me to get me to spring for that amount. I had enough Iron Men already that I passed on the Play Arts Iron Man figure, but this Play Arts Spiderman is cool enough to earn my money.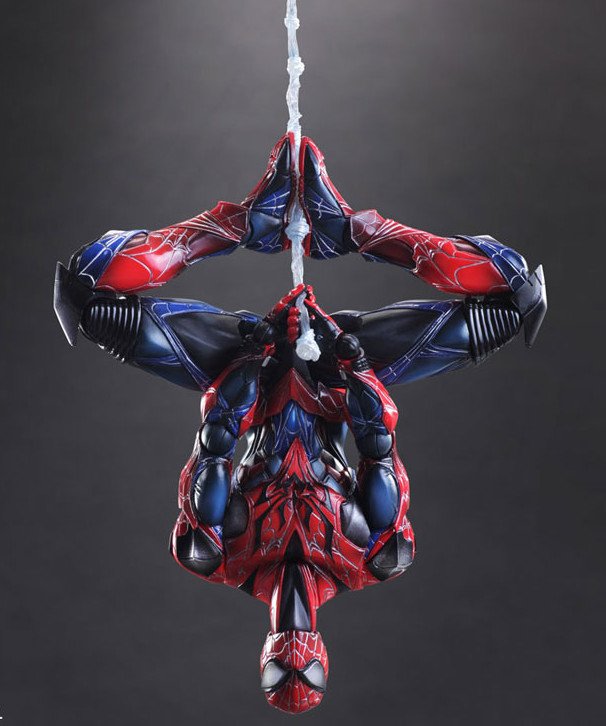 The Spider-Man Play Arts Kai Marvel Variant figure is now up for pre-order, and is scheduled to be released in August 2015. Iron Man is also still available for order, but some of the other upcoming releases such as the Play Arts Darth Vader are already sold out, so if you're dead-set on wanting Spidey, you may want to place a reservation for one now.
What do you think of the second release in the Square-Enix Marvel Play Arts Kai figures line, Marvel collectors? Are you impressed with Square-Enix's redesigned Spider-Man action figure, or is this not a figure that you'd be willing to drop $100+ on?