Going into last week's New York Toy Fair 2015, I thought we'd be lucky if Square-Enix just brought along a prototype of the second Marvel Play Arts Kai figure: Spider-Man. But I underestimated Square-Enix. Not only did they have the finished Spidey on display at their booth, but also the third action figure in the lineup, Play Arts Kai Thor, and even concept art for the fourth figure: Play Arts Kai Venom!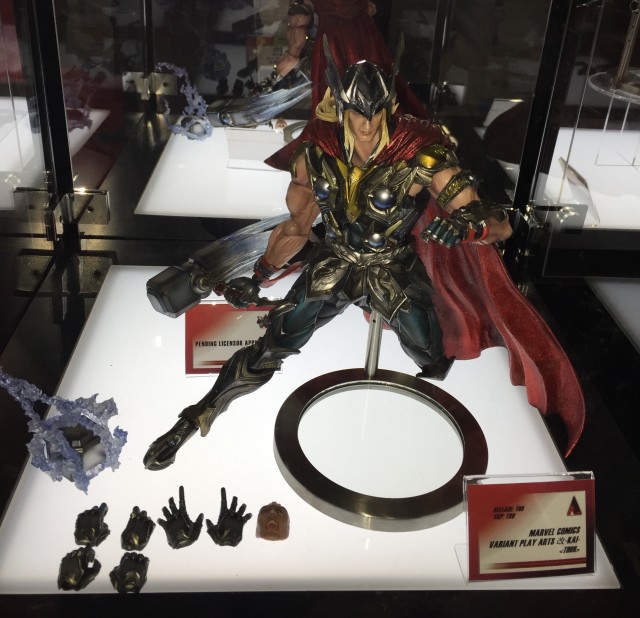 If anyone had asked me for my predictions on the third and fourth figures in the Square-Enix Play Arts Kai Marvel figures lineup, I'd have predicted Hulk and Captain America–the heaviest of heavy-hitters in the MCU right now.
For whatever reason, Square Enix isn't moving on to those characters just yet (though I am certain we'll see prototypes of them by the end of this year). Square-Enix is, however, giving us two characters who are only slightly less popular: Play Arts Kai Venom and Thor!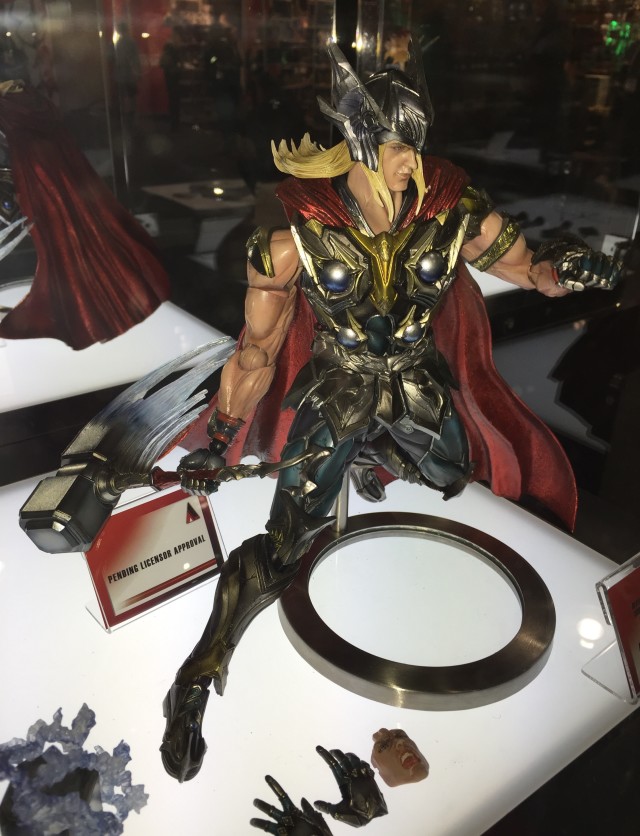 I love the shiny metallic paints that Square-Enix used for Thor's armor, and they've actually captured his pretty-boy look far better than the unbecoming ogre-like appearance that Hasbro has been sculpting for their Thor heads lately.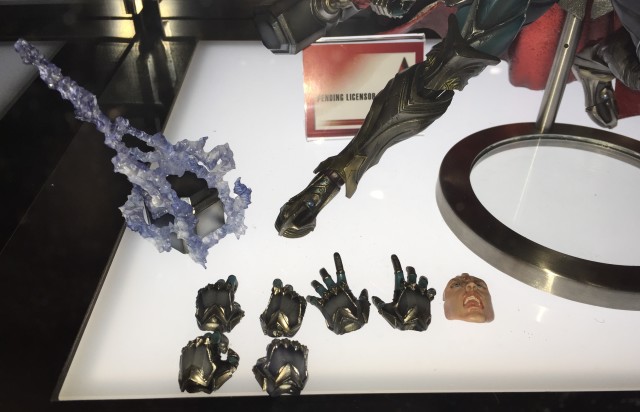 It looks like Thor will include eight interchangeable hands, a swap-out electrified Mjolnir hammer head, and an alternate yelling face plate for Thor. Not a bad haul at all, and I particularly like the effects piece accessories.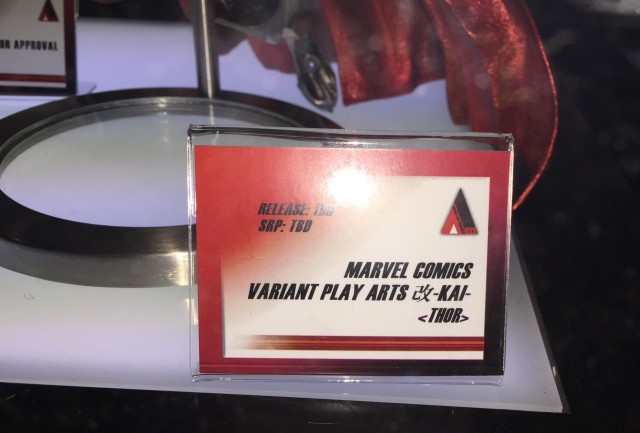 Although there's usually a sizable window between Play Arts Kai figures being unveiled and when they actually arrive in stores, the Play Arts Kai Thor was already in finished prototype form and fully-painted at the 2015 Toy Fair, so I think it's likely we'll have him in our hands by fall 2015.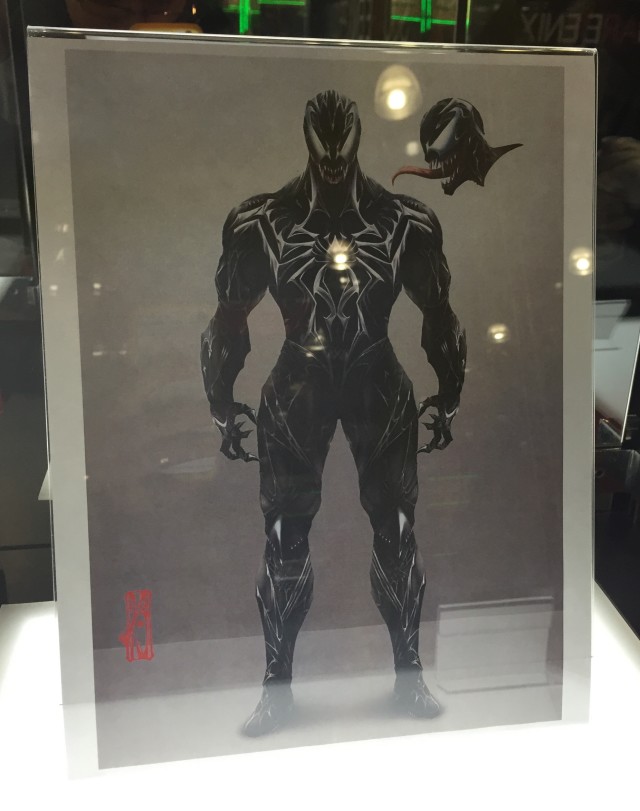 The Venom Play Arts Kai concept art design on display was a
big
shocker for me when I saw it. I really thought that Square-Enix would want to concentrate on all the mainstays of the MCU before hopping over to Spider-Man villains. But in retrospect, it certainly makes sense to follow up Play Arts Kai Spider-Man with a Spidey villain. Can Carnage be far behind…?
Square-Enix opted for a less crazy, non-monstrous look for their Venom Play Arts Kai variant figure, which is fine with me–I think Venom can look plenty cool without being all monster-ed out. Venom, like Thor, is still listed as being "TBD", but Square-Enix rarely (if ever) shows off a figure publicly that ends up not getting released.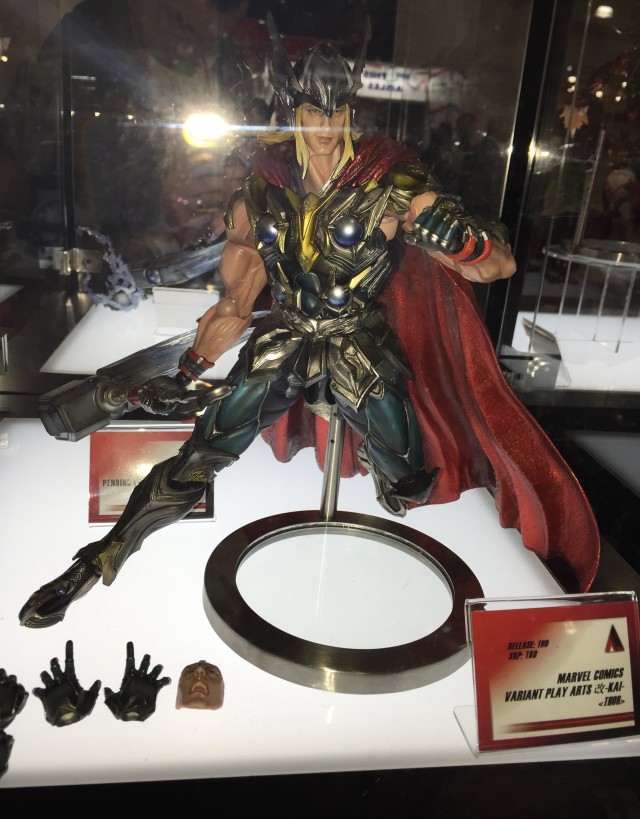 I'll post an update here and to the Marvel Toy News Facebook Page once we get official photos and release information on the Venom and Thor Play Arts Kai Marvel Variant figures, so stay tuned if these are right up your alley.
With likely US retail prices of $100+ each, are you intrigued by the latest two reveals for the Marvel Play Arts Kai series, Marvel collectors? Is there space on your shelves for this new line of 10″+ Marvel action figures?