I know most folks have been overall very happy with the last few Marvel Legends Thor figures that Hasbro has released, but I've never been fully satisfied. As nice as those figures are, I don't feel like they capture the power and majesty of the God of Thunder. But where I feel like Hasbro falls a tad short, coming off of over a decade of producing Final Fantasy figures, Square-Enix knows exactly how to make a figure look mythic! And as part of their new-for-2015 Variant line, they're getting their chance to make Thor look really divine: the Play Arts Kai Thor figure is now available for order!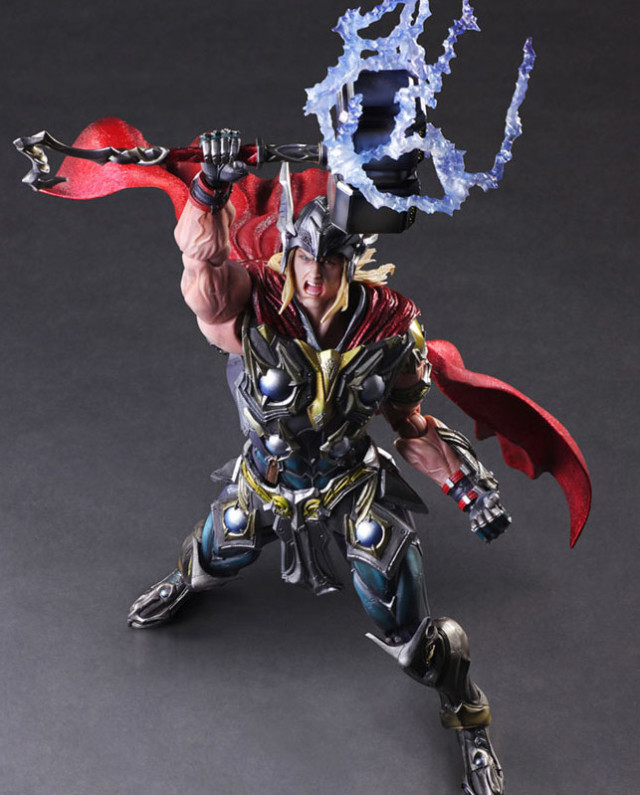 At the New York Toy Fair 2015, Square-Enix had their first three completed Marvel Play Arts Kai Variant figures on display and ready to show off. And now, we've finally come full-circle, as all three of those figures are now up for pre-order! Following up on the previously-solicited
Play Arts Kai Iron Man
and
Spider-Man figures
, the God of Thunder is preapring to travel to Midgard in toy form once again this fall!
The Square-Enix Thor figure will be the largest figure in their Marvel lineup thus far, as he'll stand about 11″ tall and over 8″ wide! That's almost as big as a Hot Toys sixth scale figure!
Thor's cape has a little bit of articulation built into it, so collectors will be able to create dramatic flying poses with the wind blowing Thor's cape in whichever direction.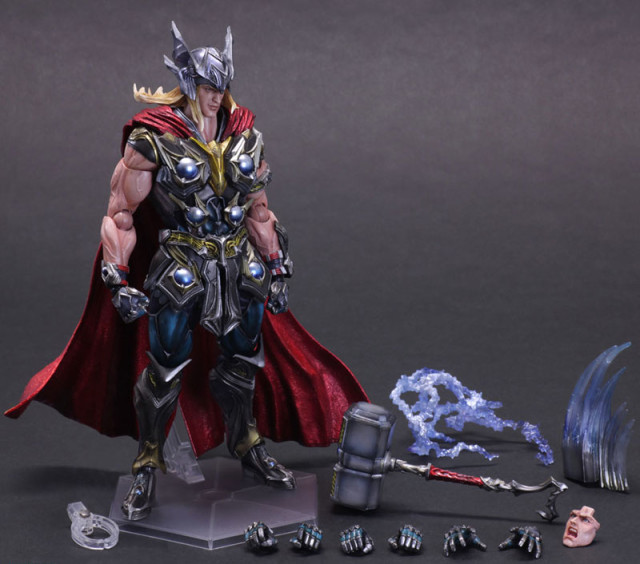 Where this Thor figure shines the brightest, in my opinion, is his wealth of awesome accessories. Square-Enix has begun to really spoil us with a treasure trove of accessories with the Play Arts Kai Marvel Variant figures, and they're going to continue to do so with their Thor Variant figure!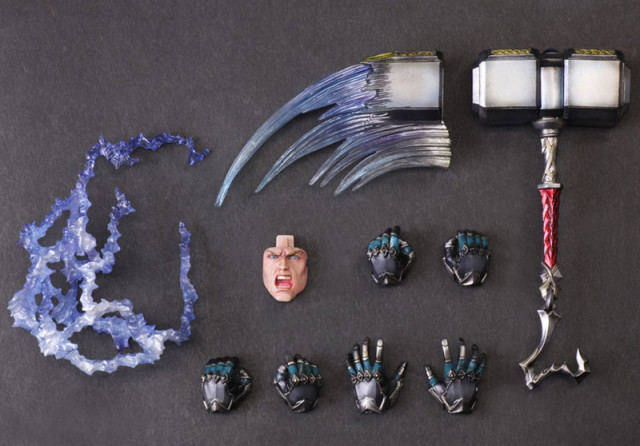 Thor contains a godly (pun intended) number of accessories, including: a figure stand display base (which doubles as a flight stand), his Mjolnir hammer, eight interchangeable hands, lightning effect pieces to attach to Mjolnir, an alternate yelling head and even a swinging Mjolnir effects piece attachment (*swish!*).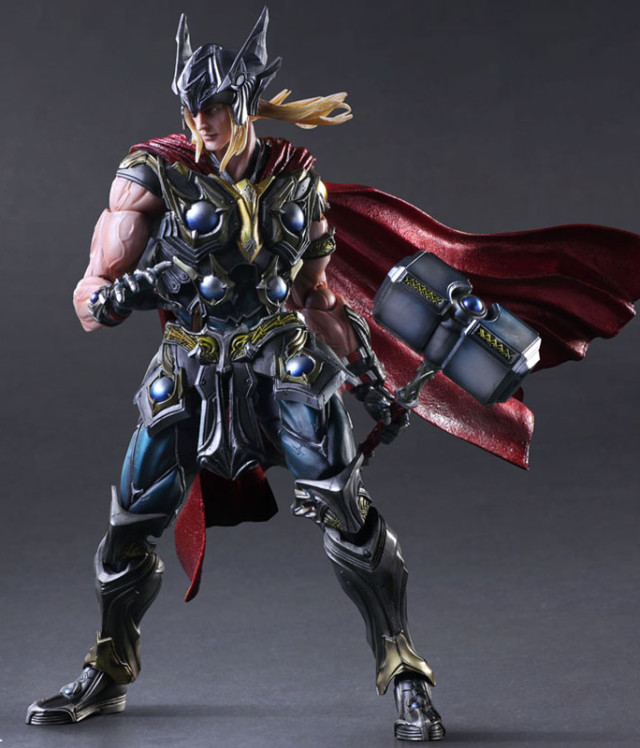 And this has got to be the most impressively-sculpted and painted Mjolnir hammer that we've ever seen on a comics-based Thor figure! In fact, the ornate sculpting on Thor's armor and the vivid paint deco on the figure really bring this rendition of Thor to life.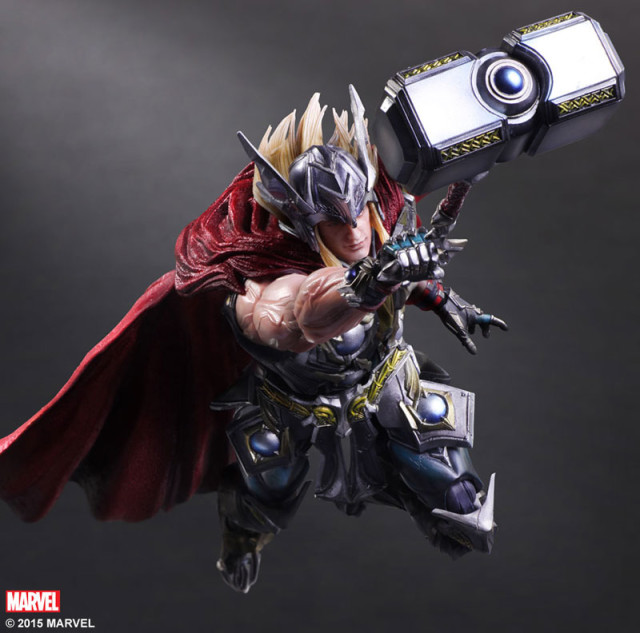 I'm not "all-in" on the Square-Enix Play Arts Kai Marvel figure line, but Thor is another figure that is seriously tempting me (and likely to end up on my shelf in just a few months' time).
There is a downside to the impressive size of this Thor figure and its number of accessories, however, and I think it's one we all anticipated: the price. The Square-Enix Thor Play Arts Kai figure is carrying an intimidating price-tag of $149.99 in the United States–not cheap. Considering Thor is almost as tall as a Hot Toys figure at just under 11″, it's not a terrible price–but it's definitely an expensive one.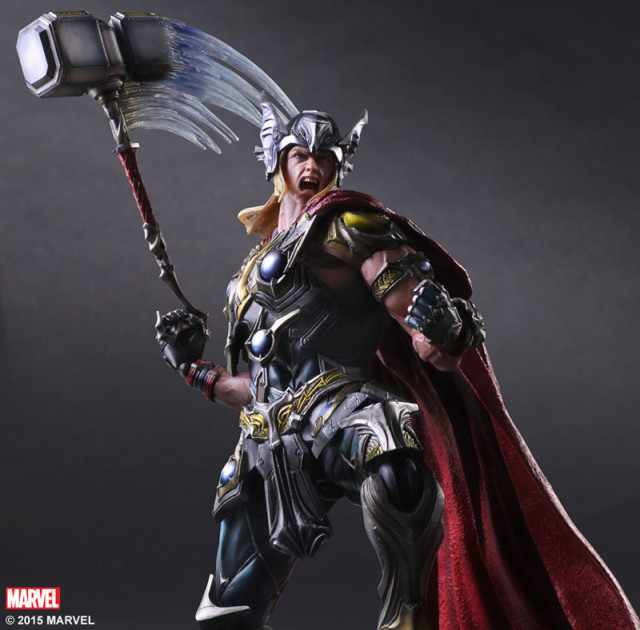 The Square-Enix Play Arts Kai Thor Variant figure is now available for order, and is scheduled to be released in September/October 2015. BBTS has the best price I've seen for Thor at $139.99, but EE is offering free shipping (which is a savings of more than $10 in most cases), so Thor's price ends up being mostly equivocal from either store. Importing is also an option, although EMS shipping will likely be quite expensive for a figure of Thor's size and weight.
Now that the third figure in the Square-Enix Play Arts Kai Marvel figures lineup has gone up for order, how are you feeling about the line as a whole, Marvel collectors? Have you ordered or are you planning to order any of the figures solicited thus far for the line, or are these high-priced redesigns of Marvel figures too hot for your wallet to handle?