Although San Diego Comic Con 2013 Preview Night won't begin for a few hours yet, news is already starting to emerge from the convention halls! If you're like me, you were probably expecting that Hasbro would hang onto the secret of their next series of Marvel Legends until their panel later in the show, but nope! Front and center, on display behind glass for Preview Night of SDCC 2013, it's this fall's upcoming 2013 Marvel Legends Series 3 (Wave 6) series, featuring Agent Venom, Jubilee and more!
UPDATE: Jubilee has now been confirmed as the Build-A-Figure of Marvel Legends Wave 6!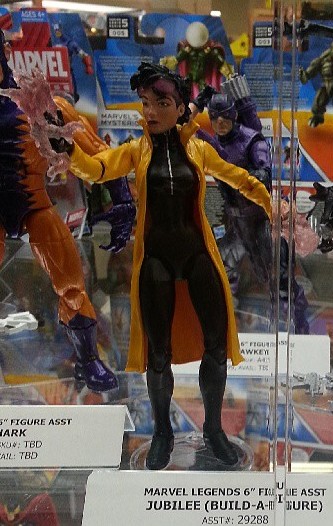 The lineup for Marvel Legends 2013 Series 3 is a strange one, as the assortment seems to be a little bit obscure. Several of these figures are probably variants of each other, but we likely won't know exactly which one way or the other until the Hasbro Marvel panel this weekend. It's also possible that there's another Marvel Legends Thunderbolts or even a Marvel Legends Masters of Evil multipack coming up that some of these belong to, but I highly doubt it. The lineup for Marvel Legends Wave 6
appears
to be as follows: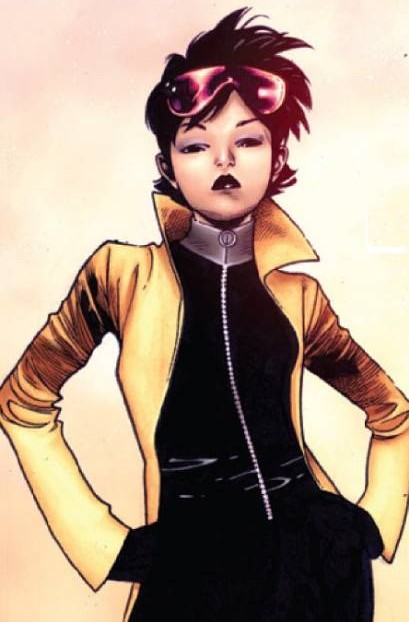 Jubilee — After over a decade of fans demanding her, Jubilee will finally arrive in Marvel Legends form later in 2013… as the series Build-A-Figure! That's right, we've moved up from  itty-bitty Build-A-Figures like Rocket Raccoon and Puck to young ladies like Jubilation Lee! Sadly, this isn't exactly the Jim Lee/90's X-Men cartoon version of Jubilee that a lot of fans had been hoping for. Instead, we're getting the modern Jubilee (vampire Jubilee) in black jumpsuit and yellow trench coat (the same outfit that the Marvel Universe Jubilee figure out now is wearing). This is a bit of a bummer, but I'm psyched that we'll finally have the opportunity to own a super-articulated Marvel Legends Jubilee!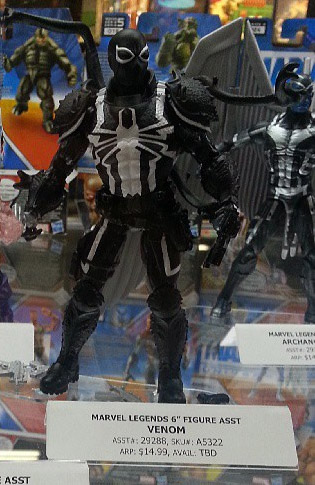 Agent Venom (Flash Thompson) — An Agent Venom Marvel Legends figure is long overdue, and I'm glad to see Flash Thompson Venom finally making his way into the Marvel Legends lineup. I already have the fantastic Marvel Select Agent Venom figure that I reviewed a few months back, though, which is far better than this one (so I'm pretty covered as far as Agent Venom goes). That said, the Marvel Select Eddie Brock Venom is rare and expensive, so I have no problem with Hasbro releasing their own Agent Venom (albeit not nearly as good of one).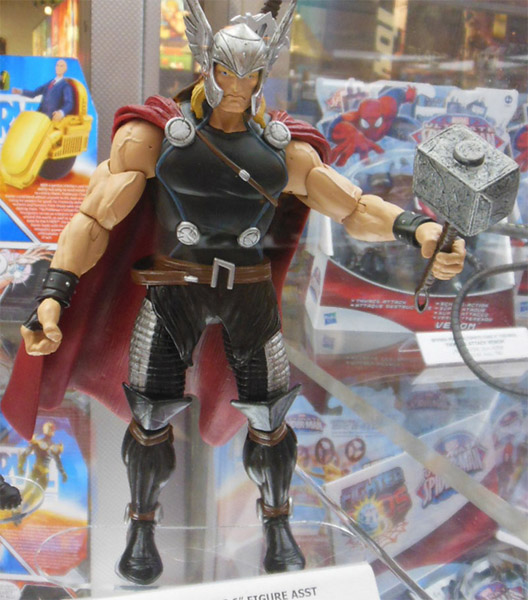 Thor (Marvel NOW!) — At first I thought this was just a repack of the Heroic Age Thor from the 2012 Marvel Legends Wave 1, but it's actually a retool of that figure with an all-new head to represent Thor from Marvel NOW! This is a totally acceptable inclusion in the series, if not a little boring. 2013 Marvel Legends Series 3 desperately needed some star power, and it might as well be Thor. From here on out, things get a bit… obscure…
Blizzard — I love the 1990's Iron Man animated cartoon and thus, I love Blizzard. Blizzard hasn't ever really gotten a ton of notoriety or attention besides his short tenure in one of the many, many lineups of Marvel's Thunderbolts, but I have a lot of affection for the character and I'm happy to see him take his place in Marvel Legends at last.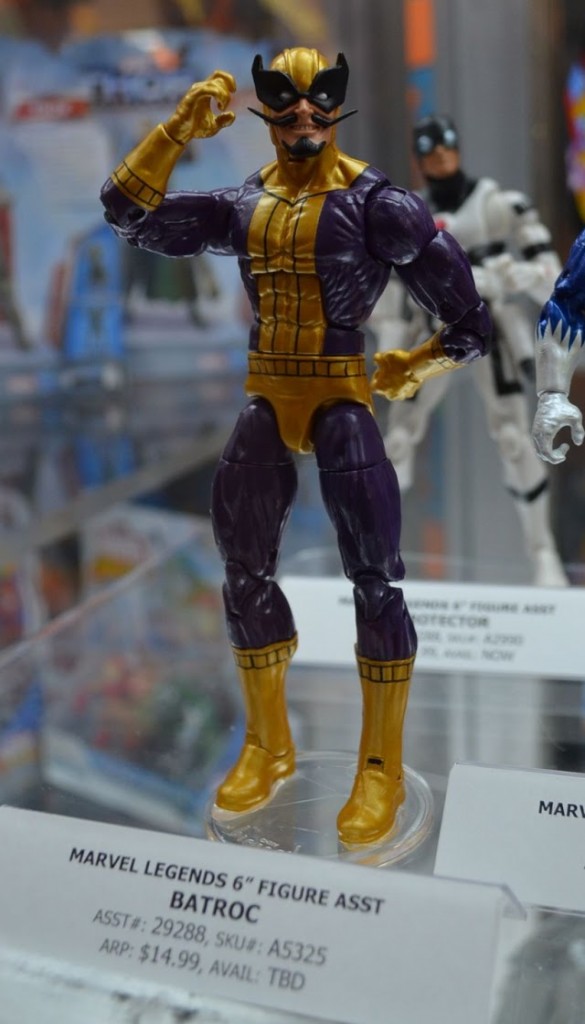 Batroc the Leaper — I have a hunch that the Marvel Legends Batroc the Leaper is going to be a "variant" of Blizzard, or vice versa. Used primarily as a joke character over the years, I've never really cared for Batroc the Leaper one way or the other, but I know a lot of fans have been asking for a Batroc Marvel Legends action figure for years. They'll get their wish in just a few months.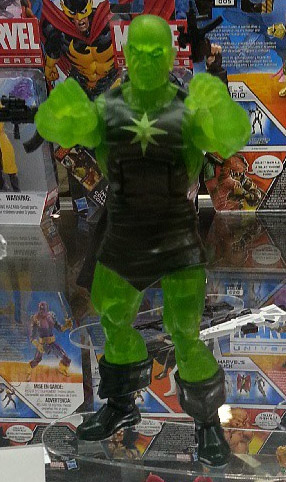 Radioactive Man — Though Chen Lu has been brushed aside a bit in recent years, the Radioactive Man was a long-time member of the Thunderbolts and one of my favorite members of that team from any iteration. I really didn't think Hasbro would ever put out a 6″ Marvel Legends Radioactive Man figure (the 3.75″ Marvel Universe Radioactive Man was a SDCC exclusive last year), I'm thrilled to have him in the lineup. The translucent green plastic parts they used for the Radioactive Man Marvel Legends figure's limbs looks great–can't wait to see hi-resolution photos of this one.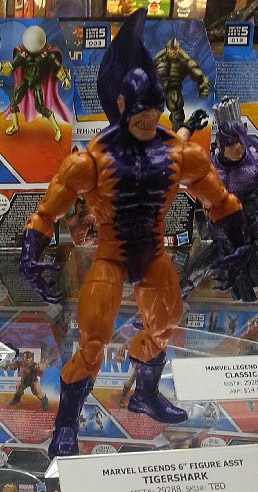 Tigershark — A mainstay of the Masters of Evil, Tigershark is a good team-builder figure to release. He and Batroc are also the only pure villains to be included in this wave, as every other character has functioned as a hero (or quasi-rehabilitated Thunderbolts member) at some point. Most likely a "variant" of Radioactive Man.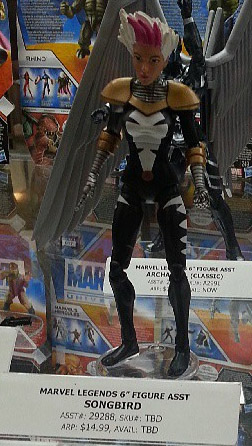 Songbird — What a year 2013 is for Songbird! The team-completing Thunderbolts Marvel Minimates Songbird figure should hit stores in just a few weeks, and now she'll get her first Hasbro Marvel Legends figure a couple months afterward! I wish Hasbro had picked her more classic long-haired look for the figure, but I understand with the freaky spiky short hair she'll fit in with the rest of the modern Thunderbolts Marvel Legends lineup. And speaking of which…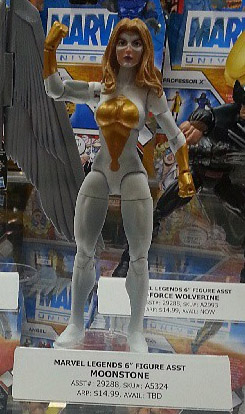 Moonstone — Moonstone/Meteorite has been in so many different lineups of the Thunderbolts and Masters of Evil it's ridiculous. Though we got our first Karla Sofen figure as the Dark Ms. Marvel variant in the Marvel Universe line a few years back, now Karla will have a mass-release Marvel Legends Moonstone figure all her own! She's also in the 2013 SDCC Thunderbolts multipack. This is likely a "variant" of Songbird (if Moonstone will get a mass release at all–she may just be being shown off in the display case, though none of her box set comrades are).
Presuming that this is the actual Marvel Legends 2013 Series 3 (Wave 6 overall) lineup, what do you think, Marvel fans? Are you satisfied? Disappointed? Leave a reply and let us know your thoughts!