UPDATE 7/25/2017: Looks like the anticipated August 1st 2017 pre-order date has come early, because cases of the Marvel Legends Thor Ragnarok Series is now up for order online with free shipping! Cases contain Gladiator Thor, Hela, Loki, Ares, Jane Foster Thor, Young Thor and the greatly-anticipated Gladiator Hulk Build-A-Figure!
ORIGINAL: This morning, the biggest pre-SDCC 2017 Hasbro news of the summer broke when the half-dozen Thor Ragnarok Marvel Legends movie figures were revealed: two Thors, Hela, Loki, Valkyrie and Gladiator Hulk. But while we got our first glimpse of the figures earlier today, now we've got a much better look: Hasbro has now sent out gorgeous, humongous hi-res loose and packaged photos of the entire wave!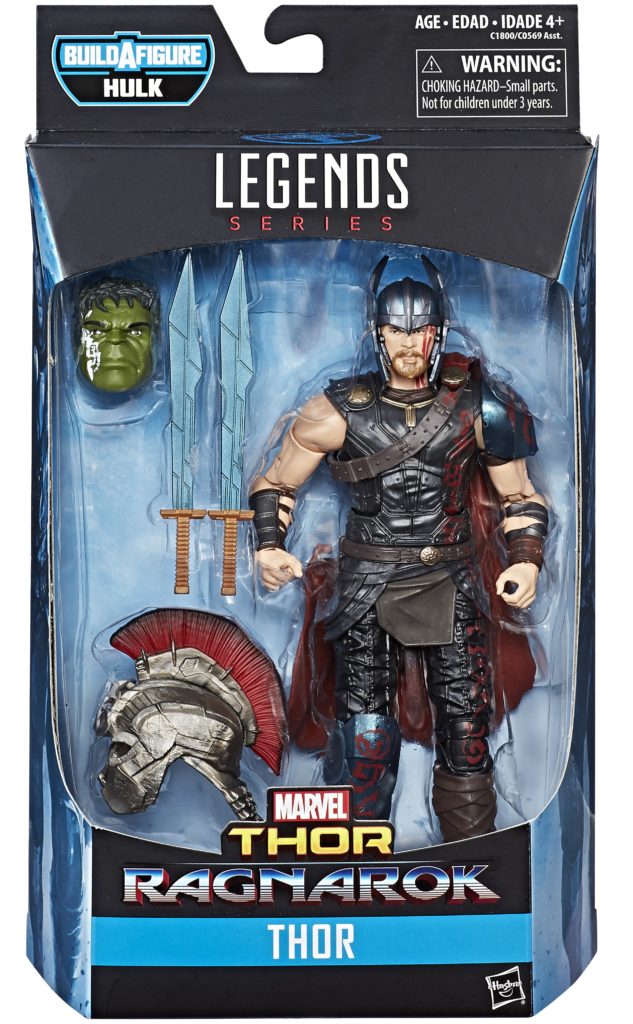 While none of the characters chosen from Thor 3 for the 6″ Legends figure treatment are terribly surprising (they're all main characters from the movie featured prominently in the trailer, after all), that doesn't mean that they're not pretty thrilling despite being expected!
Let's take a hi-res look at the figures that will make up the Thor Ragnarok movie figures wave…
As this movie has his name in the title, it's not exactly a plot twist that we're getting two new versions of Thor himself.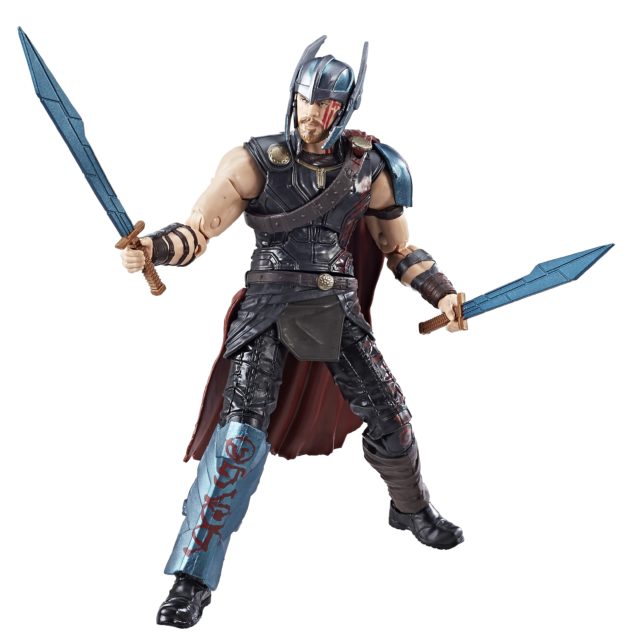 The single-packed Gladiator Thor Marvel Legends looks hugely different from any ML action figure of the character that we've gotten before, and I dig his tattooed face, dual blue-bladed swords and helmet.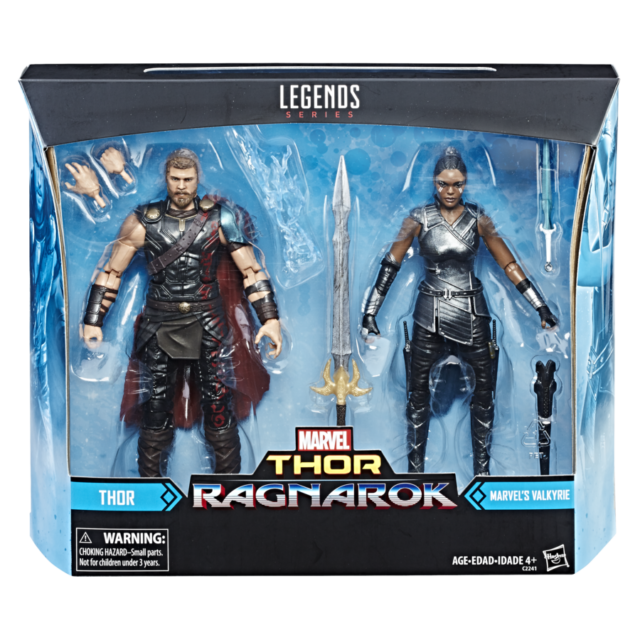 But because not everyone is going to want such a non-standard version of the God of Thunder, Hasbro wisely has a non-helmeted, non-tattooed variant with a big sword slotted in as an exclusive release at Target in a two-pack this fall.
The other figure in the Target exclusive two-pack will be one of the new-to-the-MCU characters debuting in the movie: Valkyrie.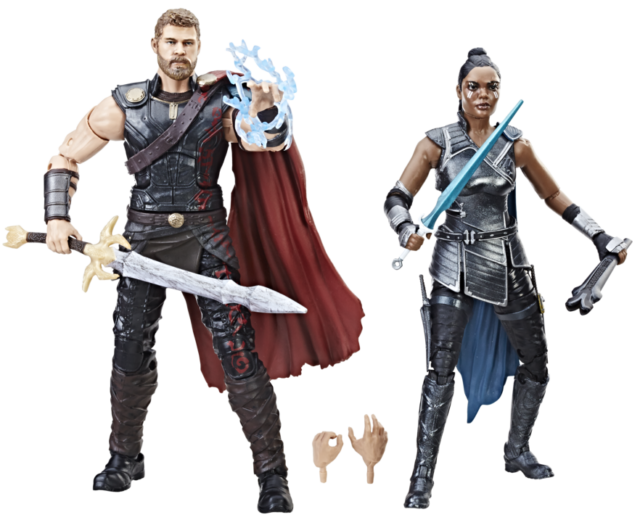 We got a comics-based Marvel Legends Valkyrie figure way back in the Hulkbuster series in 2017, but this figure is aesthetically different in basically every way from that Valkyrie. I can definitely see Valkyrie being a breakout character in this movie, so I'm psyched we won't have to wait long for a ML figure of her.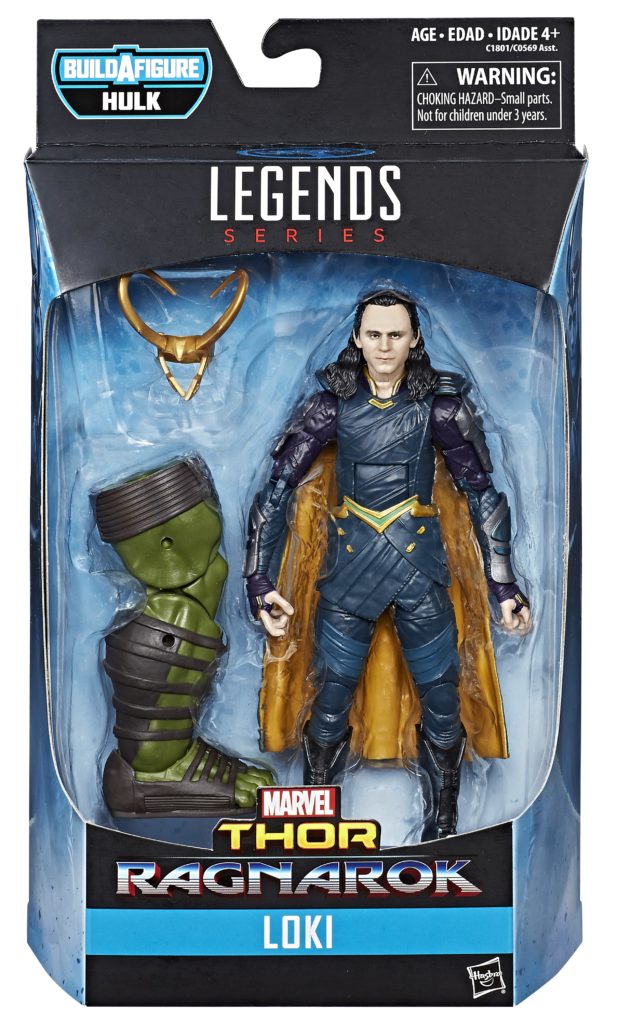 Two characters who don't typically get mass-market releases will also be appearing as single-packed 6″ movie figures for the first time: Loki and Hela.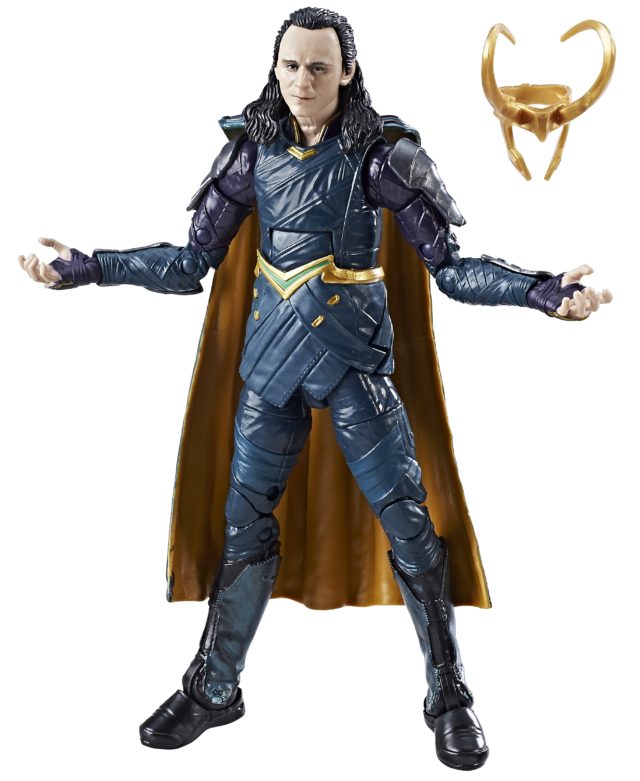 I don't love the new Ragnarok Loki costume nearly as much as his costumes from his appearances in the Thor movies and the first Avengers, but the new Loki action figure itself really looks fantastic.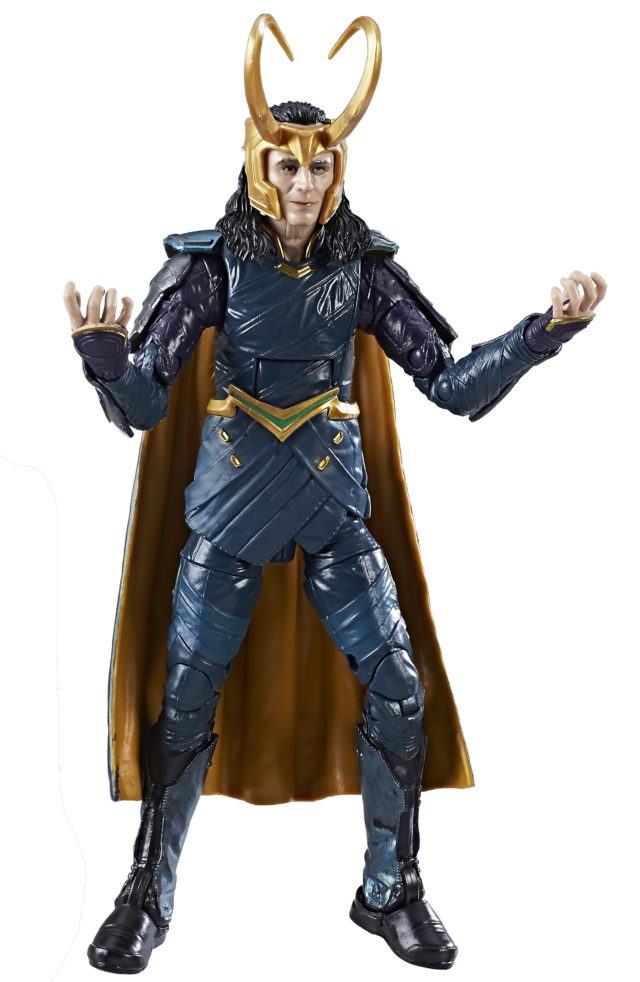 The removable crown/helmet for Loki is a terrific inclusion by Hasbro, and one that very likely will make many collectors buy multiple Loki figures to display him both ways.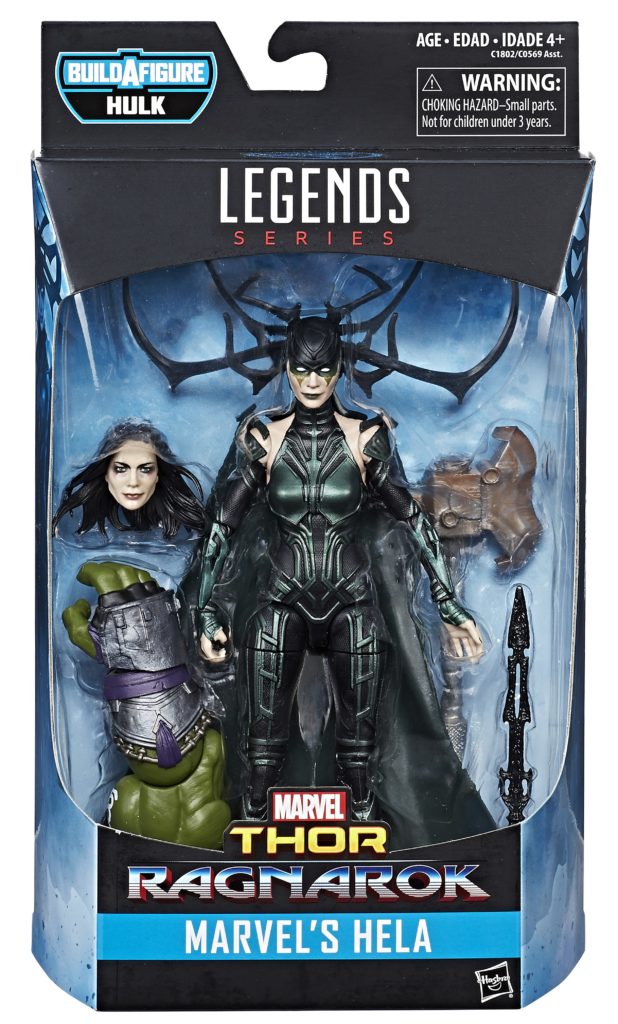 Marvel Legends Hela is the last single-packed figure in the wave. We got a comic book-based Hela action figure as a SDCC 2015 exclusive two years ago, but this new version is quite different-looking. Love that crazy-evil Cate Blanchett head!
I've already heard many collectors complaining about a previous SDCC exclusive character like Hela getting a mass release here, but seriously–she's the primary antagonist of this movie, and she needed to be readily available for the 99% of collectors out there who couldn't get her in the Book of Vishanti set in 2015.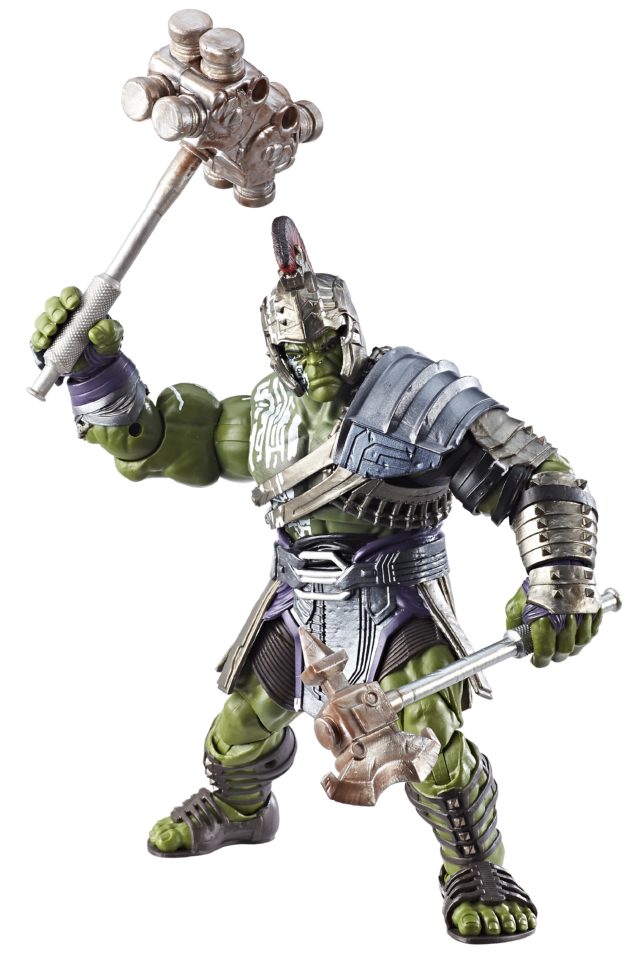 The sixth and final figure from the movie is, of course, the Gladiator Hulk Marvel Legends Build-A-Figure. He's huge, he's detailed, he's got two humongous and intimidating weapons and a removable helmet.
Other than perhaps a more enraged yelling head instead of the grumpy-looking scowl expression on this figure, I can't think of a thing I would have wanted Hasbro to do differently here. Gladiator Hulk looks tremendous and is going to sell for crazy money on the aftermarket when this wave hits.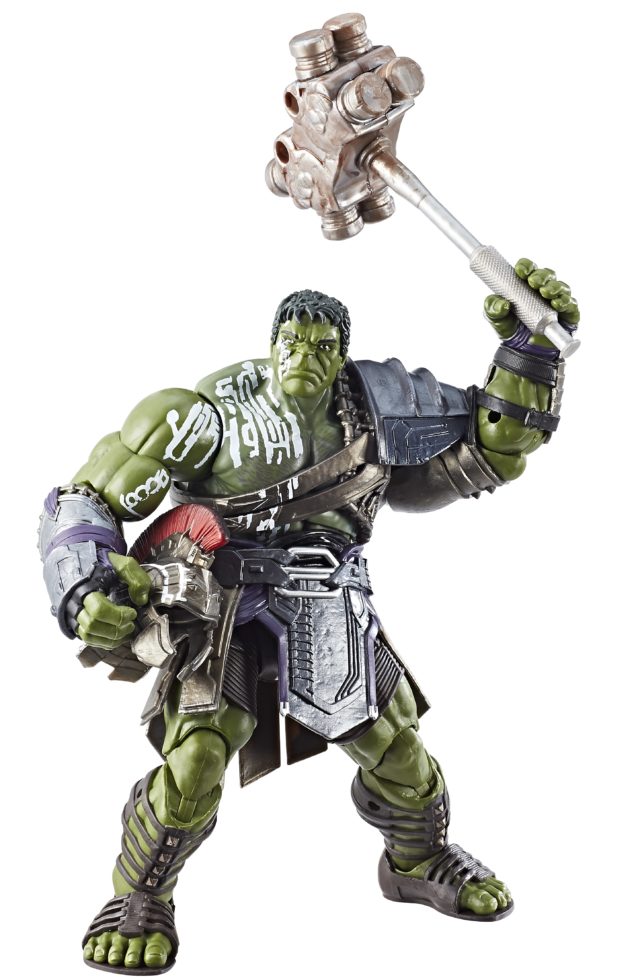 The Thor Ragnarok Marvel Legends Series should be up for sale online soon, as we were previously told the expected on-shelf date for the wave was August 1st 2017. I'll send out alerts via our social media pages on Twitter and Facebook when this series goes up for pre-order online, which will hopefully be within the next few days.
With glorious hi-res images to base your choices on, which Marvel Legends Thor Ragnarok movie figures are you planning on picking up, Marvel collectors? Are Hasbro's choices and the action figures themselves all you hoped they'd be, or do you think the mark was missed somehow with this series?