Although we're still over four months away from the theatrical release of this fall's Thor Ragnarok movie, it's time for the hype train to start rolling now! Marvel collectors around the world are waiting patiently to see the 6″ Marvel Legends Thor Ragnarok movie figures unveiled (to fill out the Thor Legends series alongside the comic figures Hasbro revealed earlier this month)–but those are a story for another day. Today we're going to take a look at the more kid-centric toys Hasbro has prepped for Thor Ragnarok–including a 13″ Gladiator Hulk Interactive figure!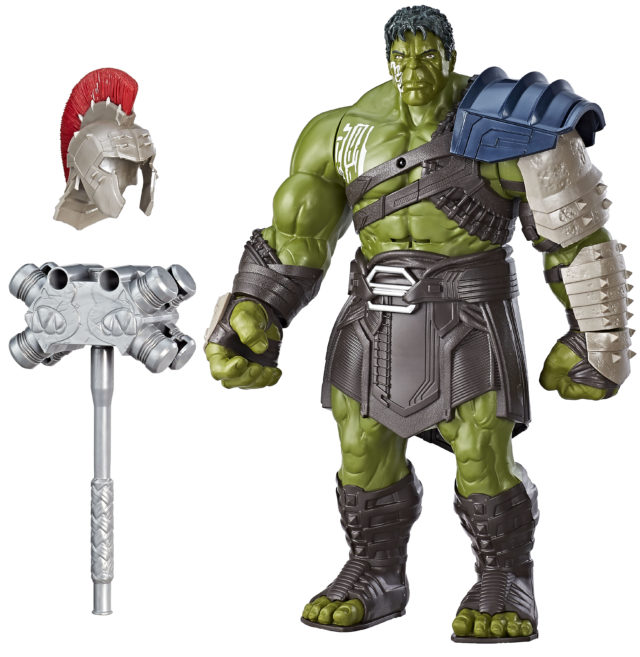 While Hasbro treats us adult collectors like gold, they also make sure to cater to their youth demographic as well. And so, while we're gonna have to wait
just a bit
longer to see the Thor Ragnarok Marvel Legends movie figures, today we get our first look at the toy aimed primarily at the kiddos!
And of the children-focused Thor Ragnarok toys Hasbro has planned, the one I think that's going to easily be the most popular with older collectors is the 13″ Gladiator Hulk Interactive figure.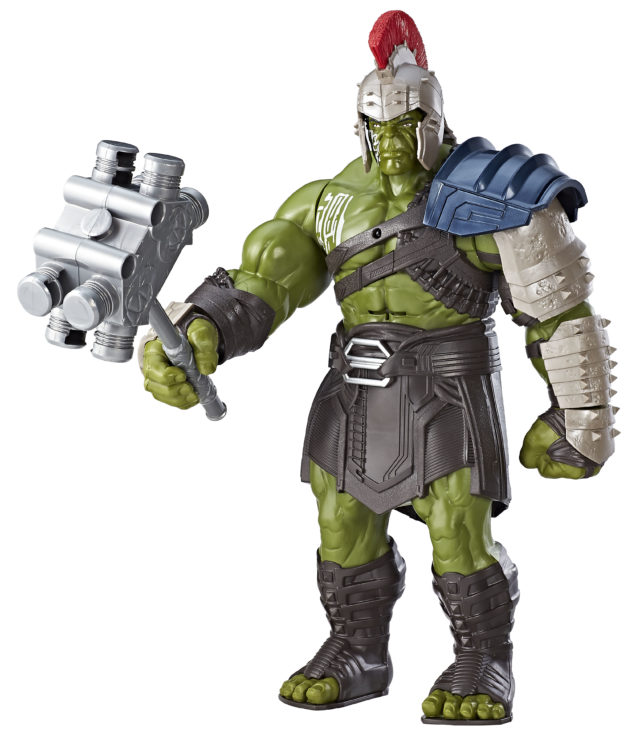 Now, I have no doubt that Hot Toys is going to create a positively kickass Hot Toys Gladiator Hulk figure, not every collector out there is going to have $300+ to fork out for it. As such, I think Hasbro's $34.99 Electronic Gladiator Hulk figure is going to appeal to plenty of fans as a large and decent-looking movie Hulk toy that doesn't cost as much as a car payment.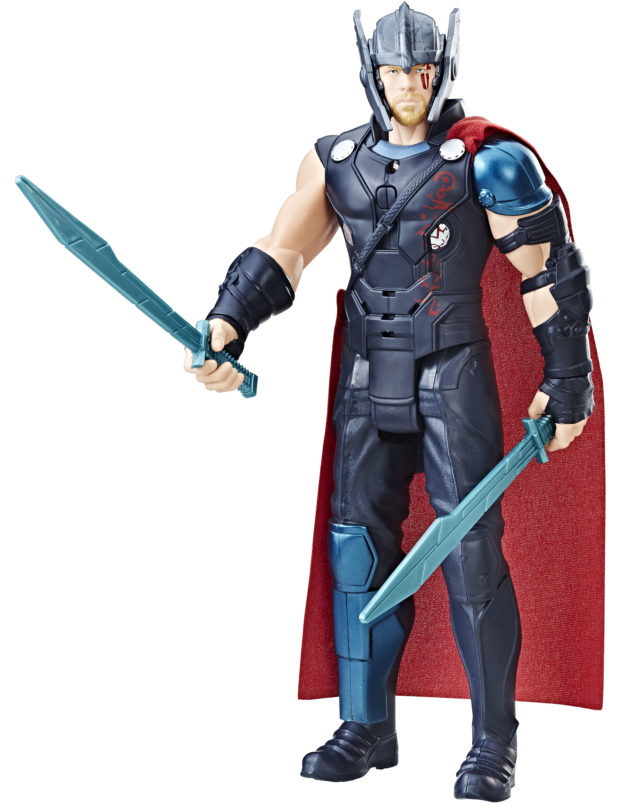 The Interactive Gladiator Hulk figure will be able to recognize the electronic phrases of and interact with the 12″ Electronic Thor figure. Thor will retail for $19.99 and is basically a Titan Hero figure with electronics built in and better sculpting and accessories. I'm not sure that this new Thor will have quite the same appeal for the adult crowd as Gladiator Hulk, but hey… the movie's called "Thor", so he kind of needs a 12″ figure, you know?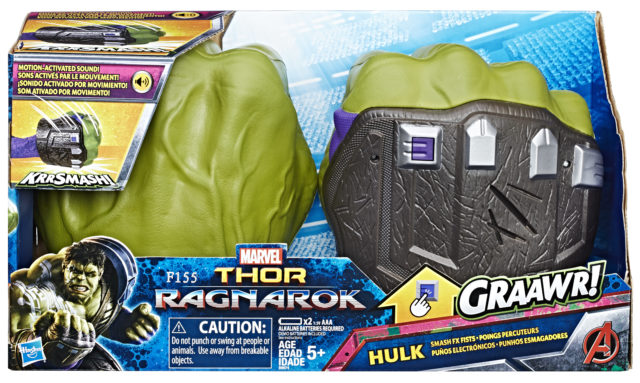 But while those figures are no doubt what us old fogeys are going to have the most interest in, I have zero doubts that the Ragnarok movie toy that sells the best is going to be this pair of electronic Hulk Smash FX fists!
These fists look like they're plastic, rather than the ever-popular foam Hulk hands, but they right hand has a new gladiator glove on it and both hands feature electronic sound. Kids are gonna love these (and depending on if they fit my fat hands–I might love them too).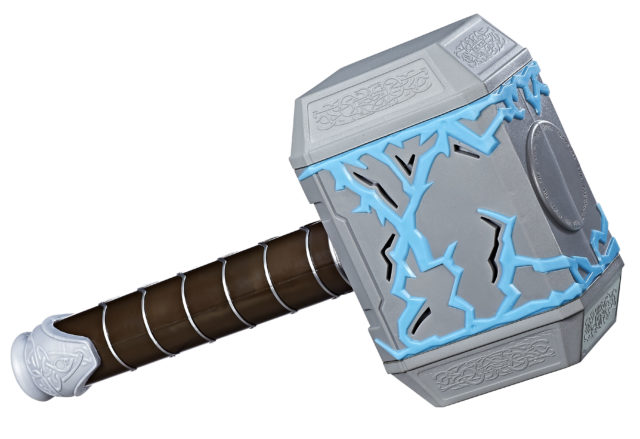 For kids who want to pretend to be Thor instead of Hulk (wait, do those kids exist?), there's also the $19.99 Thor Rumble Strike Hammer available. I think the lightning deco on the hammer is sort of fun and the "rumble" feature on Mjolnir is unique, so this will likely be another item that does well at mass retail–just not to adult collectors.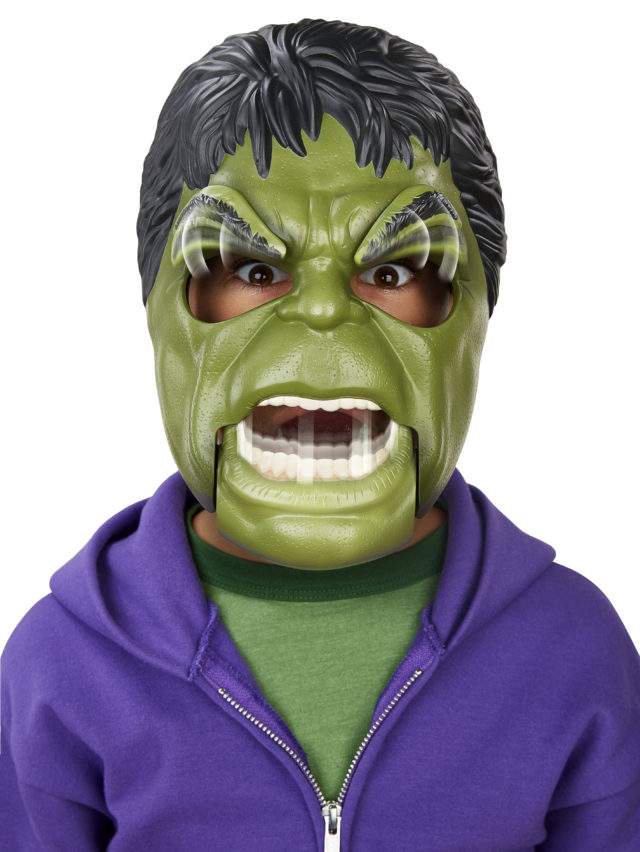 Finally, we've got an item that manages to look both ludicrous and wildly awesome at the same time–the Hulk-Out mask! This $19.99 mask is "chin-activated" (no, really) and features movable eyebrows that get angrier the more kids open Hulk's mouth with their chin. Kids are gonna have a blast with this–and frankly, I am too. Here's hoping my head's not too big to cram into this mask for some real fun.
What do you think of the kid-focused Thor 3 movie toys, Marvel collectors? Does anything in this batch of reveals appeal to you, or is it adult-focused Marvel Legends figures or nothing for you?