When it comes to Marvel collectors having to open up their wallets to secure their San Diego Comic Con 2017 exclusives, the heat is on, that's for sure! We can add another pair of items to the list of SDCC 2017 exclusives today, and it's a duo I was not expecting to be available at the show: Hot Toys Shades Iron Man & Retro Bones Iron Man are now up for order online and available both for shipping and pickup at the con!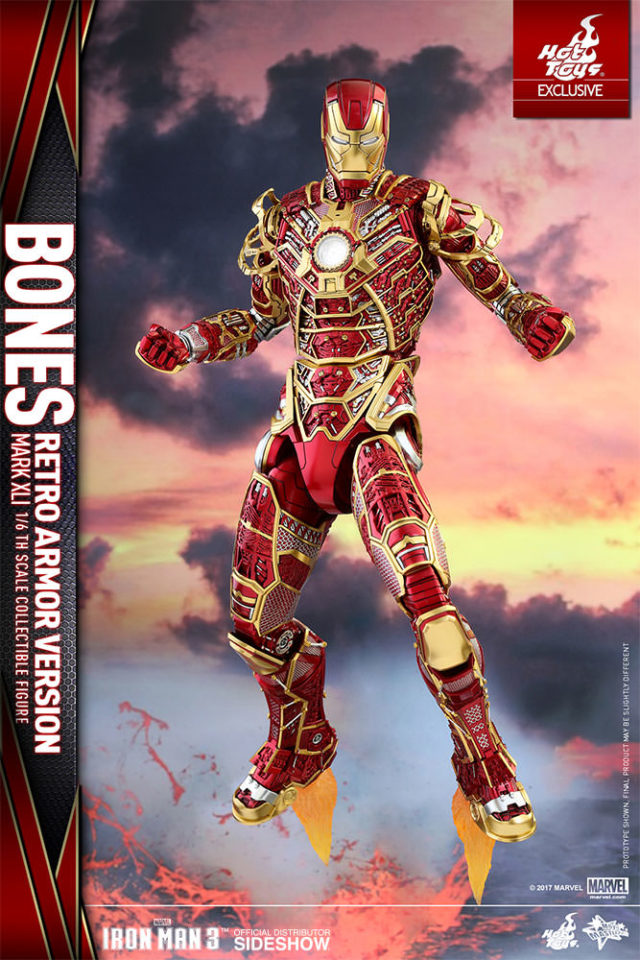 Hot Toys unveiled the convention-exclusive "Retro" (non-canon) red and gold repaint of the Mark 41 Bones Iron Man sixth scale quite a few weeks ago, and as Iron Man is the primary collecting focus of my 1/6 figure collection, I've been wondering when (or if) he'd turn up for sale in the United States via Sideshow Collectibles ever since.
Well, it turns out I should have thought a little harder about exactly when Retro Bones Iron Man was due to be released, because then I would have realized he would be flying in as a SDCC exclusive. But what I probably wouldn't have realized is… he's bringing a friend!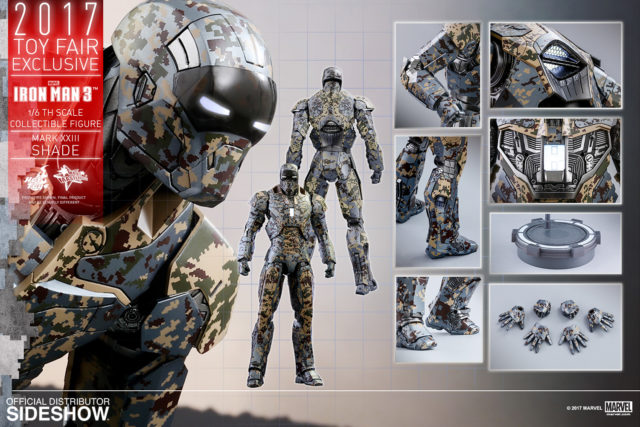 As soon as the Shotgun Iron Man prototype debuted in 2015, I had supreme confidence that we'd eventually see the vastly cooler camouflage Iron Man Shades armor released shortly thereafter by Hot Toys as well. But months went by, and my faith that Hot Toys would release this gem of an armor permutation started to waver just a little bit.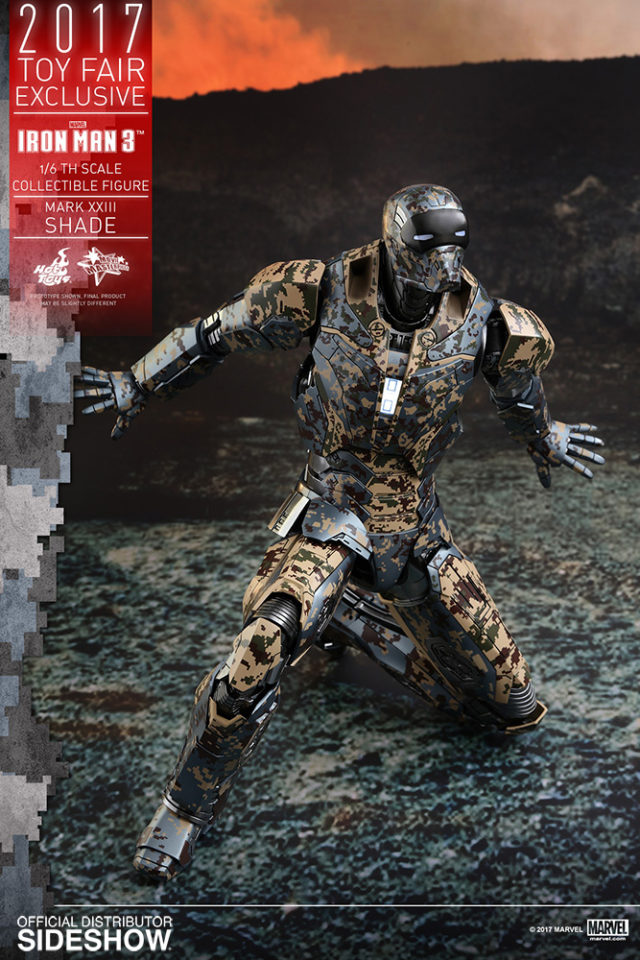 Thankfully, if there's one thing Hot Toys can't pass up, it's an Iron Man repaint that requires zero new tooling! And so, Shades Iron Man will be arriving in the United States (and in my collection) next month!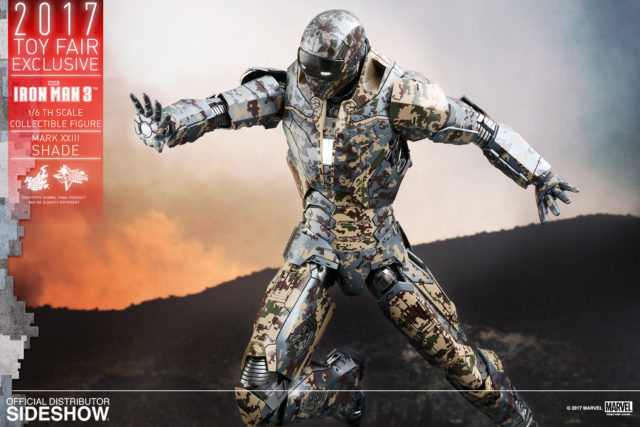 I was concerned that the ornate camo paint deco on Hot a Toys Shades Iron Man might cause him to be higher-priced than his predecessor–but in a surprise move, the limited Toy Fair Exclusive Iron Man Shades MMS is actually
cheaper
than Shotgun! I can't explain the rationale behind this, but hey–I'll take it!
You don't get a whole lot of accessories with Mark XXIII Shades Iron Man, unfortunately, but the big allure here is that gorgeous paint job and the wicked-cool light-up eyes behind the visor, so I'm alright with the accessories being light and the price cheap-ish, personally.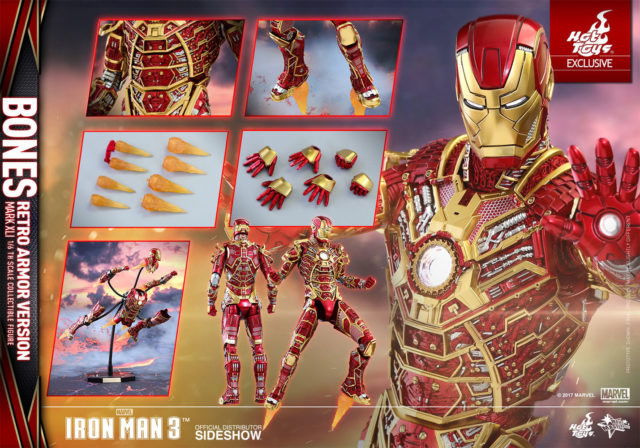 The Hot Toys Retro Bones Iron Man and Shades Iron Man sixth scale exclusives are now up for order, and both figures can be reserved either for shipping to your home or for pickup at SDCC 2017 next month. To save a few dollars in shipping or to have to lug a cumbersome 1:6 scale figure box around a crowded convention, that is the question!
As hardcore about Iron Man Hot Toys figures as I am, I'm only picking up Shades and skipping the red-and-gold version of Bones that isn't in the movie. I just can't justify 300 clams for a non-canon repaint. What about you, Marvel collectors? Anyone besides me excited for either (or both!) of these exclusives?