Ever waited so long for a toy after its initial reveal that you almost–almost–think that it's never coming out at all? Such is the case with the latest Hot Toys Marvel Movie Masterpiece Series figure, which was first revealed at San Diego Comic-Con 2014 (yes, 2014). It's been a surprisingly long and dubious road, but the Iron Man House Party Protocol is about to get a little bigger: the exclusive Hot Toys Blue Steel Iron Man is now up for order!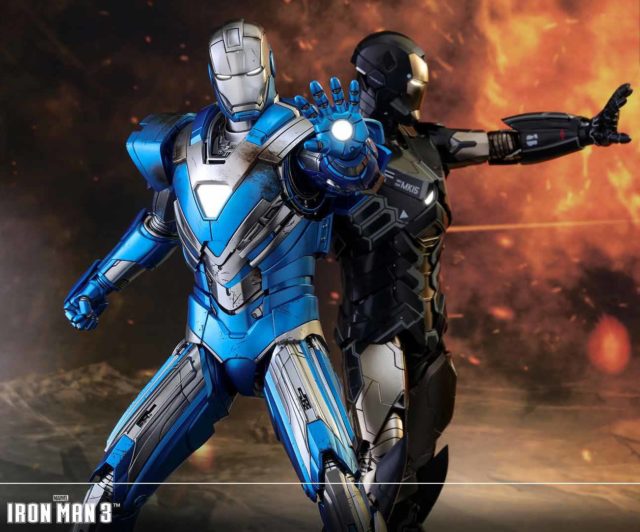 When the Hot Toys Silver Centurion Iron Man armor was among the very first Iron Man 3 MMS figures to be both revealed and released, it seemed like a total no-brainer that its palette-swapped brother, the Mark 15 Blue Steel, would be following shortly thereafter.
Hot Toys even showed off a finished prototype of the Iron Man Blue Steel MMS at SDCC 2014, but over two years (and a dozen plus Iron Man) later, the figure had never been officially announced for release at all. Until today.
The wait is over and the House Party is growing once again this winter with Mark XXX Iron Man!
Now, if you own the MMS 213 Iron Man Silver Centurion Hot Toys released two years ago, you know exactly what you're getting here. Blue Steel is a 100% repaint of Silver Centurion with no new parts or accessories whatsoever.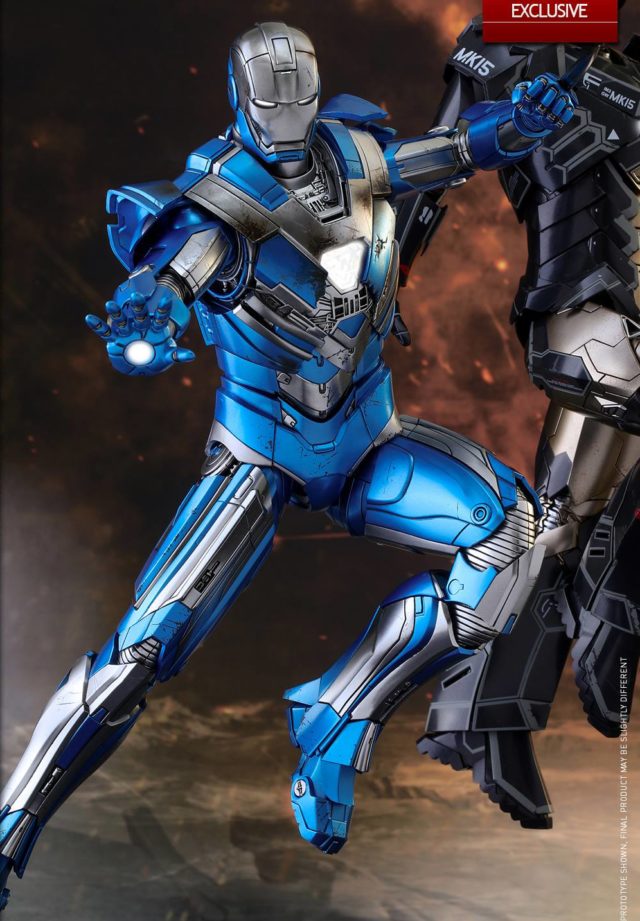 That said, the blue and silver color scheme of the Mark 15 Iron Man is also really cool, and the paint deco makes this armor permutation feel much fresher than being "just a repaint" (even though that's exactly what it is). From a colors perspective, this has to be one of my favorite armors from the MCU.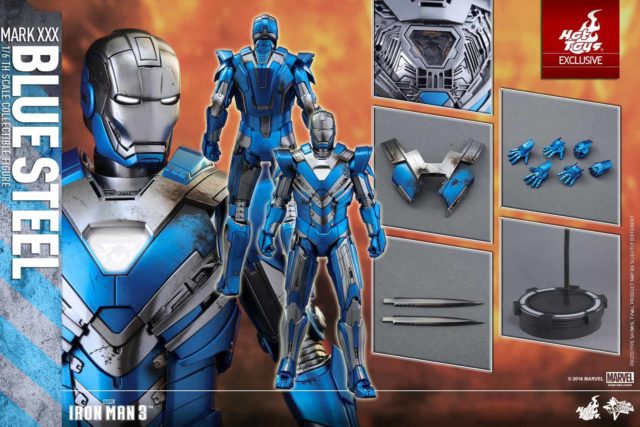 As we've come to expect from our Hot Toys Iron Men, we'll get the customary display base figure stand, interchangeable hands and LED light-up features with this figure. In addition, a great-looking battle-damaged chest plate and the signature sword-like forearm blades are also included.
We're still waiting for the final two 100% new tooling required armors–Hammerhead and Nightclub–to be announced, along with a variety of kitbashed/repaint armors (Shades, please, Hot Toys!). Will the Hot Toys House Party Protocol ever be complete…?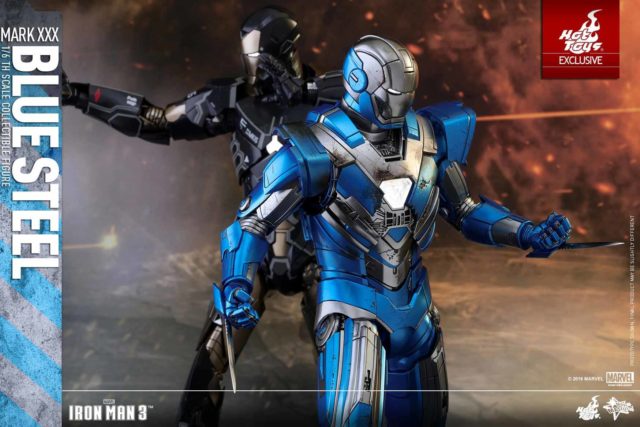 The Hot Toys Exclusive Blue Steel Iron Man Mark XXX figure is now up for order, and is expected to ship out in early 2017. This particular Iron Man is exclusive to Sideshow Collectibles in North America, so you won't be able to grab it from any other U.S. retailer.
Blue Steel Iron Man is finally coming to collectors' homes–almost four years after Iron Man 3 hit theaters. Are you still interested in having it in your home, Marvel collectors?