Hasbro has been cranking out whole waves of Marvel Legends Spider-Man figures for years now, so you would think that we'd have plenty of Hobgoblin figures by now, right…? Well… no. In fact, Hasbro has never released a classic 6″ Marvel Legends Hobgoblin figure until this summer's Space Venom series! I've yet to see even a single figure from this entire wave in a store, but Hobby is sporadically available for MSRP online. Is this the definitive 6″ Hobgoblin Marvel Legends figure we've been waiting for?
The Right:
Loads of collectors cried foul last year when the modern Phil Urich Hobgoblin Build-A-Figure became the first Hasbro Hobgoblin 6″ Marvel Legends ever produced.
But fear not, classic fans! Hasbro already had you in mind, and had this classic Hobgoblin Marvel Legends figure lined up for this year's second wave of Spider-Man Legends. Was this Hobgoblin figure worth the years of waiting for an upgrade to Toybiz's?
In short: yes. While I really, truly loved Toybiz's Hobby back in the day when I bought him from KB Toys (remember when that was a thing?), his sculpt and articulation are a bit outdated a decade later.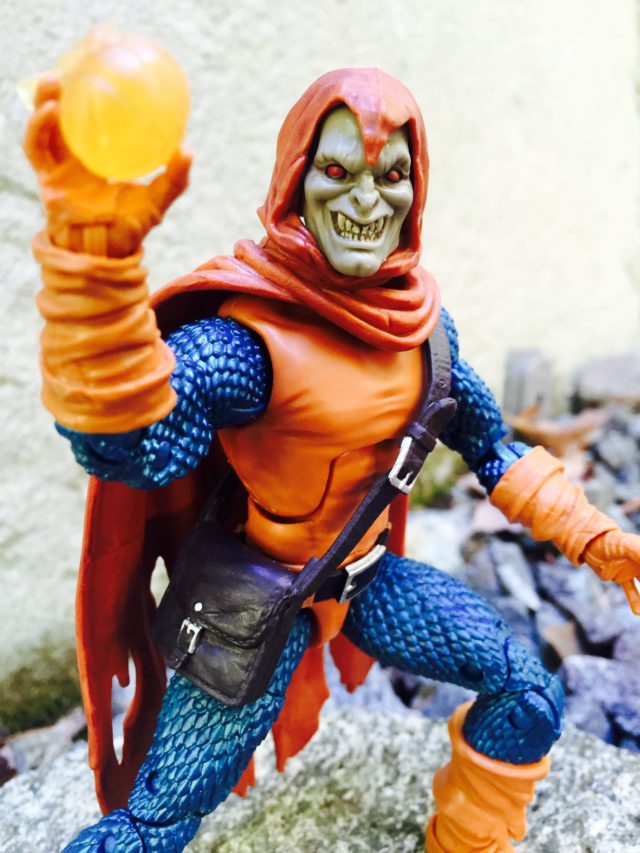 The default head sculpt on the Spider-Man Legends Hobgoblin figure is pretty good. It's not the single best Hobgoblin portrait I've ever seen or anything, but it's also recognizably the Hobgoblin.
I might have preferred an open mouth like the vintage Secret Wars Hobgoblin or the Bowen Designs statue, but there's no questioning that this is the maniacal face of a crazy supervillain.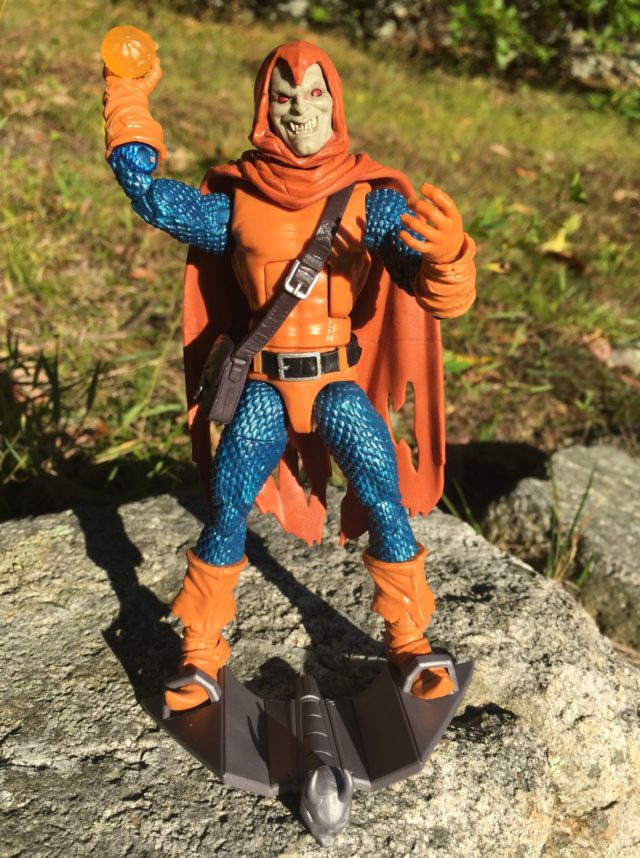 If the textured mail limbs on Hobgoblin look familiar, it's because they were first released on the SDCC Exclusive Dreadknight figure I fell in love with over the summer. The mail texture looks just as outstanding and accurate on Hobgoblin as it looked on Dreadknight. Beautiful stuff.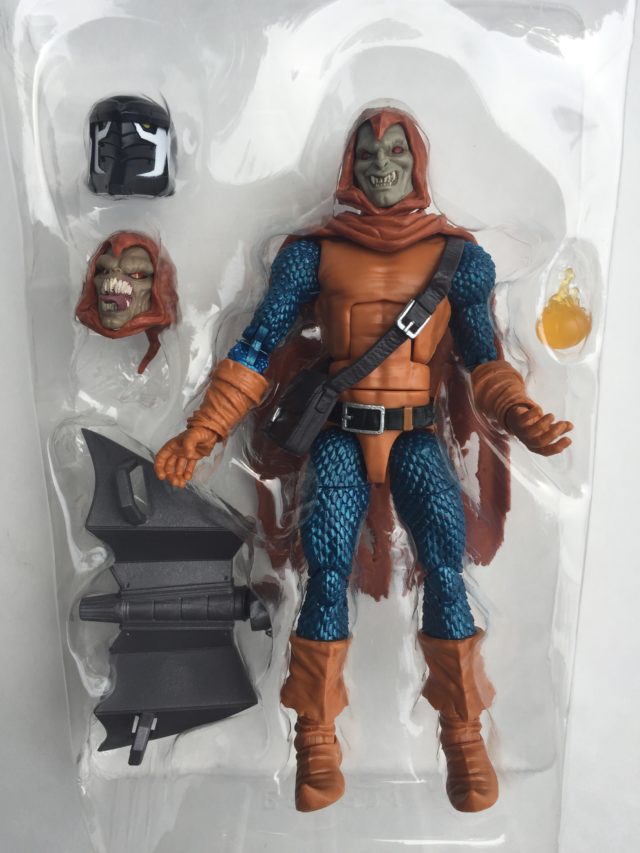 Hasbro definitely did right by this Hobgoblin Marvel Legends 2016 figure in the accessories department. Along with his removable cape and satchel, he also includes a pumpkin bomb, a goblin glider, an interchangeable licking head and the Space Venom Build-A-Figure head. Not a bad haul at all!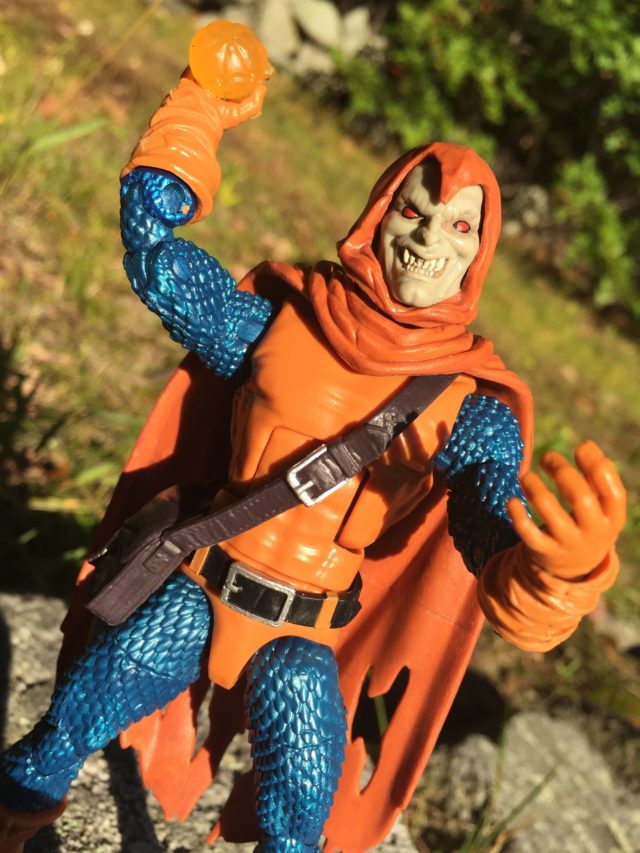 The pumpkin bomb is inherited from last year's Phil Urich Hobgoblin Build-A-Figure. It doesn't make sense to me for the whole pumpkin to be translucent yellow and it seems a tad small, but it is a fun–and essential–accessory for the character.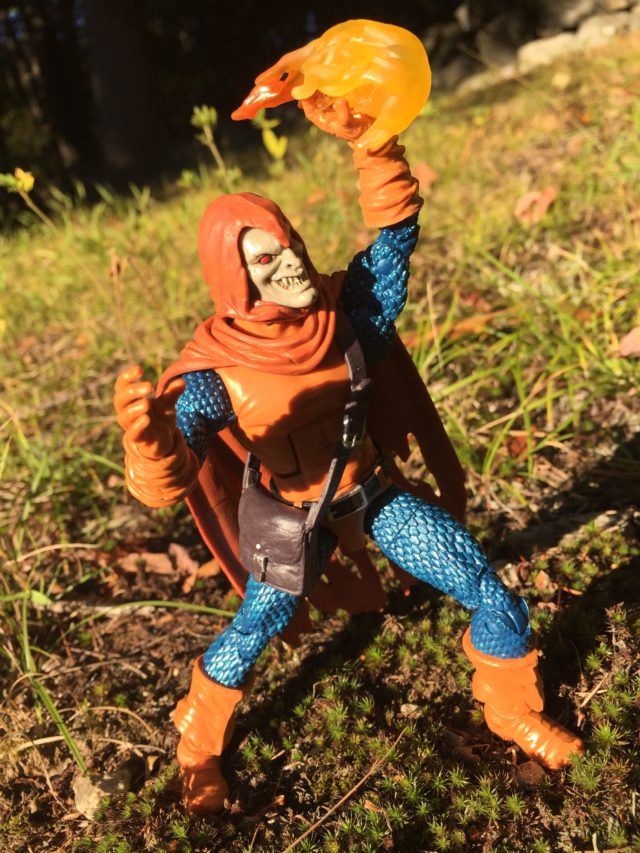 If the pumpkin bomb seems small to you as well, the effects pieces from the Doctor Strange Marvel Legends Iron Fist figure I reviewed a few weeks back fit perfectly on the bomb and make it look much more formidable!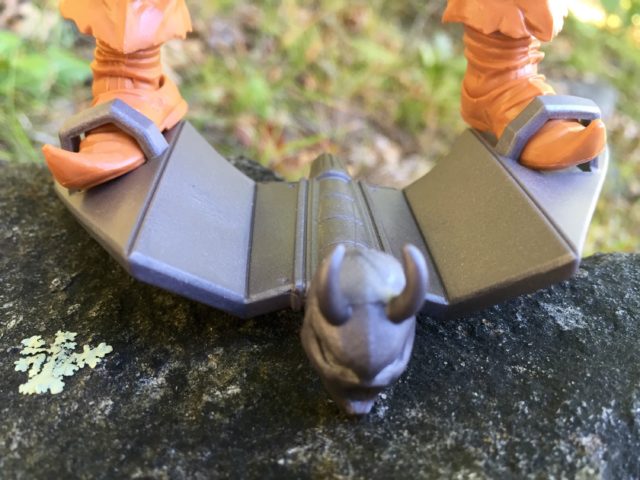 The Goblin Glider is very plain and basic looking, but looking through old comic art, it's actually wonderfully authentic to how it should look. I still prefer the fun purple glider with thrust effects from the Spider-Man Classics Toybiz figure, but I can't complain about Hasbro being true to the source material.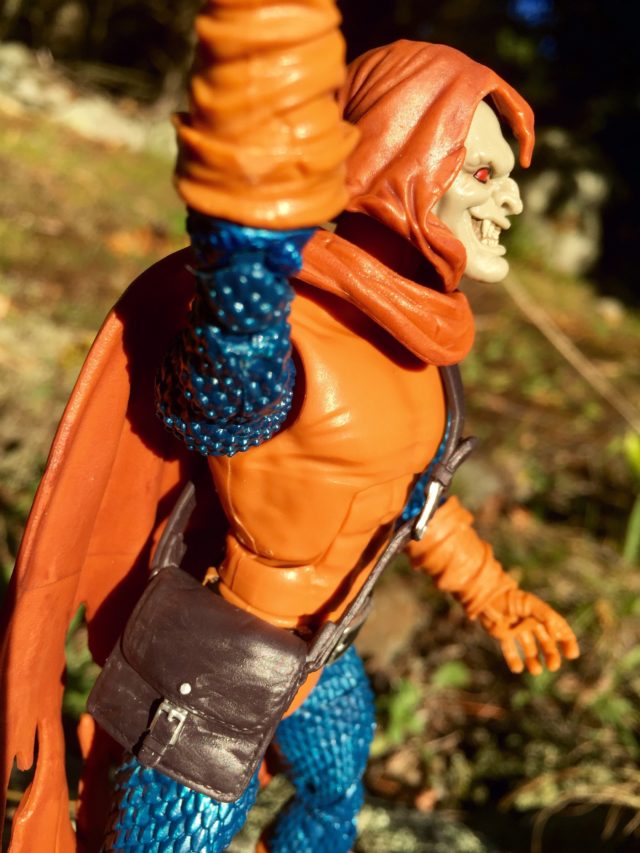 Although Hobby's belt is an add-on piece, it's nice and tight and doesn't flip around at all. The satchel has nice paint details on its buckles and button, and fits nicely on the figure's shoulder. The tattered cape also is a standout on this figure and looks awesome.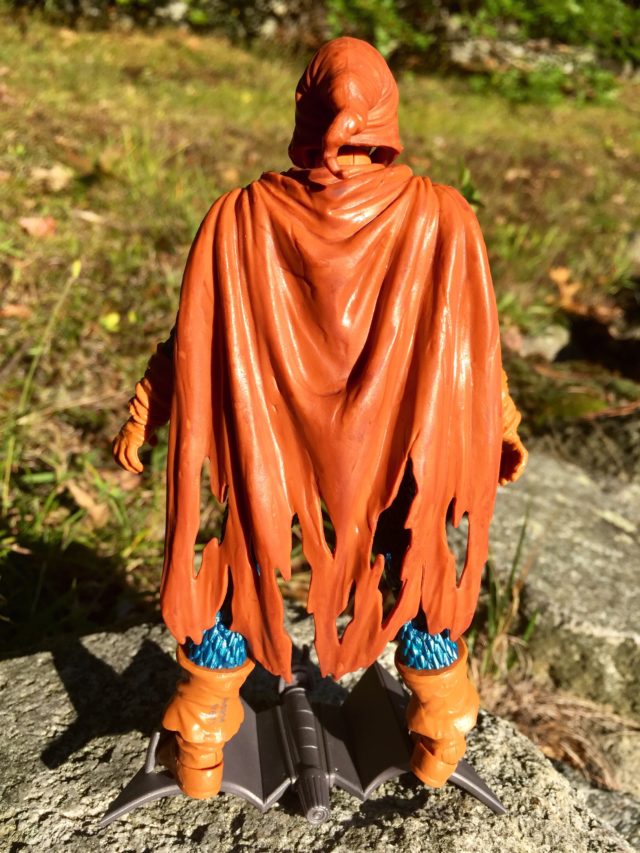 And of course, the new Marvel Legends Spider-Man Hobgoblin figure has superb articulation: ball-hinge neck, shoulders and wrists; upper torso ab crunch; swivel waist, biceps, thighs and boots; double-hinge elbows and knees; ball-jointed hips and and hinged ankles with ankle rockers.
Despite the cape and cowl, Hobgoblin's head and upper body have a great range of motion and he can look up a lot more than you'd expect. His boots can make him a bit hard to balance, but his tons of articulation make getting him stable a piece of cake.
The Wrong:
Regular readers know that I love me some alternate heads included with my toys. But whereas I said the default head with this figure might not be the best Hobgoblin head ever, I think the alternate head may legit be the
worst
ever.
I'm not sure what artwork Hasbro's designers were referencing for this Hobgoblin tongue out head, but it looks absolutely terrible. This looks more like some sort of zombie lizard demon head to me than anything else.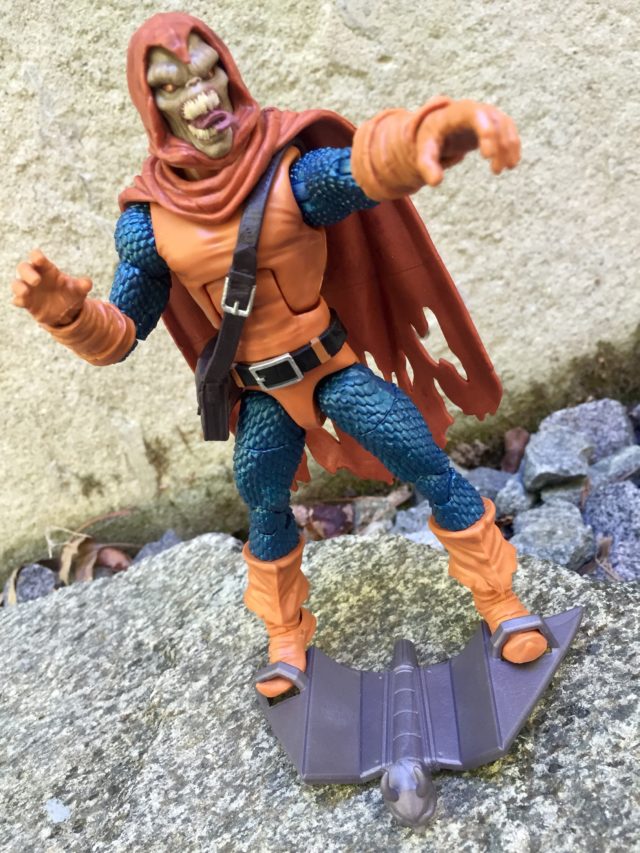 I don't know if Hasbro was hoping for a Demogoblin vibe with this head or what, but I completely hate it and it's going straight to the bottom of my bin o' unloved accessories.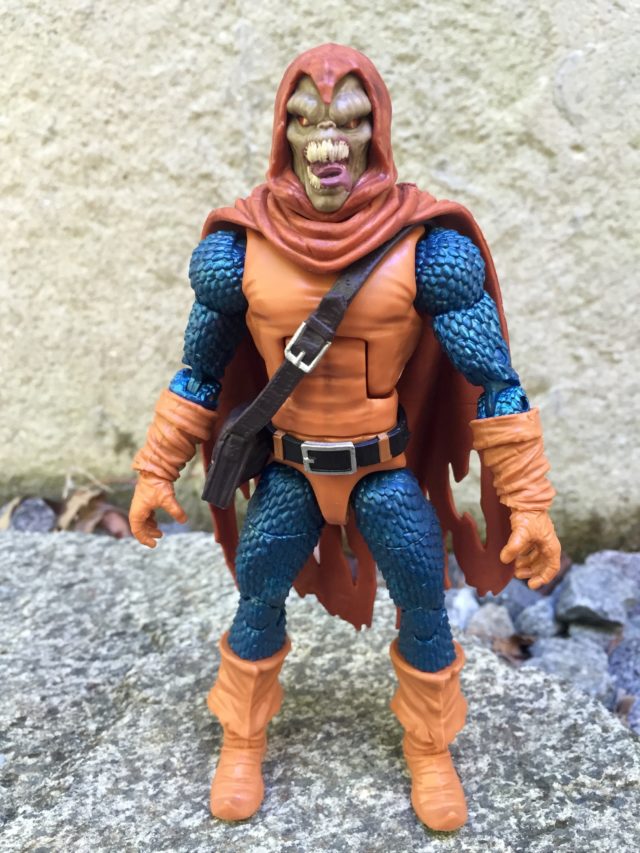 In addition to the interchangeable head, I'm also a mite frustrated with the factory for not matching up the Orange color of Hobgoblin's cape and hood to the rest of his costume at all.
The cape and hood are clearly molded in an orange plastic that's noticeably darker than the orange on the gloves, body and boots. It's a very jarring and disappointing visual aesthetic, and I can't find any real basis for it in any comic books I have with the Hobgoblin in them.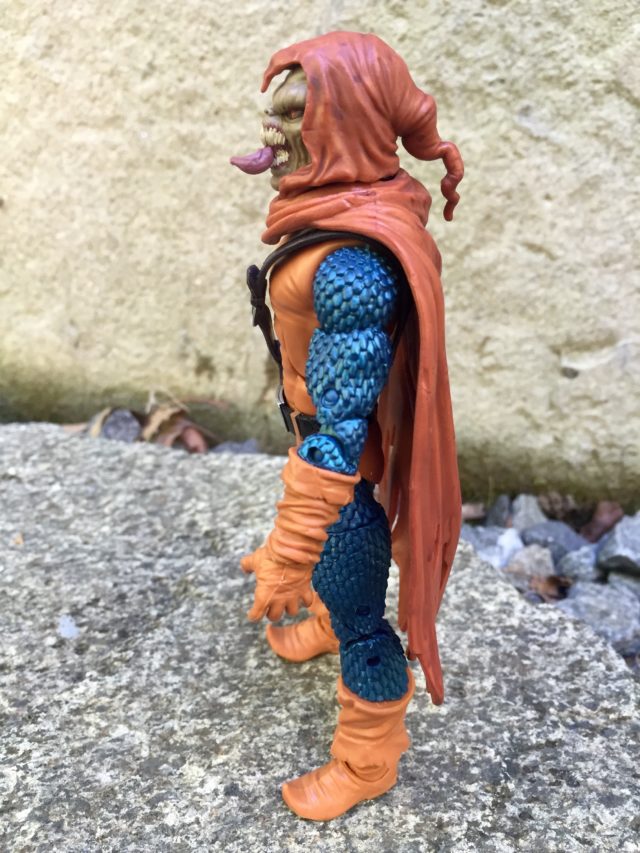 Finally, I also would have liked one fist hand for this figure. As it is, all Hobgoblin can do is throw a pumpkin bomb with one hand and stand around with his other open hand flapping in the wind. Having two open hands like this action figure does just isn't all that fun for posing.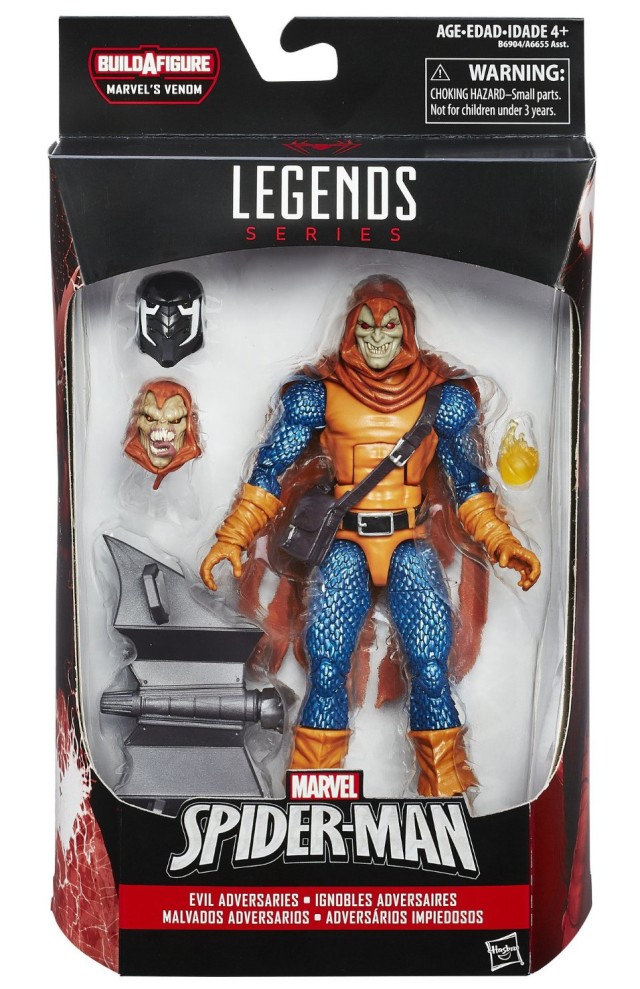 Overall: We desperately needed a new Marvel Legends Hobgoblin figure, and this release is the best version yet and a clear upgrade over the Toybiz iteration. Even so, there's not too many poses this figure looks cool in with his dual open hands, the hood and cape don't match the rest of the costume at all, and the alternate head is a total train wreck. This is a solid Hobgoblin figure, but it's not the definitive version of the character that many were hoping for.
GRADE: B