Plot twist…! A couple weeks back, I was lamenting that the SDCC 2017 Mezco ONE:12 Collective Exclusive for Marvel was X-Men Deadpool, when what I really wanted was one of a million possible costume variants of Spider-Man. I've been watching the Mezco Toyz website the last few weeks to see what the DC exclusive for Comic Con would be, but instead Mezco hit us with a real surprise–the ONE:12 Collective Miles Morales Spider-Man is a second Summer Exclusive!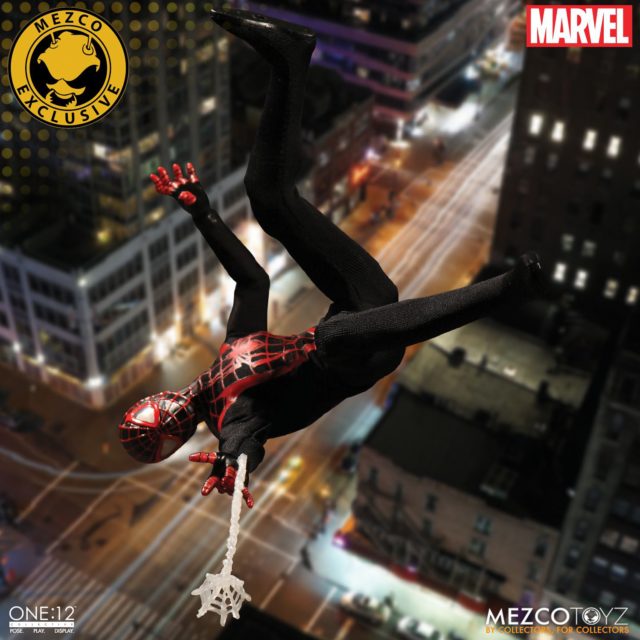 Plenty of folks complained that the ONE:12 Collective X-Men Deadpool figure was a "stupid" exclusive choice (I like that quirky costume, though it wasn't the exclusive I had in mind either), but that SDCC Deapool had no troubles selling out like lightning nonetheless.
So, hey–if one Marvel ONE:12 Collective Summer Exclusive figure is going to be lava hot, why stop there, right? And so, this morning Mezco Toyz surprised collectors everywhere with a unique character coming as a summer convention exclusive: ONE:12 Collective Spider-Man Miles Morales!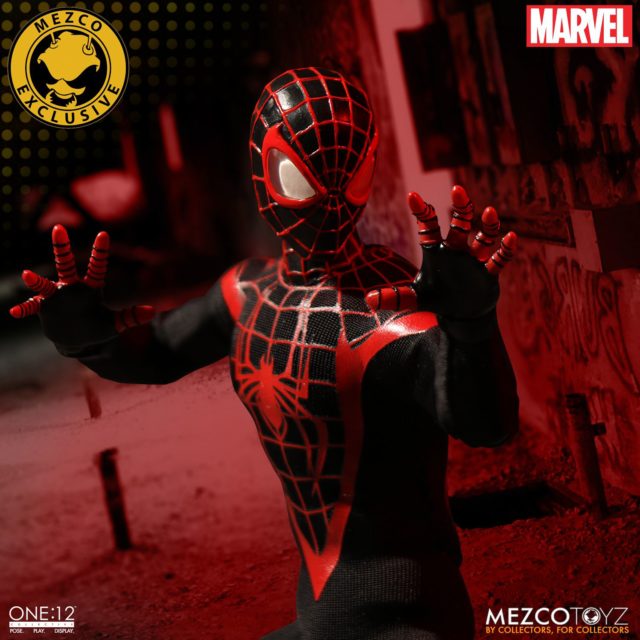 Now this is a reveal that well and truly through me for a loop. Up until now, all the Mezco ONE:12 Collective exclusives have just been costume variants of the same character, so getting an exclusive unique character like Miles Morales–a character who's had his own comic series and is a major player in the modern Marvel Universe–is definitely a shocker.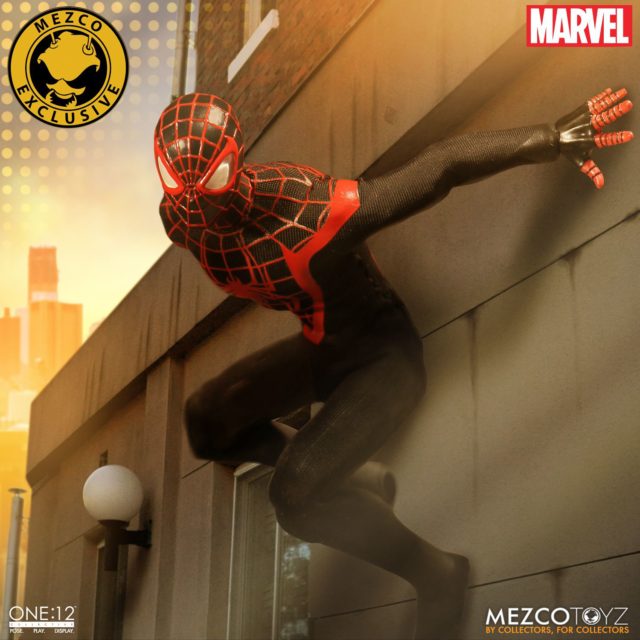 If Mezco Toyz is prepared for the demand for this popular character and made a decent supply of this item, then  all is well and good. But if Miles is a really low-run exclusive (a la Classic Punisher), a lot of collectors are going to be really cheesed off.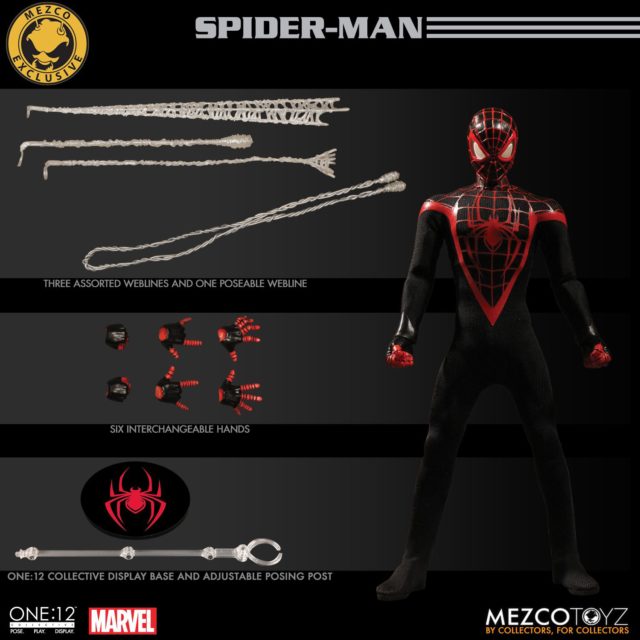 As far as accessories go, this 6.2″ Spider-Man Miles Morales ONE:12 Collective figure is pretty light. You get the display base, six interchangeable hands, four weblines… and that's it. For an 80 dollar action figure with 0% new tooling, that is not a whole lot.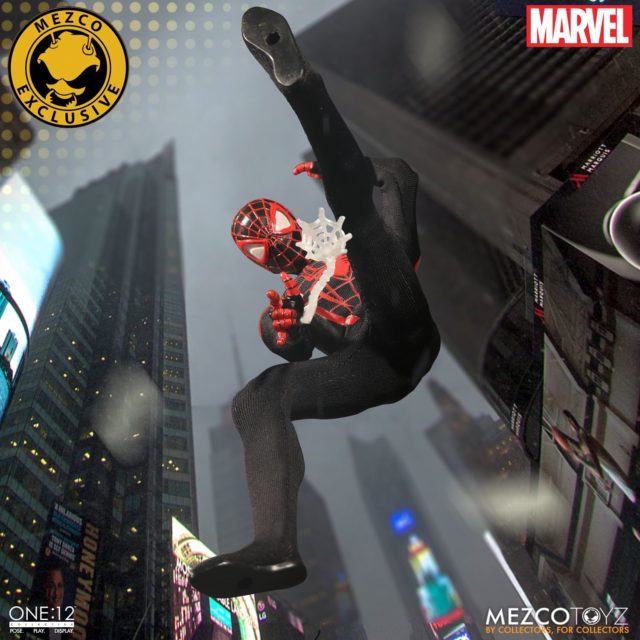 And no, there's no unmasked Miles Morales head included, which is a bummer–especially since this is a character that Mezco is unlikely to ever produce another version of for this line. Alas.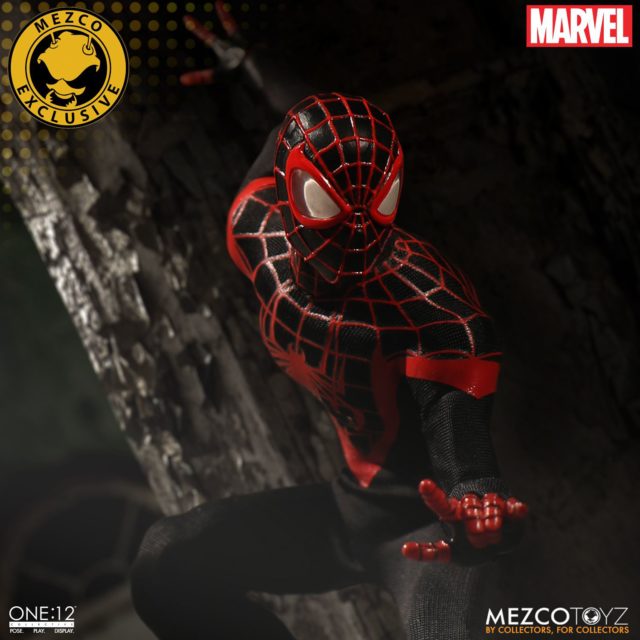 I also think that at ~16cm (6.2″) tall, this figure is going to look a mite too tall next to the other figures in the Marvel ONE 12 Collective line. While Miles is technically "Spider-Man", he's still a teen and not fully-grown. Luckily, Spidey should be in a lot of crouching poses, so it may not be as noticeable as it would be on other characters.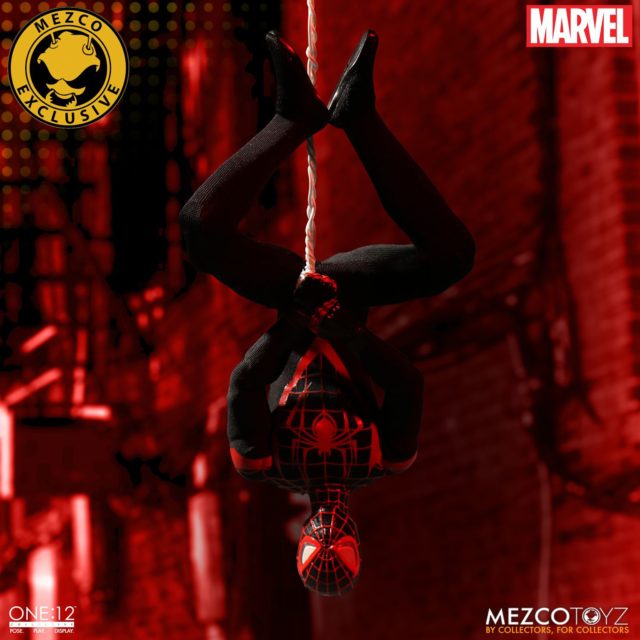 The Miles Morales ONE:12 Collective figure is now up for order on the Mezco Toyz website, and will also be available at their booth at San Diego Comic Con 2017 from July 19-23. If you are a non-attendee, do not delay on this one–it's going to sell out online, and it's going to do so quickly.
What do you think about the selection of Miles Morales as a Summer Convention Exclusive, Marvel collectors? Is Miles too integral a character to be so limited, and will you be pre-ordering one?