Ragnarok is truly upon us, as opening day for the Thor Ragnarok movie has arrived at last! To coincide with the movie's release, this week is one of the final big pushes for Thor 3 merchandise, with several companies putting major items up for sale. And one of those items is likely to claim the crown of "Best 6" Gladiator Thor" in the land—the Mezco ONE:12 Collective Gladiator Thor figure is now up for order!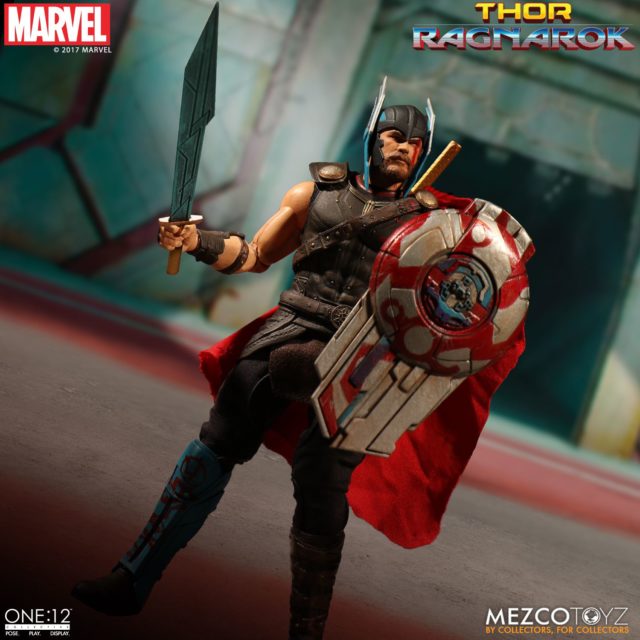 2017 has been a crazy year for the Marvel ONE:12 Collective line, with exclusives selling out in under an hour online and even non-exclusives like Punisher exploding on the aftermarket. And now we enter the next era of ONE:12 Collective Marvel figures with the first pre-order for a six inch movie action figure from a Marvel Studios film: Gladiator Thor!
I've been really pleased with the various 1/12 scale offerings from Hasbro, Diamond Select Toys and Bandai for Thor Ragnarok, but I think this is an instance where Mezco Toyz has clearly won the trophy for "Best in the Show".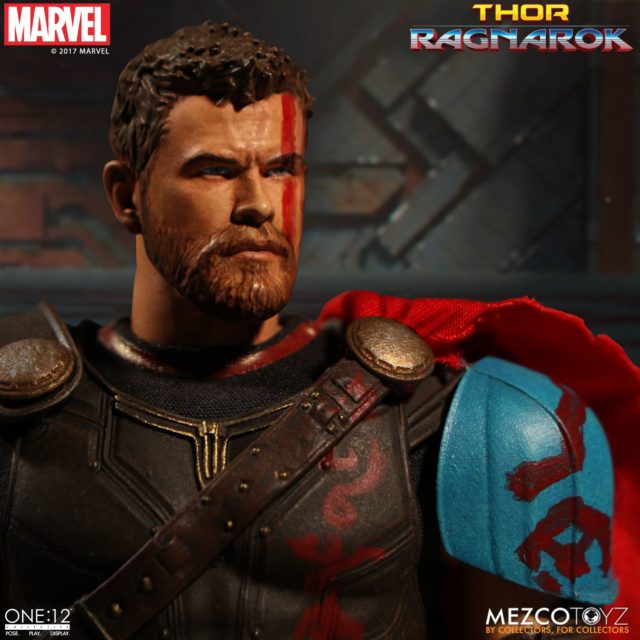 Putting it simply: this Gladiator Thor six inch figure? It's a masterpiece. The Chris Hemsworth portrait is at least as good a likeness as any other six inch company's (Hot Toys absolutely does not count), and in my eyes it's the clear winner of the bunch in that regard.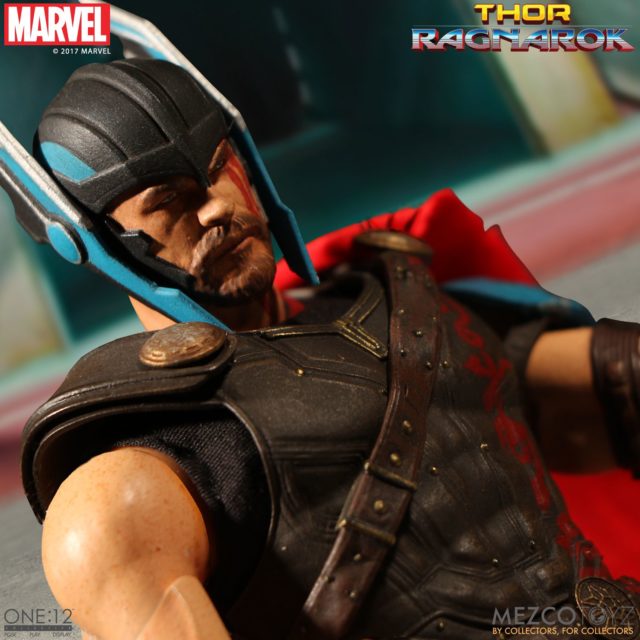 And Mezco Toyz wins the head quantity battle as well, with ONE12 Collective Gladiator Thor coming with a whopping three heads: one with winged helmet, one without helmet, and (my favorite): one with lightning-charged eyes! I'm really surprised that Hasbro didn't think to do a lightning-eye variant, as it's an easy (and awesome) repaint.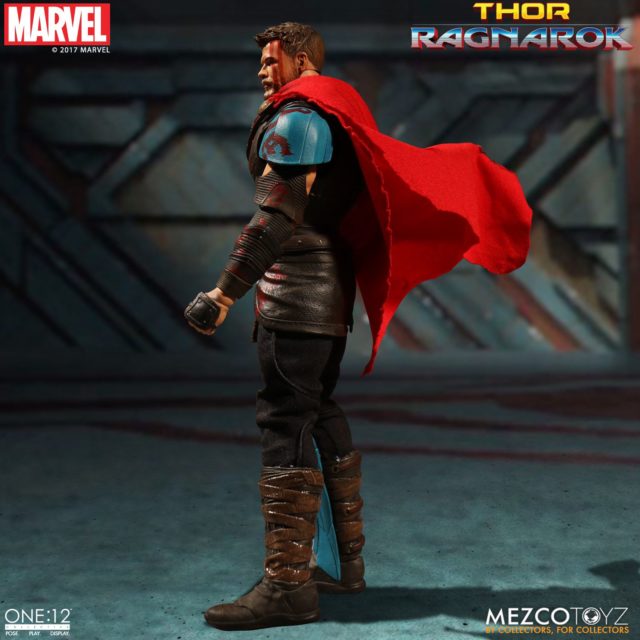 Accessories? Again, he's loaded with more than any other six inch company's version, and the accessories themselves are of a high quality that put Hasbro Marvel Legends to shame (as they should, given that this figure is quadruple the price of a ML figure).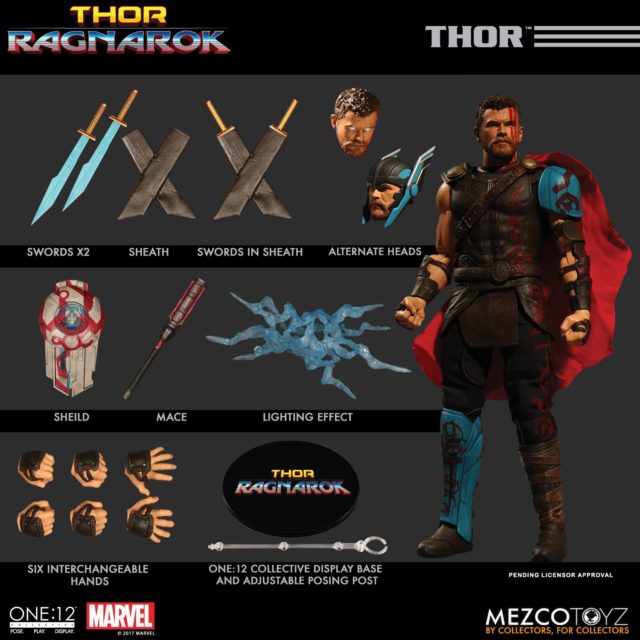 Here's the complete loadout of accessories: two (blue) swords, an empty sword sheath, an interchangeable sword sheath with swords in it, three interchangeable heads, a shield, a mace, a lightning effects piece, six interchangeable hands and the usual display base with posing pole.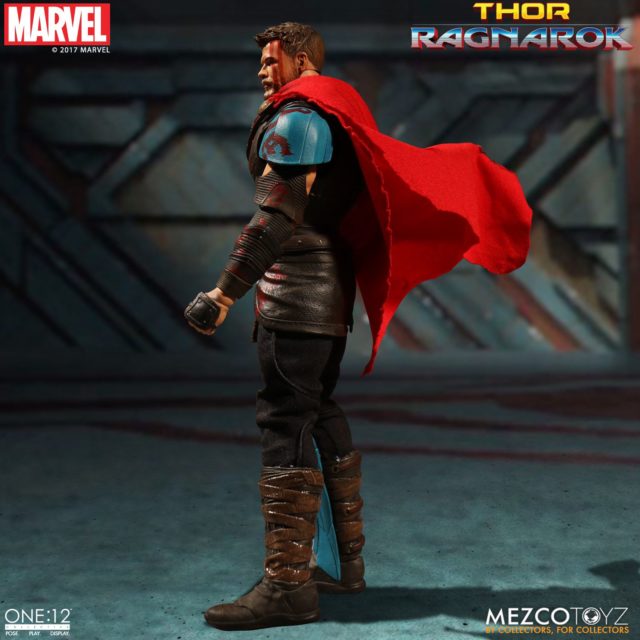 What with the price of the movie license and the huge amount of accessories, I genuinely expected to see an increased MSRP for this Gladiator Thor.  But nope! Mezco Toyz is sticking with their usual price-point of $80 MSRP. It ain't cheap (for sure), but rarely do you hear anyone say a ONE:12 Collective figure wasn't worth the price!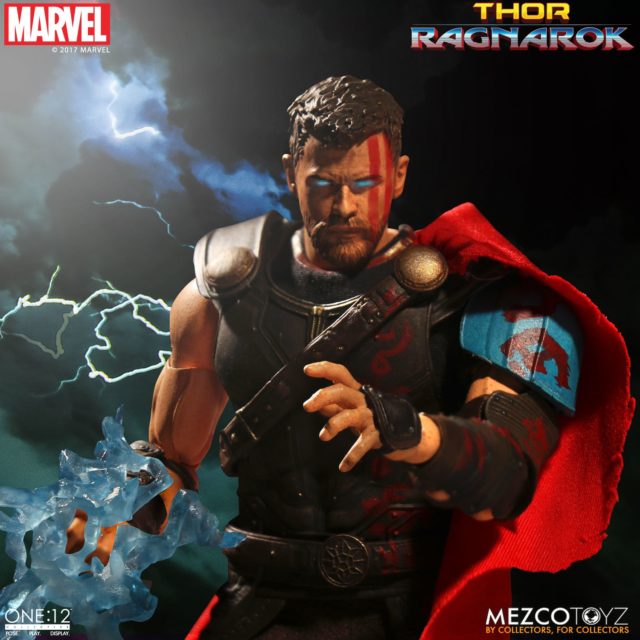 My two favorite accessories packed in with this ONE:12 Collective Thor figure are definitely the Shield and lightning effects piece. I'm a self-professed effects piece whore, so I don't think it'll shock anybody (no pun intended) that I'm really big on the lighting effect. Pairs great with the lightning-eyed head!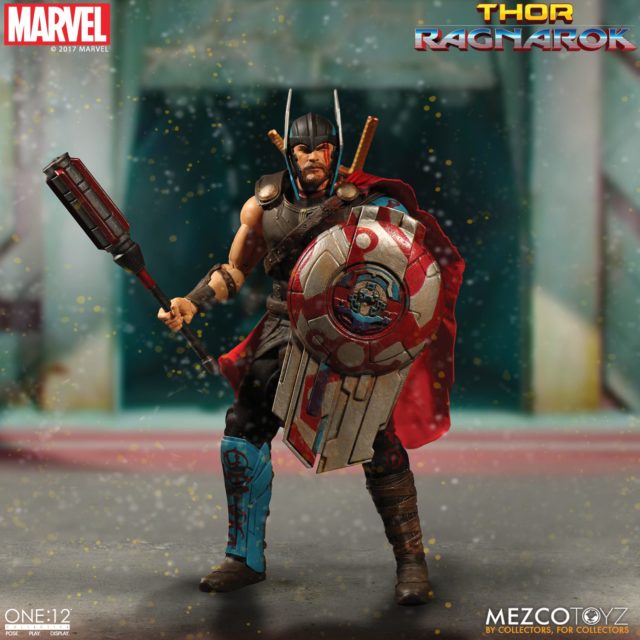 Meanwhile, while it's not quite at the Hot Toys standards of detail (and I wouldn't expect it to be), the gladiator shield looks outstanding with all of the deco on it. It really pops well, and Thor is going to display great with shield in one hand and (equally impressively decorated) mace in the other.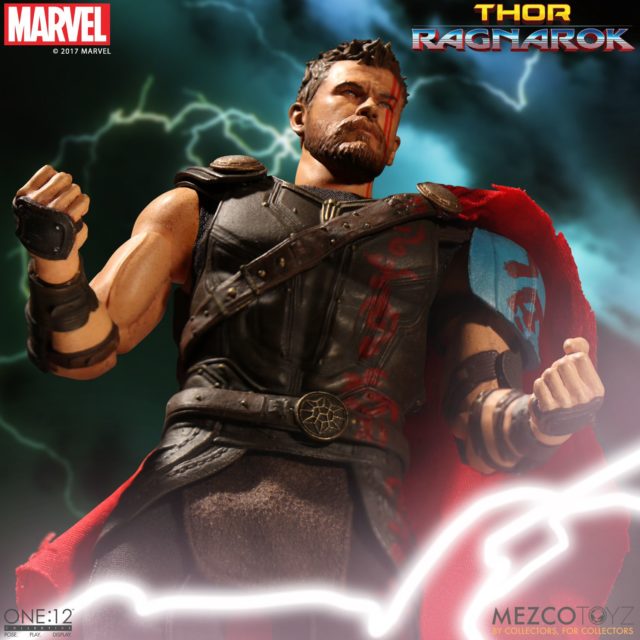 Last but not least, I wanted to comment on the cloth red cape that ONE:12 Gladiator Thor is rocking. I know that soft goods are a divisive topic among collectors, but cloth capes are my jam and I much prefer the cloth cape on Mezco's Thor to the plastic ones coming on other companies'.
Thor's trousers and undertunic are also both soft goods, but they're so well-done that I actually forgot they were cloth while looking at the photos! Work like this is truly what makes Mezco the Hot Toys of 1/12 scale!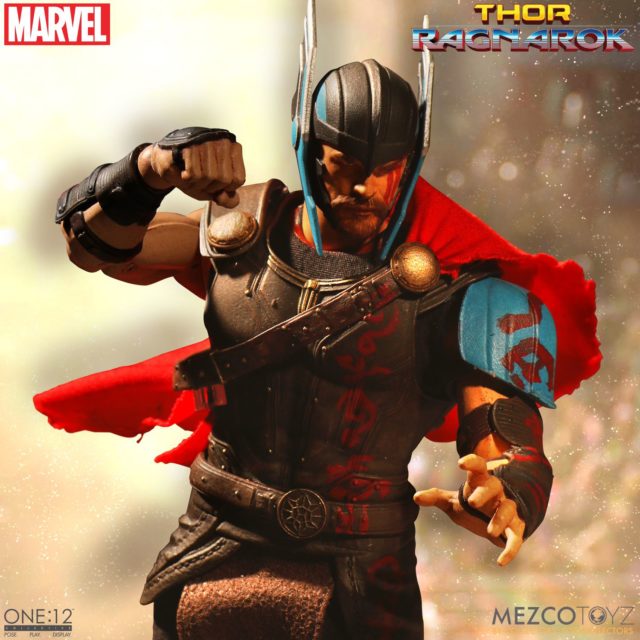 The Gladiator Thor ONE:12 Collective figure is now up for order, and is scheduled for release in May-July 2017. You can use code "RSDEAL22" to save $15 and get free shipping if you buy Thor from EE, which is where I'm placing my order. Mezco Toyz is slowly but surely getting a bit faster with their releases, so I'm hopeful that they'll actually get this movie Thor figure out around the target window for him.
With every known 6" Gladiator Thor figure now up for sale, where are your dollars falling, Marvel collectors? Which of these Thors takes the prize and will be center stage in your collection?