Ever since a 6" Hulkbuster Iron Man POP Vinyl was featured as the centerpiece of the inaugural Marvel Collector Corps Box in spring 2015, fans have been begging for Funko to include a 6" Hulk POP Vinyl in a box as well. When Funko announced the newest theme and placed the Marvel Collector Corps Hulk Box up for order earlier this month, it seemed like the best chance yet for that dream to become a reality. And now, the exclusive POP Vinyls have been revealed! Read on if you want to see the spoilers…
Reception to the Thor Ragnarok Collector Corps Box that I reviewed earlier this month has been… well, a little bit less positive than Funko probably would have liked. It seems that some of the random items in the Ragnarok Box—especially that Fidget Spinner—just were not a smash hit with a vocal portion of fans who subscribe to the box.
I've seen quite a few readers say that they were planning to outright cancel their MCC subscription following the Thor box or were going to give it one more month to impress them.
And so, perhaps in response to those sentiments (and perhaps not), Funko has revealed both exclusive POP Vinyls from the December 2018 Hulk Collector Corps Box!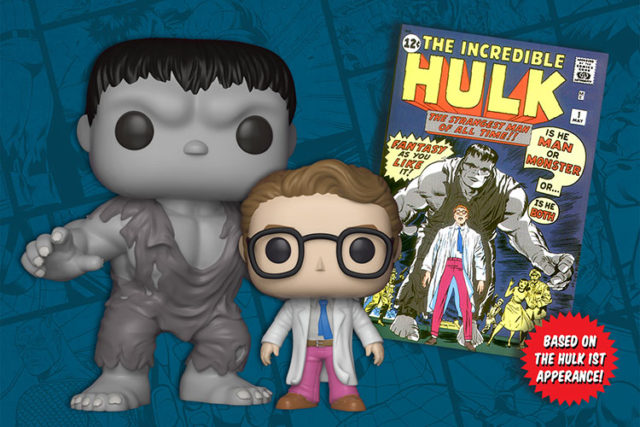 While Funko has yet to publicly confirm the specs for the two POPs, based on the proportions of the two figures shown, this definitely appears to be a 6" Hulk POP Vinyl figure—exactly what fans have been demanding since the very first Marvel Collector Corps box in 2015!
(Well, maybe not exactly, as I imagine many collectors had a plain comic-based or movie Hulk 6" POP Vinyl in mind, but this is definitely along the same lines.)
And hey, Funko hasn't even stopped with their first Marvel 6″ POP in a Collector Corps box in a long time–they're also throwing in a totally retro Bruce Banner POP Vinyl with pink pants and baby blue tie! Love it!!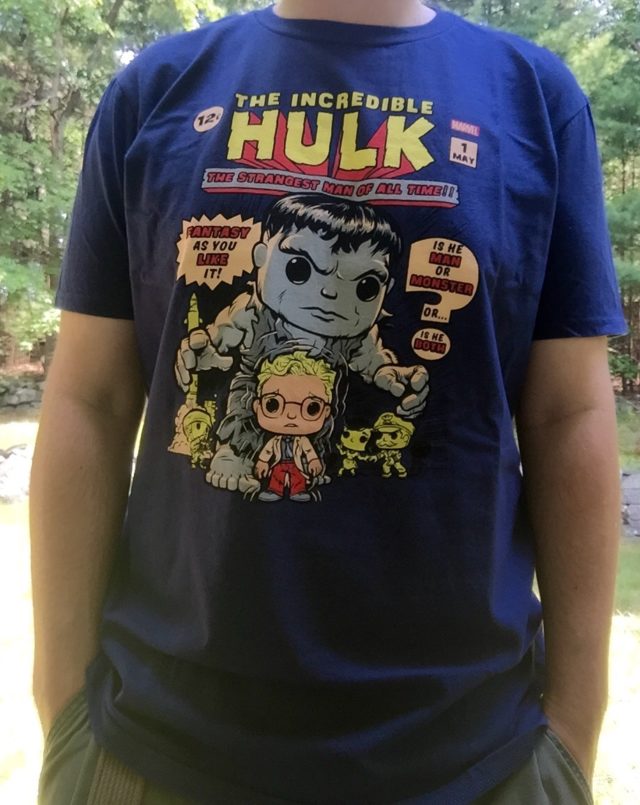 If these exclusive Hulk Box POPs of Hulk and Dr. Bruce Banner look somewhat familiar to you, it may be because the designs are loosely pulled from the cover of the 1st Appearance of the Incredible Hulk Comic book—and also from the shirt included in the August 2017 First Appearance Avengers Box.
I love that Hulk shirt from the MCC First Appearance Box and wear it pretty regularly, so I'm quite jazzed about getting to own Funko POPs corresponding to the design on the shirt (though thankfully without a blonde Bruce Banner figure).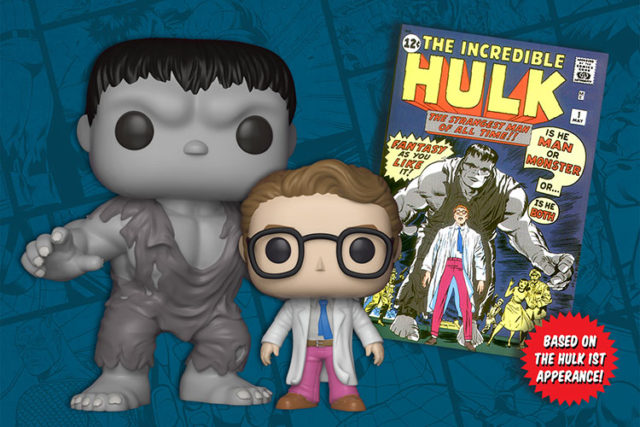 The Funko Marvel Collector Corps Hulk Box is now up for order, and is scheduled to ship in December 2017. The official cutoff date is December 15th, but as with the recent Disney Treasures box with Maleficent Dragon, it's not impossible that the box may sell out beforehand. If anything will make a Collector Corps Box move fast, a 6" Hulk figure ought to do it!
Now that you know the two exclusive Hulk POP Vinyls in the Hulk MCC box, what are your thoughts, Marvel collectors? Best Funko POPs in the subscription service yet? Will you be joining up (or remaining joined) to get this much-requested duo, or is this gamma-powered pair not to your taste?