As soon as we got into the spring without any details surrounding the impending release of the Toys R Us Exclusive A-Force box set that was announced at New York Toy Fair 2017 and popped up on ebay a few months ago, I was dead certain that Toys R Us was holding onto the set to use as one of their annual "San Diego Comic Con Exclusives". And lo and behold, we finally got verification this morning: the SDCC 2017 Exclusive Marvel Legends A-Force box set is now confirmed!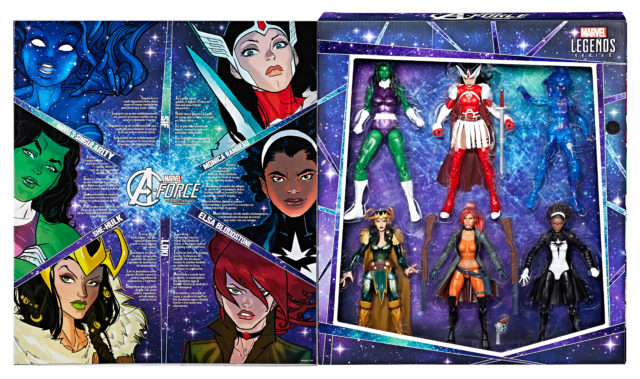 Hasbro dropped some major bombshells
at the 2017 Toy Fair in February
, but there was
nothing
more surprising announced at the show by another company for Marvel that was more surprising than the all-female, mostly-obscure Marvel Legends A-Force 6-pack of female characters!
The set includes six characters, of which four have never been released before in 6″ form:
She-Hulk (Jennifer Walters)
Lady Loki (First Time Released by Hasbro as a female)
Monica Rambeau (First Time Released by Hasbro in Any Way)
Singularity (First Time Released by Hasbro in Any Way)
Lady Sif (First Time Released by Hasbro as a Non-Movie Figure)
Elsa Bloodstone (First Time Released by Hasbro in Any Way)

For those scratching their heads at the name "Monica Rambeau", you probably know her better under one of her many code names that she's had over the years, including Captain Marvel II, Photon, Pulsar, Daystar and most recently Spectrum. She'll never have as many toys as she has superhero names, but at least she'll finally have her own official Hasbro action figure!
Now, there is one thing in this set that I would especially like to draw attention to. While I've seen many people glance at this set and cheer for the first Marvel Legends Squirrel Girl figure, alas: Squirrel Girl is not in this set (or announced yet by Hasbro in any form). What collectors are actually seeing is the Marvel Legends Elsa Bloodstone figure, which sort of resembles Squirrel Girl at a distance, but is sadly not the most popular squirrel-themed superhero in the world.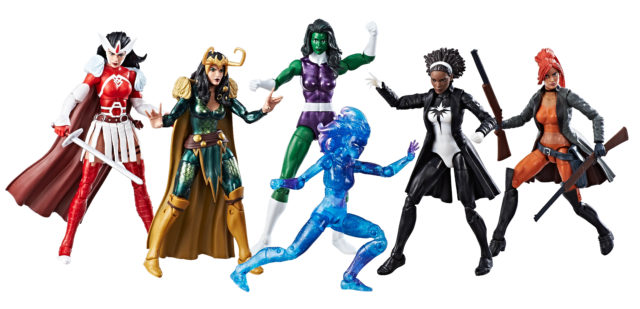 The A-Force Marvel Legends box set will be available at the Entertainment Earth booth (Booth #2343) at San Diego Comic-Con 2017 in two weeks, but the set will also be available to those not attending SDCC 2017 via the Toys R Us website, starting July 20th 2017! Stay tuned to the Marvel Toy News Facebook and Twitter Page for alerts when the set goes live up for sale on 7/20, as if it's anything like Hasbro's own SDCC exclusives, I expect it to sell out quickly.
Now that we know exactly where and when the set will be available, who out there is jonesin' for their own Marvel Legends A-Force Heroines set? Will you be on the prowl for this set when it becomes available later this month, or is this multi-pack a pass for you?