When Diamond Select Toys premiered their gorgeous Marvel Select X-23 Wolverine statue at NYCC 2017 earlier this month, it immediately jumped into the "instant pre-order" territory for many collectors. The question wasn't if, but when, those fans could place their orders. Well, it ends up that we didn't have to wait very long for that answer at all—the Marvel Gallery Wolverine X-23 Statue is now up for order! Plus, she's brought a friend along—the Defenders-completing Netflix Iron Fist Statue!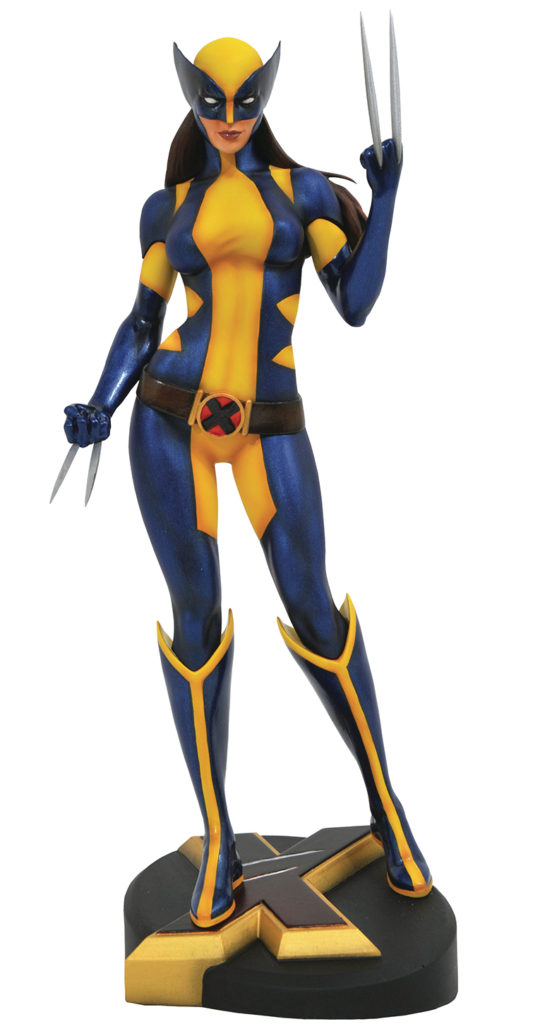 Literally the first thing that grabbed my eye at the Diamond Select Toys booth at New York Comic Con 2017 was their Wolverine Laura Kinney statue. The 9″ X-23 PVC statue looked so good to me that, at a glance, I thought it was part of the $150 Marvel Premier Collection resin statue line and not the $40 Marvel Gallery PVC series!
While ultimately DST's amazing Marvel Premier Cable and Deadpool statues won my "Marvel Statue Best in the Show" award for NYCC 2017, the Marvel Gallery X-23 was easily my favorite statue in the $100 and under range. The pose on this X-23 statue is downright perfect, and the blue paint really pops alongside the yellow. It's about time this version of Wolverine got some sweet statue love!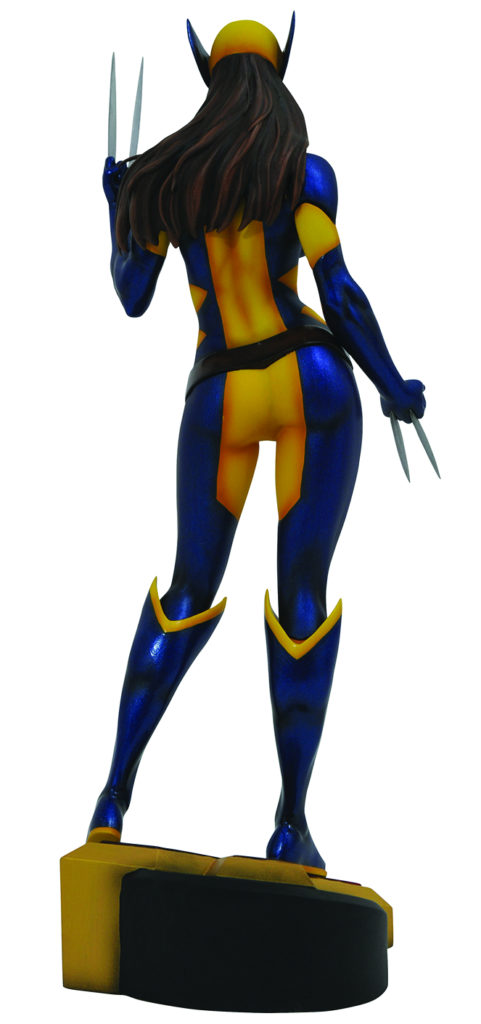 While we could only see the statue from the front side in the DST display case at NYCC, Diamond Select Toys sent out an image of the figure from behind with this week's round of solicitations. Now we can remove all doubt—Marvel Gallery Wolverine X-23 certainly has a nice, uh, "behind"!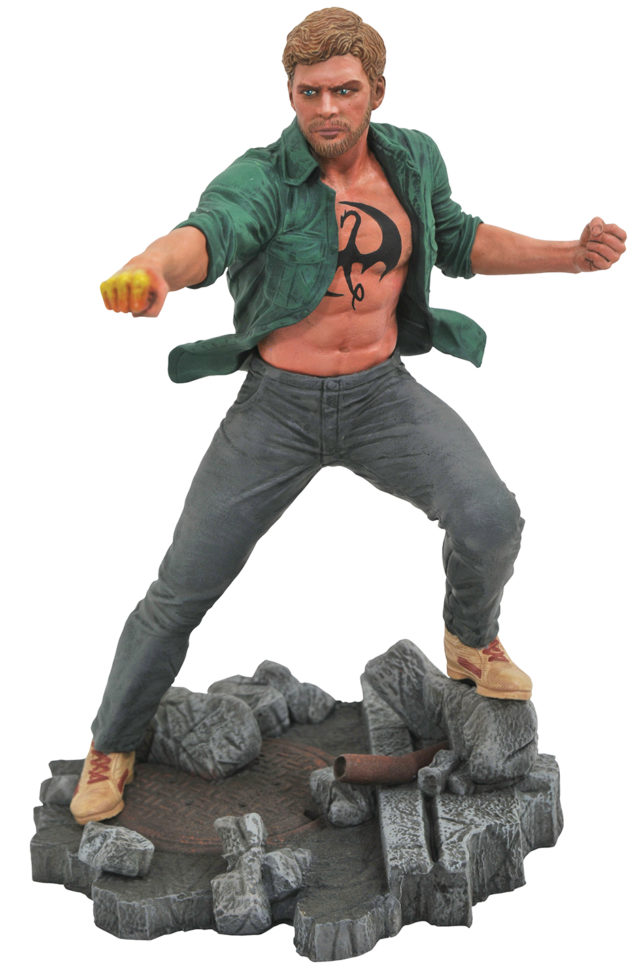 Also solicited for release in late April 2018 is the final member of the Marvel Gallery Defenders: Iron Fist! While the other three members of the team (plus Punisher and Elektra) have been up for order for quite a few months, Danny Rand has been lagging behind.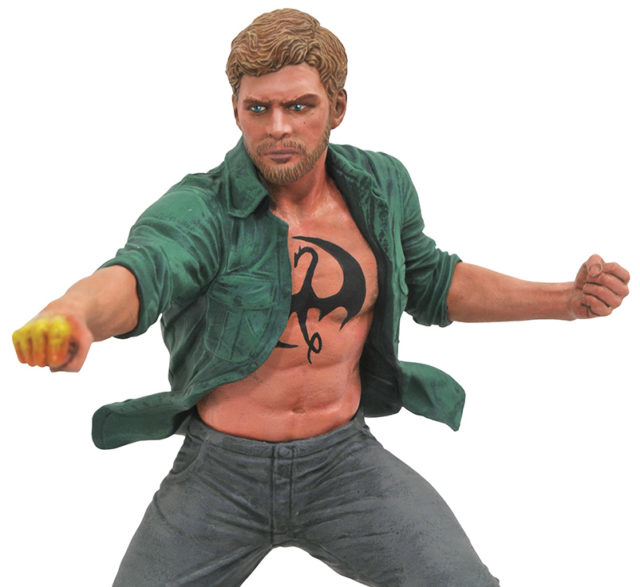 Unfortunately, this is a rare DST Marvel Gallery statue that I'm not really impressed with. While recent releases like Netflix Daredevil and Punisher have had tremendous sculpts, the Marvel Gallery Iron Fist figure looks really, well… plastic.
The sculpting and paint on Netflix Iron Fist statue's hair and face especially just don't work for me, which is a real shame since I've liked the rest of the Netflix Marvel Gallery series so much. The paint effect on the powered-up first doesn't look right to me either.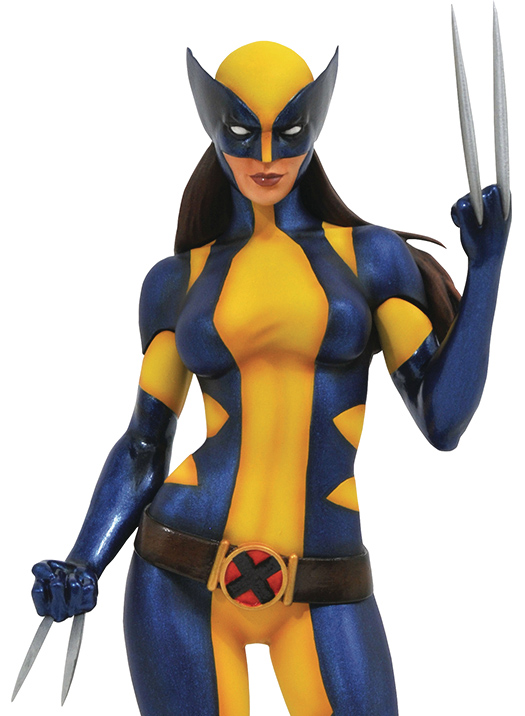 The Diamond Select Marvel Gallery X-23 Wolverine and Netflix Iron Fist statues are now up for order, and are scheduled to be released in Spring 2018. The MSRP is the usual $44.99 each, although you can get a $5 pre-order discount on either from EE. I've got high hopes for the Wolverine Statue in particular selling well, as it's a real winner by all indications and one of the best PVC statues I've ever seen from DST.
What do you think of the next pair of Diamond Marvel Gallery statues, Marvel collectors? Am I being too critical of the Iron Fist Netflix figure, and will you be completing your Netflix series with him? What about Wolverine X-23–do you think she's DST's best Marvel comics-based PVC statue yet?