Apparently I must have missed some memos this last week while I've been drowning in the tsunami of New York Toy Fair 2017 news and photos, because Sideshow Collectibles was able to launch a figure this afternoon that I had no idea was ready to be solicited! Just one week after their first Marvel sixth scale figure since 2015 went up for order, there is another: the Sideshow Exclusive Ghost Rider sixth scale figure is now up for order!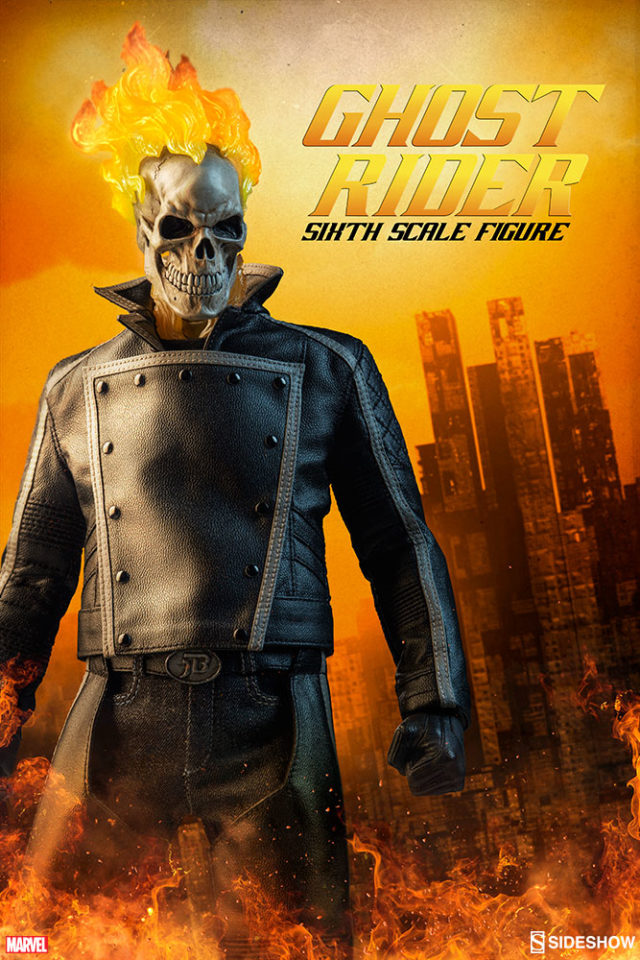 …Well, this is a nice surprise! Just a week ago I was discussing how the Sideshow Collectibles Daredevil figure was the first Marvel sixth scale figure to go up for sale since the end of 2015, and now Sideshow has already got another figure lined up and ready to roll (on flaming wheels): Ghost Rider!
Hot Toys has announced their own Agents of SHIELD Ghost Rider Hot Toys figure for later on this year, but I imagine a majority of fans are going to prefer this classic version…
Whereas the Hot Toys Ghost Rider is the modern car-driving Robbie Reyes version of the character, this is the classic Johnny Blaze iteration all the way, even down to the "JB" initials etched onto his belt buckle.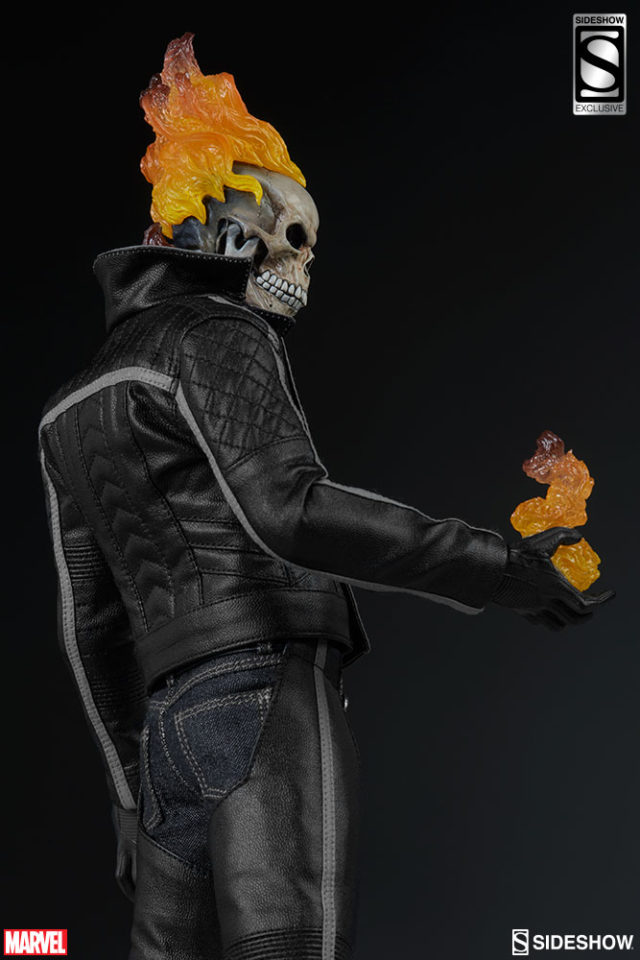 Whereas I had some reservations about some of the directions Sideshow's designers went with Daredevil's costume, everything about this 1:6 Ghost Rider figure looks perfect, from his iconic leather jacket to his biker chaps. I don't think many collectors would argue with the assertion that this is Sideshow's best and most accurate work yet in their Marvel Sixth Scale figure line!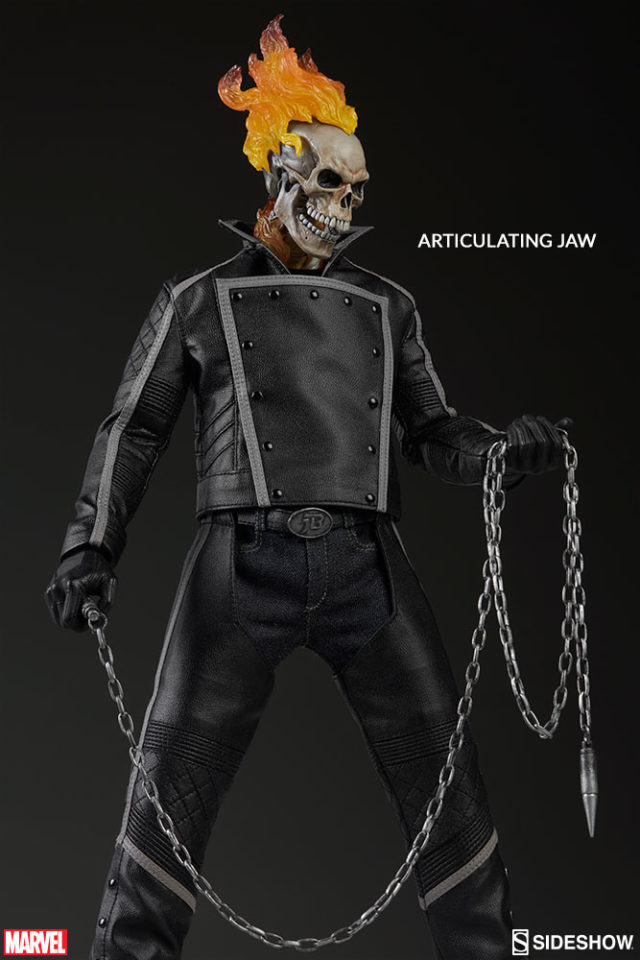 The sculpting and paint wash on Ghost Rider's flaming skull looks fantastic, as does the translucent yellow and orange flaming hair. I'll be really interested to see if Hot Toys can find a way to make their Ghost Rider's hair look any better than this does.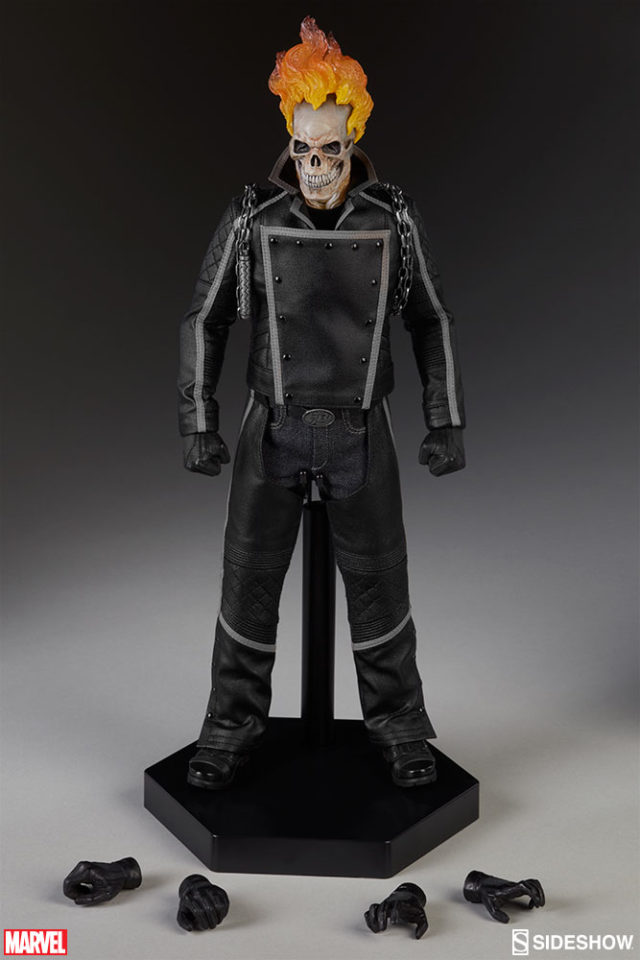 Along with a smile-inducing articulated jaw on his skull, Ghost Rider will also come with his trademark chain (sorry, it's not flaming), a figure stand and a couple pairs of alternate hands.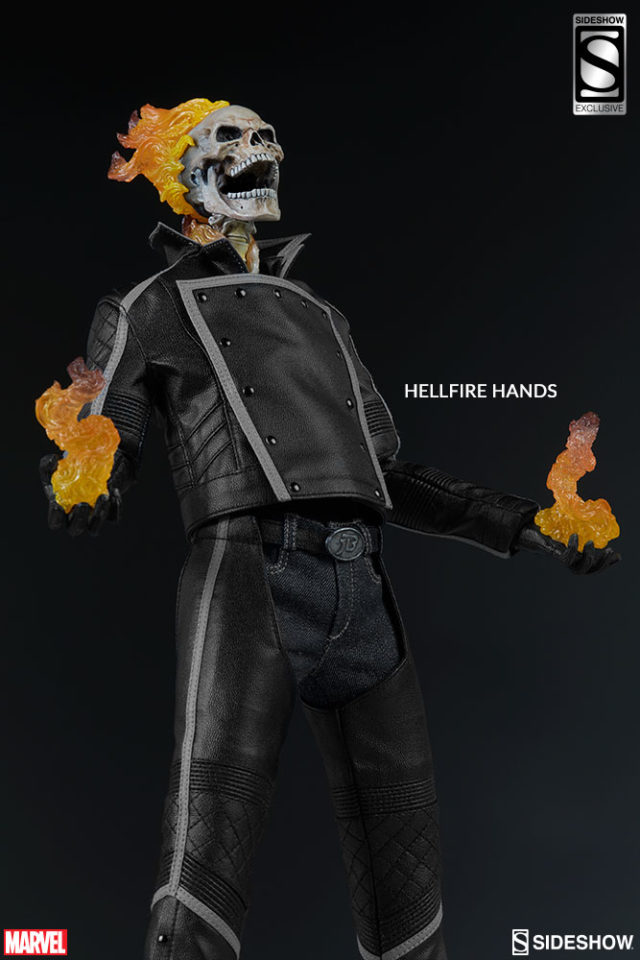 As we've come to know and love, there's a Sideshow Exclusive version of the Ghost Rider 12″ figure, and the bonus accessories are ones collectors are gonna want: interchangeable Hellfire hands!
To me, this figure looks coolest when Johnny Blaze has at least one Hellfire hand in place, so these exclusive items are a must in my opinion. Ghost Rider costs the same $219.99 with or without the Hellfire hands, so absolutely get the EX Ghost Rider if you want this figure.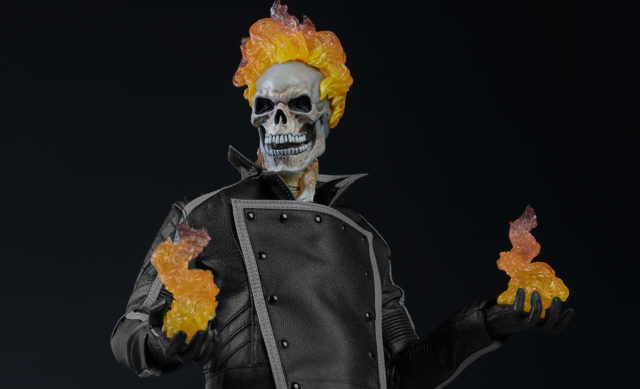 The Sideshow Exclusive Ghost Rider 1/6 figure is now up for order, and is scheduled to ship out in December 2017. Sideshow is offering free shipping on the figure for early pre-orders right now, so if you know you're gonna want this, you might as well order early and save yourself a figure 15 to 20 bucks.
What do you think of Sideshow's second sixth scale Marvel figure in the last eight days, Marvel collectors? Is this Classic Ghost Rider the best entry in this series yet, and will you be opting for this Johnny Blaze figure over Hot Toys' upcoming Robbie Reyes version?