For the past year-plus, Sideshow Collectibles has been hitting female statues out of the ballpark one after the next. And though she's not necessarily a favorite of longtime classic comic book readers, the high-profile headliner superheroine Sideshow has going up for sale today looks like another home run to me: the Sideshow Collectibles Lady Thor Premium Format Figure statue is now up for order!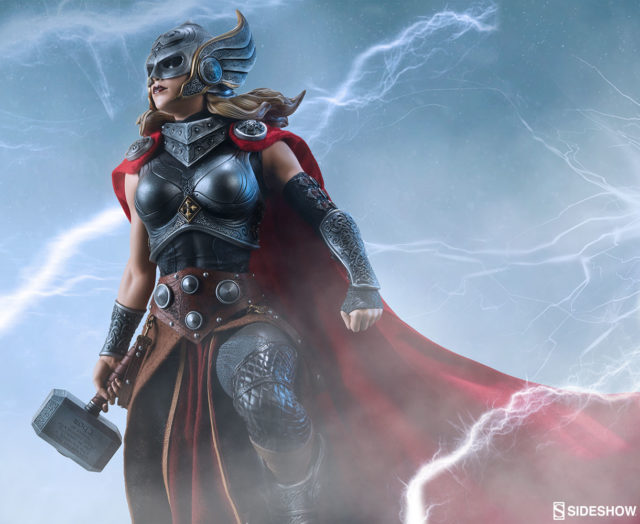 Marvel took a pretty big risk when they introduced a female version of Thor a couple years back to replace the male version of the character, but that gamble seems to have paid off with loads of media attention and improved comic book sales for the Jane Foster version of the character.
Lady Thor has had a few collectibles released previously such as a Marvel Gallery statue and a rather attractive Bishoujo, plus the first Marvel Legends Lady Thor is coming this fall. But for the first time, Sideshow Collectibles is bringing the female Thor to the high-end market with a quarter-scale Premium Format Figure statue launching today!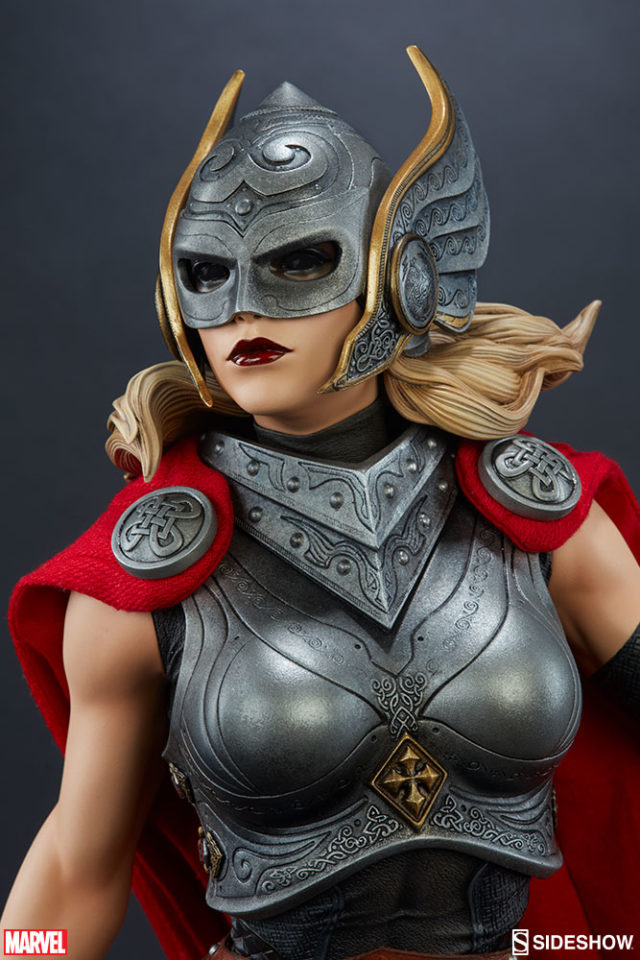 The Jane Foster Thor Sideshow Premium Format Figure looks like it has popped right off the pages of Lady Thor's comic book. Thor looks regal, powerful, and gorgeously detailed. That armor has to be some of the best that Sideshow Collectibles has ever made (if not the best)!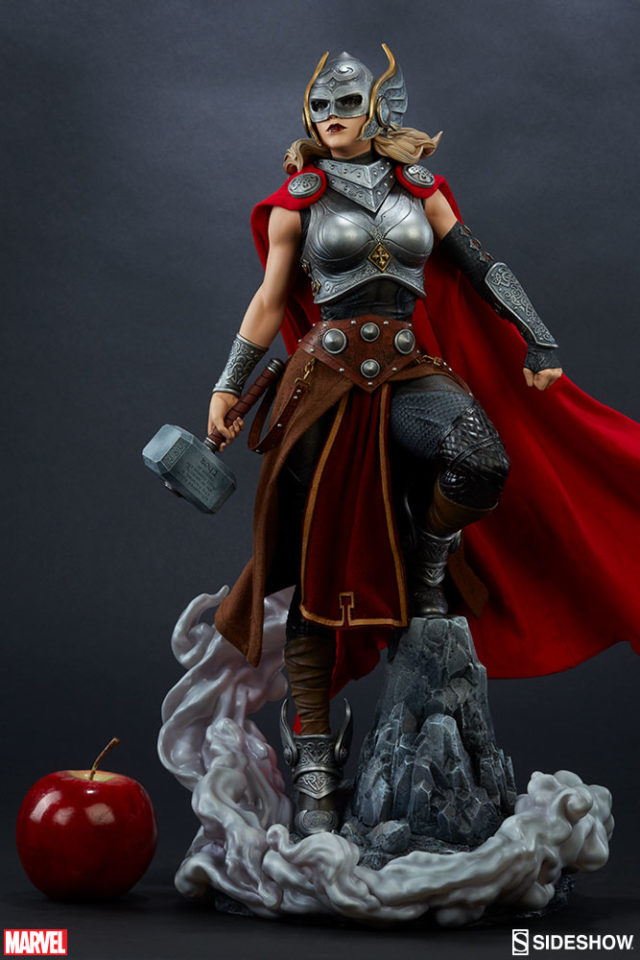 I've got no complaints whatsoever about the sculpting detail or paint deco choices for this 1/4 statue–she's a masterpiece.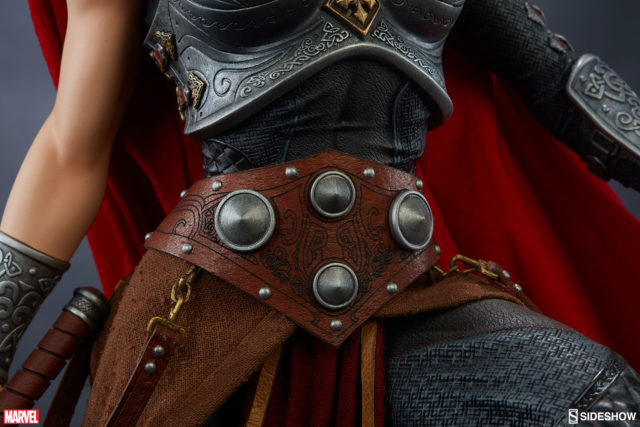 I prefer a fully-sculpted statue over a mixed media statue with soft goods nine times out of ten–and apparently, this is that tenth time. The red fabric cape for the Premium Format Lady Thor statue looks rich, deep and gorgeous. And her belt looks just wonderful–going mixed media for this character was absolutely the right choice to make.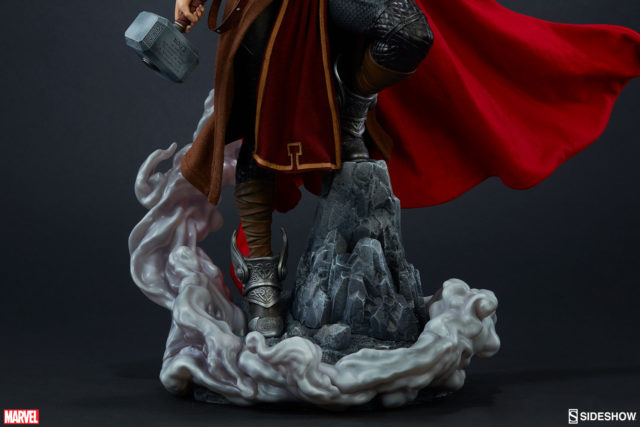 Even the base on this piece totally works. While the smokey bases on some of the Spider-Man Premium Format Figures released recently have been a little shaky, the smoke look both fitting and tremendous here.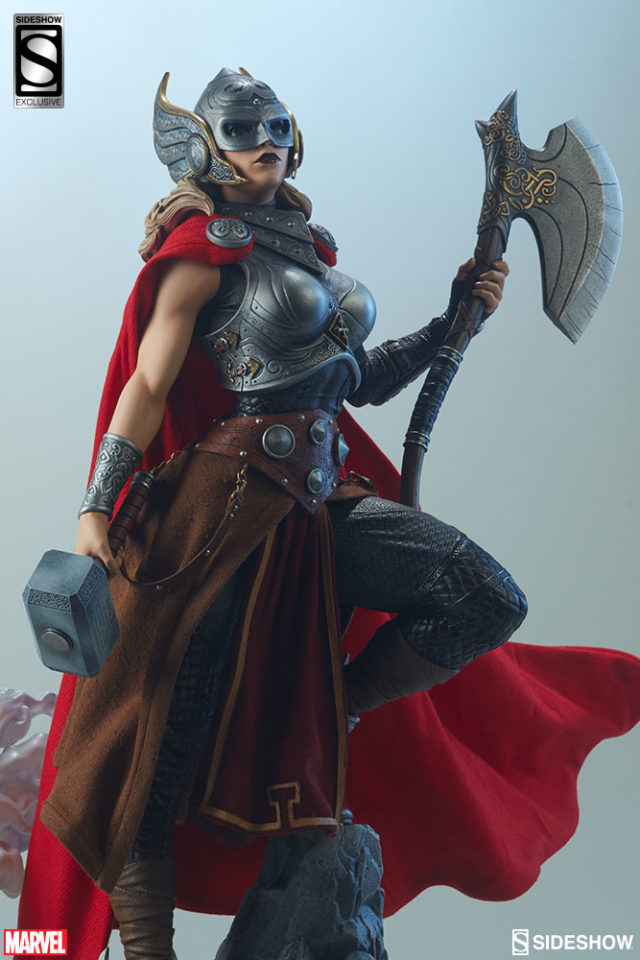 As usual, there's a Sideshow Exclusive Lady Thor statue with an extra accessory–but the exclusive item isn't what many people were expecting! While a lot of collectors were demanding an EX unmasked Lady Thor head, that's not included (likely because we never see her unmasked as Thor in the comics).
But the EX accessory–while significant–doesn't make much more sense than an unmasked head would have. It's Jarnbjorn, the enchanted axe of the male version of Thor (Odinson)! I can't remember Jane Foster ever even touching Jarnbjorn–much less wielding it–so this exclusive definitely took me aback somewhat.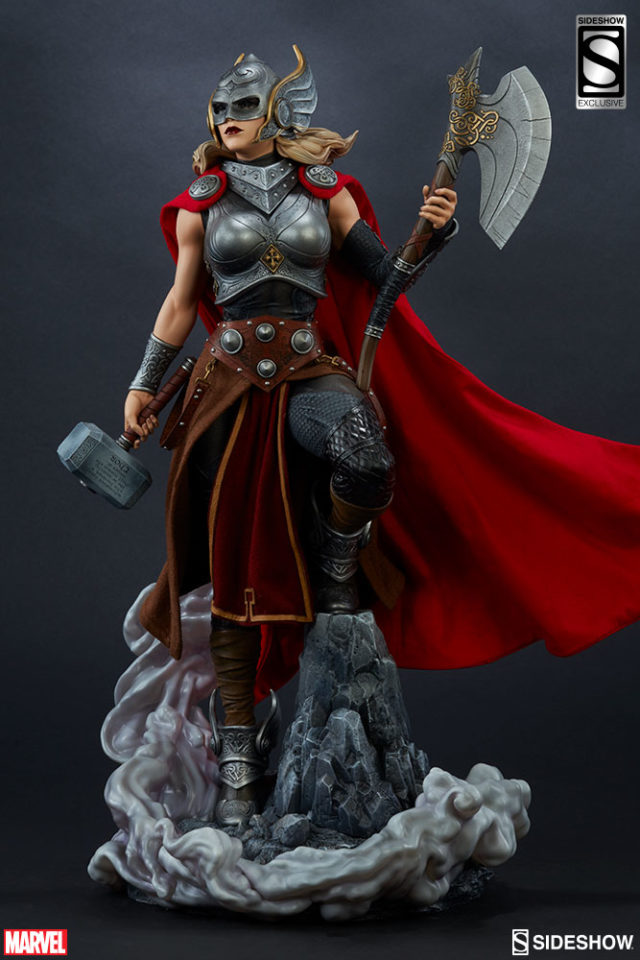 The Sideshow Premium Format Thor Jane Foster statue is now up for order, and is scheduled to be released in December 2017. Jane Foster Thor has been tearing it up as far as mainstream attention and comic book sales go, so it'll be interesting to see how well she fares with collectors as an expensive high-end statue.
What do you think of the 1/4 Jane Foster Thor Premium Format Figure, Marvel collectors? Is this up to the high standards of recent gems from Sideshow like Carol Danvers Captain Marvel and Gamora, or are you not as impressed with this leading lady as I am? Will you be dropping $500-ish on this statue, or will your bank account be remaining half a grand richer?