With five of the seven Kotobukiya Spider-Man ARTFX+ statues currently up for order, I was hoping that Koto would surprise us by debuting the two final figures in the line at New York Toy Fair 2016 over the weekend. Well, I guess one out of two ain't bad–we'll have to wait a bit longer to see the prototype of the Venom ARTFX+ statue, but the Kotobukiya Spider-Man 2099 statue has now been revealed!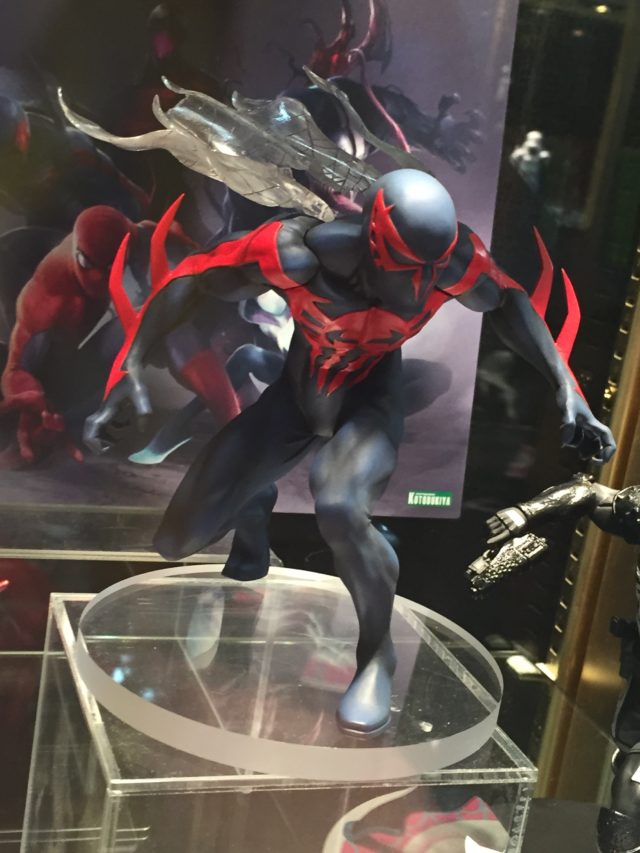 I am a pretty big fan of Peter David's Spider-Man 2099, and have been since I was a dopey middle school kid 25 years ago when he was created (God, I'm old). I'm so big a fan, in fact, that I've got
the near-ridiculously expensive Prime-1 Spider-Man 2099 statue pre-ordered
(on a
long
payment plan) right now.
But not everyone has the space–or crazy amount of money–for a Prime 1 Studio Spider-Man 2099 statue. Luckily, Koto has something lined up for just such collectors this summer as part of the Spider-Man ARTFX+ series!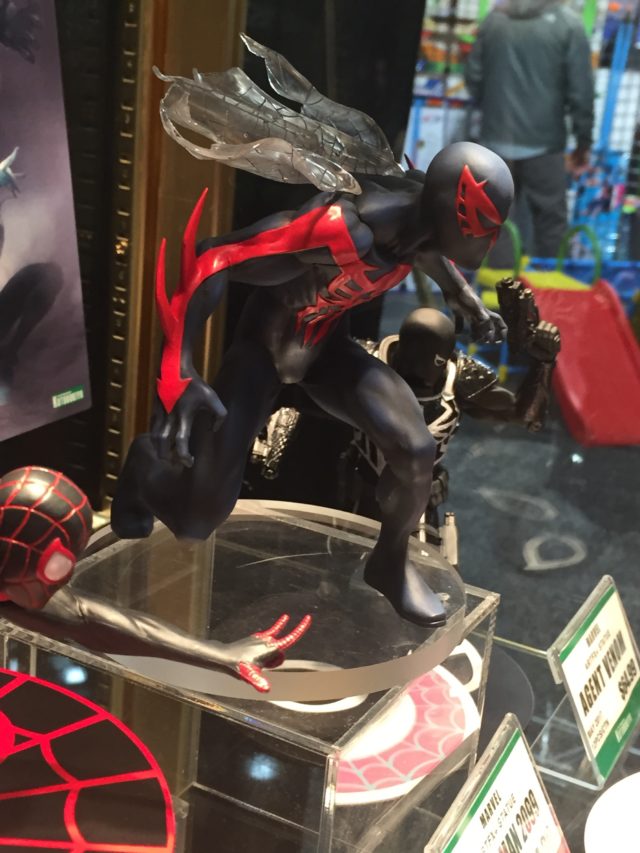 Here he is, the 1:10 scale Spider-Man 2099 Kotobukiya figure in all his original costume glory! Miguel O' Hara is the third and final version of Spidey himself in the ARTFX+ line, with the other two versions being Miles Morales and Peter Parker.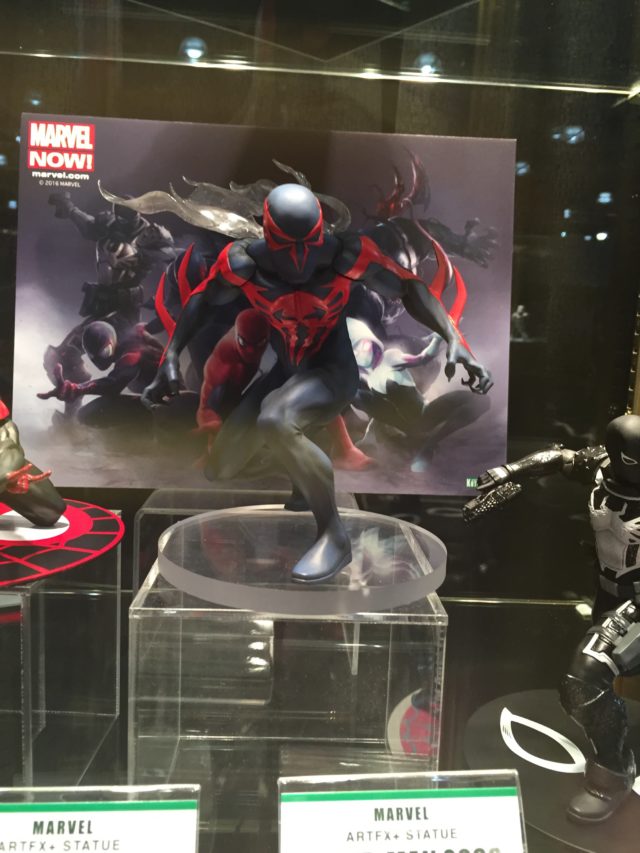 There's not a ton to say about this statue, other than that it looks rather slick. The glossy paints Koto selected for Spidey 2099 look terrific, as does his trademark flowing translucent cape. Miguel is crouched over instead of being in an action pose, but that matches the rest of the Spider-Man iterations in this series, so it's tough to complain too much about that.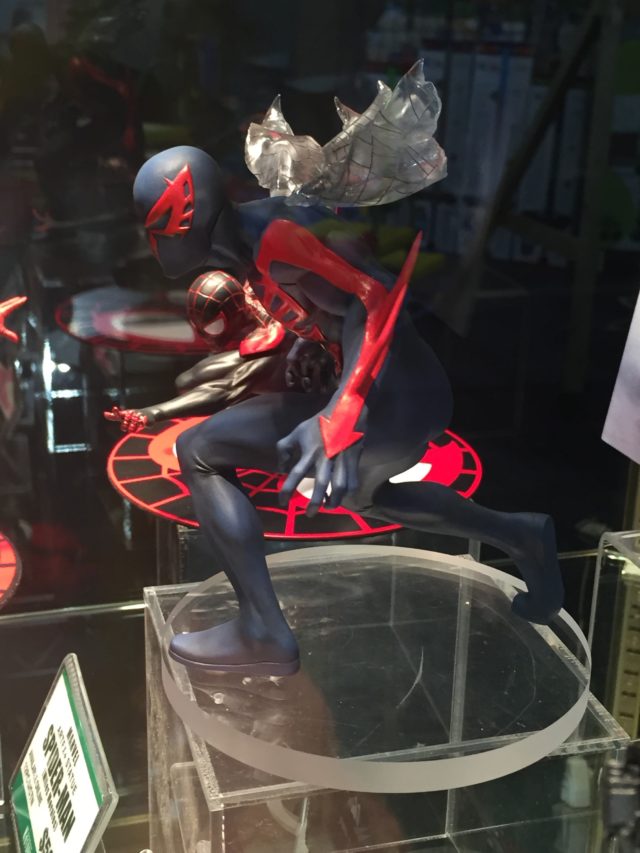 The one real weakness this Spider-Man 2099 Kotobukiya statue has is a comparison that's not entirely fair, due to the fact that it's been revealed a month after that jaw-dropping Prime 1 Studio 2099 went up for order. Having seen the eye-popping detailed texture on the costume of that version, it's a little hard to reconcile how "smooth" the blue of the costume looks here.
I still do like this figure–and I'll be buying it, believe me–but it can't hold a candle to the Prime 1 Studio statue (nor should it, for costing last than one-tenth of what that statue does).
In addition to their Spidey 2099, Koto also displayed their 1/10th scale ARTFX+ Spider-Man, Agent Venom, Ultimate Spider-Man Miles Morales and Spider-Gwen figures at Toy Fair. For whatever reason, ARTFX+ Carnage wasn't included in the display, even though he's already finalized and up for order.
I believe this is the first time the Gwen Stacy head for Spider-Gwen was shown publicly. The facial expression is a bit weird overall, but I'm glad to see a smiling Gwen instead of a zombie-staring one.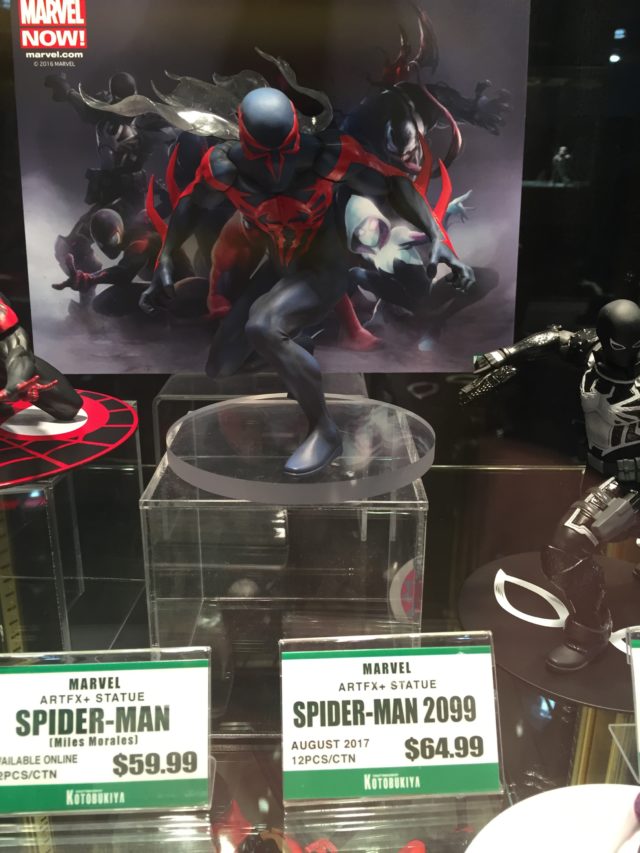 The first five Kotobukiya Spider-Man ARTFX+ statues are currently available for order online, with Spider-Man 2099 and Venom both expected to go up for order this spring. The placard for 2099 Spider-Man at the show confirmed his $64.99 MSRP and stated he's scheduled for an August 2017 release, so we've got a little bit of a wait to complete our displays.
What do you think about Koto's Spider-Man 2099 statue and how their Spider-Man ARTFX+ series is coming along overall, Marvel collectors? Have you placed your orders for anything in this series yet, or are you waiting to see how Venom turns out (or waiting for a sale)?