It looks like it's time to get out those wallets and shed tears made of hundred dollar bills once again, because after being revealed fully last month, the long-awaited limited EXCLUSIVE Version of the Prime 1 Studio Venom statue is now up for order! The Prime 1 Studio Marvel statues are not for those short on space or short on funds, that's for darn sure–but even those lacking both may have to admit that this is one of the finest Venom statues in the land…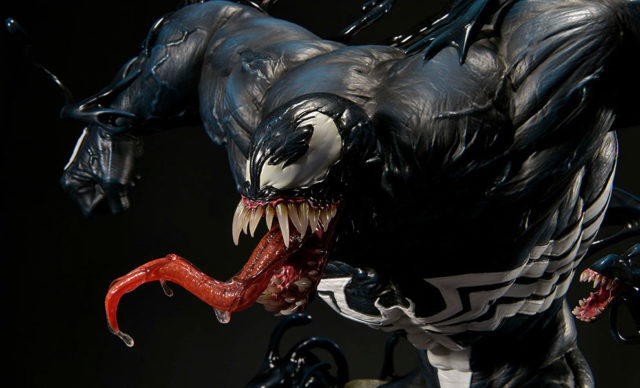 I could quickly grow to hate Prime 1 Studio… if there Marvel statues weren't so, so beautiful. When P1 Studio revealed their Anti-Venom and Spider-Man 2099 statues late last year, I
knew
I was going to be in trouble.
I secretly hoped that P1 was only going to release those two statues this winter with nothing else on the docket for many months… but alas, their most high-profile Marvel statue to-date was fully revealed last month and went up for order out of nowhere today: Venom!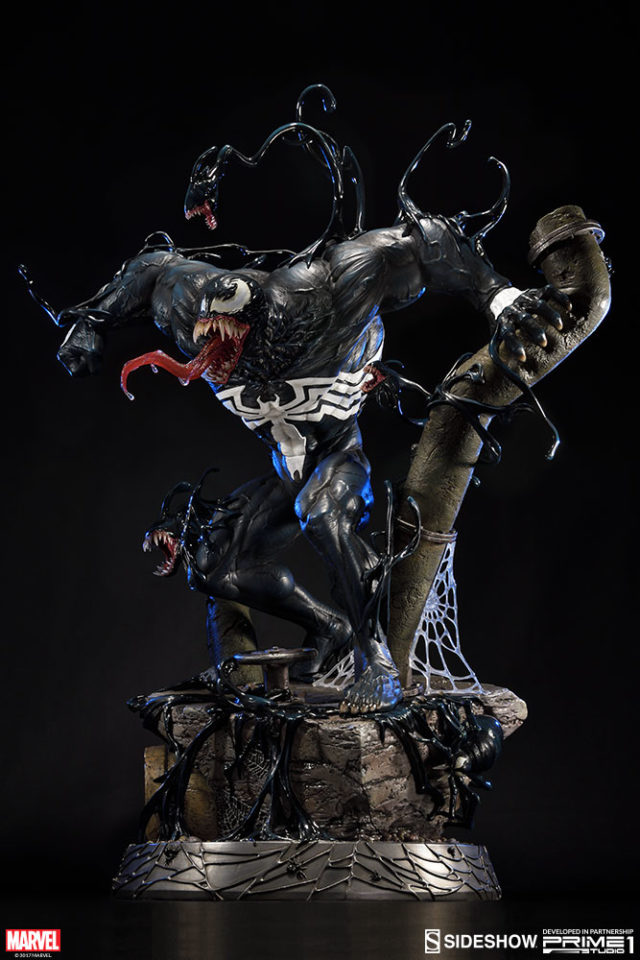 As beautiful as this statue is, though, it comes at a pretty jaw-dropping cost. Remember those tears made of 100 dollar bills I mentioned earlier…? Yeah–you're going to need nine of them to pay for this Venom statue. No, really–the MSRP for this statue is nine hundred dollars. Even for the biggest symbiote lovers out there, 900 bucks is a bitter pill to swallow for any one statue.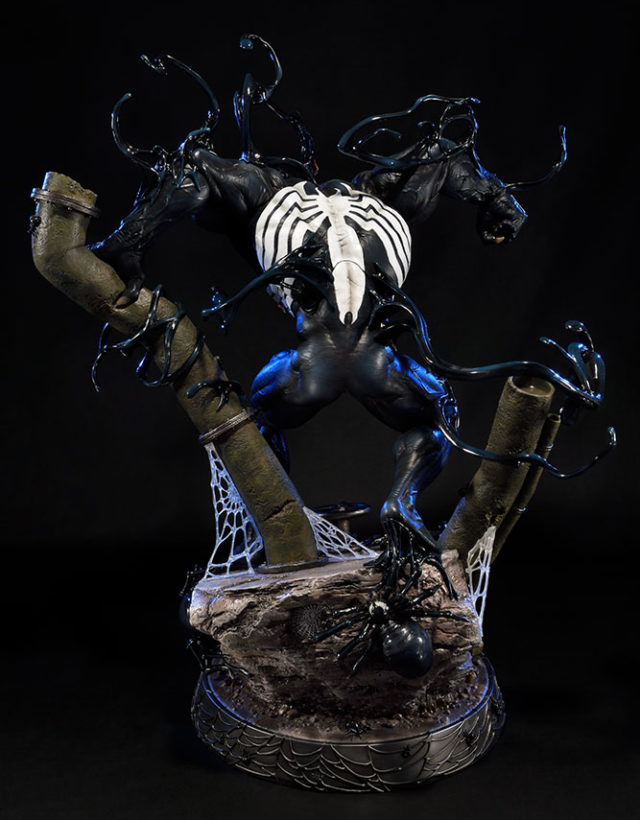 Based off of the 2008-2009 Venom: Dark Origin comic book series, this is one of the craziest, most detailed sculptures of Venom ever made. From the crazy mouthed tendrils emanating from the symbiote to the creepy spiders on the base, this is one gorgeous, gorgeous piece of ($900) work.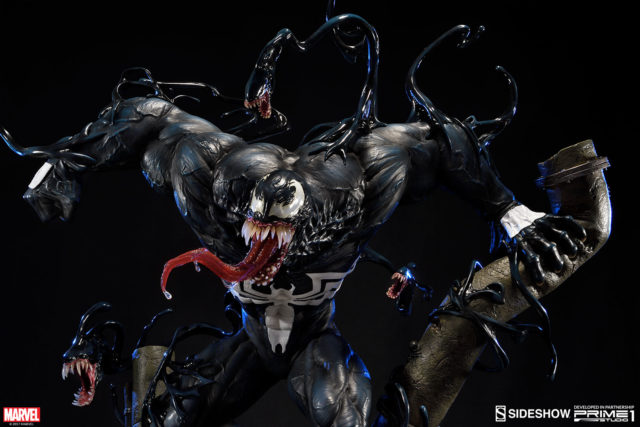 Even if you do have the big bucks to pay for this Venom statue, you'd better make sure you have some serious space allocated as well: the massive piece is a crazy 32″ tall, 26″ wide and 18″ long. Yowza!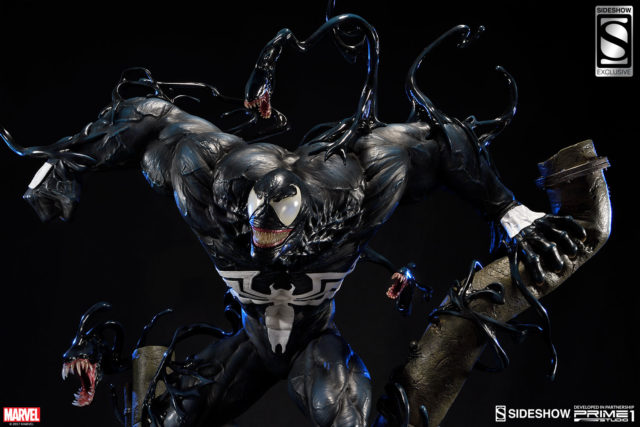 As usual, there's a Sideshow EXCLUSIVE Prime 1 Studio Venom statue version that comes with a bonus item–and it's a great one: a closed-mouth, grinning classic Venom head! I was dead certain that the Sideshow Premium Format Venom EX head was the best quarter-scale Venom head out there, which is what convinced me that that was the 1/4 Venom statue that I needed to pre-order.
Unfortunately for me, I think the Prime-1 Venom EX McFarlane head soundly defeats the Sideshow Collectibles head as the best Venom portrait out there. It's decision time for me, as there are only 1000 of this exclusive edition out there, and these are very likely to sell out quickly. Decisions, decisions…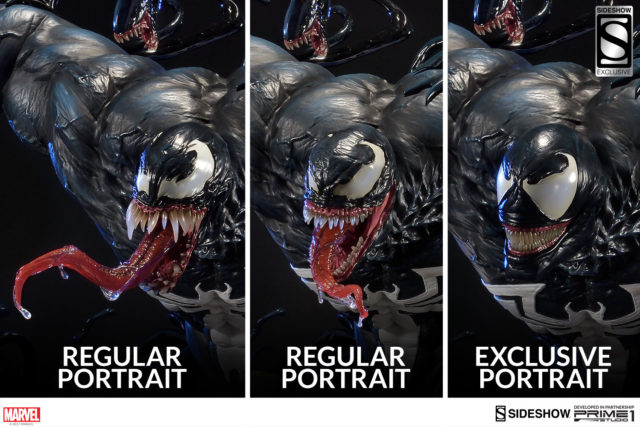 The Sideshow EXCLUSIVE Venom Prime 1 Studio statue is now up for order, and is scheduled to be released in Spring 2018. Ordinarily I hate having to wait a full year to get a statue in-hand, but with the prices that P1 Studios statues go for… yeah… I'm content to pay a little each month and pretend I'm not totally insane for paying statues at these prices, and then be pleasantly surprised when the statue eventually does arrive. I've said it before and I'll say it again–thank God for payment plans!
What are your thoughts on the Prime-1 Studio's entry into the increasingly competitive Venom statue marketplace, Marvel collectors? Who's got the best 1/4 scale Venom statue in the land: Sideshow, XM Studios or Prime 1? And which of these statues–if any–are you willing to lay down the big bucks for?