While Diamond Select Toys gave press and buyers at the 2014 New York Toy Fair the first look at this summer's Marvel Minimates Guardians of the Galaxy figures, photography of the Guardians of the Galaxy Minimates (like most GOTG merch) was not allowed at the event. Collectors have had to be content with word-of-mouth textual descriptions of the wave–until now! Diamond Select has now pulled back the curtain, and the complete Guardians of the Galaxy Minimates series is now available for order!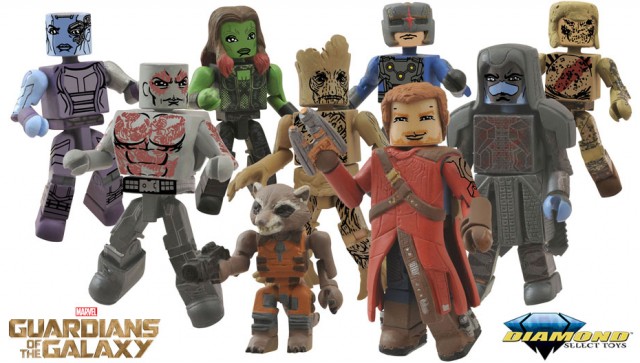 It was definitely bittersweet being at the Toy Fair 2014 last month and seeing all kinds of cool Rocket Raccoon figures and collectibles and not being able to photograph the majority of them, but at last the world can at least see what Diamond Select Toys has cooked up as far as the Rocket Raccoon Minimates figure goes (and of course, the rest of the GOTG)!
Comic book stores and online retailers will receive eight GOTG Minimates figures (nine if you count Rocket Raccoon) spread across four two-packs. Toys R Us will also have an exclusive remixed Guardians of the Galaxy Minimates set that will include a Yondu Minimates figure.
The four Guardians of the Galaxy Marvel Minimates two-packs will be as follows:
Marvel Minimates Star-Lord & Ronan the Accuser
Marvel Minimates Nebula & Sakaaran Trooper
Marvel Minimates Gamora & Nova Corps Centurion
Marvel Minimates Drax & Groot (with Rocket Raccoon Minimates Micro-Figure)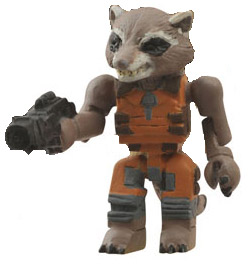 In order to be authentic to Rocket's scale in the movie, DST opted to make Rocket a non-poseable micro-figure Marvel Minimate that's only about 1″ tall (as opposed to the usual Minimates 2″ size). I love how Diamond Select sculpted the Minimates Rocket Raccoon in the same style as the other Minimates figure (complete with faux-joints!), but I still sort of wish the Rocket Raccoon Minimate was just a regular, out-of-scale release. If we can get MODOK and Sentinel Minimates the same size as everybody else, why not a slightly too-big Rocket Raccoon?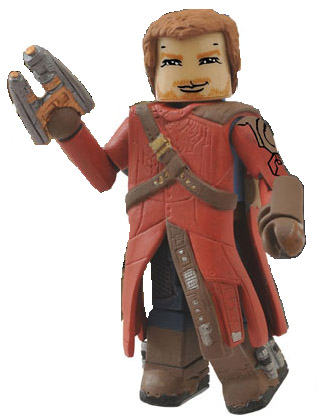 The Marvel Minimates Guardians of the Galaxy figures are now available for pre-order as a set containing all nine figures for just $29.99. The wave is expected to be released in Summer 2014 (hopefully in July 2014 and not after the movie's release at the start of August 2014).
I think that the Guardians of the Galaxy Minimates action figures wave is one of the most fun and interesting Marvel Minimates series in quite some time, and it's an instant purchase for me. What about you, Marvel fans? Are you impressed by what you see of the Minimates Guardians of the Galaxy?