The countdown is on, as there are now only two Bowen Designs Marvel statues left to be released until when and if Bowen signs a new licensing contract with Disney/Marvel! The third-last Bowen full-size statue was just released last week, and it's perhaps the final X-Force statue that will be released by Bowen Designs. Digitally sculpted by Jason Smith, the Bowen X-Force Psylocke statue is now in-stock and available for order–and with an edition size of 400, this one is selling out quickly!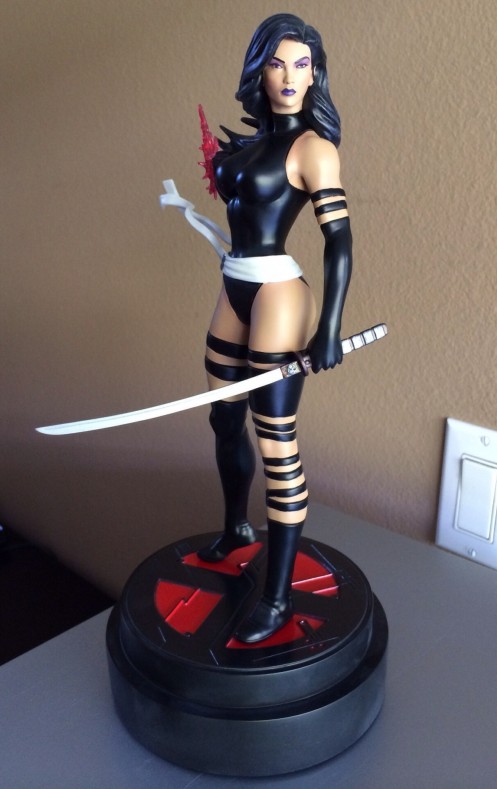 Psylocke used to be one of my absolute favorite Marvel characters. I'd like to say it's because I loved so many of the classic X-Men comics written about the British-gone-Asian telepathic ninja, but it's actually that those were in the days when I mained Psylocke in Marvel vs. Capcom 2 (not well, mind you). In recent years Psylocke has become far more prominent in the Marvel comic books universe, however, including being one of the central characters of Rick Remender's Uncanny X-Force book.
The Uncanny X-Force series turned out to be so popular that Bowen Designs has now released full-size statues of almost the entire team, with the Bowen X-Force Psylocke statue being the most recent (and Fantomex being the only character on the team to not receive the statue treatment).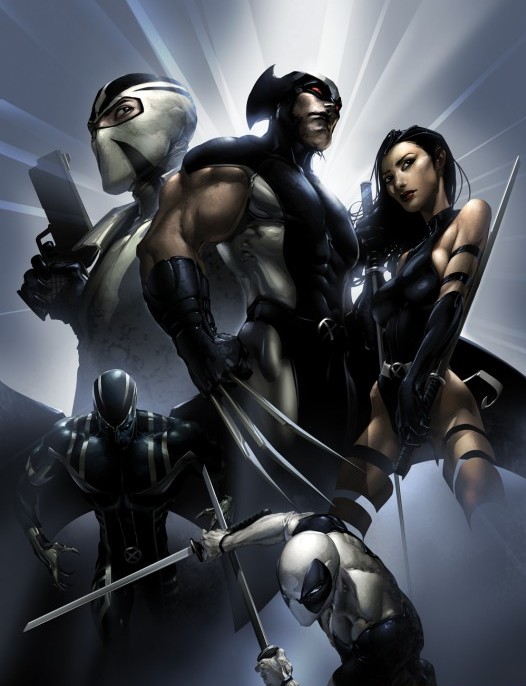 I'm a total Bowen Designs fanboy (I even have a Bowen Designs Collector's Club hat I wear in public), but I didn't particularly like the original Bowen Psylocke statue (LE 1200) that was released in 2010. The pose wasn't terribly exciting, there were many breakage incidents reported with Psylocke's katana, and I couldn't really see much facial resemblance to the actual Psylocke character in the sculpt.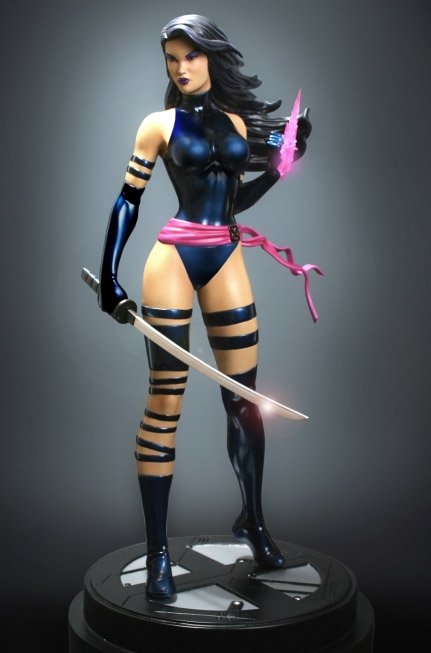 Thankfully, Bowen Designs has fixed some of these issues for the new X-Force version of the Psylocke statue. The 12″ Psylocke X-Force Bowen Designs statue features a removable katana sword and sash to help prevent breakage, as well as a facial sculpt that has been tweaked to resemble Betsy Braddock a wee bit better. It's still not perfect, in my opinion, but it is an improvement.
This new Bowen X-Force Psylocke statue has also been repainted into the Psylocke black-and-white X-Force costume, and had the sculpt "flipped" so her psyblade is on her right arm and her katana in her left arm, whereas on the previous statue it was the other way around. Thanks to Marvelito for giving me permission to run his in-hand photos of the X-Force Psylocke statue!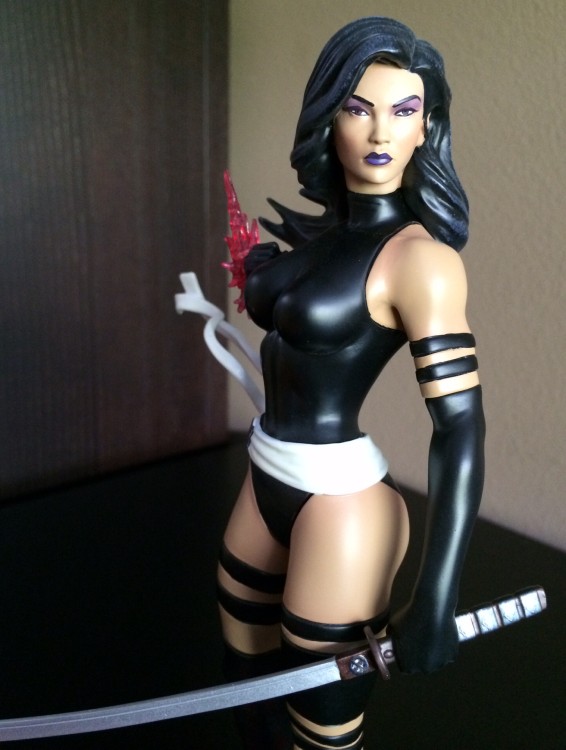 The Bowen Designs X-Force Psylocke statue is now available for order. Most online stores pre-sold out of X-Force Psylocke completely, but BBTS does still have a few available.
Despite the improvements on this new Psylocke variant statue, it's a different collectibles world now than it was when the first Bowen Psylocke full-size statue was released–while the original statue had a healthy 1,200 edition size, the X-Force Psylocke Bowen Statue is limited to just 400 (yes, four hundred) pieces produced. That's a mighty small run for an 'A'-List X-Men character!
What do you think about the retooled and repainted Bowen Designs Psylocke X-Force statue, Marvel collectors? Is this an improvement worth shelling out another $200+ for, or a minor variant that just isn't for you?