Everything's coming up Deadpool! Yesterday I posted my review of the very well-done Hasbro Marvel Infinite Series Deadpool 3 3/4″ figure, which is the only new Deadpool action figure expected to be released at mass retail in advance of this movie's "Deadpool" movie by Fox. But while it'll be found mostly online and in specialty stores, there's one new Wade Wilson collectible just released that blows all the others away! The Sideshow Deadpool Sixth Scale Figure has just started shipping, and the unboxing photos show that this masterpiece was worth the year-plus wait!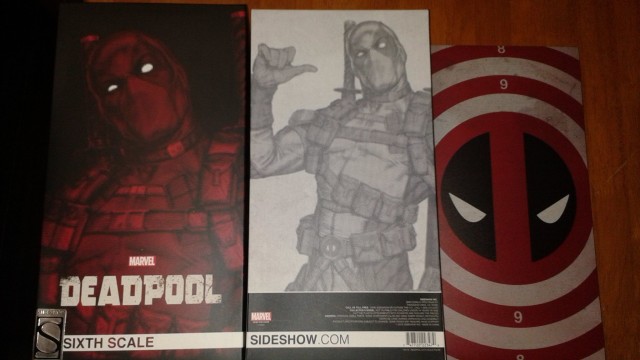 Although the 1/6 Deadpool figure was originally not set to begin shipping for an extra couple weeks, Sideshow Collectibles gave a lucky few buyers the chance to have their order billed and shipped a wee bit early last week!
I zoned out and missed my chance to have my Sideshow Deadpool exclusive edition process early, but thankfully, Alfie B. did not, and has given permission for me to post his amazing unboxing photos of this figure! Thanks, Alfie!!
Since this is the first-ever Sideshow Marvel 1/6th scale figure, I wasn't sure what to expect from the packaging. But the box art for this figure (shown above) is actually really high-quality and fun-looking! This packaging looks really great, and I think it looks every bit as nice as Hot Toys'. Nice work, Sideshow.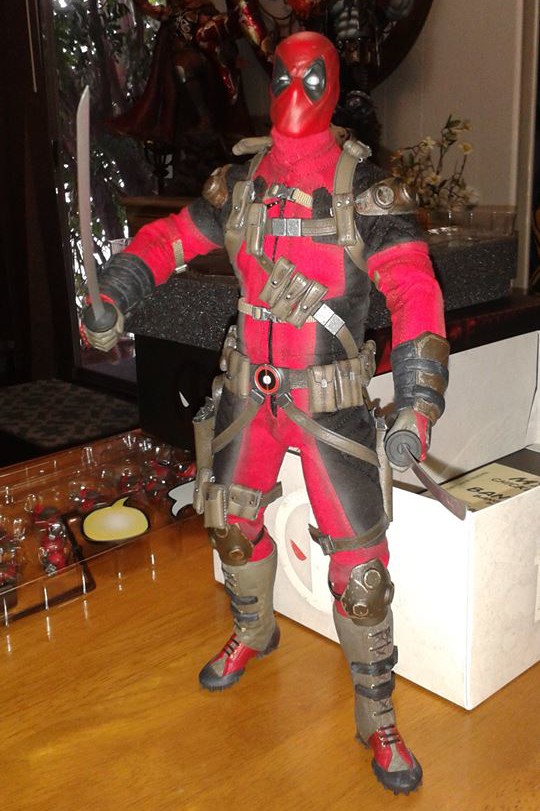 Of course, most folks are more interested in what's in the box than the box itself (except those wacky mint-in-box collectors). Luckily, what's actually inside of the box looks pretty swell too!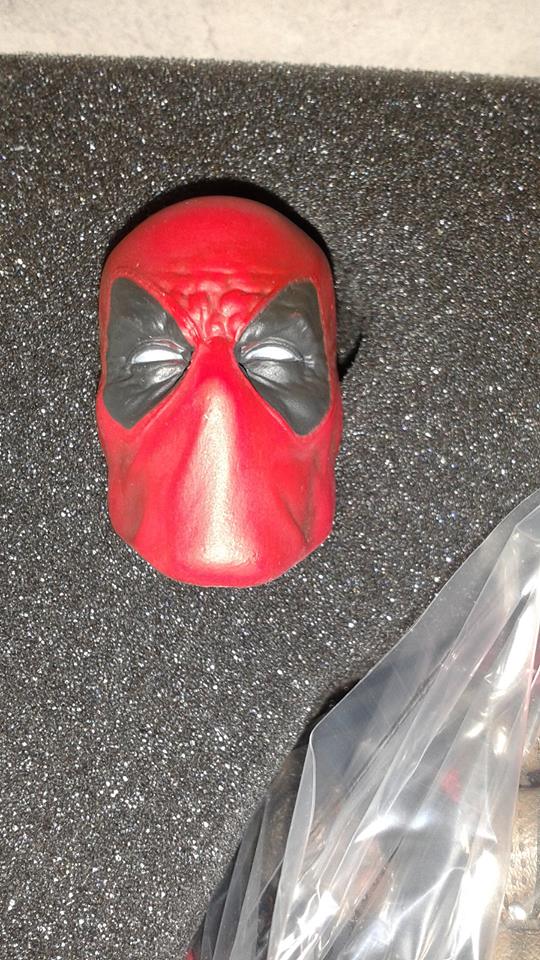 The Sideshow 12″ Deadpool comes with two interchangeable head (and neither of them is unmasked–thank God): a serious masked Deadpool head and a more comical variety. I'll be opting for the comedic "one big eye, one little eye" look myself, but the "hardcore" Wade Wilson head looks very well-sculpted too.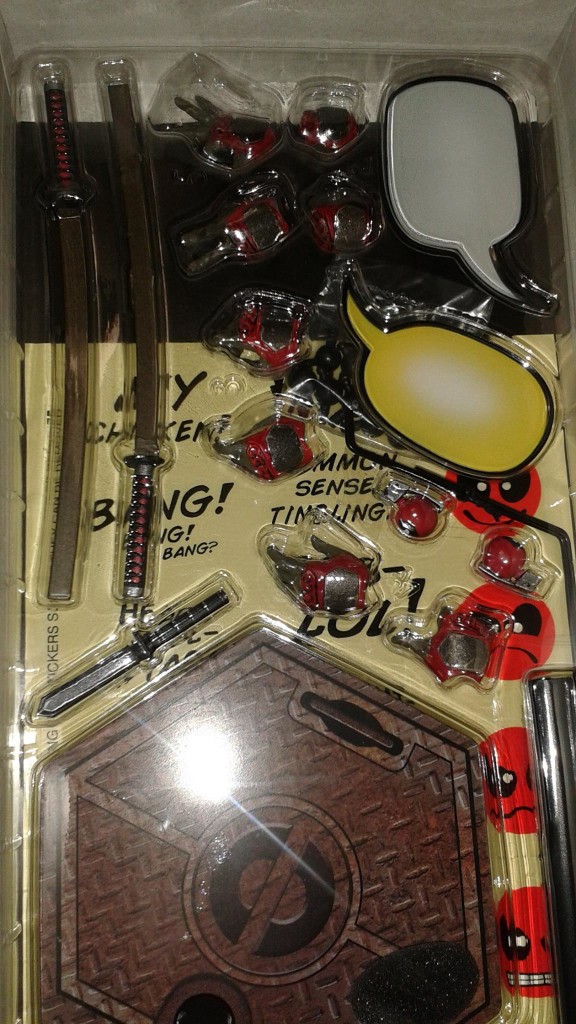 But the alternate head isn't the only accessory–in fact, this box is basically exploding with weapons and accessories for the Merc with a Mouth!
Aside from the steel grate-like display base figure stand, the box also includes two different types of word balloons (white and yellow), interchangeable hands, swords and sheaths, a dagger, guns and more.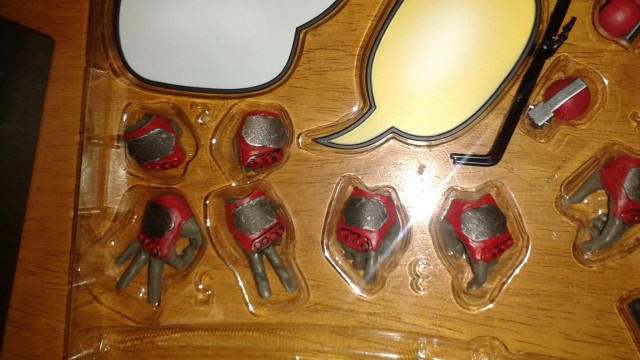 Deadpool will have quite a few alternate hands to choose from, and I love the whimsical ones like the "victory" sign and the "okay" sign.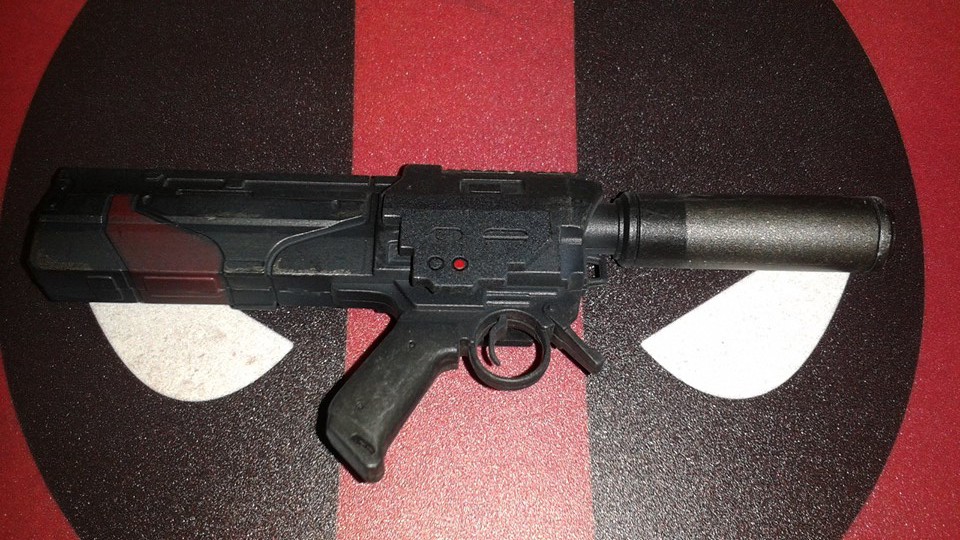 Of course, if bladed weapons just aren't getting the job done, it's good to know that ol' Wade has a highly-detailed bazooka to fall back on! I'm surprised Sideshow put so much paint deco on the bazooka–it looks terrific!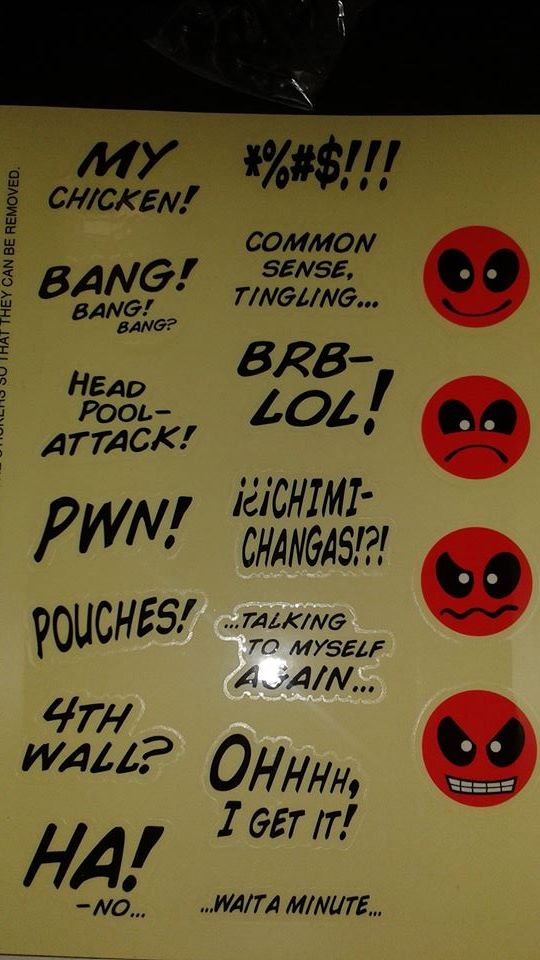 There's also a whole sheet full of dialogue choices to stick into Deadpool's word balloons. This is pure awesome, and I love this idea even more than the Kotobukiya dry erase board sign.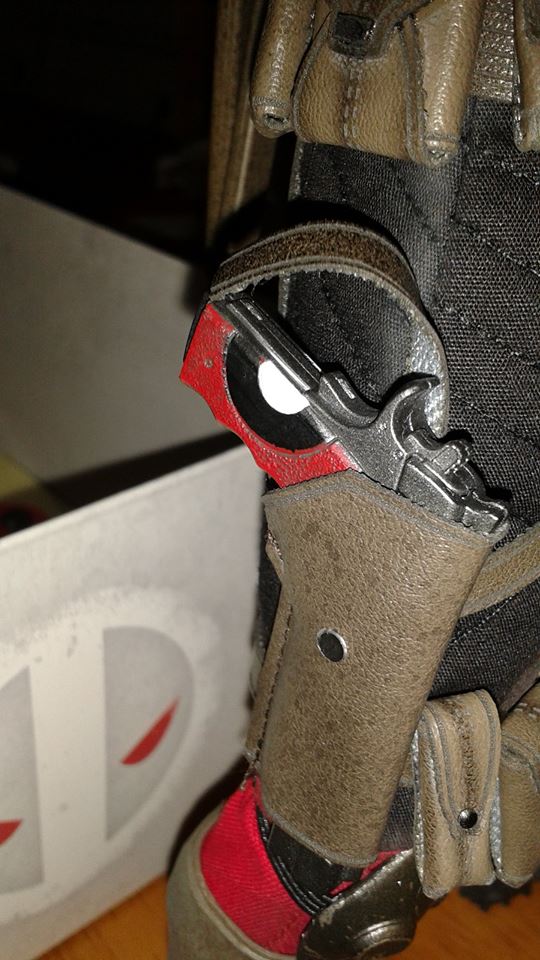 I don't recall Deadpool ever actually wielding a pistol with his own face on the handle in the comics, but even if it's not canonical, it looks both stylish and ridiculously fun. The paint wash on the gun and realistic leather texture of the holster balance things out so that the gun comes off as amusing and not ludicrous.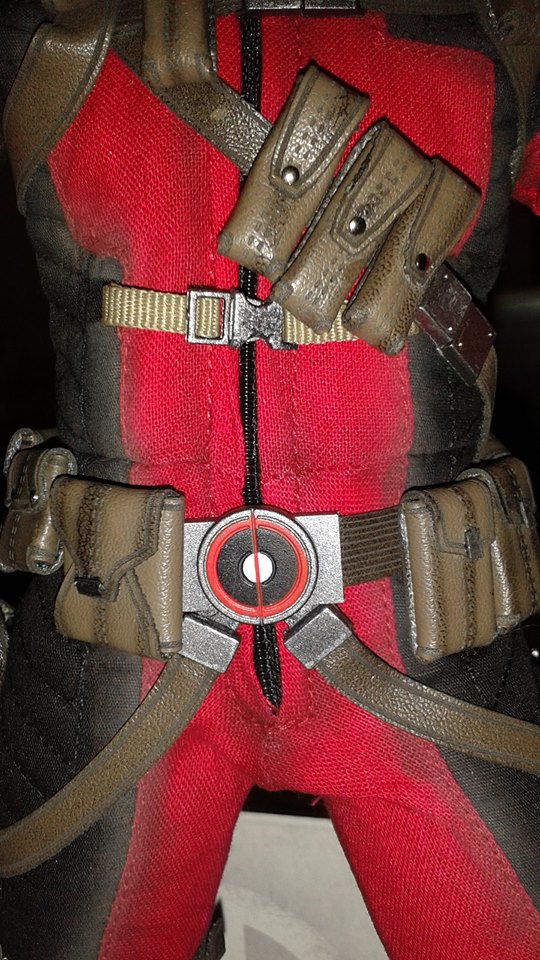 And speaking of realism–the icon on Deadpool's belt isn't his face, sadly. It's close enough, but I really would have preferred if it had been a Deadpool head like in most modern comics.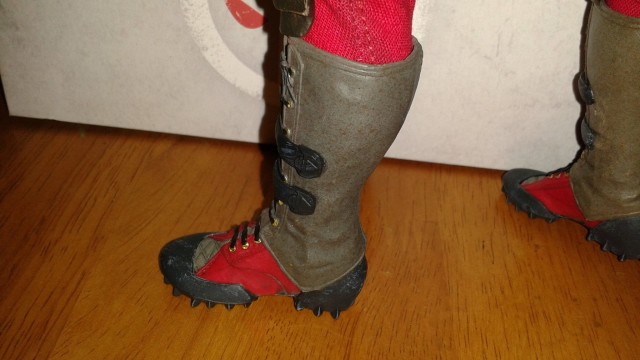 Just like the holster, the boots are made of a realistic-looking leather-like material.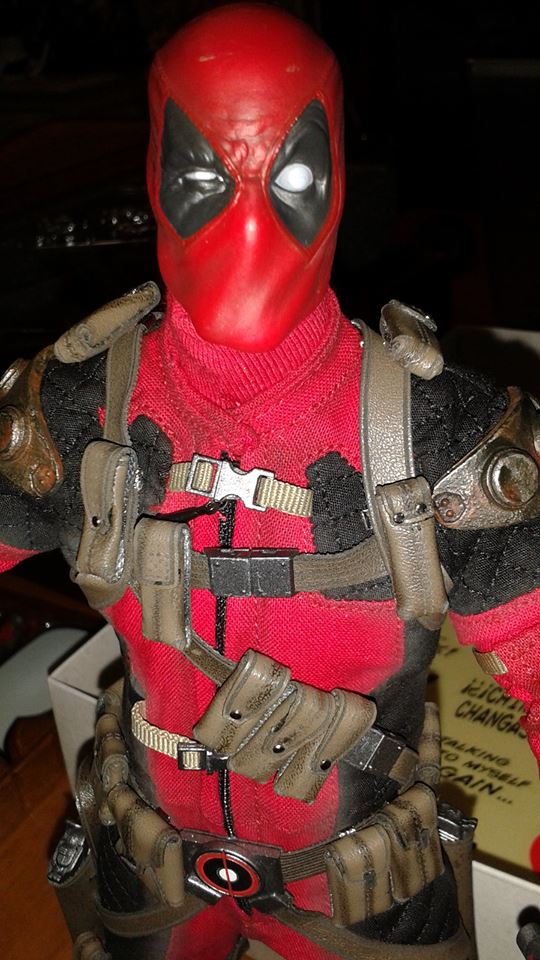 The "wacky" head sculpt looks outstanding–I prefer it over that of any Deadpool action figure I can remember being released since, well… ever.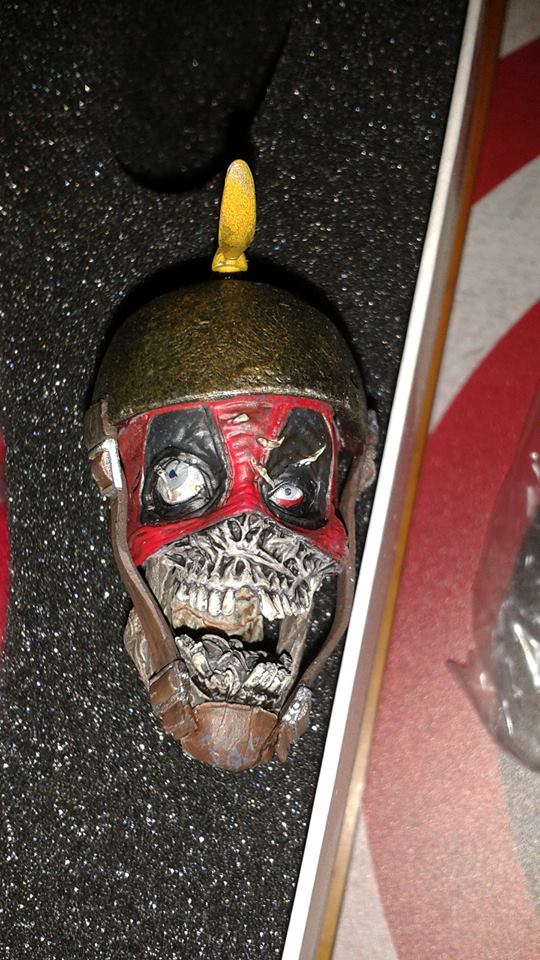 And oh yeah–there's one more thing that I imagine many fans have been itching to see the final production version of: Headpool!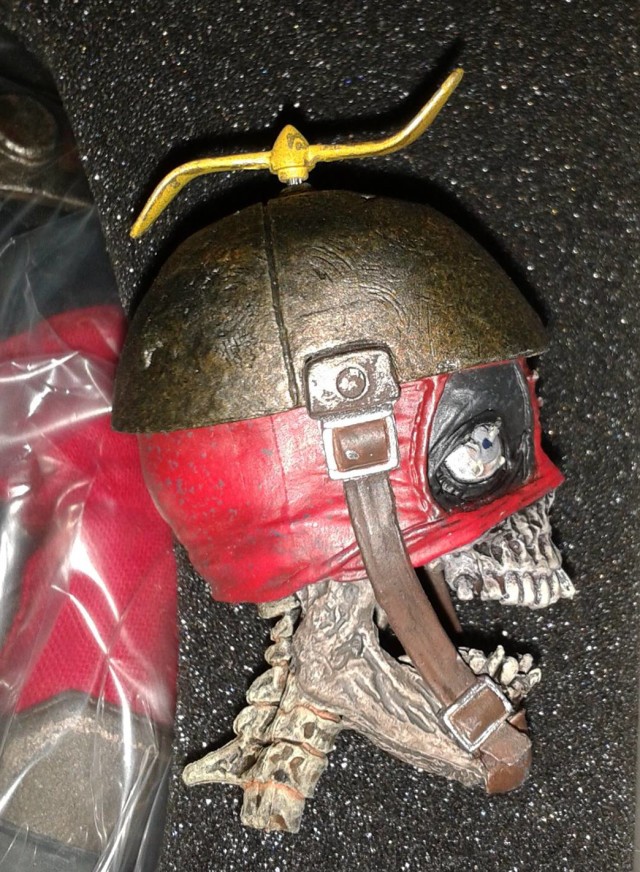 The propeller hat-wearing zombie Headpool skull was the exclusive item for early adopters who pre-ordered the Sixth Scale Deadpool figure from the Sideshow Collectibles website. This version has been in the "Sold Out" status for many months, as Headpool is an unusually appealing item selection for an exclusive edition.
From the intricate sculpting on the skeleton-like Headpool head to the crazy amount of paint deco, Headpool is easily the most detailed part of this entire set. I had high hopes for this flying Zombie Deadpool head, and Sideshow didn't let me down! While Wade himself looks excellent, I'm glad that I ordered early and locked in a Headpool of my very own!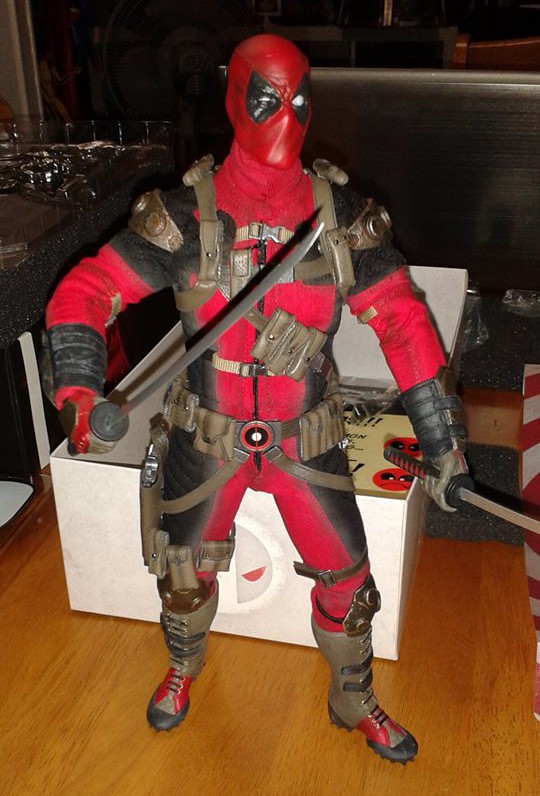 You can still get on the Waitlist for the Sideshow Exclusive Deadpool with Headpool set, but this figure seems to be immensely popular, so I'm genuinely not sure how many wait listed orders will get converted. But I've had good luck with Sideshow Wait Lists in the past, and if you don't want to pay an exorbitant amount for Headpool on the aftermarket, the Wait List is the only way to go at this point.
Based off of the unboxing photos showing off the final product, how do you like Sideshow's first-ever Marvel comics-based 12″ figure, Marvel collectors? Does this killer Deadpool sixth scale figure have a future home in your collection, or are you sticking to Hot Toys' movie lines?