Earlier today, I took notice of the fact that despite it having just hit the United States a couple weeks ago, the Bandai Tamashii Nations Samurai Spider-Man figure has already been heavily discounted online. But while early sales may be an indication that the line is destined to flop in North America, it doesn't look to be slowing down anytime soon overseas! The third entry in the Marvel Manga Realization figure series, Samurai Captain America, has now been revealed–and this is Cap like we've never seen him before!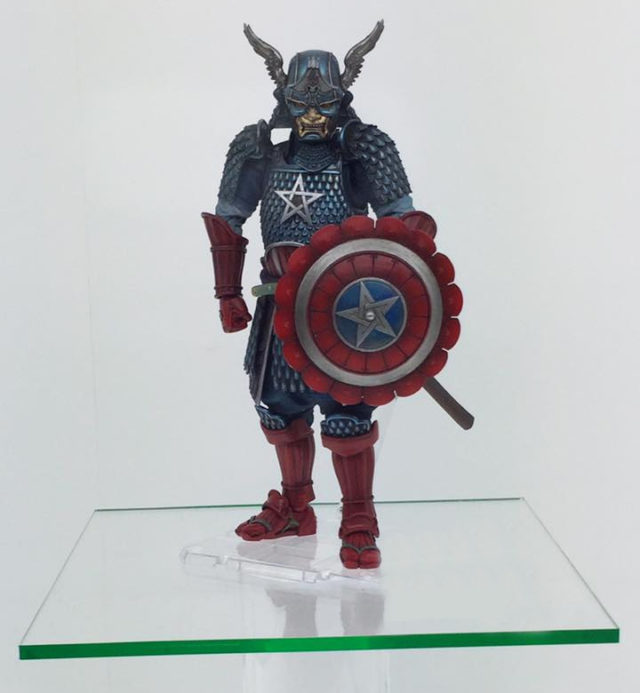 I've got to admit: while the Bandai Tamashii Nations Realization figures may not be everybody's cup of tea,
no one
can say that the line isn't creative, that's for sure.
Hot on the heels of the Samurai Iron Man Movie Realization figure going up for order last month, at this week's Tamashii Nations 2016 event, Bandai Japan has revealed a Captain America figure like none that have come before it! That's right–early this year we got our first action figure of Werewolf Captain America, and now it's time for Samurai Captain America!
While we've grown accustomed to sometimes seeing wingless mask Captain America in some media these days, there's no missing the fact that this figure is wearing a fully-realized samurai helmet with mega-huge wings! I think the wings look a bit comically silly being so large, truth be told, but I imagine some feudal aficionados will dig them more than I do.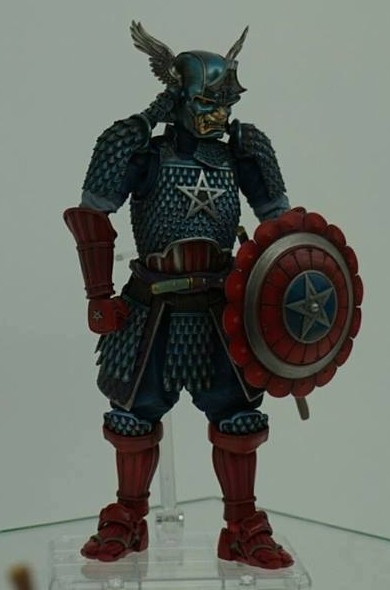 While I straight-up hated the idea of the Samurai Spider-Man Realization figure (and clearly other did as well, since the figure is basically DOA sales-wise in North America), I thought the Samurai Iron Man figure was sort of neat, and I'll go as far as to say I "sort of like" this Samurai Captain America Manga Realization figure.
For whatever reason, the idea of Captain America as a samurai general leading an army in this wacky red, white and blue suit of armor really makes me smile. The style of the star on Cap's chest and the flower-like shield are fun touches, and the metallic blue paint used on the heavily-detailed chain mail armor is downright gorgeous. As a conversation piece, I think this could be a really neat figure to have.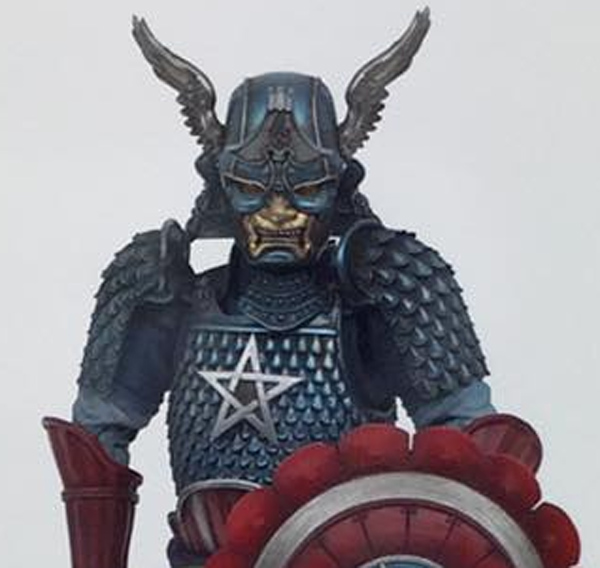 Alas, what's not "neat" is the $90-ish price-point this figure will most likely be sporting when he goes up for order later this winter in the United States through Bluefin Distribution/Bandai Tamashii Nations. If he gets blown out for around 60 bucks shipped like Realization Spider-Man is, I might snap a Manga Realization Captain America figure up. At full price, I'll definitely pass, though–I just can't imagine that any figure from this line other than maybe Iron Man won't end up quickly hitting clearance sales.
What do you think about the latest addition to the Bandai Tamashii Marvel Manga Realization figure line, Marvel collectors? Are you at all excited about this Captain America Samurai figure, and if not, is there anything Bandai could add to this series that would get you pumped up?