If there's a prize to be won for the most bizarre movie-themed Marvel Legends set ever, the Hasbro Marvel Legends Ant-Man Series definitely wins it. The set includes one movie figure of the titular character, five comic book-based characters related to Ant-Man in varying degrees, and a Build-A-Figure from a different movie altogether. Due to his starring antagonistic role in Avengers Age of Ultron, the Ultron Prime Marvel Legends figure is one of the more anticipated BAFs of 2015. The 8″ Marvel Legends Ultron Prime Build-A-Figure has now arrived… but is it worth buying $120 in other figures to build him?
The Right:
When we were only a few months away from the debut of the Avengers: Age of Ultron movie in theaters and there was no 6″-7″ scale Ultron figure in sight, there were plenty of ticked-off and irritated Marvel collectors out there. Not getting main antagonists from Phase II Marvel movies in Marvel Legends form appeared to be becoming a bit of a trend, and definitely not one collectors wanted to see continue.
Thankfully, Hasbro let fans know reasonably early (at the New York Toy Fair 2015) that not only would they be producing an Ultron Prime action figure in 2015–but he'd be a 100% all-new sculpt. Given that the main villains from Iron Man 3, Thor The Dark World and Captain America The Winter Soldier (Robert Redford) never got their own Marvel Legends 6″ figures, the very existence of an Ultron Prime figure is a major thumbs up!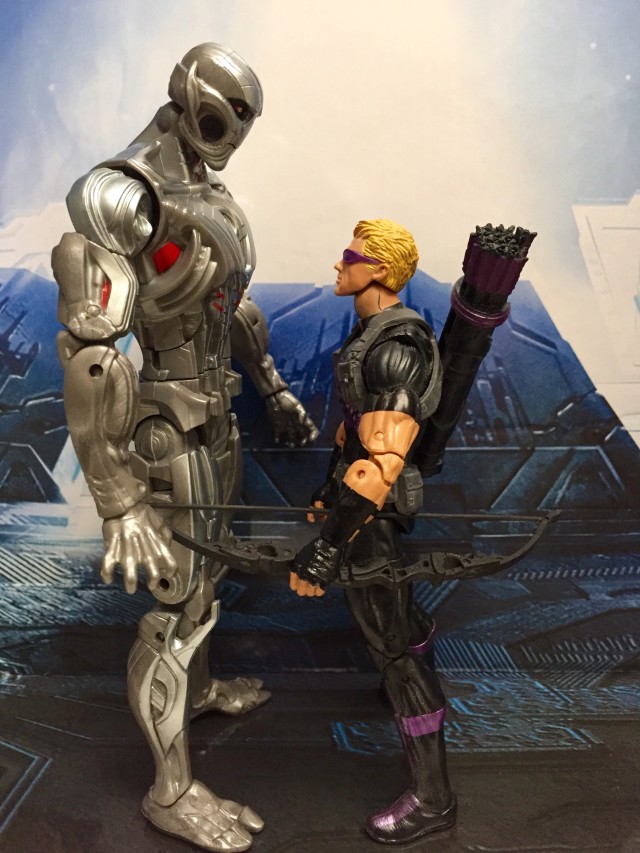 Not only did Hasbro make good on their promise of creating a brand-new Ultron Prime Build A Figure with 100% all-new tooling, but they also got the scale for the figure right (or pretty dang close to it)! The Ultron BAF stands almost exactly 8″ tall, which makes him noticeably larger than your average 6″ Marvel Legends figure–just the way he should be!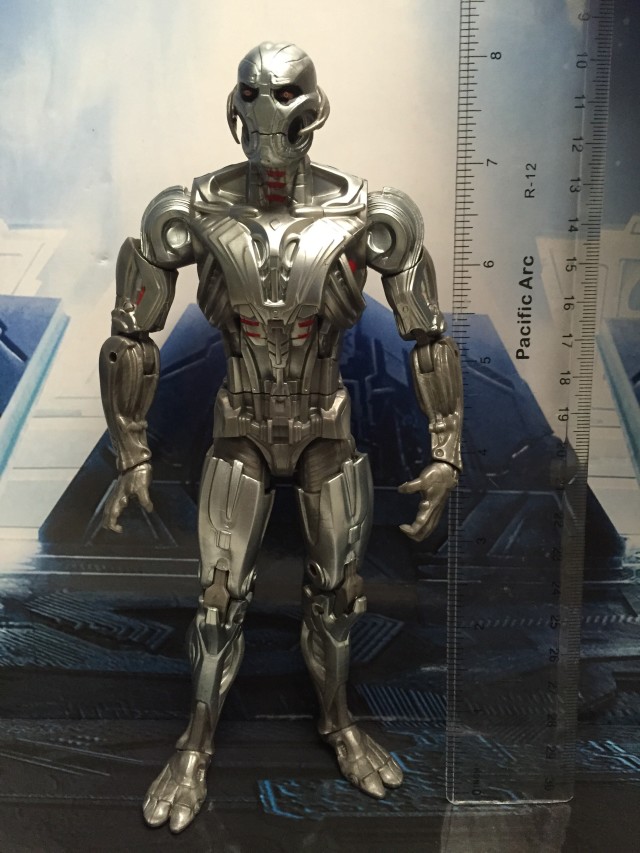 It would have been cheaper and easier for Hasbro to create a 6″ Ultron Prime movie figure based off of his normal size in the comics, but Hasbro instead opted to give us the proper scale so that Ultron can tower over most of the Avengers as he properly should. Thanks, Hasbro!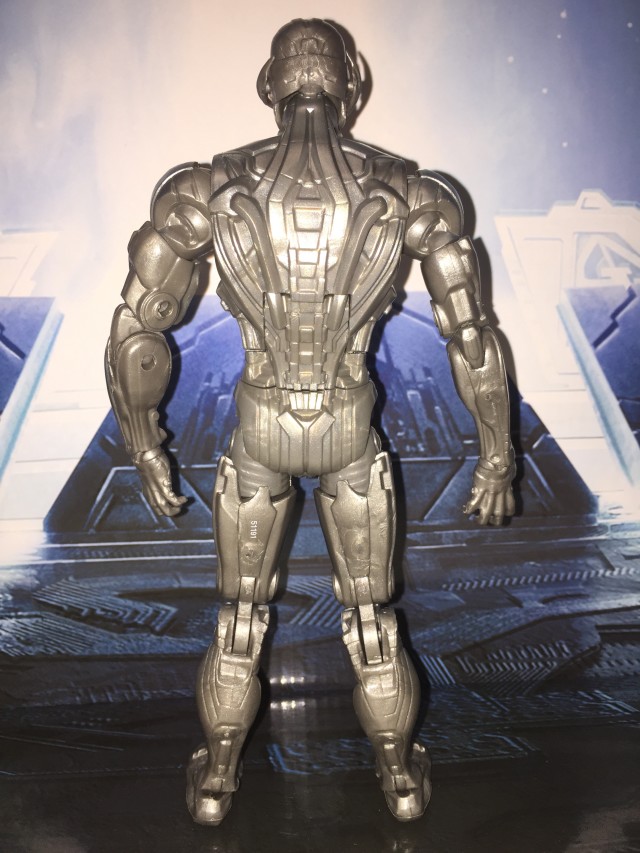 And that 8″ of brand-new tooling does not go to waste–every centimeter of the Ultron Build-A-Figure is covered in minute sculpting details, with tons of panels and linings all over Ultron. This figure looks way more like a super-advanced robot than any comics-based Ultron toy ever released, that's for sure!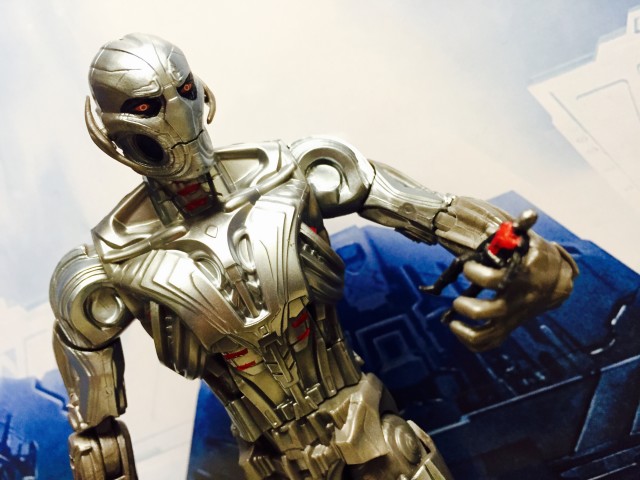 But wait, there's more…! Ultron Prime is big, highly-detailed and a unique sculpt–and he's also got a plethora of built-in articulation! In total, Ultron has around two dozen points of articulation as follows:
Ball-Hinge Head
Ball-Hinge Shoulders
Swivel Biceps
Double-Jointed Elbows
Ball-Hinge Wrists
Upper Torso Ab Crunch
Swivel Waist
Ball-Jointed Hips (with limited range of motion)
Swivel Thighs
Double-Jointed Knees
Ankle Rockers
…That's a lot of articulation for a robot who doesn't do a whole lot of on-screen dynamic poses!
The Wrong:
Based off of "The Right", you probably think that I absolutely love this Ultron Prime 8″ figure. Unfortunately, I don't. Even with everything that Hasbro did right with this Build-A-Figure, they made more than their fair share of corresponding mistakes.
Unlike virtually every Marvel Legends 2015 figure that I've bought this year, Ultron Prime feels cheap. He's made of a rubbery plastic that feels alarmingly soft, and as a result the figure can lose his balance and topple over in simplistic poses where he otherwise wouldn't with more sturdy construction. In addition, Ultron Prime's right shoulder and bicep are both very loose, which further complicates posing him.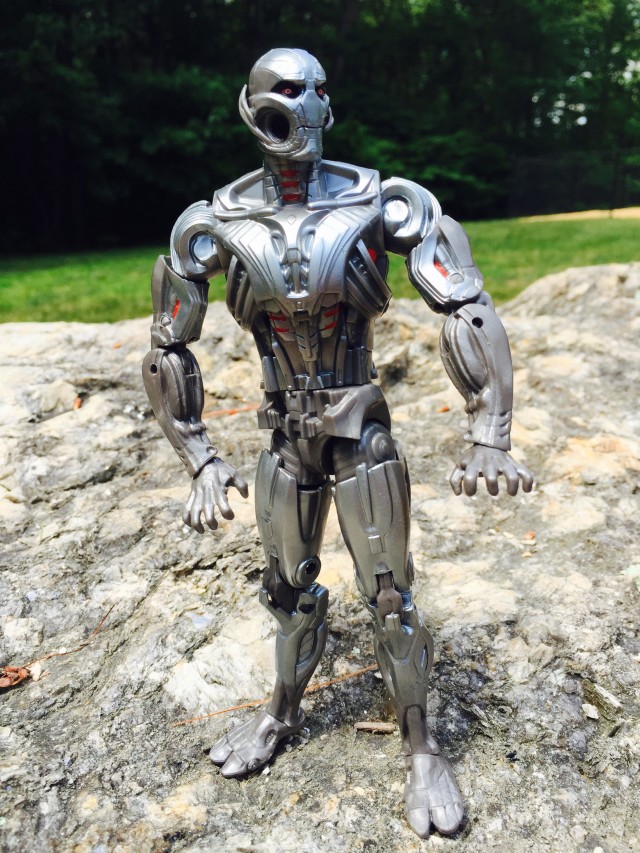 If the loose joints and plastic used were the biggest problems with this figure, I could let it slide, but there's ample more negatives about this figure. With the lack of a dark paint wash, a ton of the detailing on this figure fails to stand out at all and is totally lost amidst the silver and grey plastics that the Ultron BAF is molded in.
And speaking of silver and grey: for some insane reason, Hasbro molded some parts of Ultron is a shiny silver plastic, and others in a flat grey. For example, his upper torso is molded in silver, while his waist is molded in grey. His legs are silver, but his knee connectors and feet are grey. In short, this looks absolutely ridiculous.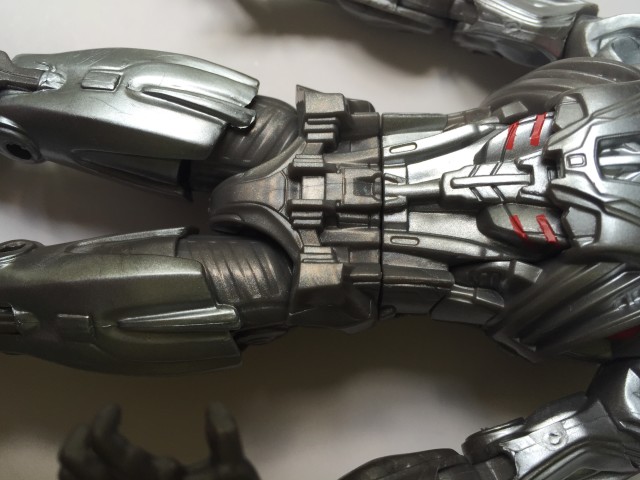 The mismatched body colors don't show up very well in my photos, but they are glaringly obvious when you have the figure in-hand, and a major distraction when trying to appreciate the Marvel Legends Ultron Prime action figure. This is probably the single biggest 'con' of the figure.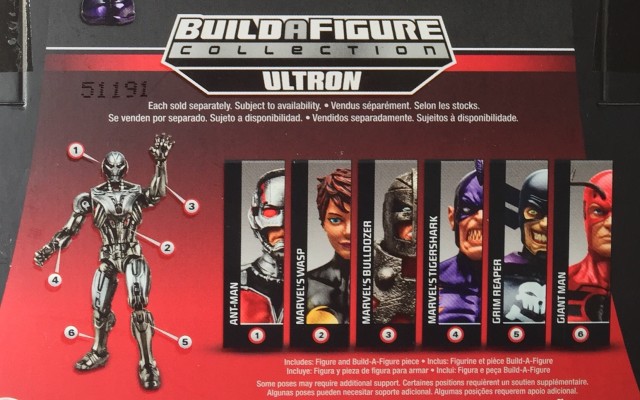 What else…? Well, Ultron seems a bit defenseless with no effects pieces or weapons whatsoever to defend himself with, and the facial expression that Hasbro went with looks more sad and derpy than it does fearsome or diabolical. From a Build-A-Figure that you need to buy $120 worth of other figures just to build, frankly, I expect more.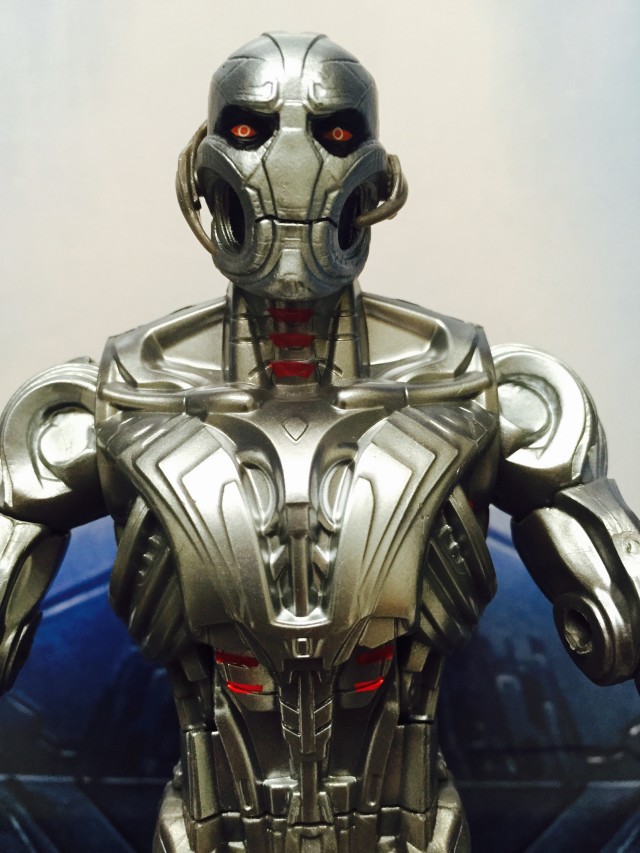 Overall: I've seen several early owners of the Marvel Legends Ultron Prime figure declaring that he outright sucks. I don't think that's the case–he's a big figure with a beautiful sculpt and loads of articulation. Even so, there is plenty that went wrong with this figure, from a lack of a paint wash to loose joints, from an awkward facial expression to a rubbery feel and mismatched plastic colors.
By no means is the Marvel Legends movie Ultron a bad figure, but he's definitely one of the weakest Marvel Legends Build-A-Figures that Hasbro has released in quite some time. Neither exceptional nor awful, the Ultron Prime BAF is merely average.
GRADE: C