What with the Marvel Legends Ant-Man Series having a hard street date of July 3rd 2015 (and Amazon shipping theirs July 1st), I really wasn't expecting to see the figures hit stores two weeks early. But if there's one chain that doesn't mind breaking the rules and ignoring street dates, it's Toys R Us–and many Toys R Us stores (including mine) have now begun stocking the Hasbro Ant-Man Legends figures early!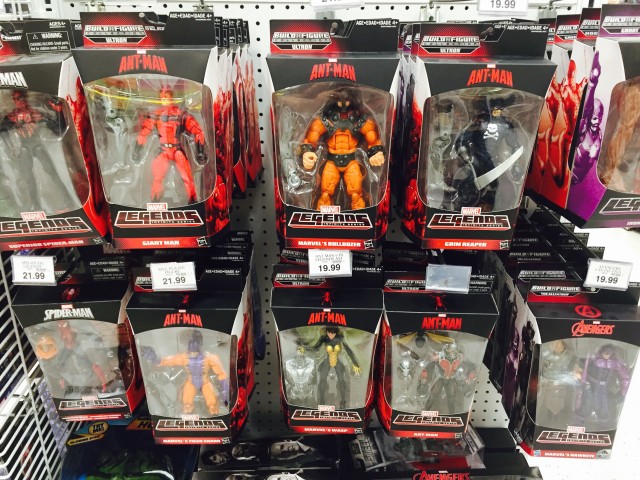 The 7/3/15 release date for the Marvel Legends Ultron Prime Build-A-Figure series made logical sense to me, what with Ant-Man being a lesser-known Marvel title character than the movies usually have.
Having the figures hit store shelves two weeks before the Ant-Man movie meant that they wouldn't languish at retail for ages before the movie actually opened, and there would be less competition for space in stores for the other three Marvel Legends series released already this year.
But try as Hasbro might, that stratagem proved to be to no avail: many Toys R Us stores across the United States have broken street date and have now put out–and sold out of–their Ant-Man Marvel Legends figures.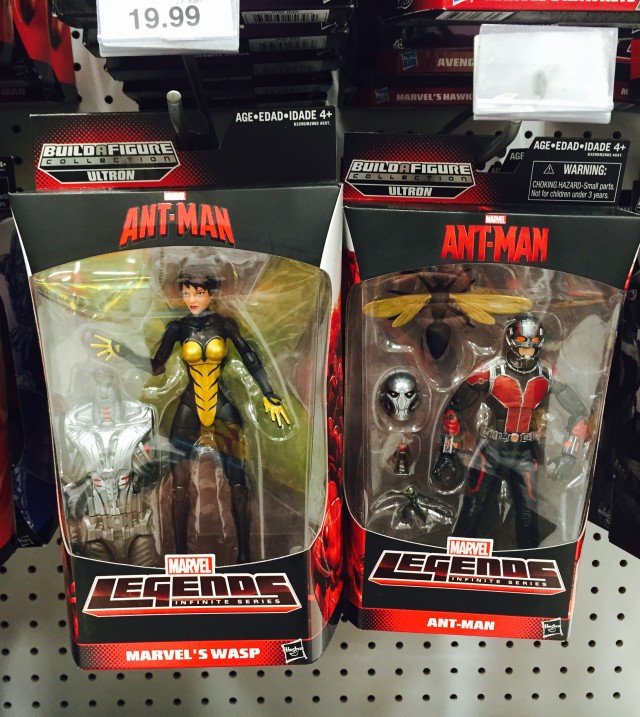 Though this series is technically for the Ant-Man movie, the wave actually includes just one figure from that movie: Marvel Legends Ant-Man himself. Rounding out the set are five comic-based characters and a movie Ultron Prime Build A Figure. Weird, right?
I actually think that it's probably for the best that this series is being stocked in some stores a bit early, as the Ultron Prime Build-A-Figure will be more tempting for buyers while the Avengers: Age of Ultron movie is still in theaters and fresh on folks' minds.
The characters in this set are not exactly icons, so getting these figures on shelves and sold as quickly as possible with Marvel summer movie hype in full swing definitely will serve Hasbro's best interests in the long run.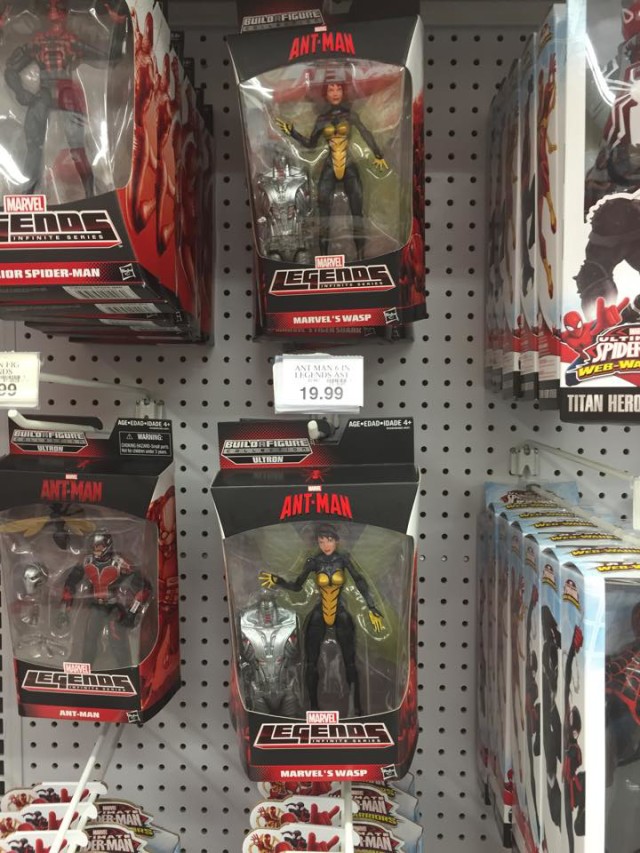 I decided to pick up all six figures early from Toys R Us so that I'd be able to start my reviews of the whole 6″ Ant-Man Marvel Legends series this weekend. All six figures in the set look to be at least decent at a glance, but I can already tell that the one that I'm probably going to like the best is the new Marvel Legends Wasp figure. And hey, Hasbro finally got it right–the founding Avengers female, Wasp, is packed at two-per-case!
Have you found the Ant-Man Marvel Legends series yet locally, Marvel collectors? Or are you waiting for these figures to hit other stores (or passing on them altogether)?