No matter how much I fuss and insist I'll never buy certain lines of Marvel items, the best companies usually find a way to drag me in. Kotobukiya did it with their Bishoujo Jubilee statue, Medicom baited my with their Retro Rocket Raccoon Sofubi, and now, Diamond Select has somehow managed to lure me in for zombies (yes, zombies)! Coming this fall: the Minimates Marvel Zombies Age of Ultron box set is now up for order!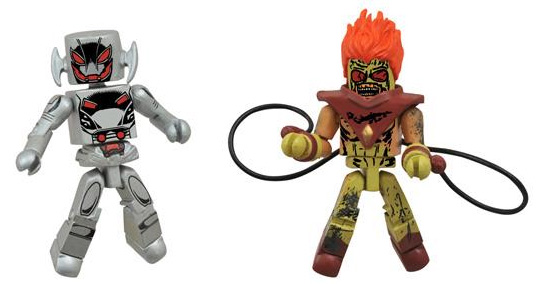 What do you get when you do a mash-up of two of my least-favorite Marvel stories from the past decade? The answer is, the currently-published Secret Wars: Marvel Zombies vs. Age of Ultron comic book series!
So it might sound more than a little bizarre that I'm posing today to give my endorsement for the set, rather than to complain about yet more Marvel Zombie Minimates. But see, this time, Diamond Select Toys has earned my love by preying upon one of my many character focus weaknesses: the deadly fire-manipulating mutant, PYRO!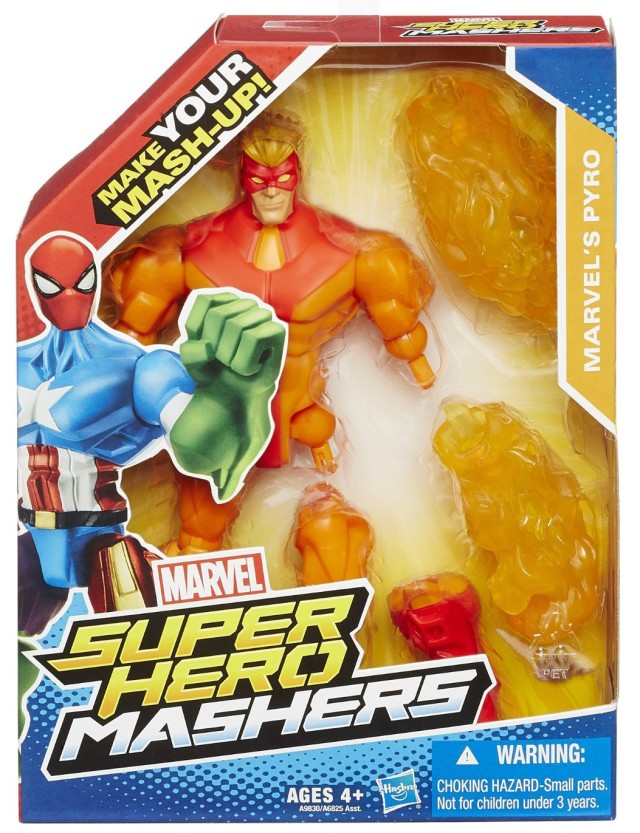 Despite the fact that poor Pyro has been dead for a decade-plus in the Marvel comic books, he's gotten his own Marvel Mashers figure last year and there were even two Bowen Designs Pyro Mini-Busts released a few years back (including a super-limited variant that only a hundred were made of–and yes, I own it). And hey–since Pyro's dead anyway, DST might as well capitalize with a zombie Pyro Minimates figure, right…?
The crazy flaming head on the Minimates Zombie Pyro figure is quite a sight to behold, and easily makes him one of the most visually-compelling Marvel Zombies figures released thus far by Diamond.
Of course, Zombie Pyro shan't be shambling into our homes alone this fall. No, he'll be joined by two other villains I've got a thing for: Zombie Bullseye and Zombie Vulture!
Bullseye is another character currently dead in the Marvel Universe, making him a solid choice for inclusion here. And Vulture, well… he's been like a hundred years old since the 1960's. It's only a matter of time, right…?
Rounding out the set is a Minimates Ultron Drone figure, which, frankly, looks a lot like every other Ultron Drone figure ever released. Ho-hum. The inclusion of this figure is what makes this set a Secret Wars tie-in, so it couldn't really be left out. I neither love not hate this figure, and I suppose I can always use more Ultron drone figures.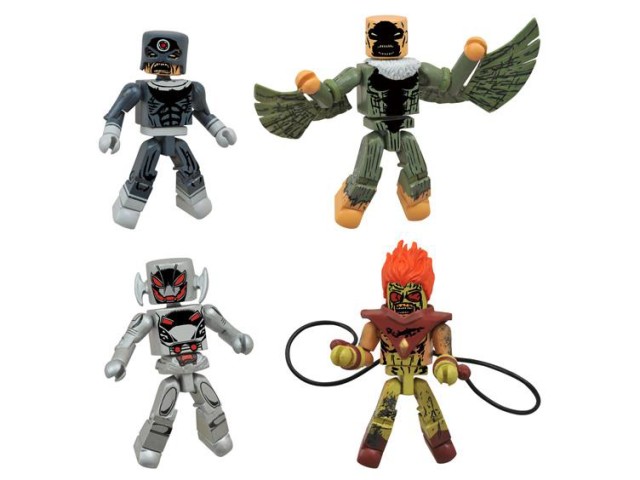 The Age of Ultron Marvel Zombies Minimates box set is now available for order, and is scheduled to be released in October/November 2015. MSRP on the set is $17.99, which seems totally fair for a four-pack of 2″ figures that each have 14 points of articulation, plus interchangeable parts and accessories. I usually utterly detest zombies, but DST has suckered me in for this box set, so I suppose I'll be adding these to my Thanksgiving decorations!
Thoughts on the newest Marvel Minimates four-pack, Minimate fans? Are you excited for more zombies and a Secret Wars tie-in, or were you hoping DST had something a little less undead planned for their next release?