Though he's had a very limited presence in recent years in the Marvel comics (and even less prominence in merchandise), the legendary herald of Galactus–the Silver Surfer–remains one of the more iconic and recognizable characters in Marvel history. So it's not exactly a shocker that for their last Marvel Select action figure of 2013, Diamond Select Toys has decided to immortalize the Silver Surfer with a 7″ Marvel Select Silver Surfer figure!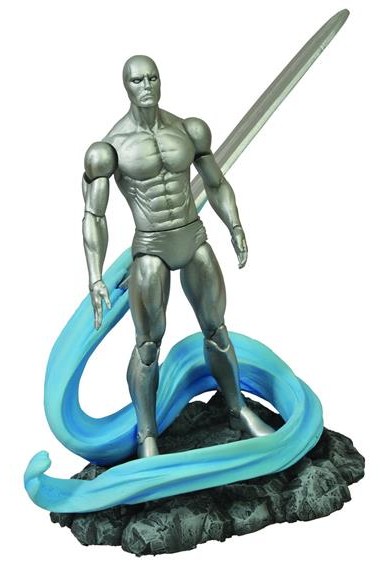 It's about time the Silver Surfer showed up again in articulated figure form. The last 6″ Marvel Legends Silver Surfer figure was released by Hasbro as a Walmart exclusive in 2007–over half a decade ago! It's hard to believe that it's been so long since there's been a fully-articulated Silver Surfer action figure on shelves!
While the last Hasbro Silver Surfer Marvel Legends 6″ figure had an enormous amount of articulation integrated into it, all of the joints also made the figure a little bit unsightly. Luckily, Diamond Select Toys is a master of maximizing visual appeal of their figures while still managing to pack their Marvel Select figures with all of the most important points of articulation.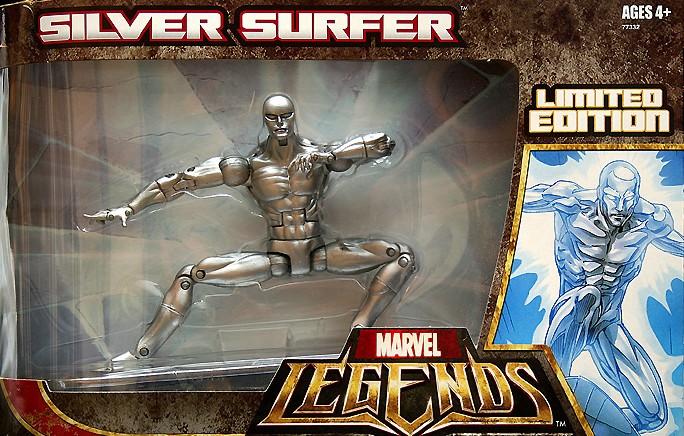 I think that the Silver Surfer is an excellent choice for the type of articulation-scheme that's built into the Marvel Select figure line. The ball-jointed hips and double-jointed knees should give Silver Surfer all the articulation he needs for essential poses riding his intergalactic surfboard, while the articulation Marvel Select figures don't have isn't a problem, as the Silver Surfer isn't exactly known for his extreme ninja poses.
Like most Marvel Select figures, Silver Surfer will include an elaborate base–the Silver Surfer's surfboard, soaring off of some rocky terrain. I'm not sure I like the look of the trail coming off the surfboard, though–I honestly thought at first that an extended Mr. Fantastic was stuck on the surfboard or something crazy like that. Hopefully the streak coming off the Silver Surfer surfboard will look a little better when Diamond Select releases the Silver Surfer at the end of the year.
The Marvel Select Silver Surfer action figure is scheduled to be released by Diamond Select Toys in December 2013, with a suggested price point of $24.99. You can place a pre-order for the Silver Surfer Marvel Select figure for a pre-order discount price of $22.99 now. I'll post more photos and information of the Diamond Select Silver Surfer figure as more news becomes available.