It's been talked-about literally since the day that Disney purchased Marvel back in 2009, but I genuinely never thought that it was going to happen. After years of rumors and speculation that didn't pan out, something that Disney collectors have long pined for is finally going to come to fruition. Coming later in 2013–it's the first-ever series of Marvel Vinylmation vinyl figures–the Disney Vinylmation Marvel Series #1 featuring The Avengers!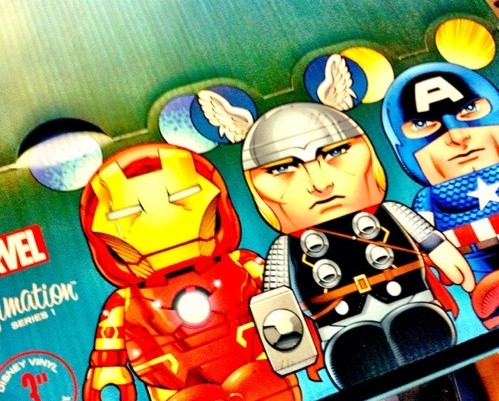 It's no secret that I'm a big Disney Vinylmation collector. After all,
I run Vinylmation Park, a whole Disney Vinylmation dedicated blog
. So I'm more than a little disappointed that I couldn't break the news myself on either this blog, but, well… such is life. Instead, the great Vinylmation World website broke the news regarding official confirmation of Marvel Vinylmation 1, and even managed to leak out some camera phone photos of the box and case for the set, revealing the entire assortment!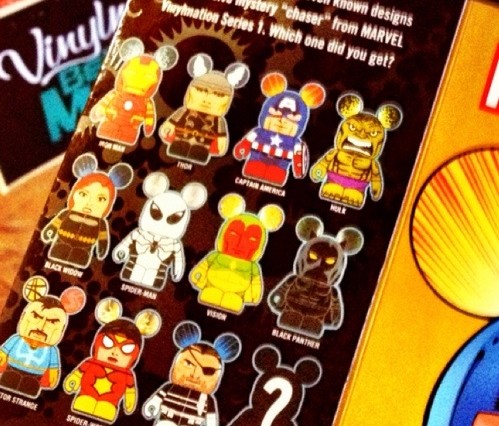 The Marvel Vinylmation Series 1 figures will be sold in blind-box trays of 24 blind boxes, with the figures costing $12.95 per blind box or $310.80 per case. Each case will contain one complete set of all 12 figures including the rare "chaser", plus a duplicate set of the 11 common figures and one extra common figure.
Vinylmation Marvel 1 seems to have an Avengers theme, as all of the characters are members of the Avengers in the comic books (I'll consider Nick Fury an honorary member). It's worth noting that this theme is based on the comic book appearances of the characters, so Disney won't have to pay any royalty fees or worry about actor likenesses on the Vinylmation Marvel figures.
The Disney Vinylmation Marvel Series #1 assortment will consist of 12 blind-boxed figures:
Iron Man
Thor
Captain America
Hulk
Black Widow
Future Foundation Spider-Man
Vision
Black Panther
Doctor Strange
Spider-Woman
Nick Fury
Mystery Chaser (1 per case of 24)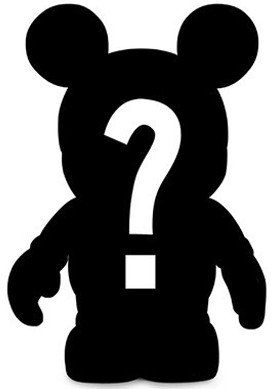 You might assume based on this lineup that the Mystery Chaser will be Hawkeye, but Vinylmation collectors know that the Chaser in a case of Disney Vinylmation figures can be anything and everything, from the amazingly popular to the super obscure. We'll have to wait to find out exactly what Disney has in store for this series.
Marvel Vinylmation Series 1 is scheduled to be released in Disney Stores and the Disney Parks in late summer/early fall 2013. I'll post an update with more information as it's released by Disney. Thanks to Vinylmation Kingdom for posting the initial photos and information on this series. And if you want Marvel news sent directly to your Facebook News Feed, you can 'Like' Marvel Toy News on Facebook!